Ubud Attractions - Ultimate Guide to Bali's Coolest Town
From cascading waterfalls and green rice fields to colourful markets and ancient temples, these are just a few of the attractions Ubud has to offer to its numerous visitors. How come this little town has earned itself such a great reputation? Well, it has a little bit of everything and for us, it was the perfect destination to start our Balinese adventure and judging by our first morning in this hip Balinese town, we'd made the right choice.
The fragrance of incense was spreading in the air, beautiful women were dressed in white and yellow, carrying colorful fruit baskets on their heads, small offering baskets filled with white, yellow and pinkish frangipani flowers were scattered all over the sidewalks and there was something so relaxing, almost mystical in the air, welcome to Bali, the Island of the Gods!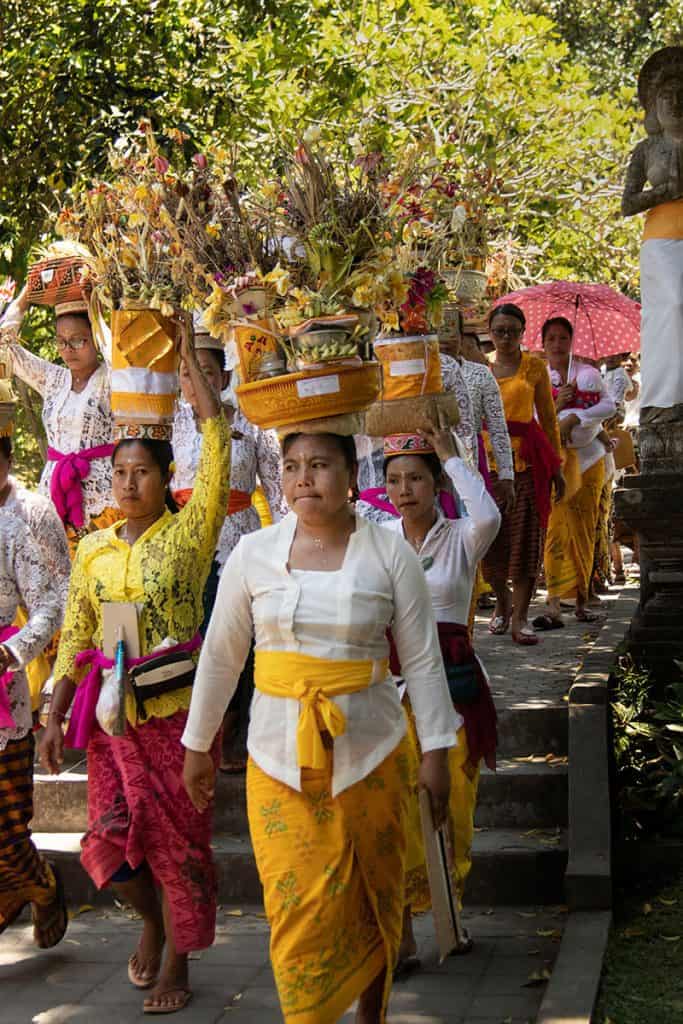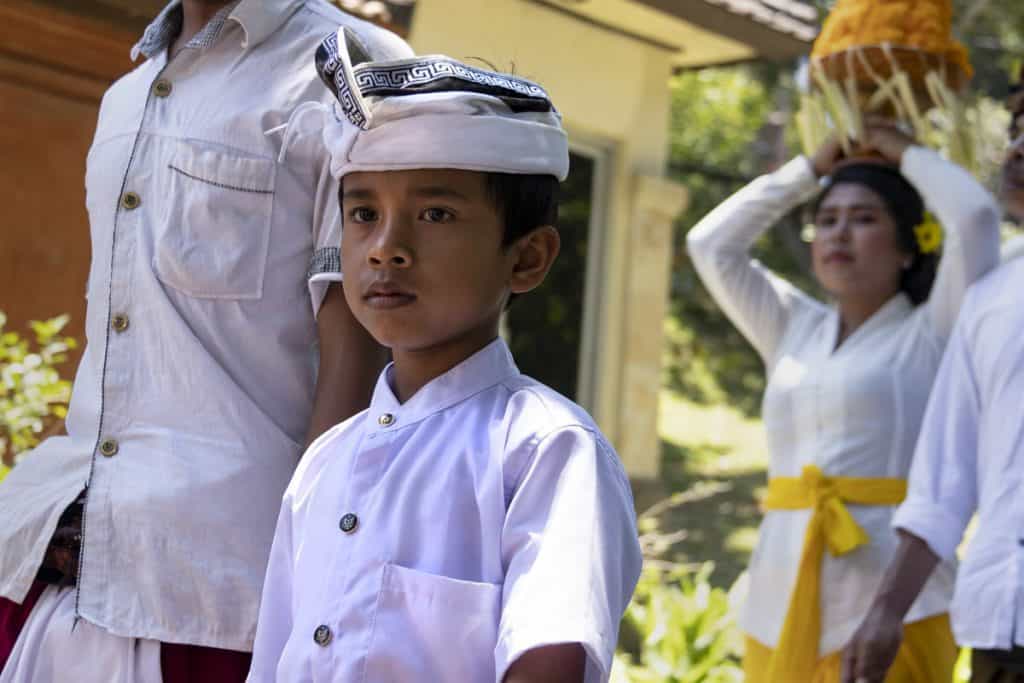 Bali is one of the most popular islands in Indonesia and from the minute we arrived we could easily understand why so many people fall in love with Bali and the Balinese culture. There are so many attractions all around the island. Stunning landscapes, active volcanoes, breath-taking beaches, ancient temples, green rice fields, luscious vegetation, did we forget something? Oh yes, and most important attraction of all, a fascinating culture that is unique to Bali and the most welcoming people you can imagine. Once you arrive to Bali, you'll never run out of things to do and see in this gorgeous island.
One of the best destinations to start your Bali adventure must be Ubud. If you haven't put Ubud on your Bali bucket list yet, please do. Nestled among lush green rice terraces, dotted with endless restaurants, coffee shops and boutiques, close to some of the most beautiful waterfalls and temples Bali has to offer and of course if you're craving an affordable boutique hotel, this is the place to indulge in some luxury. So, let's start talking about some of the attractions and best things to do in our ultimate guide to Ubud!
This post may contain affiliate links, which means we earn a small commission if you purchase from them (no extra costs to you!). For details check our disclaimer.
Why should Ubud be on Your Bali Itinerary?
Easy to reach (from Denpasar airport 1-2 hours by car depending on the traffic)
Located in the center of Bali with many attractions around.
Ubud has so much to offer for every taste, from shopping and great food to nature and culture, you'll never run out of attractions and things to do in the area.
Lots of luxury hotels at affordable prices.
Ubud is known as the center for arts and crafts in Bali.
We had high expectations from Ubud, the "it" destination for every foodie, yogi, shopaholic and travel blogger in sight. It was our first destination on our Bali itinerary after spending some time in Yogyakarta and it was the perfect destination for us to start exploring some more of this island's charms. So here's our Ubud guide for the best attractions and things to do in the area:
Get monthly updatesincluding exclusive access to our google maps which feature all of our favorite attractions in numerous cities all over the world.
I want to subscribe to your NEWSLETTER!
Ubud Attractions - Guide for the Best Things to Do
Best Attractions in Ubud for Nature Lovers
Stroll around Tegalalang Rice Terraces
There is a reason why these terraces are among the most famous rice terraces in Bali. First of all, it takes only 20-30 minutes to get there by car from Ubud. Second, these are quite different from other rice paddies we've seen in Bali due to their topography and small size. It's a great spot to capture the perfect Instagram shot of the typical girl-in-a-beautiful-dress-walking-among-the-rice-paddies. We loved the rows of higher and lower rice paddies, the small paths that led us up and down and guided us through the small valley and the tall trees that added to the beauty of the scenery. It shouldn't take you more than 1-2 hours to walk the whole path (depending on your photography/selfies). If you've always wanted to try the famous Balinese swings, there are numerous swings scattered all over the valley, but they are usually open a bit later.
Helpful tip: Come as early as you can for the best light and to avoid the crowd. There will probably already be some girls in colorful dresses posing for the perfect Instagram shot but you'll have plenty of spots for yourself.
Take a Dip in a Waterfall
Water is not just a natural resource for the Balinese, they believe water has healing powers. The majority of the people in Bali practice a type of Hinduism, which is referred to as Agama Tirtha, meaning "The Religion of the Sacred Water". From the endless waterfalls all around the island to the Balinese Water Temples, water is celebrated in Bali. Join in the festivities and explore some of the numerous waterfalls that can be found around Ubud. You can find many beautiful waterfalls within a 30-40 minute drive from Ubud such as Tegenungan or Tibumana. One of the best waterfall to visit in Ubud area is Kanto Lampo which is very impressive with its several cascading waterfalls over the black rocks. If you have more time, then Tukad Cepung is a really special place to visit. It will take about an hour by car to get there and you'll have to walk for a while to get to the waterfall itself which is actually located inside a cave. The waterfall cascading from above into the cave with the ray of lights (at the right time) is a stunning sight.
Helpful Tip: These waterfalls can get really crowded at times, so try and get an early start and for Tukad Cepung check with your driver or host what is the best time of day to visit for the magical rays of light.
One of the most popular attractions in Ubud is hiking Campuhan Ridge, it's an easy hike where you get to see some of the wonderful landscapes around Ubud. Ubud is a wonderful little town but when you are staying in the center, you mainly experience the plethora of cafes and restaurants and the heavy traffic during the day. That's why so many people hike Campuhan Ridge, it's a short and easy hike where you'll get to view the rice fields in the area from above, have a breath of fresh air and relax.
Helpful Tip: The trail starts just near Warwick Ibah Villas and Spa. Come early because it can get really hot and a bit crowded at times.
Best Attractions in Ubud for Culture Lovers
Visit as Many Temples as You Can
There are so many temples in Bali it is impossible to see all of them. Choose a few of the temples that are close to Ubud and enjoy the spiritual atmosphere and unique vibes that each temple has to offer. Some of our favorites, and only a short drive from Ubud, are Goa Gajah (the Elephant Cave) and Pura Tirta Empul. A dip in the holy water of Pura Tirta Empul can bring you blessings and fortune for the rest of life. You can also visit Saraswati Temple with its beautiful lotus pond that is located in the center of Ubud.
Helpful Tip: Arrive early to avoid the crowds. You will get a sarong to cover your legs in each temple but if you prefer your own, don't forget to bring one. If you like to learn about the culture and customs, hire a local guide.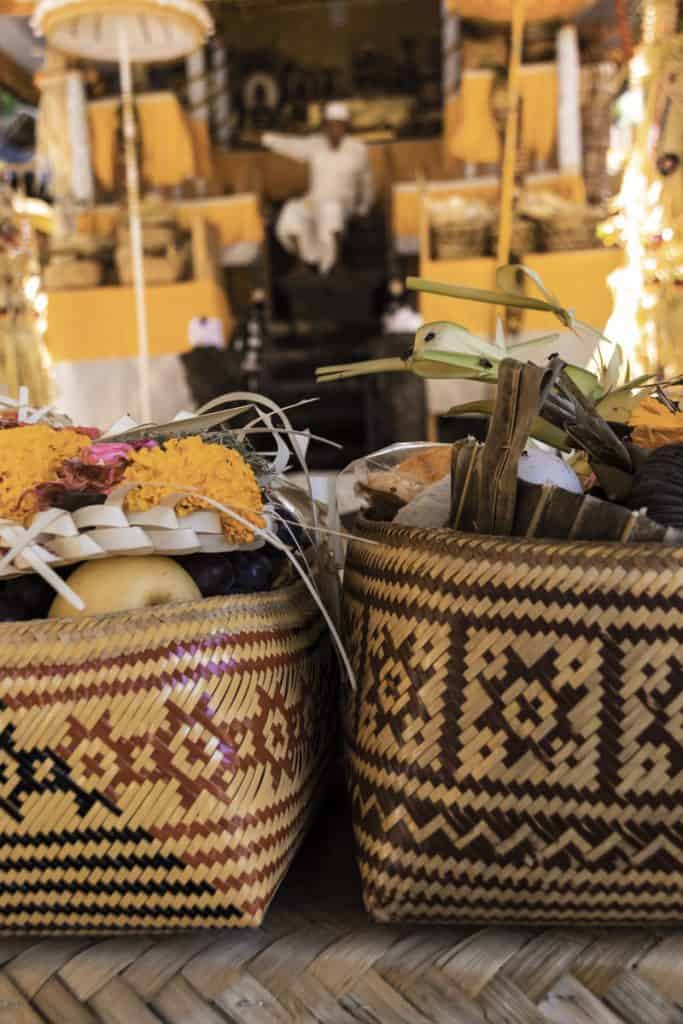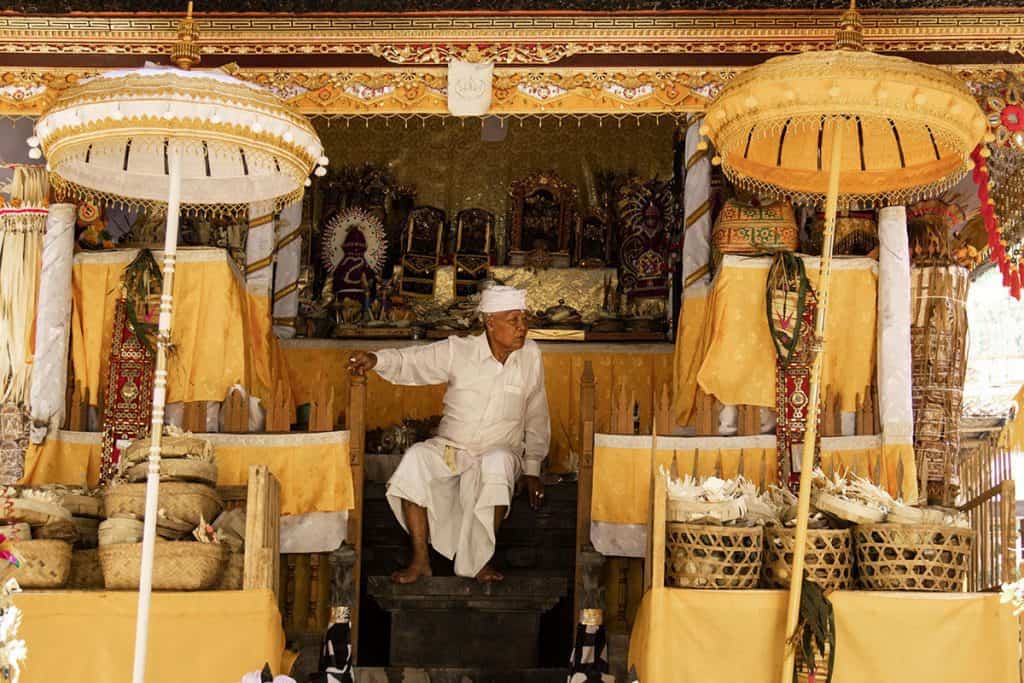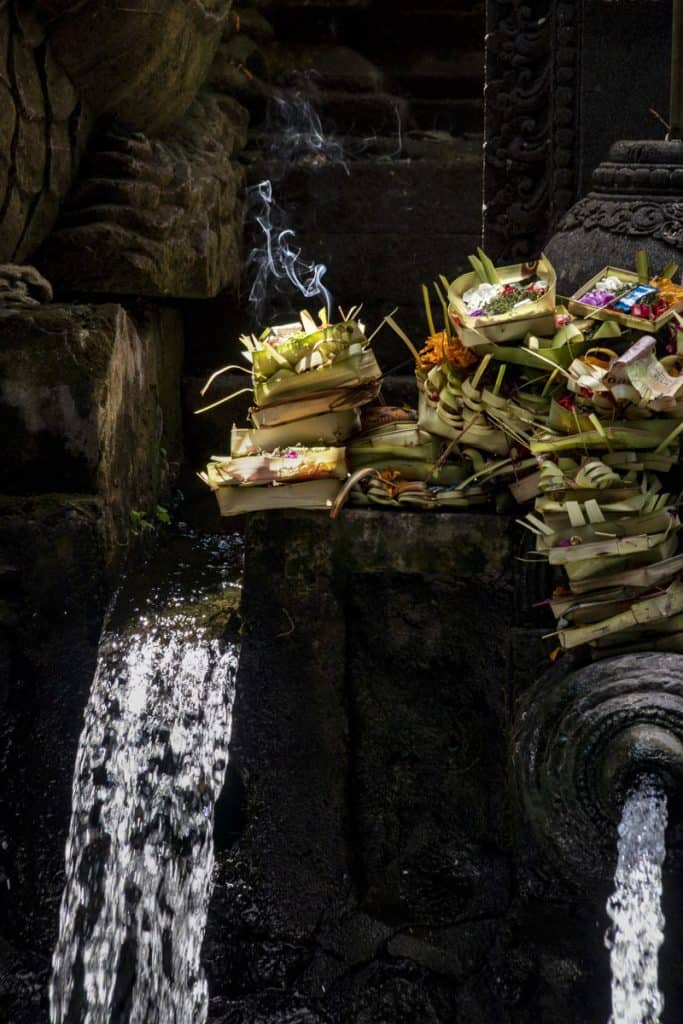 Soak in the Unique Balinese Culture
One of the most wonderful things about Bali is the unique culture that can be seen all around you. You don't need to make special plans, everywhere you'll go you'll see women making their morning offerings while saying a prayer or walking to the local temple with an enormous pile of fruits on their heads, how do they manage to balance it is still a mystery to us. The men and women wear their colorful clothing to the temple, usually in yellow and white and everything feels so dreamy and festive (except for the honks of the cars that kind of ruin the magic a little bit). So just enjoy this unique experience and learn to appreciate the magic of this island.
Best Attractions in Ubud for Market Lovers
Go Shopping in Ubud Market
Ubud is a great place for shopping and Ubud market is well known as one of the best places to shop for clothes, bags, jewelry, souvenirs and more. There are also many stores where you can find great dresses, shoes and bags at cheap prices all around Ubud and there are some cute boutiques whose prices are a bit higher.
Helpful Tip: Haggling is customary in Ubud Market and the little cheaper stores along Ubud's streets. Great streets for shopping are: The top part (northern part) of Jl. Hanoman, Jl. Dewisita as well as Jl. Raya.
Take Some Photos at Ubud Traditional Market
As always, traditional markets are close to our heart. The traditional market in Ubud is located at the same place as Ubud Art Market but it starts very early in the morning and by 10 – 11 is already gone. It is a wonderful opportunity to take some real authentic photos of everyday life in Ubud.
Helpful Tip: To get to the market arrive from Jl. Raya. Which turns into a street market in the early morning hours. Rows of vans with fresh produce, vendors sitting on the pavement with straw baskets full of Bali's fresh frangipani flowers in unbelievable colors, women arranging the traditional morning offerings (called Canang sari) and dozens of other Instagram-worthy shots.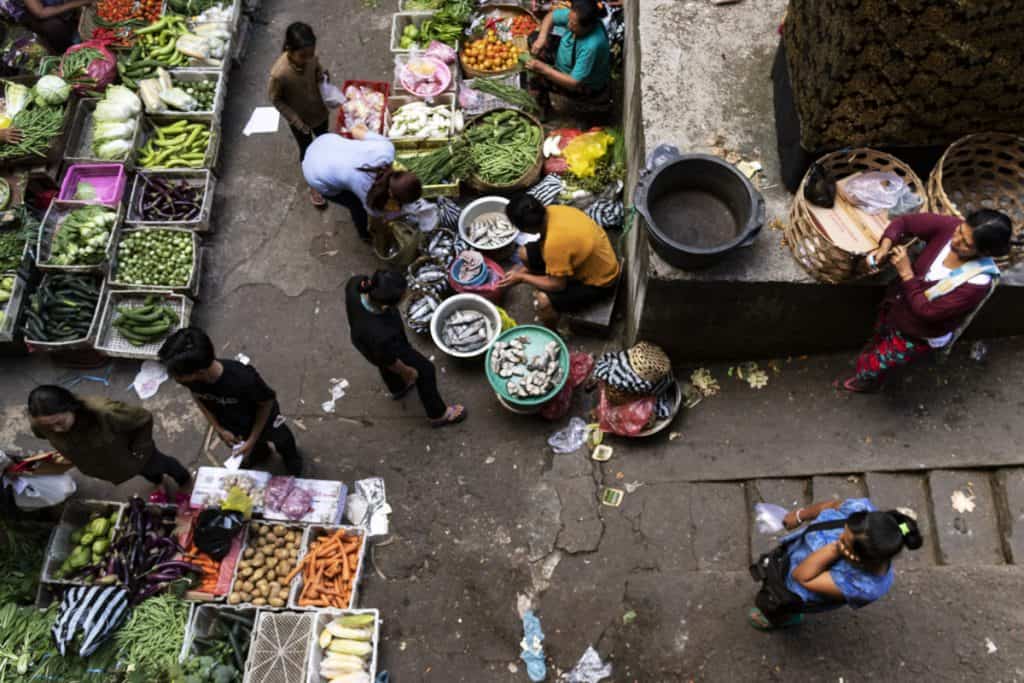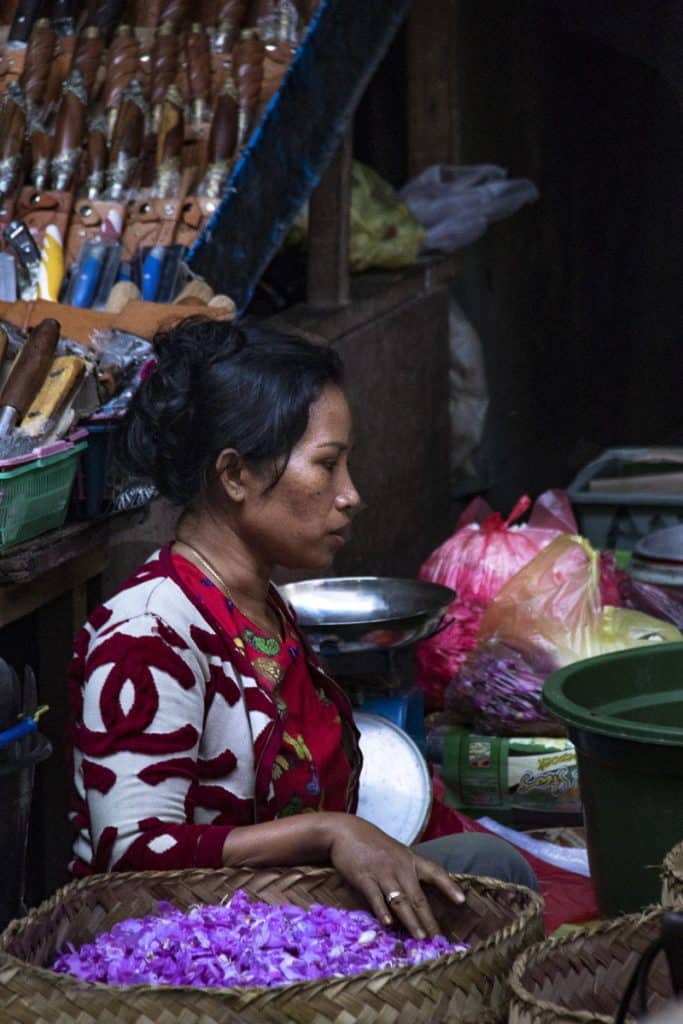 Best Attractions in Ubud for Foodies
If you've always wanted to learn how to prepare your own satay chicken or Gado Gado, Ubud is one of the best places to take a cooking class. There are so many options and so many good choices to choose from. Some classes include a guided tour of the market or a walk through the rice fields. Here are some recommendations to help you choose your Ubud cooking class.
Try Some of the Best Food in Bali
If you would just rather eat instead of cook, then go on your own Ubud foodie tour, no need for a guide. Ubud was actually the most touristy destination on our Bali itinerary since we opted to discover the less known side of Bali. Therefore, for us, it was a non-stop gastronomic feast of fresh salads, smoothie bowls, modern and traditional Indonesian cuisine, tasty desserts and so much more. Ubud is definitely a foodie's paradise so check our Ubud Guide for Foodies.
More Attractions for your Ubud Itinerary
Take a Yoga Class or Choose Your Ubud Spa Treatment
Don't know about you but while we are traveling, we usually wake up at around 5 am, carry lots of photography equipment on our backs, run around from place to place and usually fall fast asleep the minute we hit the bed. So take your time in Ubud and spend at least a couple of relaxing hours in one of Ubud's spas. You can take a massage, a pedicure, a manicure or any other spa treatment you can think of and if you are into yoga, there's no better place than Ubud to enjoy a yoga class. There are plenty to choose from but the most famous one is probably Ubud's Yoga Barn.
Visit the Famous Monkey Forest in Ubud
This is another one of the most popular attractions in Ubud, however, not everyone recommends it. The Ubud Monkey Forest is a sanctuary for the Balinese long-tailed Monkeys. You will also find there three Hindu temples and from time to time festivals are held in the compound. This should be an enjoyable experience so take time and read the guidelines if you don't want to get hurt. For example, don't bring flashy things such as sunglasses or jewellery, don't bring food into the compound, secure your bag and don't try to get too close to the monkeys. Usually, the people who get hurt are the ones that try to lure the monkeys with food or flashy things. They might get a cool selfie but many times, they will also get a bite or a scratch. These monkeys are quite tame but they are still wild animals so be careful.
Watch the Dance Performances in Pura Taman Saraswati
This temple is located in the center of Ubud and other than admiring the carvings of Dewi Saraswati, the goddess of wisdom and art which this temple is dedicated to, and take pictures of the beautiful lotus pond, you can also catch the dance performances which take place inside the temple in the evenings.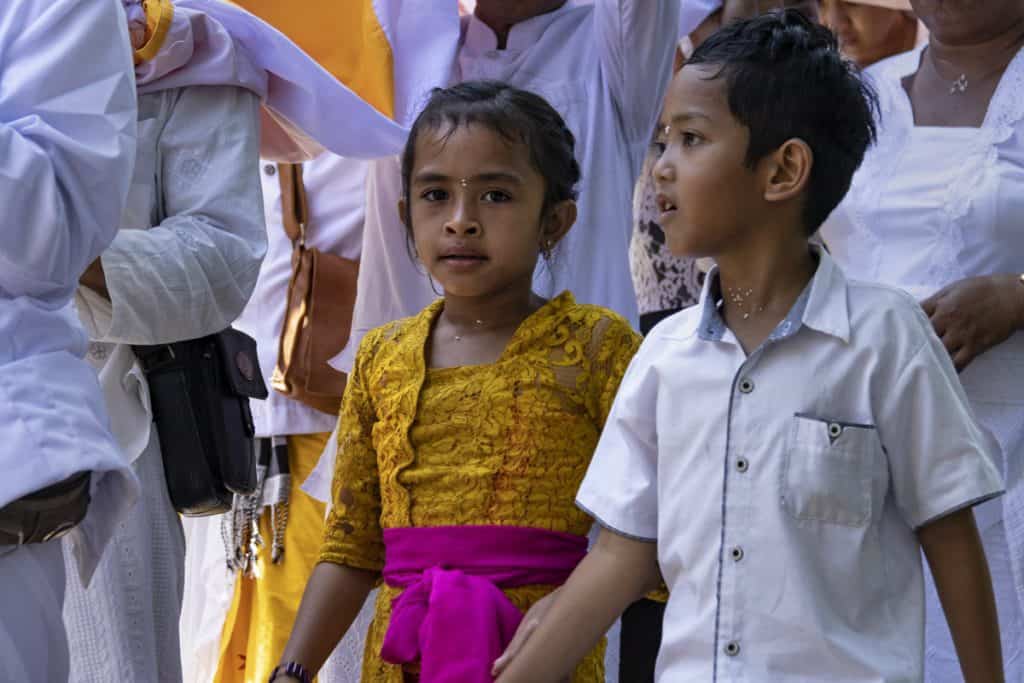 Ubud's traffic, as in other tourist destinations in Bali, is a nightmare. Prepare yourself to the constant stream of cars and honking, especially from 10:00 till 18:00 when the tourists from the coast come to visit Ubud.
Wherever you'll go, there will be bored men asking you in a casual voice "Taxi?" immediately followed by the inevitable second part of the question: "maybe tomorrow?". Smile and refused politely. We suggest booking any day trips from the more organized stores/kiosks which are found everywhere.
Be careful and buy good insurance. Broken sidewalks are everywhere as well as storming motorbikes, not to mention the occasional bites from monkeys if you choose to visit the Monkey Forest. So don't skimp on your insurance policy.
Exchange money only in the authorized places (with PT. on the sign) that offer logical rate (an exceptionally good rate should be a warning sign), preferably in one of the offices along the main streets. Count the money after the transaction and don't hand it back once you counted it. Bring 50-100$ bills with you for a better rate.
Many hotels in Bali (and Indonesia) ask for payment in advance which was a surprise to us.
Everyone has seen on Instagram the famous colorful Bali smoothie bowls. If you are into lavish breakfasts and smoothie bowls, skip the hotel's breakfast and check out the dozens of coffee shops that offer these colorful picture-perfect bowls.
We stayed at the wonderful Alaya resort and even though it was really lovely, next time we'll choose one of the side streets. On the one hand, it's great to be at the center of Ubud (easy access to all those yummy restaurants) but both Jl. Hanoman and Jl. Raya are very hectic, especially during the day, so choose a quieter street for better vibes and easier time crossing the street.
Ubud was our gateway to Bali and to be honest it was the most touristy destination on our Bali itinerary. From there we opted to discover the more authentic side of the island, so we'd have a chance to capture the everyday lives of the locals and some of the most beautiful rice fields we've ever seen. Check out some Hidden Gems we've discovered such as Munduk or Sidemen.
More Travel Guides and Informations about Indonesia
Don't forget to Pin it for later!
Check out some of our guides!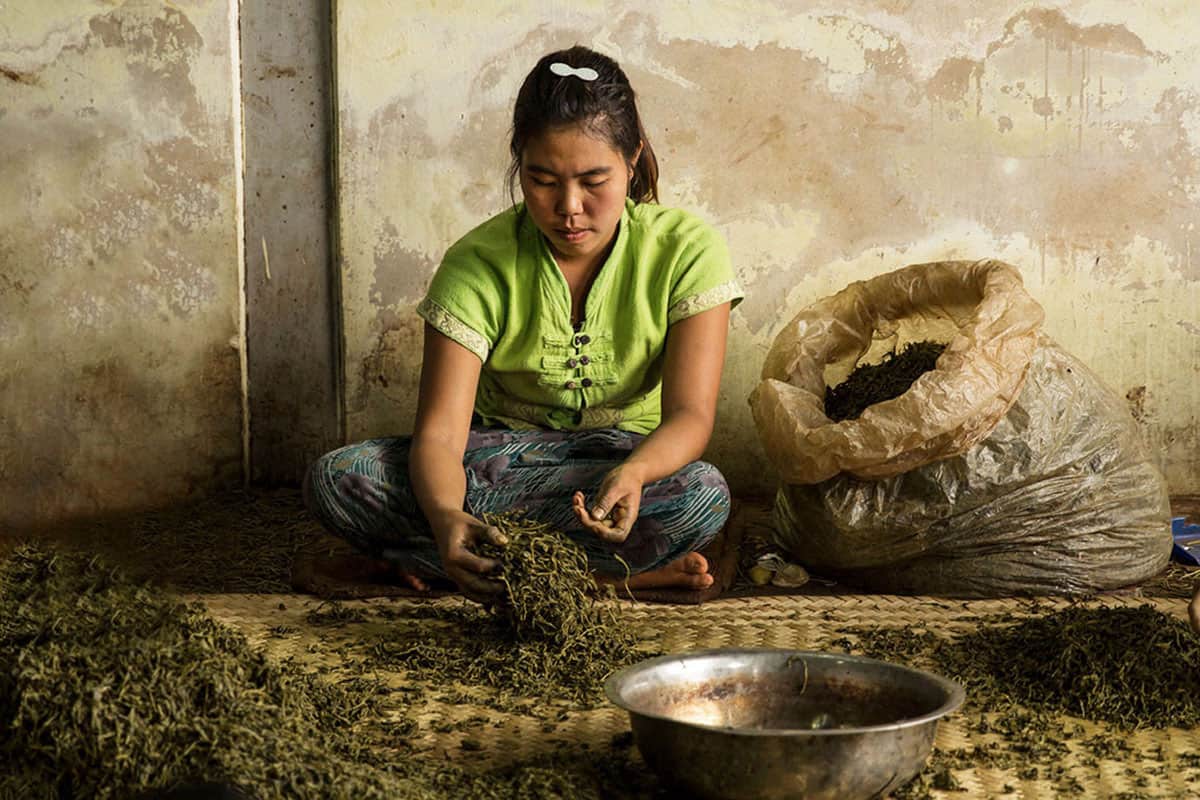 If you like authentic places, check out this great unknown area in Myanmar. From beautiful landscapes to local artisans!
If you love destinations that combine beautiful beaches, cultural influences and food - you'd love Zanzibar!
Cultural diversity, cool neighborhoods, amazing architecture, great food and more - check out our guide!