Where to Eat in Akko - Bakeries, Hummus and the Best Akko's Restaurants
So you've finally decided to visit Akko – one of the best off the beaten path destination in the North of Israel. Good Choice! Akko (also known as Acre) is one of our favorite places in Israel with its massive walls, cobbled stone streets and friendly residents. From the Ottoman rulers, the Crusaders and even Napoleon, everyone wanted a piece of the action and now it's your turn. But where can you find the best food in Akko? Well, we've got you covered! Akko might not be that big but some of Akko's restaurants appear regularly on the list of best restaurants in Israel so if you want to know where to eat in Akko, check out our food guide to Akko's best restaurants. If you're craving some street food, freshly baked pastries and traditional Mediterranean sweets here are the best choices for foodies in Akko:
Where to Eat the Best Hummus in Akko? Humus Said
There are so many great places to eat hummus in Akko, we really can't list them all but Humus Said (original spelling) is probably the most famous one. Open only till 2-3 pm, the place is usually packed with tourists and locals alike, especially during the weekends. So what's so special about this hummus you may ask? Well, in our opinion the fresh ingredients and ratios in Said's recipe. Said has been making hummus for more than 35 years, he is friendly and generous and really makes a point of using only the best and freshest ingredients possible. From the pita bread to the olive oil – everything is homemade. You come here for the hummus because there aren't any other options on the menu. The hummus of your choice is served with some chunky tomato slices, olives, onions and pickles and of course freshly baked pitas, and all for less than NIS 20 (about $5). There will probably be a long line at the entrance, but it usually moves very quickly. If you haven't really understood the appeal of hummus until now, try Said's hummus and you just might change your mind!
Address: Akko's Old Market
Where to Eat the Best Freshly Baked Pita With Spices? At Abu Adnan.
One of Akko's hidden gems is this old bakery which is located in one of the neighborhoods of Acre's Old City. This is the oldest bakery in Akko which still uses a wood-burning oven. The old baker, Fahri Bishtawi (in his late 70's) retired a few years ago but then, he kept dreaming about the feel of the dough under his fingers so eventually he decided to return to his old passion. Now he opens the bakery only a couple of times a week and every time he does, there's a long line of people waiting for the freshly baked flatbread with Zaatar or tomatoes and onions. The local children leave wood next to the bakery, so he wouldn't have to collect it himself. We were invited to enter the tiny space where he prepared the dough and let it rise and then in the main room the round dough balls were flattened by a machine. The next stage was to spread the toppings on top of the dough and with the help of a long wooden paddle, Bishtawi slowly inserted them into the oven. We went outside for some fresh air but soon enough were seduced to go back in by the appetizing smell of the freshly baked flatbread. After a few minutes, we received two steaming freshly baked pitas, wrapped in a simple newspaper and trust us, it was the best breakfast we've had in a while! It's these places that make Akko so unique, there's still a sense of community and authenticity that are hard to find in the more touristy places in Israel.
Address: Inside the Old City. If you are lucky enough to visit during the days Abu Adnan is working, ask around for directions.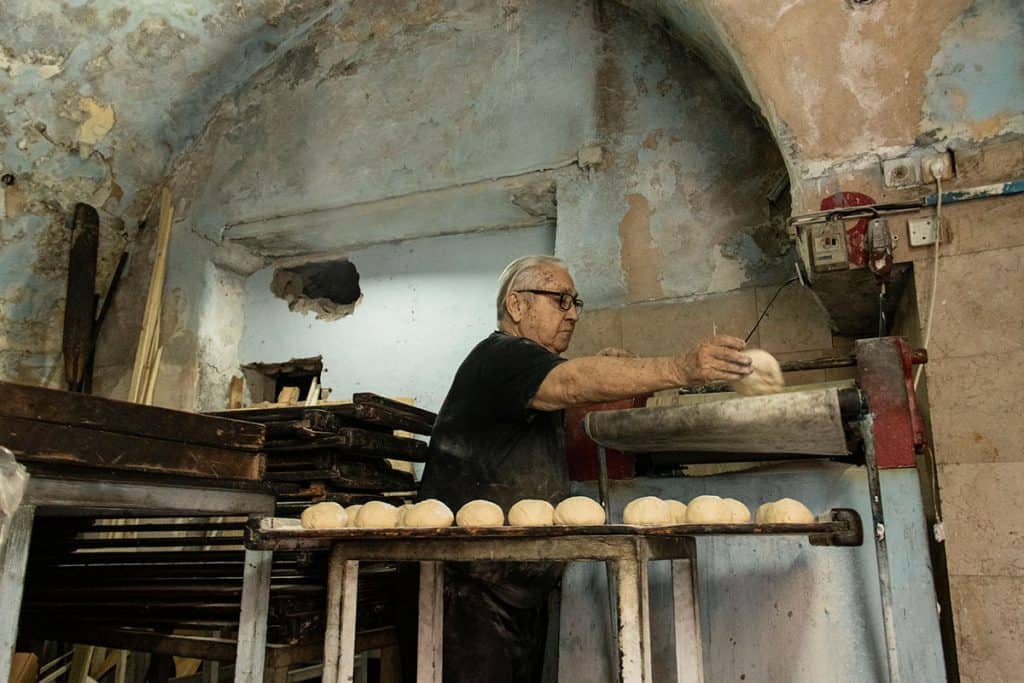 Where to Eat the Best Knafeh – At Kashash in Akko's Market.
Akram Kashash is the fourth generation of original bakers from Akko. His ancestors opened their first small bakery in 1915. Together with his son, Muhammad, Akram is responsible for the best traditional Arabic sweets in Akko. Every morning the father and son bake together dozens of trays filled with rows of different kinds of Mediterranean sweets such as baklava, knafeh, fluffy dough pockets filled with Mahalabia cream and many more traditional Arabic sweets. We entered the back room of the shop where the magic happened and before anything else, we noticed the tempting smell of fresh pastries, and then the rows of orange-brown gems that were glistening in the morning sun caught our eyes. For anyone with a sweet tooth, this should feel like paradise. Muhammad was working on the filo dough for the baklava while Akram was lovingly watering the freshly baked sweets with a sugary sauce. Everything is made by hand, according to recipes that have been passed along from father to son and all the workers in Kashash are part of the same extended family. The best chefs in Israel have visited Akram and his son to learn more about their traditional sweets so if it's good enough for them, we know we've come to the right place! Kashash is open 7 days a week from 9 am till 10:30 pm. Make sure to pay a visit to this small authentic place and for a few shekels, you'll get your sugar fix for the day.
Address: Akko's Market (opposite Humus Said)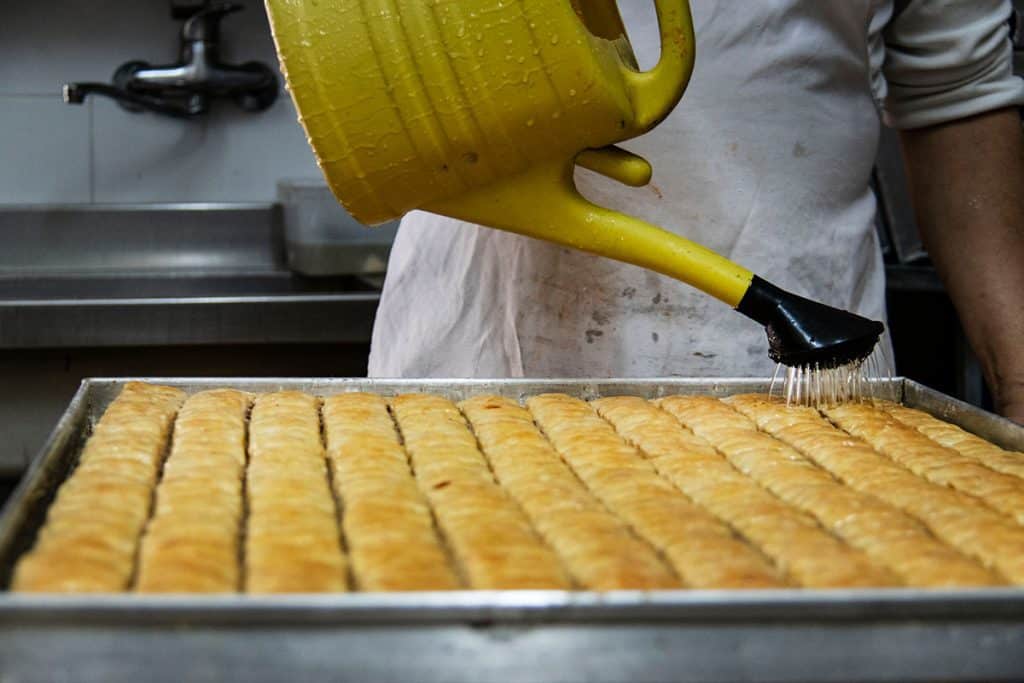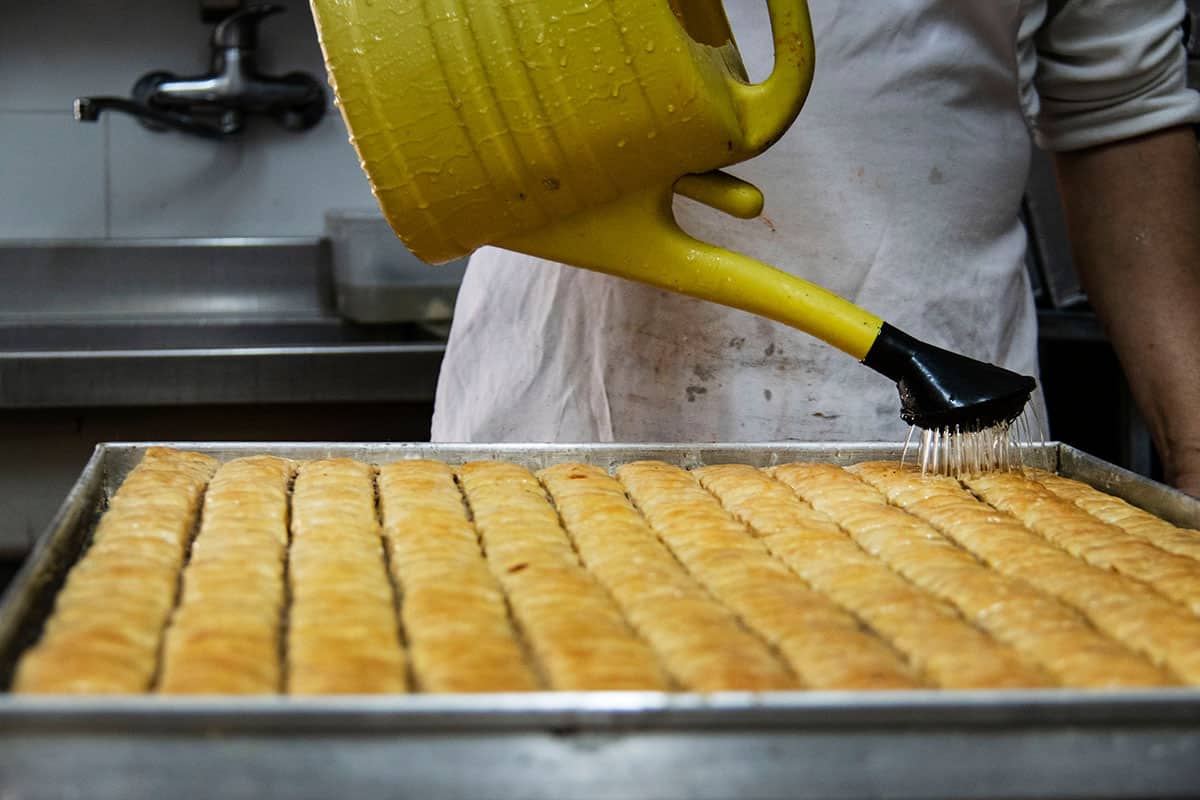 Let's move on to the main dish on our Akko Food Guide. Let's talk about the best restaurants in Acre!
Uri Buri – One of Israel's best seafood restaurants, it is a must-visit restaurant for anyone who loves seafood. People come to Akko especially for Uri Buri and the chef and owner, Uri Jeremias, is well known all over the world, which isn't a surprise to anyone who knows him. Uri is a character, once you meet him, you'll understand. With his long beard, laughing mischievous eyes, love for stories and restless disposition, he is hard to ignore. He runs a tight ship and here you can expect only the best but in a down-to-earth atmosphere. Simple white tablecloths, simple plates and cutlery, the food looks beautiful but not in a fancy or pretentious way, there are no fancy non-edible decorations here, nothing is going to distract you from the flavors of the food itself. With the freshest local ingredients you can find in Akko, Uri will paint you a picture of his love for food through the dishes you'll receive. Everything we tasted was simple and complex at the same time, a plethora of flavors and textures that danced around in our mouths. Some of our favorite dishes were the slices of fresh persimmon topped with mascarpone cheese, raw shrimp and fish eggs, the caramelized fish with cubes of sweet beet, the sashimi salmon with the wasabi sorbet, the octopus with olive oil and last but definitely not least, the mushroom soup which was so rich and full of earthy flavors it was like tasting the essence of autumn in a cup. Uri Buri is definitely one of the most fun and delicious items on our Akko Food Guide.
Address: Ha-Hagana Street (next to the lighthouse).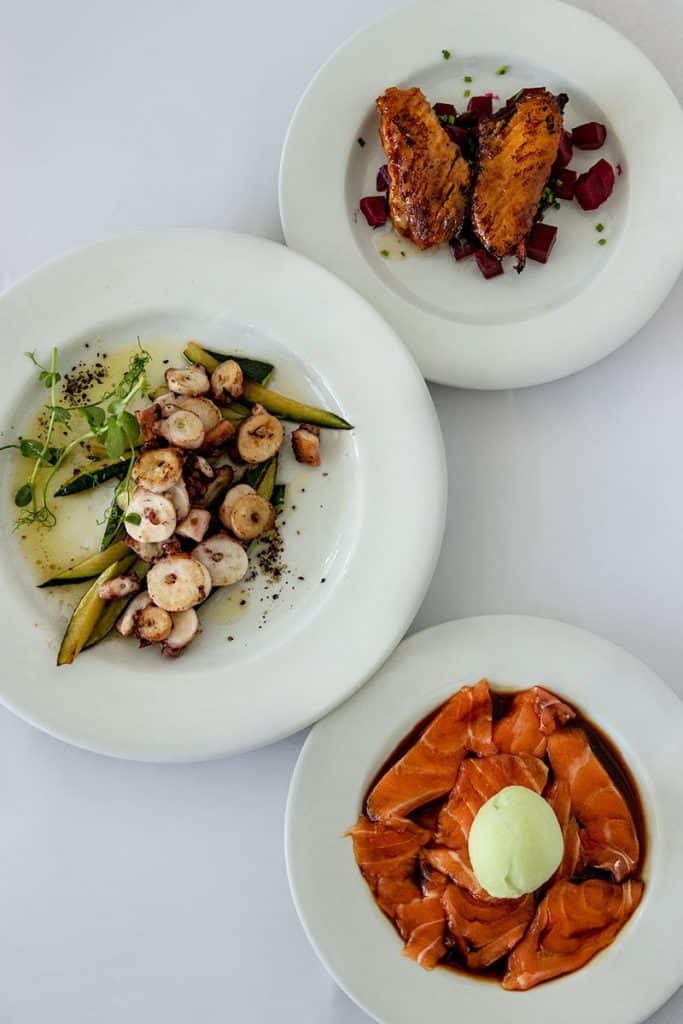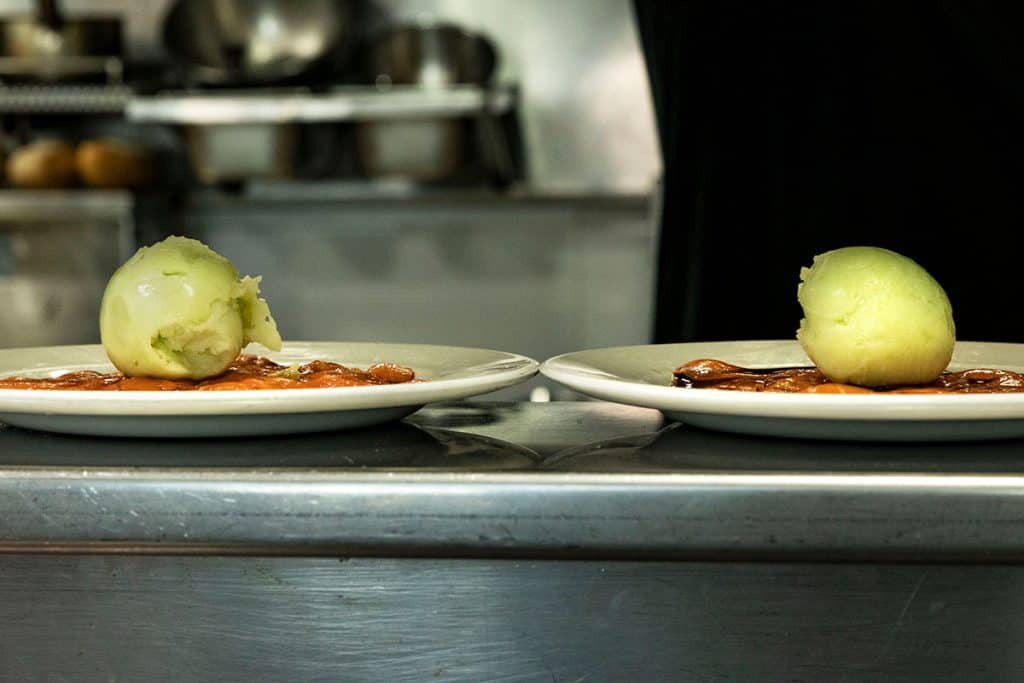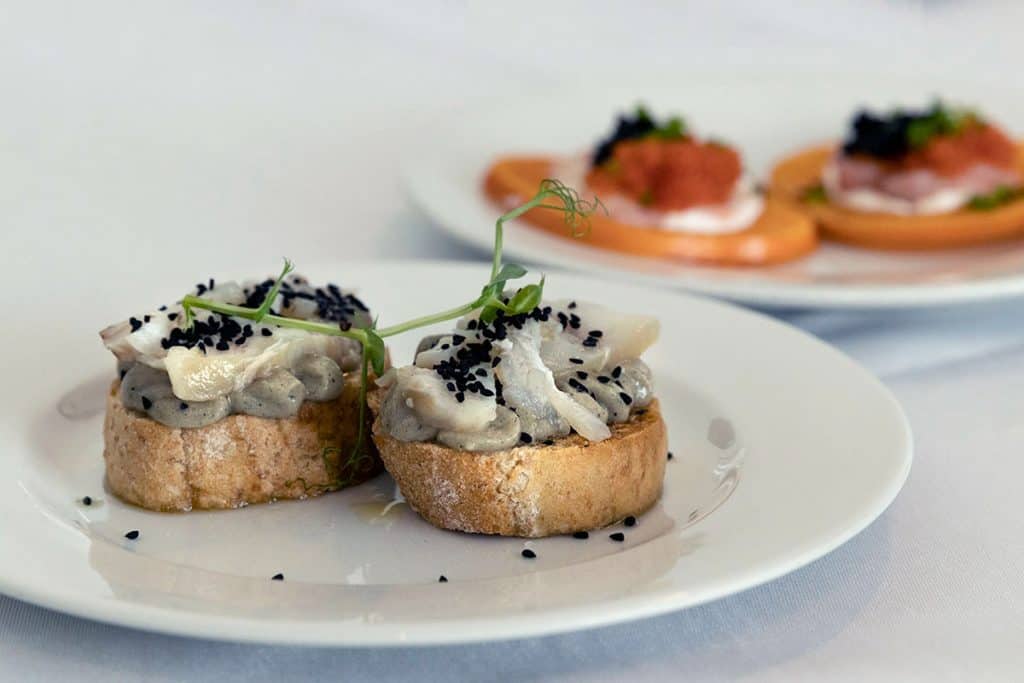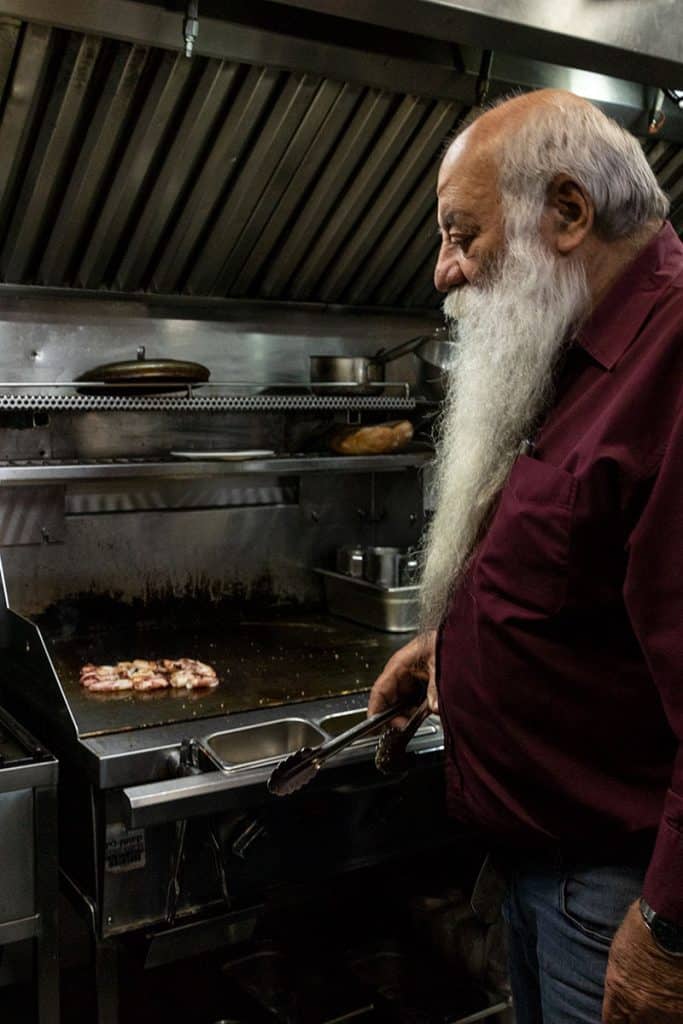 Another must for all of you foodies is El Marsa restaurant, located just at the entrance to Akko's port. The chef, Alaa Musa, was born in Akko and after spending a few years in the kitchens of well-renowned restaurants in Israel and Europe, he decided to come back to Akko and fulfill his childhood dream. Together with his childhood friend, Marwan Sawaed, he opened El Marsa. The menu of El Marsa combines seafood, meat and local herbs, everything is fresh, flavourful and plated to perfection. The combination of flavors here showcases the best ingredients in the Middle East, it's one of our favorite cuisine, earthy flavors with so much freshness from the local herbs. Some of our favorite dishes: the calamari salad with homemade labneh, olives, sumac and pine nuts, the red tuna carpaccio with capers, roasted almonds and olive oil and of course the seafood kibbeh served over a black lentil salad, goat cheese and a lemony sauce. It's one of the best places to have lunch or dinner in Akko and should definitely be on your Akko food tour.
Address: Talmi st. (Acre's harbor).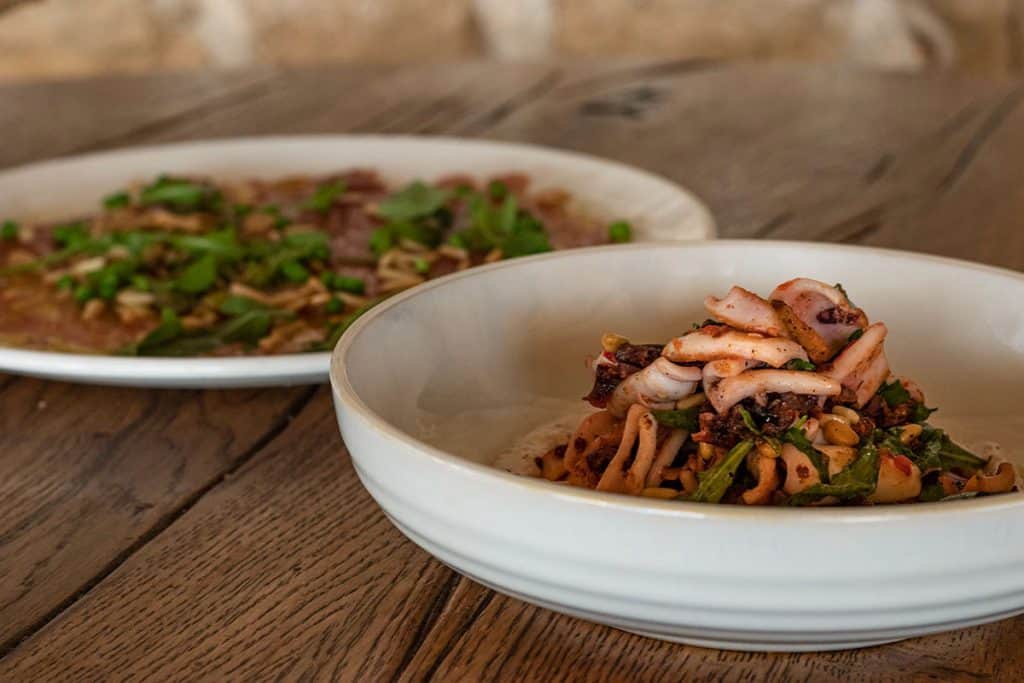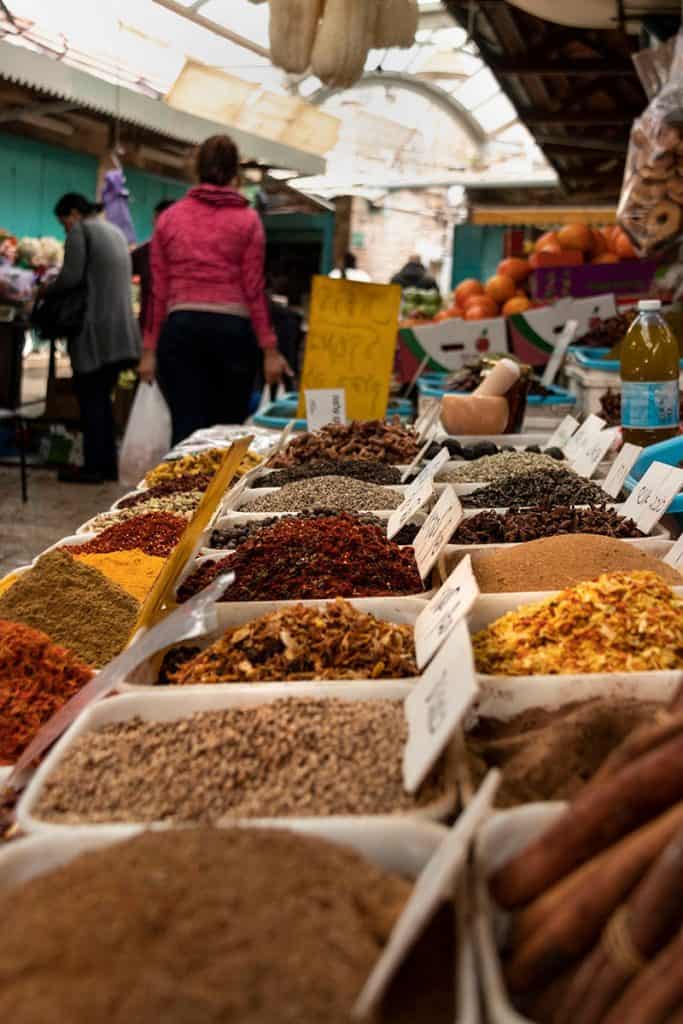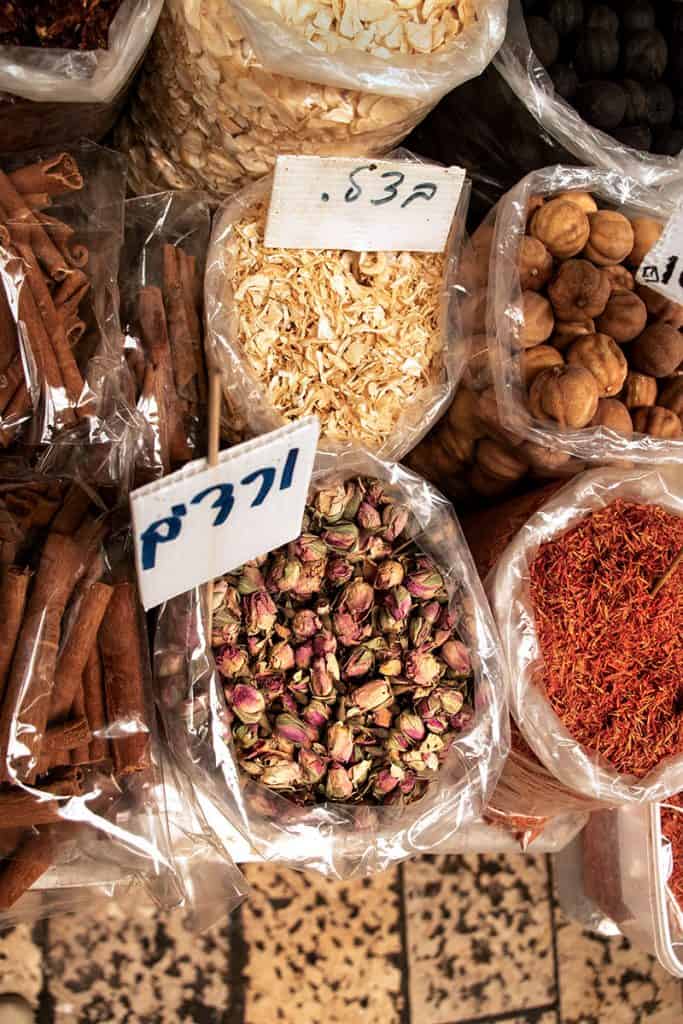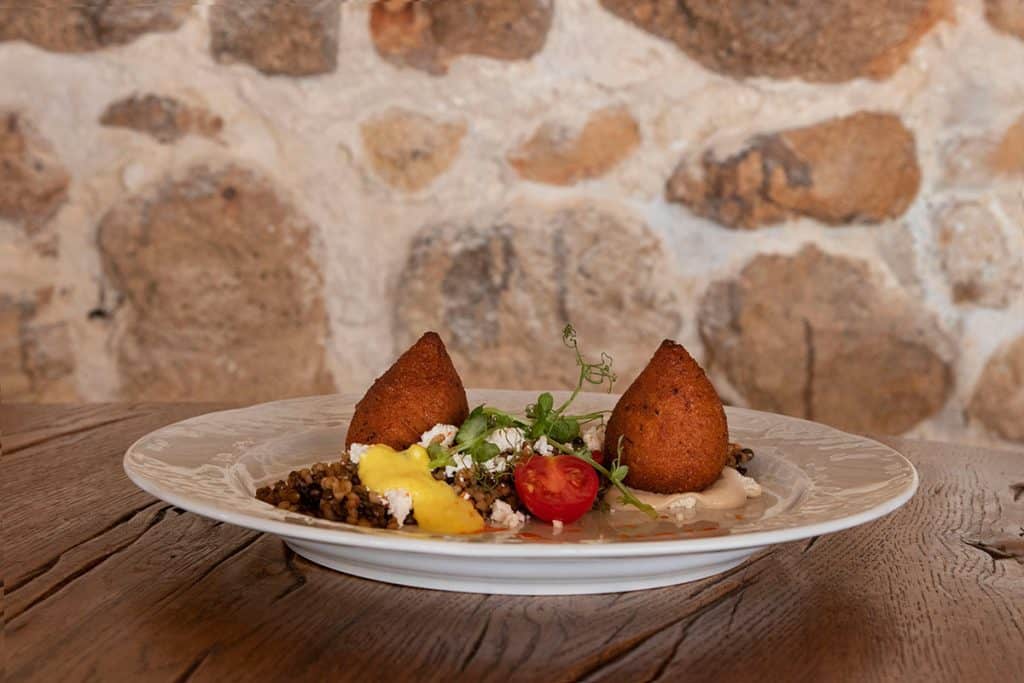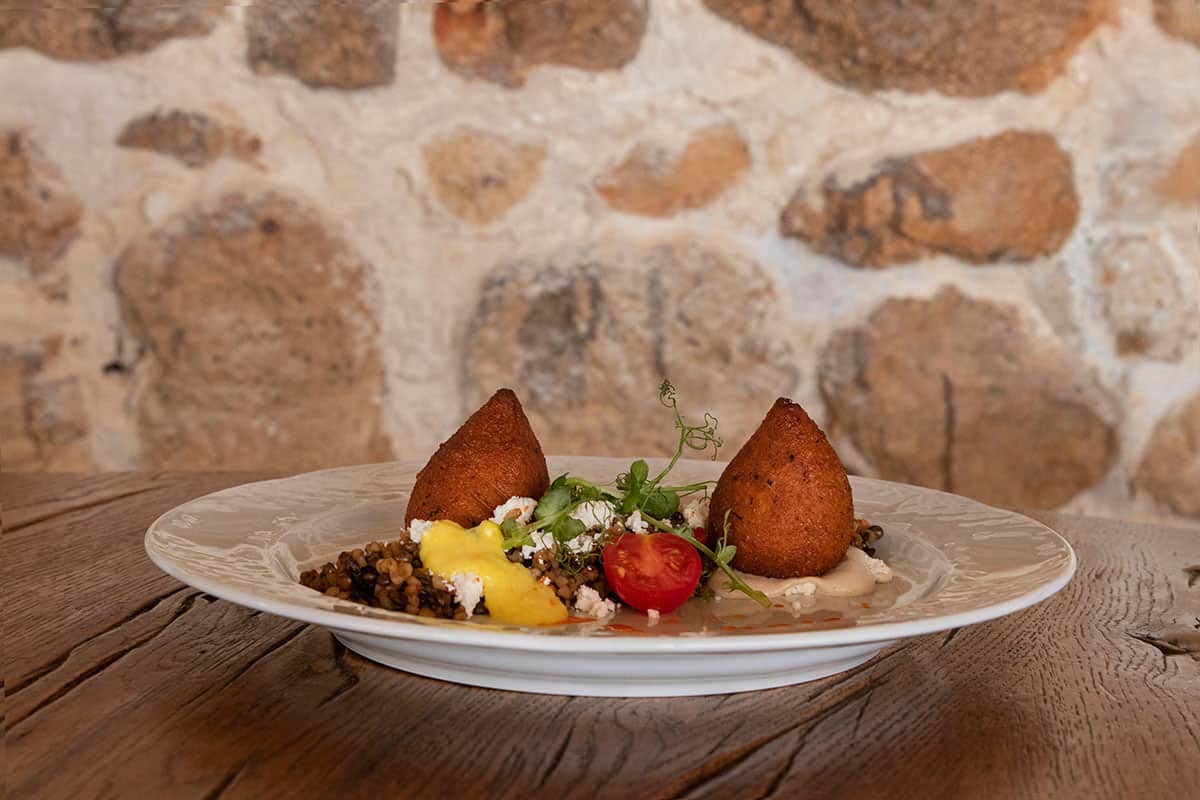 Italian food in Akko? Please… why bother? Well, you definitely SHOULD bother because this kind of Italian food you won't find anywhere else. Omri Shahar is an Israeli chef who has always been fascinated by the cuisine of Southern Italy. After years of working for others, he finally decided to open his own place with his brother Noam. Mercato uses the fresh ingredients of Akko's market to provide the diners with delicious dishes inspired by Southern Italy, the Jewish Nonna and fresh seafood of the Mediterranean Sea. It is Southern Italy combined with Israeli cuisine. Since it's located in Akko's Turkish Bazar, the restaurant has a very casual and unique atmosphere. The dining space is on one side of the general corridor of the Turkish Bazar while the kitchen is on the other side, so while you're sitting in the cozy dining space, you're overlooking the kitchen as well as the locals and tourists who come to visit the Turkish Bazar. Our favorite dishes were the Roman artichoke over lemon crème and the baby calamari a la plancha over yogurt, tomatoes and local herbs. There are so many other great choices on the menu and everything is fresh, colorful and tasty!
Address: The Turkish Bazaar, Wizman St. 1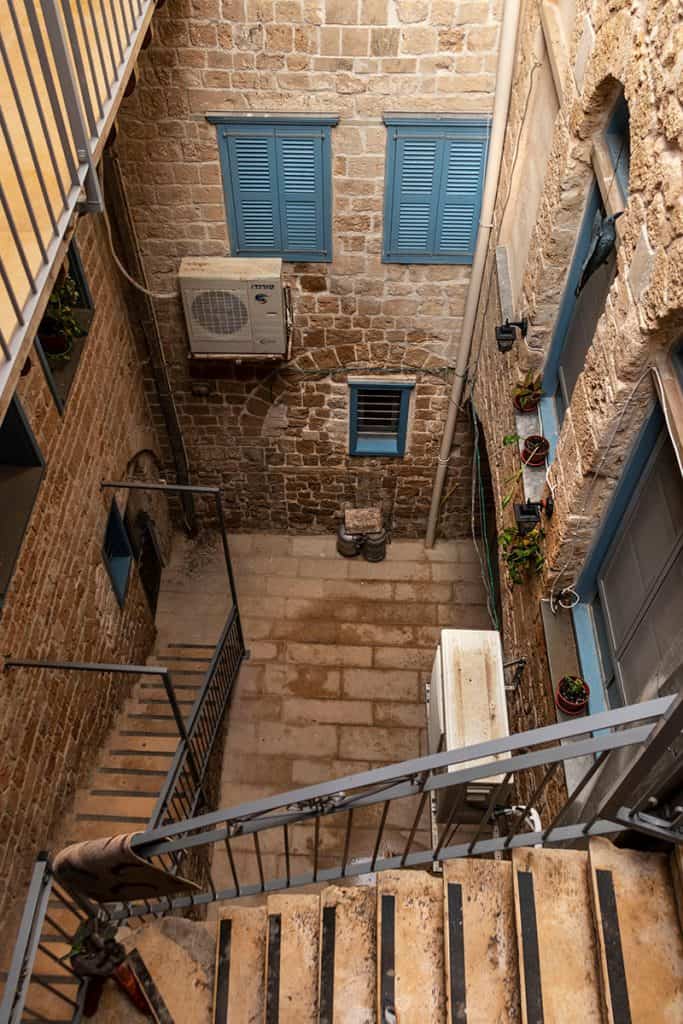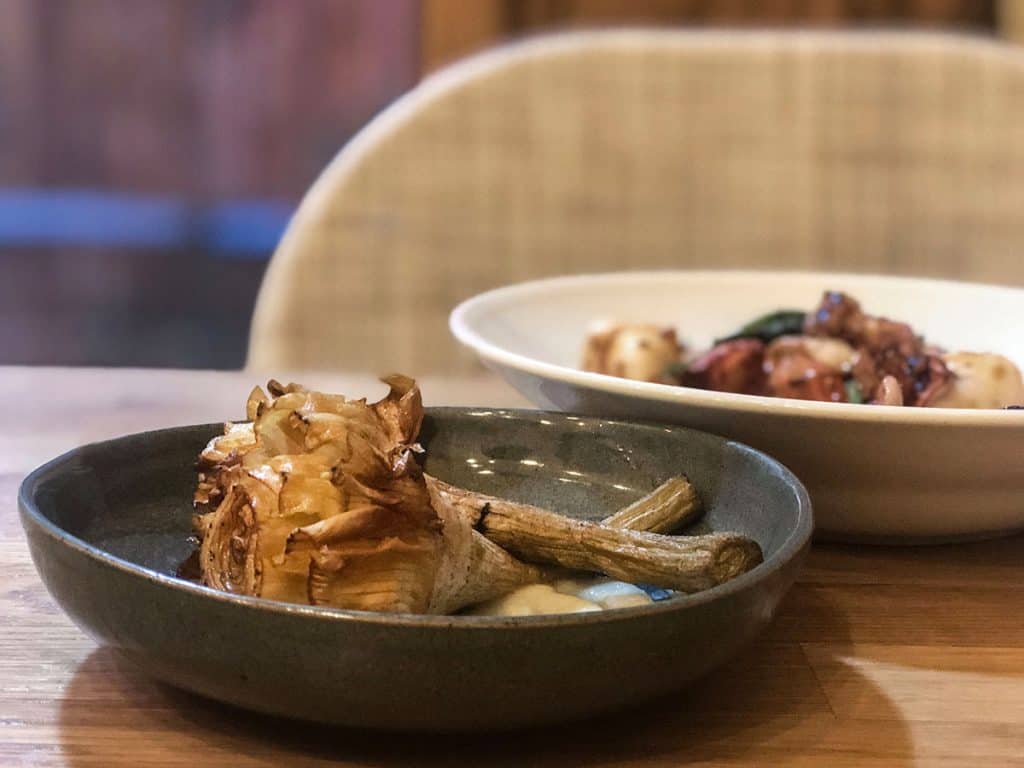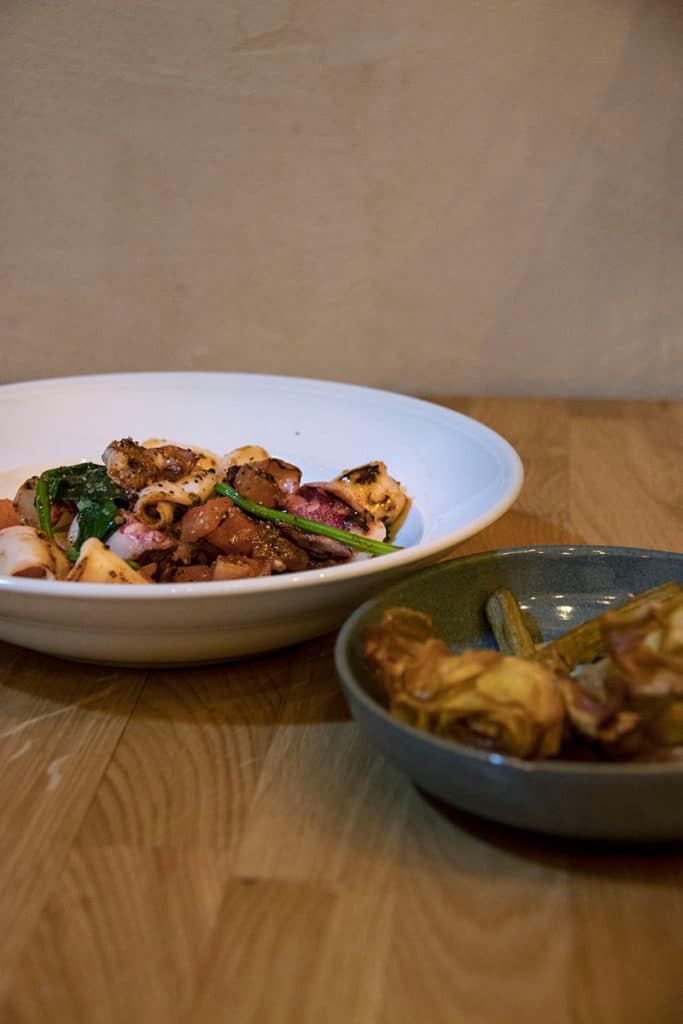 From a simple freshly baked pita with spices to one of Israel's best seafood restaurants, you'll find plenty of options to tantalize your palate and satisfy your foodie cravings while trying the best Israeli cuisine in Acre. Don't forget to take a break from time to time from your food quest to check out some of Akko's Best Attractions and of course, if you're looking for a unique experience, check out our guide to the Best Places to Stay in Akko.