Istria Olive Oil - What You Should Know about Olive Oil Tasting in Istria, Croatia
Istria isn't the first place to come to mind when you think of olive oil; however, it turns out that the Istrian Peninsula is home to some of the best olive oil producers in the world. The renowned Flos Olei guidebook, which lists the best olive oil producers around the globe, has named Istria as the best quality olive oil region in the world for the fifth year in a row. Flos Olei's 2020 edition included 79 Croatian extra virgin olive oils, out of which 77 were from Istria. So you see, olive oil tasting in Istria is one of the must-do activities, especially for food lovers.
This post may contain affiliate links, which means we earn a small commission if you purchase from them (no extra costs to you!). For details check our disclaimer.
Some History about Croatian and Istrian Olive Oil
The tradition of growing olive oil in Croatia dates back to the Roman and Greek times. Back then, olive oil had many different purposes, from cooking and bathing to medicinal uses and lighting purposes. Even then, the Romans had several classifications which helped determine the quality of the olive oil. The lowest category, Oleum Cibarium, was intended for lighting purposes and consumption by slaves, while the highest category, Oleum Ex Albis Ulivis, which was made from light green olives, was intended only for the crème de la crème.
There are plenty of evidence for the importance of olive oil for the residents of Dalmatia and Istria. Olive oil is frequently referred to as 'the liquid gold' and it is intertwined with the history and culture of Croatia's Dalmatian and Istrian regions. Throughout the ages, olive oil has always been an essential source of income and dietary supplement, even at times of wars and plagues. Evidence for the long history of olive oil growing in Istria has been found in several locations around Croatia, including a 1600-year old olive tree on Veliki Brijuni island.
Istrian olive oils and olive trees have always had a vital cultural significance. Each Istrian family had their own little olive tree grove, it might have been only a couple of trees or a couple of dozens of trees, but it is a cultural tradition that is kept to this day. Thanks to the resilient nature of olive trees, they can be planted even on rocky soil, and they seem to prosper and last forever with proper care. Therefore, olive trees symbolize good health and longevity, and the locals view them as the roots of the Istrian family. In the past, each family used to produce their olive oil for their own use as well as for the purpose of trading commodities in town.
The only time Istrians have neglected their olive oil cultivation was during the time Istria was part of Yugoslavia. During these years, the men were forced to abandon their olive groves and agricultural lands and support the state by working in governmental plants. During that time 70% of the olive trees, more than 1.5 million trees, were lost. For 40 years there was no production of olive oil. It was during this time that the use of pesticides like DDT became the norm in many other countries, in Istria however, the land has remained free of pesticides to this day. Therefore, from 1990's to this day, the majority of Istrian olive oil is organic.
Olive oil classification or grading is done according to various standards, which might differ slightly from country to country. Generally speaking, olive oil grading can be affected by several factors such as the production method, acidity and flavor. The taste of olive oil is influenced by many different factors such as the variety of olives, the timing of the harvest and the harvest method, the length of time between harvesting and the pressing process, the composition of the soil and more. There are three primary grades of edible olive oil and numerous types within each class. The three general grades are:
Extra virgin olive oil
Virgin olive oil
Olive oil
The highest class, extra virgin olive oil, is unrefined and has a lower level of oleic acid (no more than 1%), meaning it is healthier. It should have golden-green color, a distinct olive flavor, and some pungent peppery notes
Get our detailed maps for FREE with all the attractions around Istria – Subscribe to our monthly Newsletter
Why Is Istria Olive Oil So Unique and High Quality
The unique geography of the heart-shaped Istrian Peninsula, the climate conditions and the fertile soil have an important part of cultivating beautiful olive groves and producing high-quality olive oil. In addition, the local methods of the relatively small olive oil producers contribute to the exceptional taste and unbeatable quality of Istrian olive oil. Most olive oil producers prefer an early harvest, which means higher quality olive oil. All of the above contribute to the unique taste of Istria olive oil. It has some fruity notes with kind of a sharp or peppery punch which means it is high in polyphenols and full of antioxidants. Moreover, as explained before, the majority the Istrian olive oil is organic. There are five indigenous Istrian Olive Varieties: Buža, Bianchera (Istrian Bjelica), Carbonazza (Crnica), Moražola and Rožinjola (Rosulja). However, you can find other varieties in some olive groves.
Chiavalon – Our Favorite Place for Olive Oil Tasting in Istria
You can find many olive oil producers along the Istrian Olive Oil Routes. While driving in Istria, pay attention to the small signs which signify the olive oil and wine producers along the roads. However, we can only speak from our own experience, and we decided to visit Chiavalon Olive Oil in Vodnjan, a small village that is located 20-25 km south of Rovinj. We've heard and read about their high-quality extra virgin olive oils before our visit, but after visiting them in person, the story behind the scenes and their passion won us over.
From a young age, Sandi Chiavalon has always been fascinated by the family's olive trees. He used to help his grandfather cultivate the family grove which consisted of 50 olive trees. After his grandfather fell ill, he decided to take it upon himself and cultivate the family trees by himself, at the young age of 14. With his passion, and eagerness to learn as much as possible about olive oil production, accompanied by two degrees from the Agricultural Secondary School in Poreč, and the Faculty of Agriculture in Zagreb, Sandi, with the help of his brother, Tedi, have turned their small family olive oil grove to a successful business that is renowned for the unusual high-quality of their 100% organic extra virgin olive oil. Their early harvest and same-day processing (the length of time between the harvesting procedure to the pressing process is only 4 hours), along with the meticulous pressing and storing methods have earned them numerous awards and worldwide recognition. Chiavalon's extra virgin olive oil bears the Organic Label, as well as the Protected Designation of Origin. Both of these labels guarantee 100% organic extra virgin olive oil from Istria. Even the prestige Flos Olei olive oil guide has ranked their Extra Virgin Olive Oil Ex Albis (a unique blend of five different olive varieties) among the Top 15 olive oils in the world.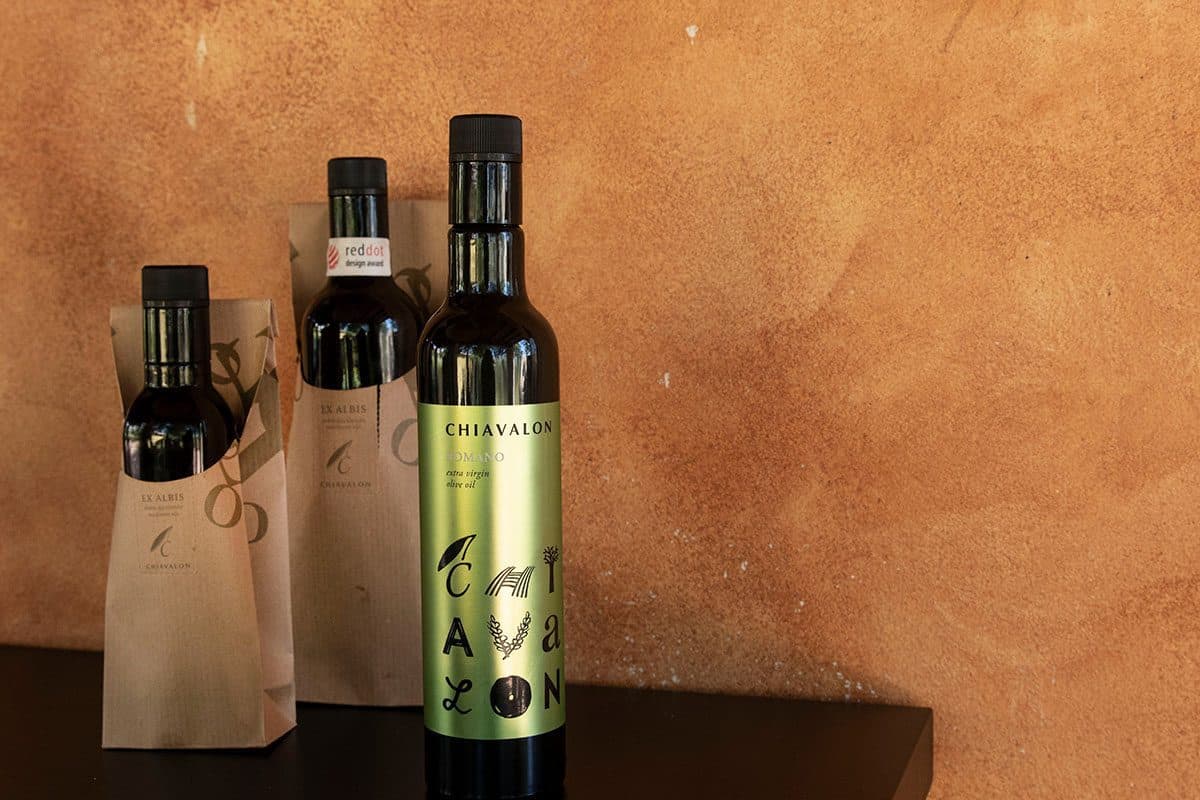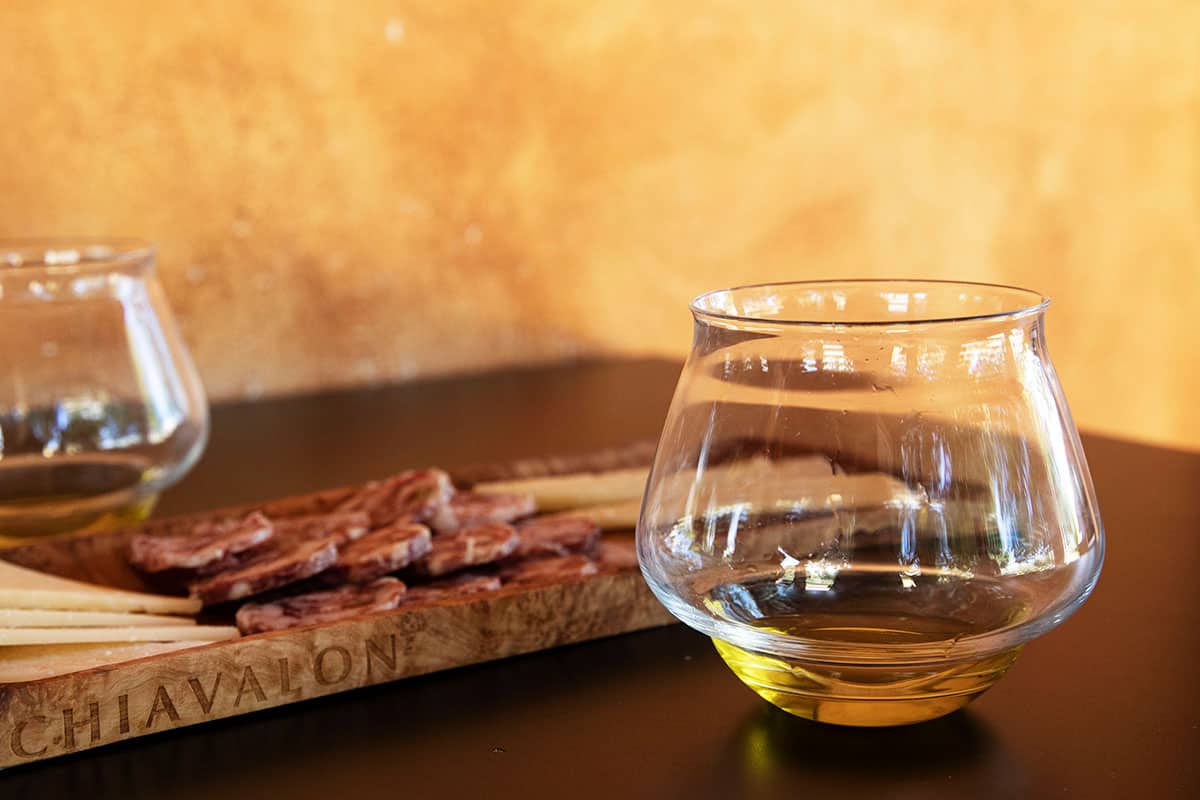 What to Expect at a Good Olive Oil Tasting
What we loved about our Chiavalon olive oil tasting were the personal touch and the knowledgeable guide. She took the time to explain to us how to recognize high-quality olive oil since the majority of olive oil around the world is not pure. Their tasting room is located inside one of their olive groves just near the family residences, a very picturesque setting that only added to the unique experience.
A Few Tips about Recognizing High-Quality Extra Virgin Olive Oil
Light destroys any good qualities of the olive oil within seven days and, therefore, don't buy olive oil in light glass bottles.

Olive oil should be kept at a temperature of 13 to 25 °C; otherwise it loses its antioxidants within 24 hours.

After opening an olive oil bottle, you should consume it within four months.

Tasting olive oil is an art. The taste should be rich with notes of bitterness or peppery notes, and you should always taste it by itself, without any food.
The Right Way to Experience Olive Oil Tasting
What's so complicated about olive oil tasting you might ask, well it's not as simple as one might imagine. We got a round glass with some olive oil at the bottom of the glass. We were asked to warm the olive oil with our hands, so we held the glass at the palm of our hand and covered the opening with our other hand. After a few minutes, we swirled the glass gently, and we were good to go.
"What does it smell like?" our lovely hostess asked us.
The intense and pungent smell took us by surprise. It smelled like fresh-cut grass and crushed herbs with some fruity notes. Then, she demonstrated how we should taste the olive oil, which was accompanied by giggles on my part. It might sound ridiculous, but this method does work. While taking a sip, you should press your teeth together with your tongue pressed to the top of the mouth and slurp the oil while inhaling noisily. We felt a trace of bitterness at the sides of our mouth and a kind of spiciness down our throat, which are both indications for high-quality olive oil.
After our olive oil tasting we went for a stroll in the beautiful small grove (they have groves in different areas of Istria) and visited the Chiavalon shop where you could buy some of their best olive oils. During our visit at Chiavalon, we couldn't help but notice our guide's love and appreciation to the Chiavalon family, which in our eyes only contributes to the appeal of their delicious olive oil.
Even though we chose to visit Chiavalon, there are plenty of other local producers where you'll have a chance to taste and learn about Istria olive oil. If you are short in time, you can always stop at one of the specialty food stores in Rovinj, Porec, Pula and other Istrian towns and buy some Istrian olive oil there. Another option is to stop at the House of Istrian Olive Oil, which is situated in Pula. There you can learn about the history of olive oil in Istria, and experience olive oil tasting as well. At their shop you'll find olive oils from 30 top Istrian producers.
Nevertheless, to truly experience Istria olive oil the right way, we recommend scheduling a visit for olive oil tasting at one of the local producers' tasting rooms/olive groves.
OPG Chiavalon
Opening hours: 10 am to 6 pm, Monday to Friday, Saturday 10 am to 2 pm (closed Sundays and holidays)
Address: VLADIMIRA NAZORA 16, 52215 VODNJAN, ISTRIA, CROATIA
Email: info@chiavalon.hr | Tel: +385 52 511 906 / +385 98 860 566
Disclaimer: We'd like to thank Chiavalon Olive Oil for welcoming us to their facility. Regardless, all the opinions that are expressed in this guide are our own.
Don't forget to pin it for later!
.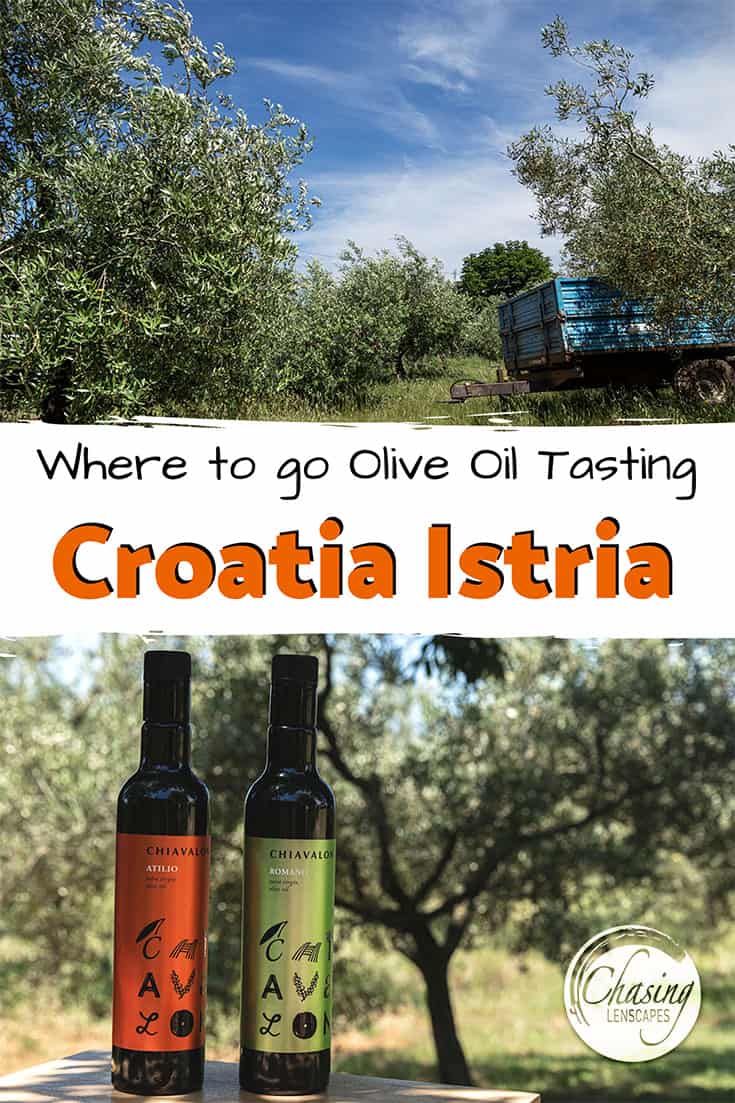 .
Check out some of our other city guides!
Visit the beautiful Dubrovnik and discover all the hidden gems of this magnificent city, including the best photography spots.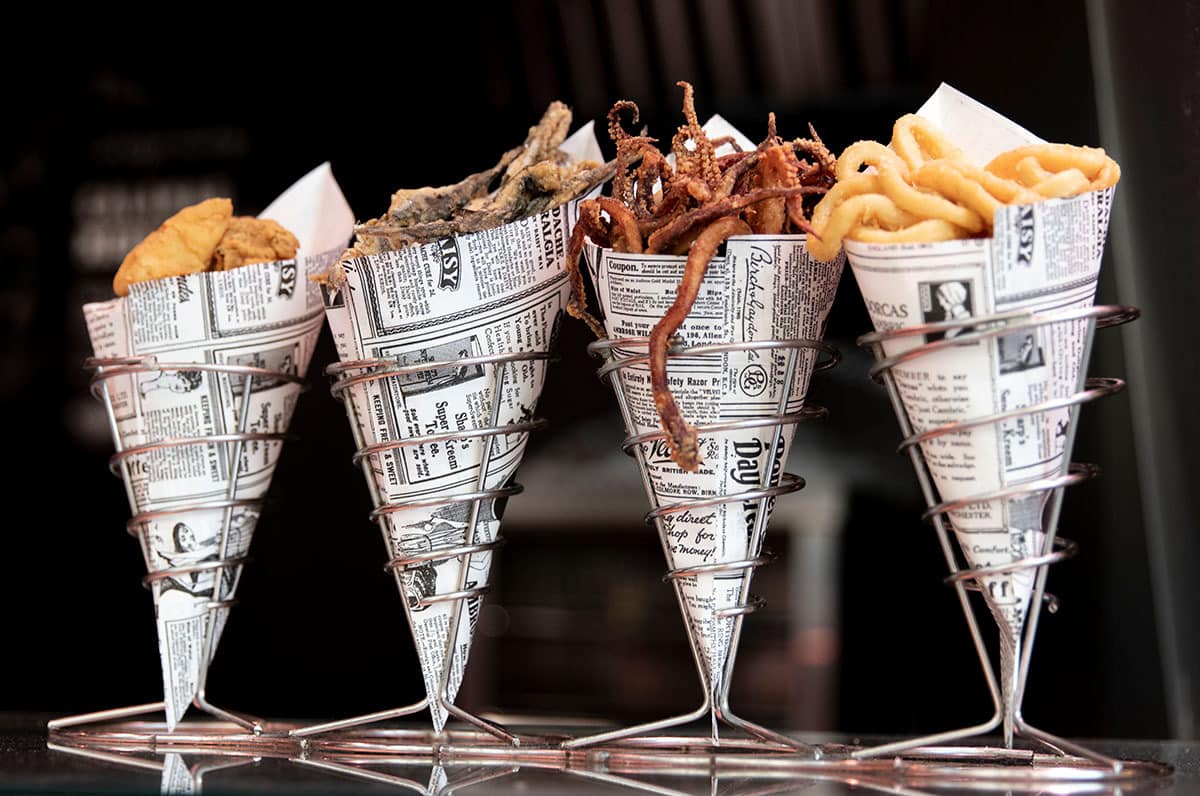 We've explored the best restaurants, tapas bars and markets in Madrid, one of the food capitals of the world.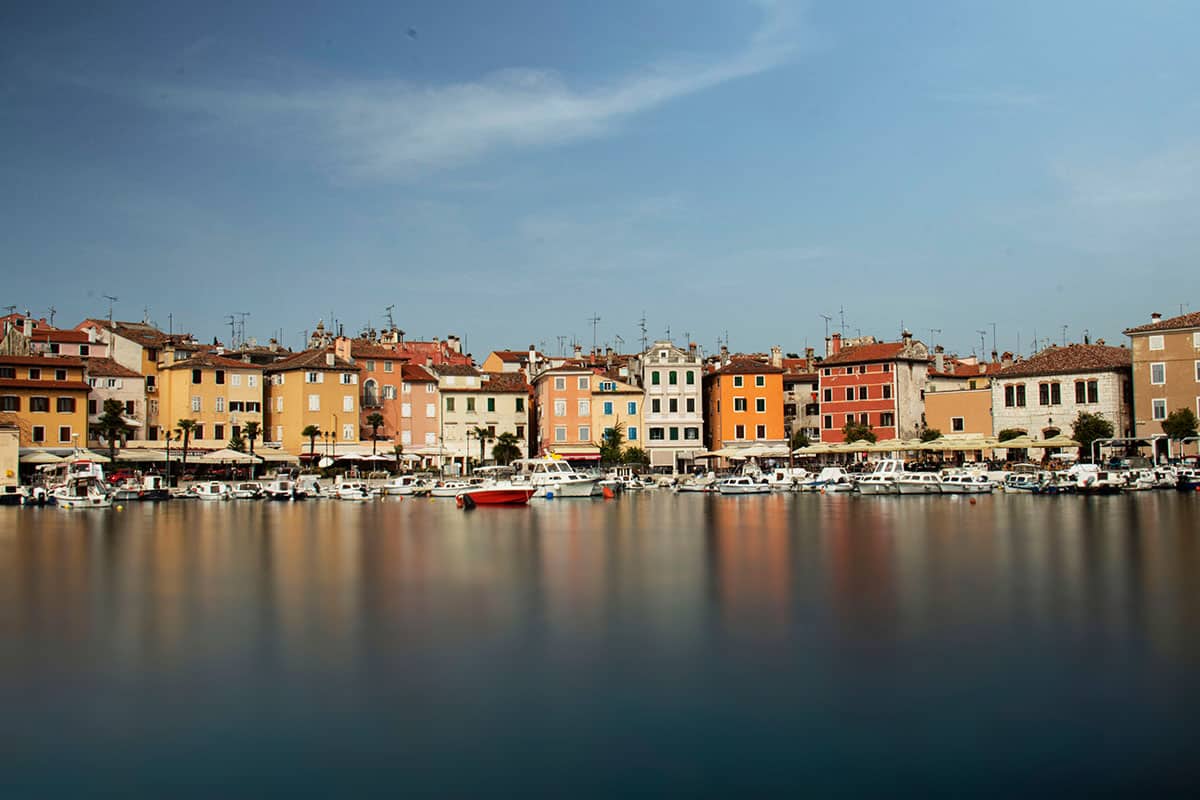 We fell in love with Rovinj from the start. Read about the best things to do, where to stay and where to eat in Rovinj, Istria.