Madrid Neighborhoods
Best Neighborhoods in Madrid
Spain is one of my favorite destinations in the whole world. For me Spain is like a good book, one that you are always happy to come back to and always gain some new insight after rereading it… As you can probably tell, Spain has a special place in my heart. Something about the Mediterranean atmosphere and love of life just makes me feel giddy with excitement whenever I have the opportunity to visit Spain. If you have never been to Spain, it's time to pack your bags and book your ticket ASAP. You see, the Spanish have a PhD in living the best life they possibly can, they have their own rhythm and you'd better follow the tempo. The shops are opened at around 10 am, at noon time it's siesta time, dinner is around 10 PM and then it's time to party! Not to mention the love for food, coffee culture, music and more… Que Buena Vida!
Madrid, the Spanish capital, never ceases to amaze me and each visit I discover some new hidden gems. It's packed with old alleys, historic monuments and traditional restaurants but you can also find here modern urban architecture, cool neighborhoods filled with street art and the best coffee shops and restaurants in Europe!
Each neighborhood in Madrid has its own character and rhythm and so this post is dedicated to the trendiest neighborhoods in Madrid!
This post may contain affiliate links, which means we earn a small commission if you purchase from them (no extra costs to you!). For details check our disclaimer.
Coolest Madrid Neighborhoods - The Ultimate Guide
Malasaña - Best Madrid Neighborhood for Cool Graffiti, Trendy Restaurants, Unique Shops and Nightlife
Malasaña has gone through some changes over the years and nowadays it is one of the most beautiful, colorful and trendiest neighborhoods in Madrid. It used to be an old and tired barrio until some young entrepreneurs turned it into one of the best neighborhoods to stay and hang out in Madrid. This barrio has a totally different rhythm during the daytime and nighttime so you'd better visit it at least twice.
What to Do and See in Trendy Malasaña?
Take Photos of Some of the Best Graffiti in Madrid
Start your day early (not too early though – or you'll find yourself roaming the streets by yourself) and stroll around the colorful streets where you'll find dozens of cool graffiti and street art that could liven up your Instagram feed in a heartbeat. What's so great about this trendy Madrid district is that you will find here a wonderful mixture of the young hip crowd living side by side with older residents of this neighborhood. While you'll be busy photographing the streets, young students on their bikes will pass you by while the older residents might nod and smile on their way to their favourite coffee shop.
Get monthly updatesincluding exclusive access to our google maps which feature all of our favorite attractions in numerous cities all over the world.
I want to subscribe to your NEWSLETTER!
Discover the Most Unique Stores in Madrid
Malasaña is the perfect place to do some unique shopping in Madrid. You will find here a variety of vintage shops and cool concept boutiques, special gift shops, unusual book and record stores and so much more. So if you are not looking for the usual chain stores, and you're into vintage and one-of-a-kind items, this is the place for you!
Visit Some of the Best Restaurants and Coffee Shops in Madrid Barrios
One of the greatest pleasures in life for me is discovering great restaurants, groovy coffee shops and local delicatessens. While roaming the colorful alleys of Malasaña I felt on cloud nine! There are so many hidden gems in this hip neighborhood and I found some of the best cafes in Madrid here, each with its own unique design and cool atmosphere. The main streets are Calle del Espíritu Santo and Calle del Pez but my recommendation is going on a treasure hunt since in every little street or small plaza you'll find another photogenic restaurant.
For breakfast or lunch check out Ojala or HanSo Café which is one of the most popular places in Malasaña (Calle del Pez). Federal Café is known for its amazing breakfast and lunches (as well as comfy atmosphere) and it is one of my absolute favorites. Toma Café is another lovely place and if you're in the mood for something refreshing, stop at Lolo Polos – a popsicle boutique in Calle del Espiritu Santo. All of the handcrafted popsicles are made from natural flavors and there are some unique flavors to choose from such as green mojito, caramelized-banana-coconut and more.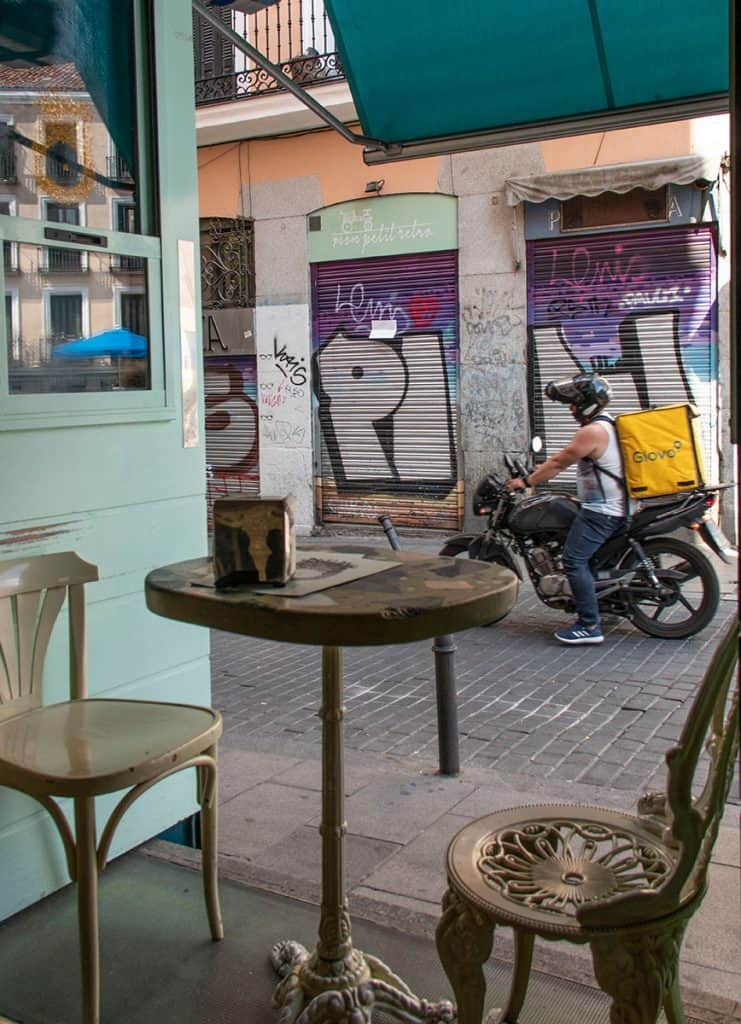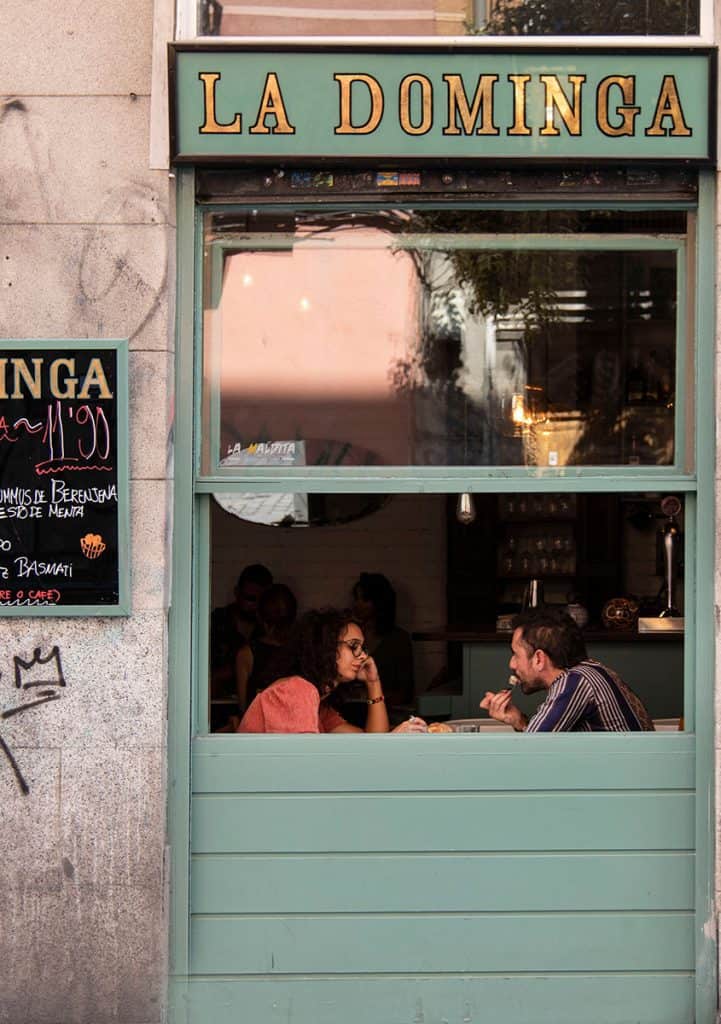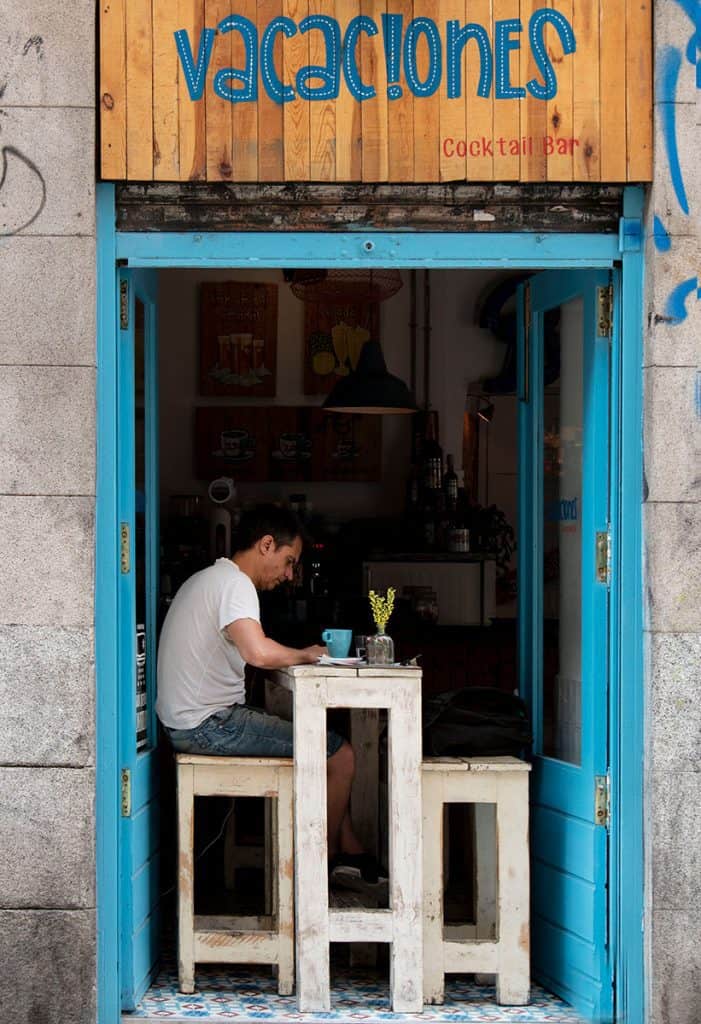 Hang Out at the Cool Mercado de San Ildefonso
A food market during the day and more of a bar during night time, Mercado de San Ildefonso is one of the coolest food markets in Madrid. Stroll around and check out the numerous food stands offering a variety of dishes from around the world. In the early evening, this large industrial space is packed with locals that stop here for a cold beer or sangria and a light snack in its lively atmosphere.
Check Out the Bars and Nightlife
To experience the buzzing nightlife in Madrid, visit Malasaña during the evenings. Mingle among the crowd of young students, local musicians, local and foreign businessmen and tourists that come here to enjoy a glass of beer, a tasty dinner or hang out with friends in the various bars, clubs, coffee shops and restaurants. Stop for a cocktail at Lolina Vintage Café, check out the tapas at La Musa and go back to Ojala for a light dinner or for a cocktail party at the beach! Yes, the basement floor is covered with sand and among the neon lights you can have a drink and a snack. Opposite Ojala you'll find Vacaciones, another trendy cocktail bar with great ambiance
Enjoy Madrid's Art and Culture
If you are a fan of modern art, just a few steps away from Federal Café you can visit the ABC Museum of Drawing and Illustration, one of the most interesting modern art museums in Madrid.
Where to Stay in Malasaña Madrid
Chueca - Best Neighborhood in Madrid for Colorful Alleys, Best Shopping, Tapas Bars and Nightlife
Just next to Malasaña you will find another one of Madrid's coolest neighborhoods, with its own character and atmosphere. Chueca used to be a poor and rundown neighborhood until a few years ago it was transformed into a hip and colorful barrio with beautiful alleys, modern galleries, trendy boutiques and a lively food scene. It is also the center of the gay community in Madrid and every year around summer time the gay parade takes place here.
What Are the Must-See Places in Chueca?
Stroll around the Colorful Alleys and Plazas
Getting lost in the alleys is the best way to experience the everyday life of the local residents. Plaza de Chueca is the heart and soul of this Madrid's barrio and all around it you can find a variety of coffee shops, boutiques and bars. It's a great place for people-watching so grab a cup of coffee and a fresh pastry and enjoy the view. Afterward, you can walk around the adjacent streets and visit the numerous art galleries and boutiques.
This is one of the best places for shopping in Madrid. Calle de fuencarral is a pedestrian area with a wide selection of famous brand shops and local boutiques. If you are looking for the next big fashion trend, check out Mercado de Fuencarral – a hip fashion mall where you can find the creations of the up and coming designers of Spain. For the shoe lovers, a visit to Calle Agusto Figuero is a must.
Try Some of the Best Tapas in Madrid
Chueca is a foodie's heaven with its selection of coffee shops, restaurants and traditional tapas bars which makes it one of the best areas to stay in Madrid. During the day, feast at the modern and cool restaurants or the more traditional tapas joints, and during the evening grab some tapas and drinks at one of the bars.
For the upscale crowd, try the trendy Restaurante /M or if you want to visit a cool bar with Spanish ambiance check out Celso y Manolo. For Italian food in a well-designed setting, try Bosco de Lobos. And for vegetarian-friendly dishes, huge salads and lots of healthy choices check out Honest Greens with its great ambiance and friendly staff.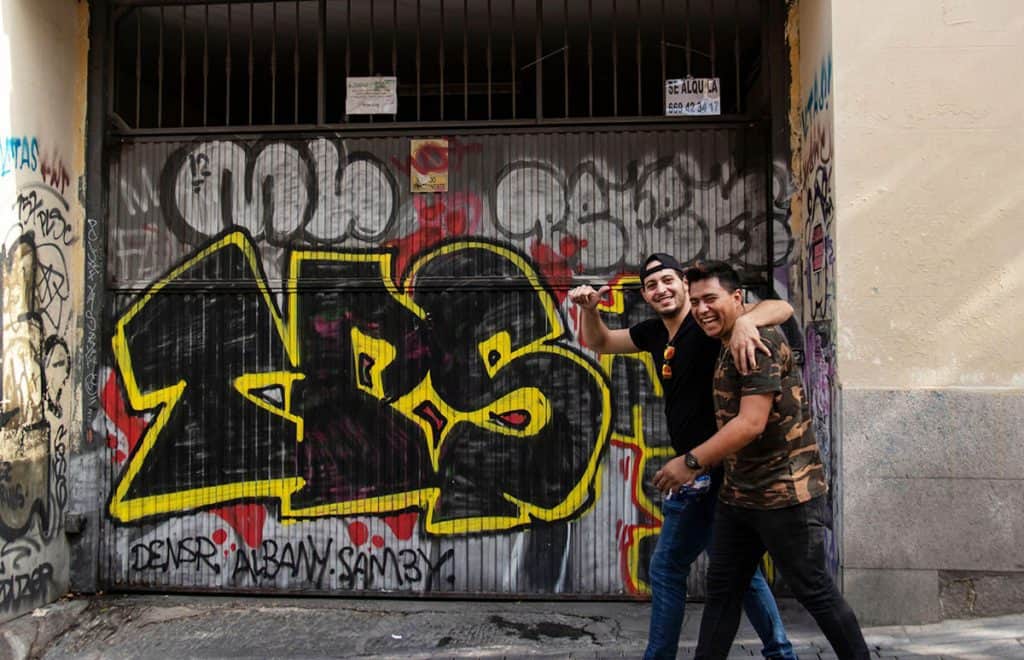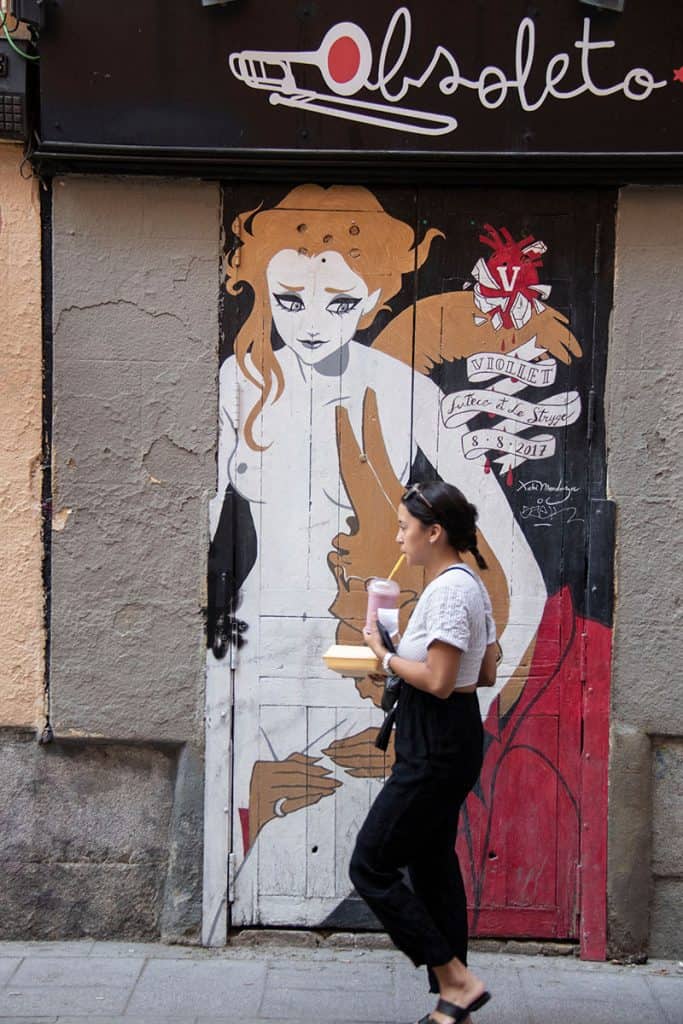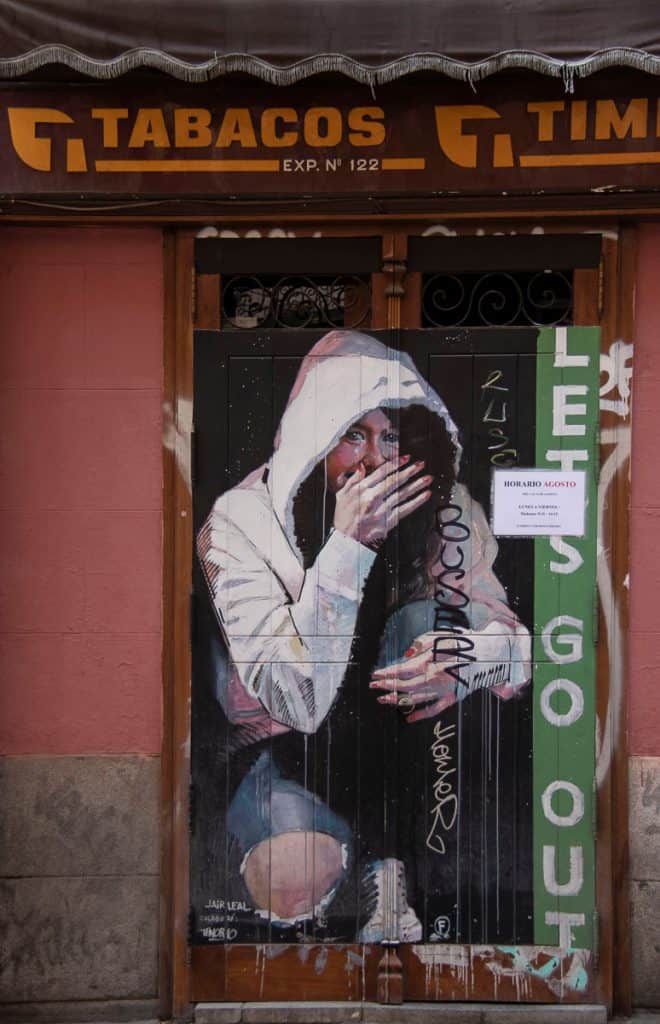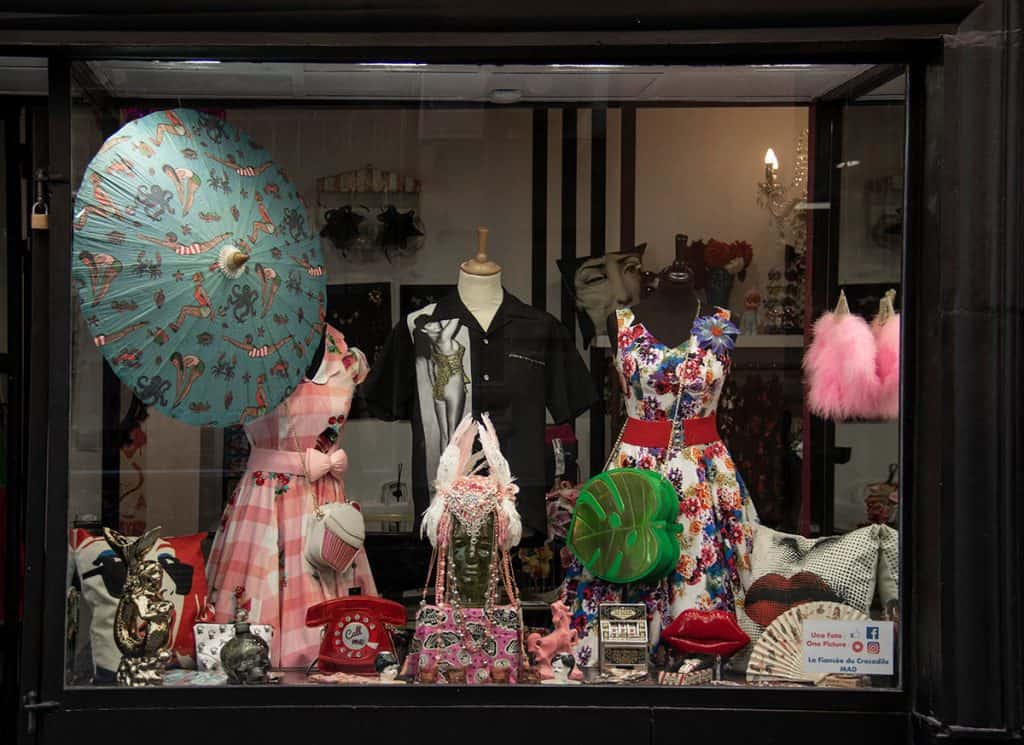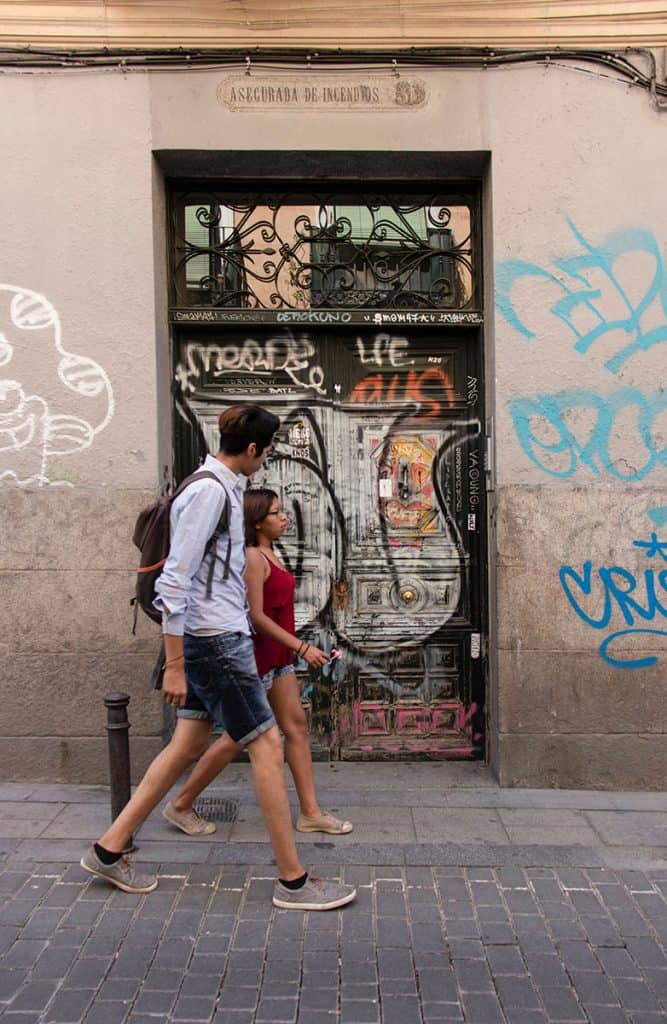 Mercado de San Antón is located at the heart of the neighborhood (next to Plaza de Chueca). Wander around the three floors of this gastronomic market and grab a snack at any of the food stalls. It's a foodie's heaven and you will find here wonderful cheese, meats, cold cuts and sausages, tapas stands, fresh seafood, desserts, beer, sangria and many more delicacies.
Here you could try the Spanish Pinchos (tapas found in the Basque country) – huge trays with rows of baguette slices with a variety of colorful and delicious toppings – a feast for the eyes and the palette! On the ground floor you'll find an amazing food store where you can buy some of the best ingredients Spain has to offer. Don't forget to go to the top floor and have a drink while enjoying the view from above. Another attraction is the rooftop restaurant/bar La Cocina where you can enjoy a variety of Spanish dishes with international touches. This market should definitely be high on your Madrid bucket list!
Have a Taste of Madrid Nightlife
Chueca is famous for having one of the best nightlife scenes in Madrid. During the late night hours the small bars and clubs all around the neighborhood are filled with the hip young crowd of Madrid that comes here to have a drink with friends or dance the night away at one of the clubs. If you are looking for a great area to go out in Madrid, you should definitely visit this gay-friendly and trendy neighborhood, have dinner at one of the great restaurants in the area and then go bar hopping or hit the dance floor and enjoy the joyous atmosphere.
Visit One of Madrid's Unique Museums
If you are looking for a unique museum, visit the Museum of Romanticism which is actually a palace. Wander around the different rooms of the palace and enjoy the impressive collection of furniture, paintings and artifacts while imagining how the Spanish nobility lived during the Romantic Era.
Where to Stay in Chueca Madrid
La Latina - Best Neighborhood in Madrid for Picturesque Streets, Flea Market, Art and Food Secene
This old neighborhood is located in the heart of Madrid. It has so much to offer with its picturesque streets, ancient buildings and beautiful churches, no wonder it is one of the best areas to stay in Madrid. La Latina barrio is best described as a Spanish Fiesta, a vibrant neighborhood with a plethora of tapas restaurants and bars, some more traditional and others with a modern twist. This cool Madrid district is buzzing with good vibes and lots of energy, especially during the summer and on the weekends when everyone comes to visit some of Madrid hotspots.
What Are the Must-See Places in La Latina?
Take a Walk in the Picturesque Streets
Do you want to experience Madrid like the locals do? Arrive to La Latina in the afternoon and wander around the colorful streets and lovely plazas. Visit Calle Cava Alta and Calle Cava Baja and stroll around Plaza de la Cebeda and Plaza Paja. If you love old churches, don't forget to visit Iglesia De San Andres, Basilica de San Francisco El Grande and San Pedro El Viejo. If you want to deepen your knowledge about the history of La Latina you can take a guided tour or have some fun and take a Segway tour! Another option is to take a graffiti tour that will show you all the fabulous street art in the area of La Latina and tell you the stories behind these unique local murals.
Visit Mercado De La Cebada for Some Art and Food
You can't miss the local market of La Latina. Located in the heart of this barrio, this hip Madrid market is a work of art with dozens of street art and graffiti that cover its walls. It is a central meeting point for tourists and locals alike. At the outside yard you'll find local art, theater shows, food and drinks (depending on the season) and inside you can buy fresh veggies and fruits, wine, cheese and other delicacies.
Buy a Bargain at El Rastro Flea Market
If you are a fan of flea markets, you must visit Madrid's flea market, El Rastro. Open every Sunday from 10 am till noon, it is a small festival of second hand finds and retro vibes for tourists and locals who come treasure hunting here. Stroll around the stands of shoes, jewelry, furniture and artifacts, find some bargains and stop at one of the numerous adjacent tapas restaurants for a quick lunch. Just be careful of the pickpockets in the area.
Enjoy One of Madrid's Best Food Scenes
There are so many great restaurants and bars in this neighborhood, all you have to do is choose… For a traditional Spanish meal or some tapas try Casa Lucas, Taberna La Concha or Casa Lucio. Check out Txirimiri if you are in the mood to have pinchos or other dishes from the Basque country. If you'd like to try some Spanish tapas with a modern twist (fusion style) go to the wonderful Juana La Loca. For a tasting menu you can try Naia bistro restaurant (located at Plaza de la Paja) and for tapas with some international flavors, check out La Musa Latina (the younger sister of La Musa in Malasaña).
Where to Stay in La Latina Madrid
It doesn't matter what are you looking for, Madrid has it all! Culture and art, shopping and markets, restaurants and cafes, history and museums, these best neighborhoods in Madrid offer all of this and more! Hope you've enjoyed our Madrid neighborhoods guide. If want some options for trendy restaurants, check our Madrid Foodie Guide! and if you are looking for another cool city in Spain, check out our Cordoba Travel Guide!
Don't forget to save it for later!
Check out some of our favorite destinations in Europe
Porto is the perfect weekend destination in Portugal. From UNESCO Heritage Sites to trendy restaurants and beautiful churches, it's one of our favorite European cities!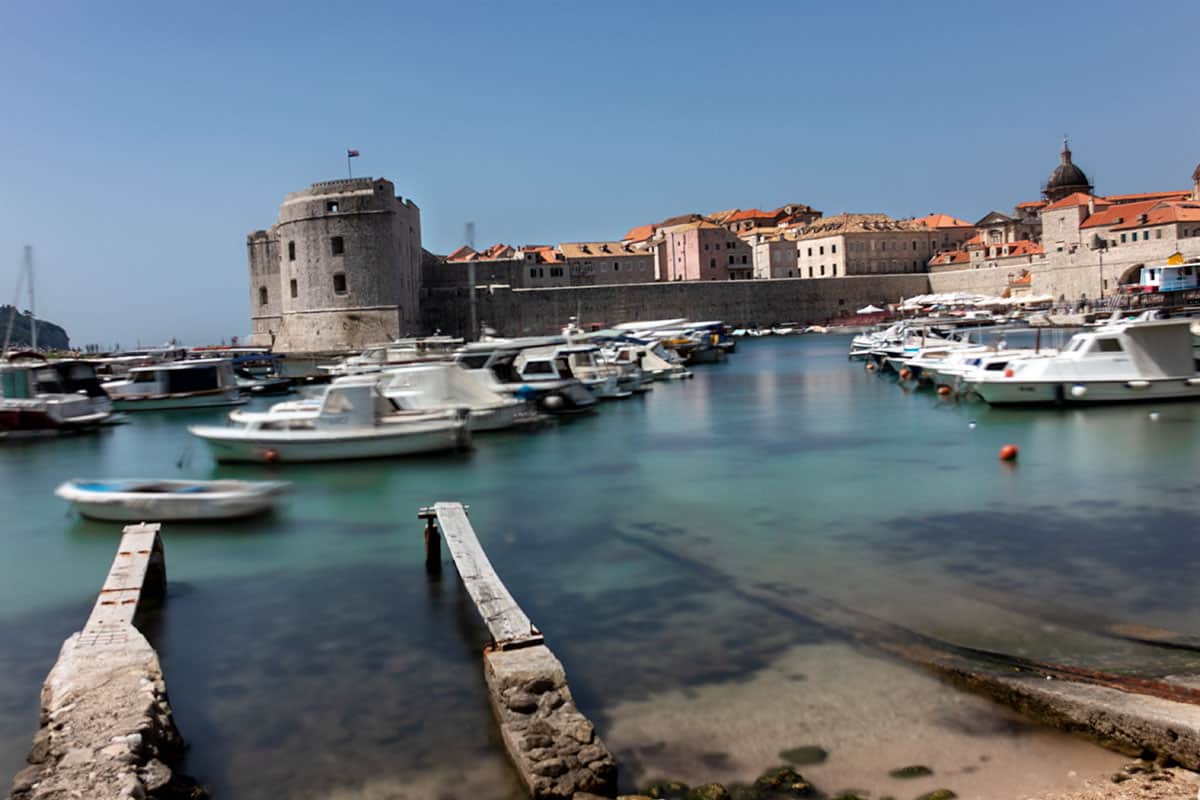 One of the most beautiful cities in Europe, located on the shore of the Adriatic Sea, Discover all the best things to do in this beautiful Croatian city.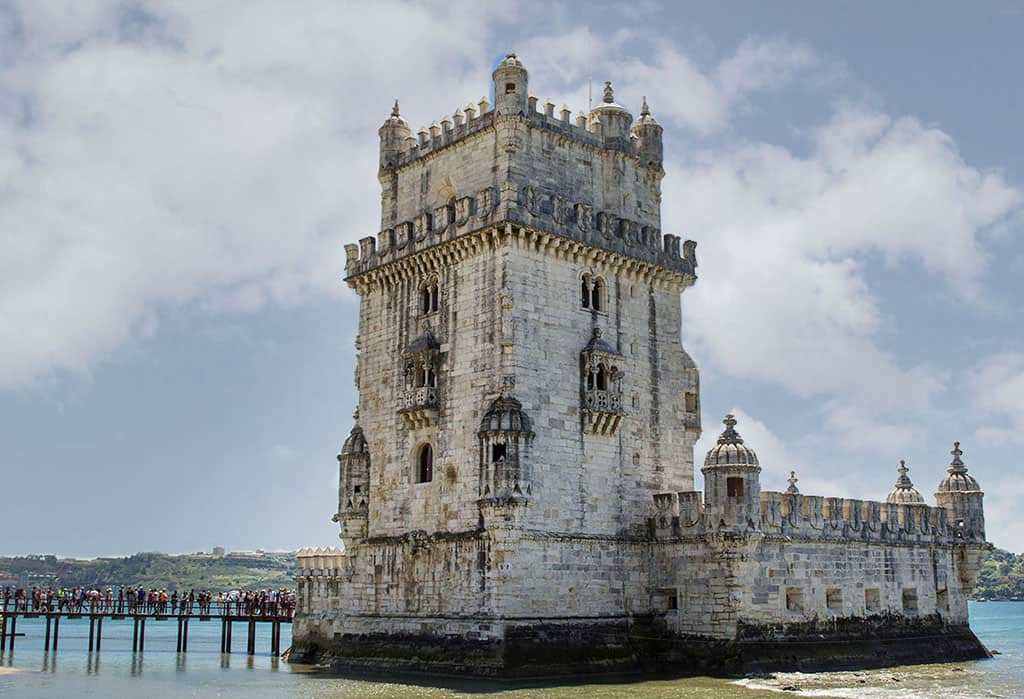 We can never have enough of Lisbon. This city is all about culture, fun and trendy neighborhoods. Check out our favorite attractions and things to do in Lisbon.