DIY Tel Aviv Graffiti Tour
Ultimate Guide to Sreet Art in Tel Aviv
Our Street Art in Tel Aviv Guide is full of helpful information and practical tips for anyone who wants to plan his own Tel Aviv graffiti tour. If you want to discover the best neighborhoods and most colorful streets in Tel Aviv, where you'll find urban art, in the form of graffiti, street art and murals, check out our Tel Aviv street art guide.
Have you ever been to Tel Aviv? Well, if you have, you probably want to come back one day and if you haven't, what are you waiting for? Tel Aviv is one of those cities that people are raving about. From an amazing culinary scene to beautiful beaches, lively nightlife, interesting museums, and lots of history and art.
In recent years, Tel Aviv, whose nickname is 'the city that never sleeps', has also developed quite a reputation as one of the best cities to explore the local street art scene. What's so great about the street art scene in Tel Aviv is that many of the top street art spots in Tel Aviv are located in adjacent neighborhoods, so it's pretty convenient to plan your DIY walking tour of the Tel Aviv street art scene.
This post may contain affiliate links, which means we earn a small commission if you purchase from them (no extra costs to you!). For details check our disclaimer.
Should You Take A Street Art & Graffiti Tour in Tel Aviv
We love graffiti tours since you learn so much about the local artists and graffiti scene. Not to mention in a city like Tel Aviv, with a complicated history and a volatile political situation, a graffiti tour will provide some insight into the current and past political situation as well as deepen your knowledge about the Israeli culture. Street art and graffiti have always provided a window into the raw nerves of the local society. Cultural and political tenses are almost always reflected in the street art and graffiti scene, hence, street art tours are a great way to learn more about what the street artists want to express in their street art. Therefore, we do recommend taking a street art and graffiti tour in Tel Aviv.
However, most of the Tel Aviv street art and graffiti tours show you only a small fraction of the Tel Aviv street art scene. There are so many graffiti tours in Tel Aviv, some are better than others, but none of them can show you all of the best places to find graffiti and street art in Tel Aviv. Therefore, this Tel Aviv street art guide is intended to help you discover the top locations to explore Tel Aviv's street art scene, some of which you won't see with your guided graffiti walking tour.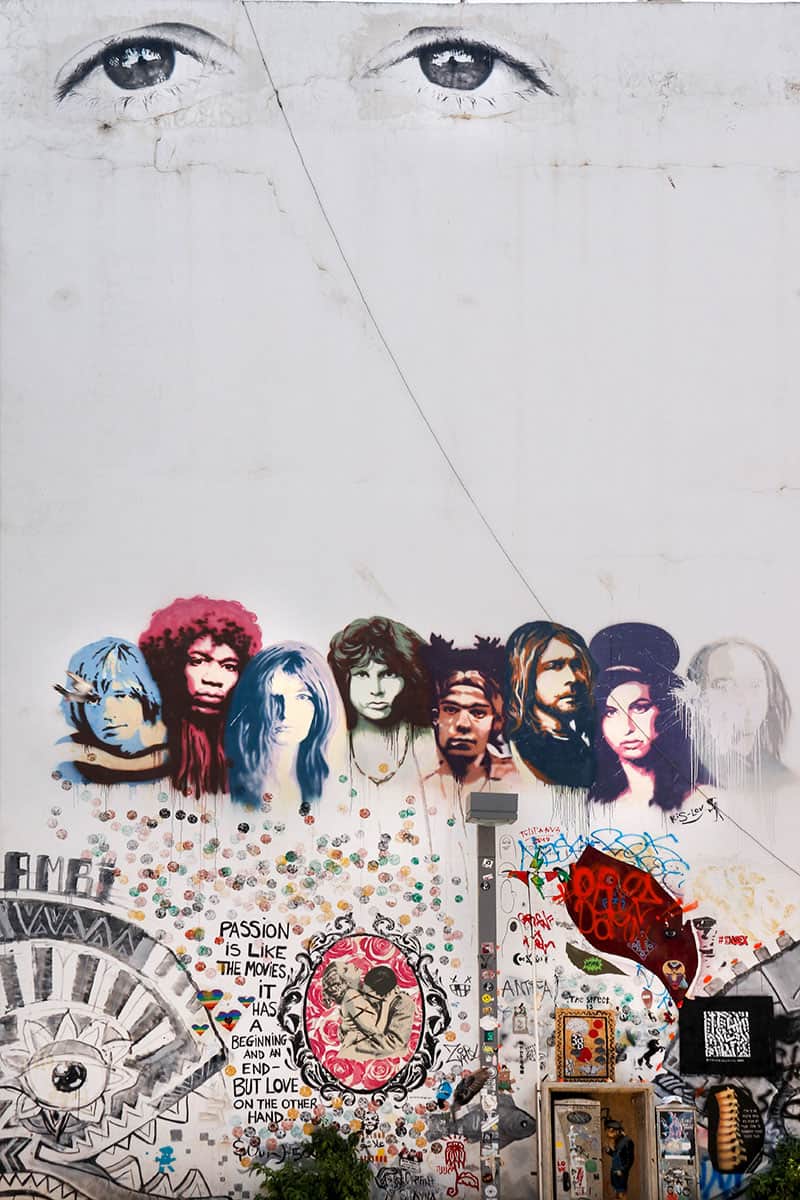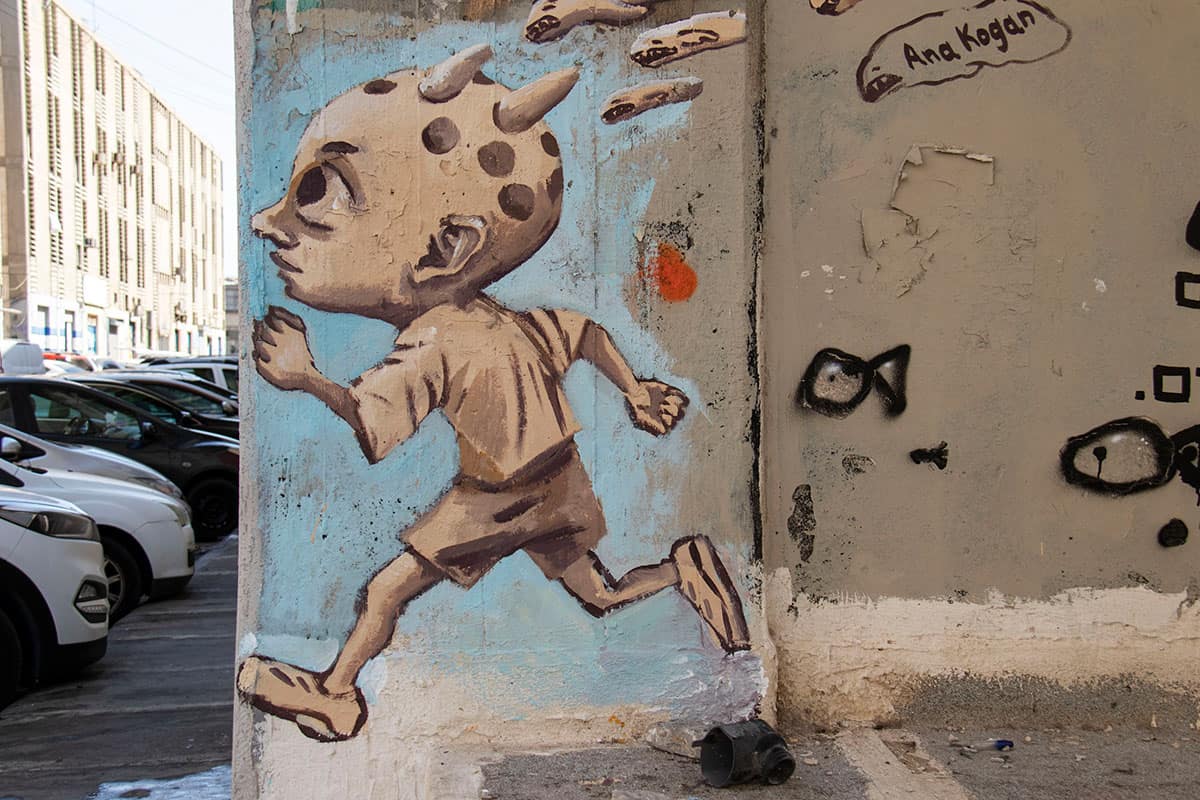 About the Tel Aviv Street Art Scene
The Tel Aviv street art scene has been getting more and more attention in recent years. In every city, the art scene always mirrors the tensions, worries, and hopes which simmer underneath the surface. Walking through Tel Aviv's neighborhoods, there are repetitive motives that can be detected on the urban canvas. From political and religious tensions to feminism, optimism, and more. Many of the graffiti pieces are written in Hebrew and some in Arabic. There's no doubt a guide can provide that extra insight. Others are written in English, or the message behind them is clear enough without any translation.
In recent years more and more Israeli street artists have been gaining a lot of recognition. Some of them have been invited to paint their viewpoints in bright colors in various cities all around the world. Other street artists have had a chance to exhibits their work in museums and galleries. Shay "Tra" Litman, an Israeli street artist in his teens, has starred in a documentary and have already had several exhibitions. The Israeli street artist and designer Pilpeled (Nir Peled), joined forces with different brands, one of which is Absolute Vodka.
As always, a thriving street art scene comes with a price. Some of the residents of these Tel Aviv neighborhoods are less than happy with the influx of tourists and graffiti walking tours that visit their homes on a daily basis. Some of the more established artists are not so happy with the over popularized street art scene, and as is usually the case, some of these previously run-down neighborhoods are going through a gentrification process, which also means higher rents/municipality taxes.
Different Forms of Street Art in Tel Aviv
Making your way through Tel Aviv's bustling streets, you'll find many kinds of graffiti and street art pieces. We've talked about the differences between these art forms in our Bushwick Collective post. Here's a shorter version for you.
Graffiti – Graffiti is based on words, and many times, it is illegal, and therefore, is done at nighttime. Nowadays, the graffiti subculture has become much more popular and turned into a mainstream phenomenon. There are subdivisions in graffiti such as tags (the simplest graffiti, just writing your name in a simple font and one color) to throw-ups and blockbusters which are elaborate forms of graffiti.
Street art – Street art is any work of art that is seen on public property. Its roots might be illegal since it was developed from graffiti. However, these days, it has become accepted as a contemporary form of urban art and is used to beautify neglected areas. We are talking about murals, smaller drawings, or any form of urban art. The artist can use many tools and materials to create his art, such as paint, spray paint, bronze, yarn, and so on.
Graffiti Art – Graffiti art is a mash between graffiti and street art. It is elaborate graffiti that is more figurative and combined with images.
Murals – Murals can be defined as art that is created directly on a flat wall or ceiling, and they usually cover the whole surface.
In terms of techniques and materials, the graffiti and street art of Tel Aviv are made with different techniques and materials. Many of them are made with stencils and paste-ups or stickers, which can be done relatively quickly, there are freestyle drawings, and 3D street art which is made with other materials and not just spray cans or paint.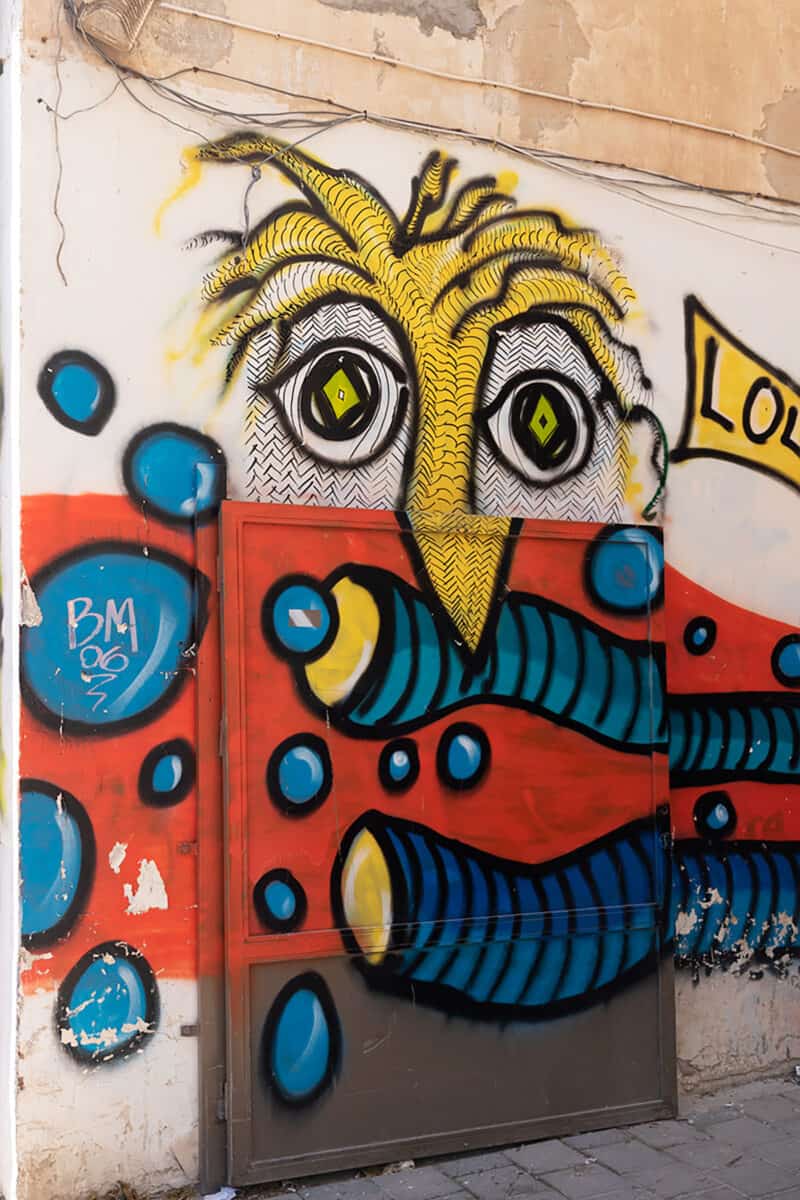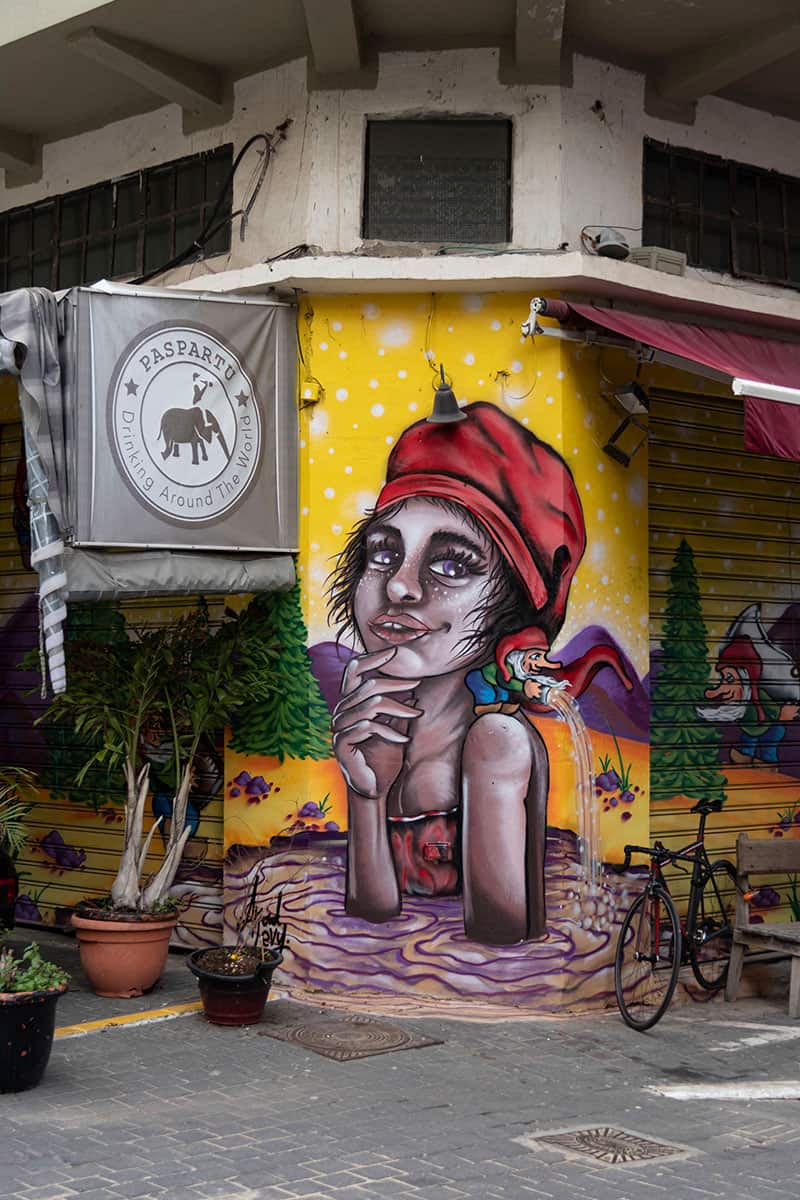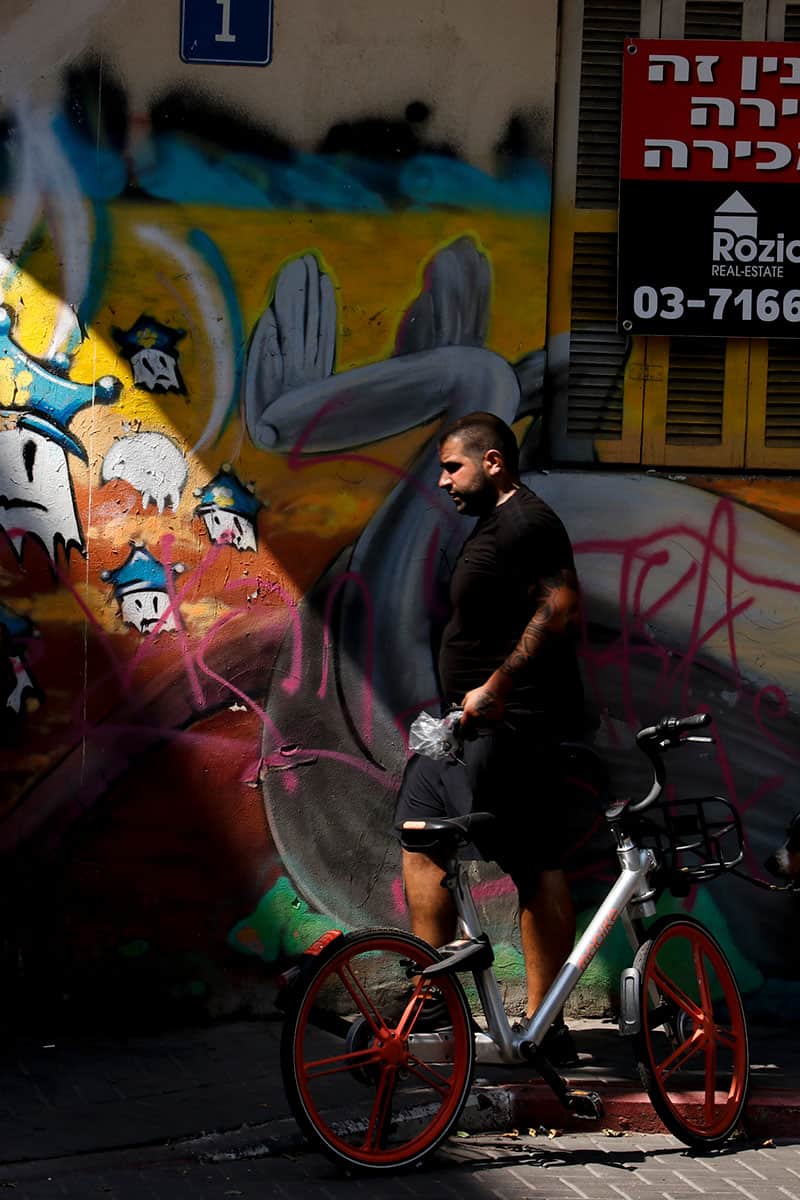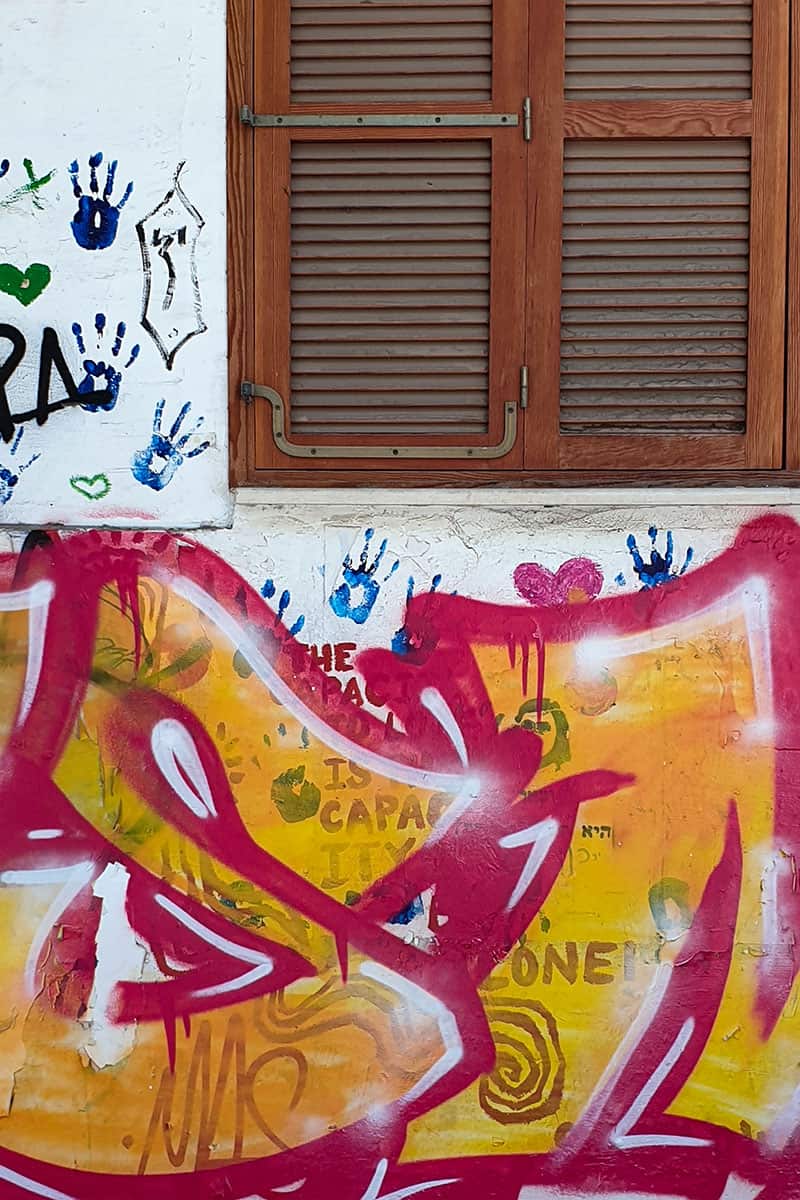 Popular Israeli Street Artists
Most of the street art and graffiti in Tel Aviv are created by local artists (with some contributions by international artists as well). It is impossible to least all of the popular Israeli street artists but here are some well respected and well known Israeli street artists who have gained international recognition and each of them have a unique artistic style:
Dede – One of the most well-known Israeli street artists who has also gained worldwide recognition. He likes to question the urban lifestyle and social conventions through his pieces. This former student of the Bezalel Academy of Arts and Design uses various techniques including collage, stencil and freestyle drawings. In the beginning, he was mainly known for his band-aids, which dotted many of Tel Aviv's streets. These band-aids were his creative attempt at curing his own wounds as well as symbolize the wounds of our society. Dede's style has evolved since his early days, and nowadays, his work can be seen in many galleries and museums all over the world. In recent years he has joined forces with his partner, Nitzan Mintz, who is a street art poet, and many times her poems accompany his pieces.
Nitzan Mintz – Nitzan is a visual poet who is known for her graffiti poems, which provide her commentary on life, society, and politics. Her poems deal with various subjects, such as relationships, sexuality, politics, failures, and human aspirations. She draws her inspiration from the public sphere and the society around her, and through her poems, she tries to verbalize personal and collective emotional struggles. She uses stencils to create her textual imagery in a very distinctive font. Her artwork has been displayed both in galleries and public spaces all over the world.
Broken Fingaz – Unga, Tant and Des, these are the three street artists who are behind Broken Fingaz, one of Israel's best-known graffiti crew. They love using bold lines and acid pop colors. Many of their pieces are inspired by the 80's comic book illustrations and pulp horror, and they combine both humor and erotica. Many of Broken Fingaz's pieces revolve around sex and death. Their pieces can be seen in many places in Israel as well as around the world. One of their most interesting projects was painted in their hometown, Haifa, in collaboration with Ahmad Zoabi, an Arab calligrapher. Together they created a huge mural that promotes a message for peace and is titled "Fingaz Railways – Broken Borders". The mural, which is located near the former station of the historic railway line. This railway used to connect Haifa to Damascus, Beirut, Amman and Mecca. The colorful mural depicts a new railway that would reconnect the Middle East and is accompanied by text in English, Arabic and Hebrew. Broken Fingaz has also collaborated with many musicians such as Pearl Jam, Primus, Blink 1982 and U2.
Murielle Street Art – This Montreal native who also lived in Paris and NYC, started drawing a day after witnessing the twin towers collapse. She suddenly felt the need to start documenting her life. Murielle came to Israel to visit the Dead Sea, met her husband there, and this was the start of her love affair with Tel Aviv. Murielle has a distinctive style which combines pop-culture inspired portraits accompanied by clever phrases. She draws her colorful portraits and writes down a sentence that crosses her mind at that moment and describes their hidden secrets. You'll see her pieces all over Florentine and Nahalat Binyamin. Many of her pieces are collages that combine recycled materials. Her street art sends a strong message of equality and to not be a sheep in a herd. Cohen opened her own gallery, Tiny Tiny Gallery, in one of her favorite Tel Aviv neighborhoods, Florentin, where she showcases some of her pieces as well as artworks by other street artists.
Adi Sened – Since the late 90's, Sened's iconic box-shapes figures have been popping all over Tel Aviv. Though Sened had been painting most of his life, he discovered his passion for art while studying architecture at Bezalel. He uses ready-made stencils to create his little figures in out of the way places. These little geometric characters are named "Kufsonim" (from the Hebrew word Kufsa = box) and they seem to interact with their surroundings, usually in a humoristic way. You can spot Adam and Eve fighting over the apple or a caveman giving you the finger. The Kufsonim can come in the shape of humans or animals, and they are quite small, so you have to make an effort to find them.
There are many more talented Israeli street artists that we haven't mentioned, but you should definitely check out some of their work:
Know Hope, Arad Levy, Michal Rubin, Imaginary Duck, Dioz, Dodo, Rami Meiri, Karen Missk, Solomon Souza-Kohn, Klone, Binsky and more.
Best Street Art for Your DIY Tel Aviv Graffiti Tour
You'll find street art and murals all over Tel Aviv, but the top places in Tel Aviv for a street art treasure hunt are Florentin, Neve Tzedek, Nhalat Binyamin and Jaffa. You'll find plenty of urban art, graffiti, and street art pieces in these Tel Aviv neighborhoods. These neighborhoods/graffiti spots are listed by descending order so the top graffiti spots are at the top. However, don't forget to check our tips for planning your Tel Aviv street art & graffiti tour, to see which neighborhoods are adjacent and within walking distance from one another.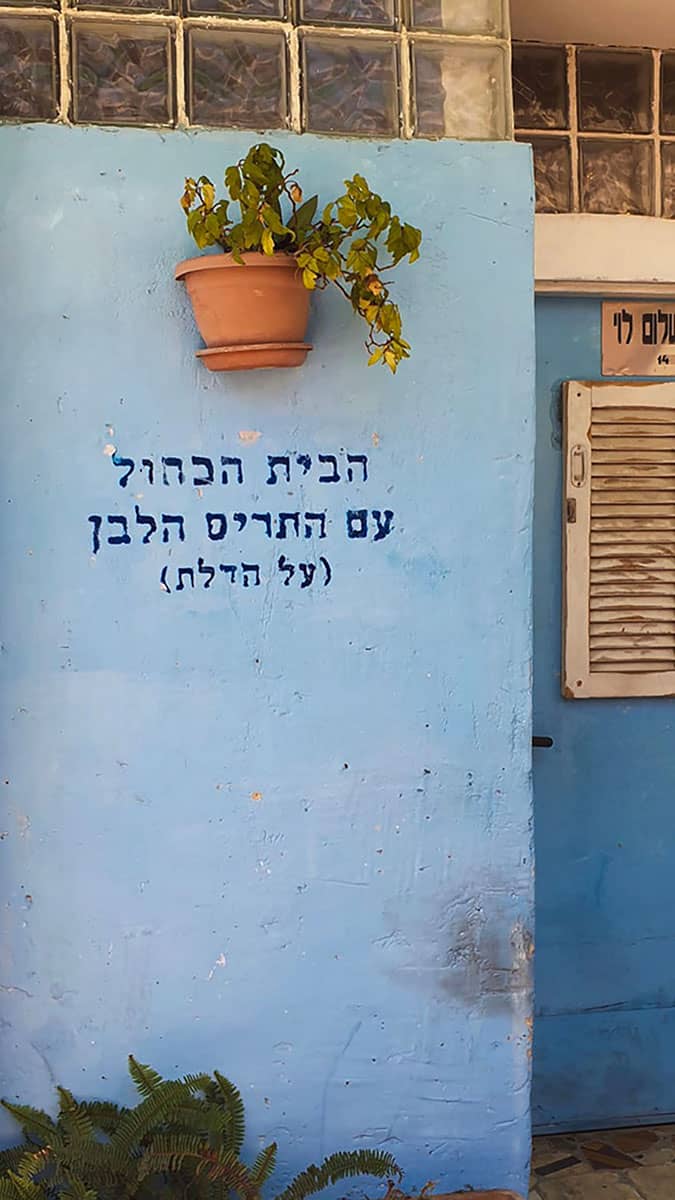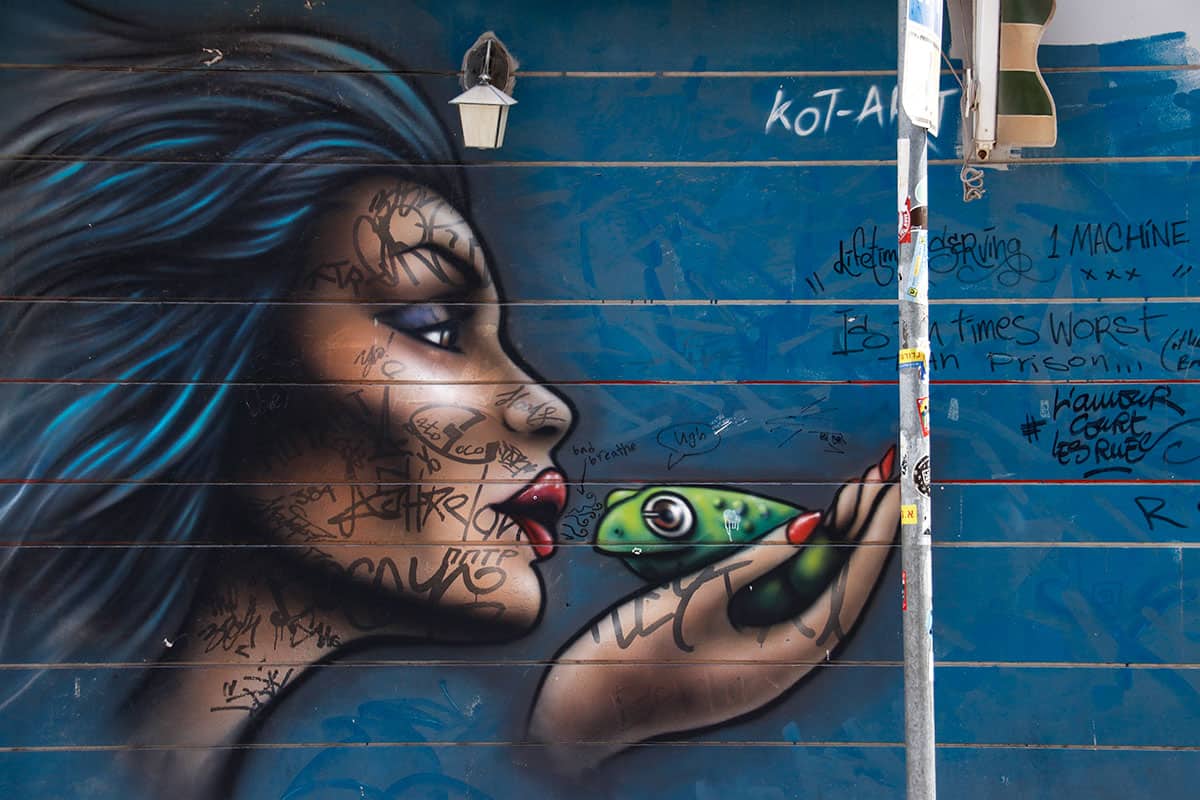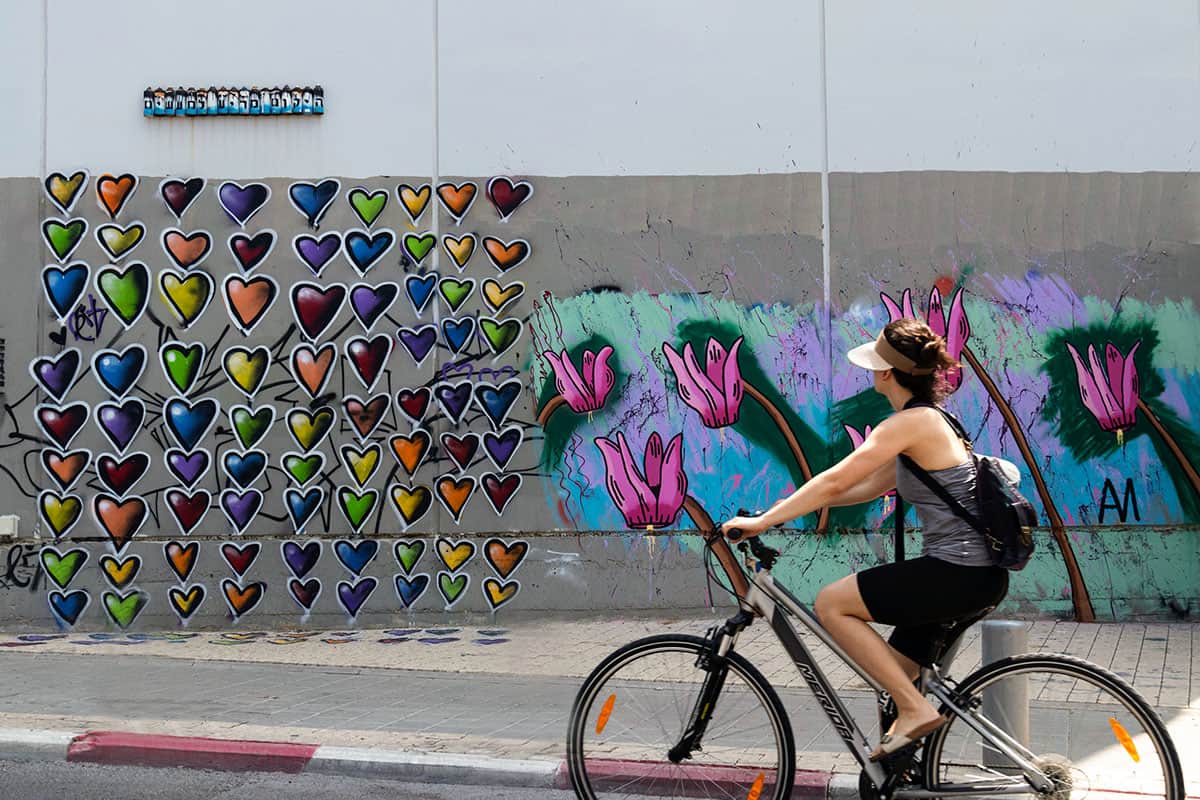 DIY Tel Aviv Street Art Tour in Florentin
Florentin is one of the oldest neighborhoods in Tel Aviv. It is also one of the most fascinating areas to get lost in, especially if you like your street art mixed with hipster vibes. Once upon a time, it was a working-class neighborhood filled with a mishmash of immigrants from the Balkans, Iran, North Africa and Turkey. Throughout the years, it attracted young artists and musicians who liked its laidback atmosphere and lower rents.
Though in recent years there have been plans to transform Florentin into a more upscale neighborhood like Neve Tzedek, the traces of gentrification around Florentin are still harder to find. There are some shiny modern structures next to ancient buildings, crumbling walls, and even abandon structures, some of which are marked for demolition. This is one of the best places to go street art treasure hunting, and though most street art is still illegal in Tel Aviv, most times, the authorities turn a blind eye.
Strolling around this area, you'll find traditional workshops of local seamstresses or shoemakers, tattoo parlors, artists' studios, cool coffee shops, trendy restaurants sitting side by side next to cozy family-style restaurants with simple and delicious home-cooked food. The restaurants and bars in Florentin offer the best food from all around the world from Greek, Mexican, and Italian to Persian and Yemenite cuisines. By the way, one of our favorite Tel Aviv markets, Levinsky Market, is also located here. Trust us, strolling through the streets of Florentin, you will quickly fall in love with its one-of-a-kind atmosphere, a mix of old and new and traditional-hipster-grungy charm.
Top Streets to Find Tel Aviv's Street Art in Florentin
We suggest starting walking from the interjection of HaRabi MiBachrach St. and HaMehoga/Ha-Mekhuga St. You'll find some street art around the two small parks in that area, but once you get to the tiny streets of HaMasor, Tsrifin and Khatserim, you'll know you hit the jackpot. These small alleys are filled with carpentries, workshops, and walls covered with photogenic graffiti and street art. In addition to these streets, Florentin's streets are dotted with an eclectic mixture of murals and graffiti. We found some nice pieces along Abarbanel St., Florentin St. and Cordovero St but the side streets have many more art pieces so explore them for a while. If you want to see the beautiful mural by Solomon Souza and the Mexican street artist Libre, you'll find it at the corner of Shalma Rd. and Abulafya. Another cool area to search for local street art, and one of our favorite places in Tel Aviv is the local market. For recommendations and hot spots, check out our Levinsky Market guide.
We were invited to join a street art tour in Florentin with Grafitiyul which was a lot of fun, so check their prices here. Another great tour in Florentin is Grafitiyul's "Trends Tour" which was one of the best tours we've ever been on.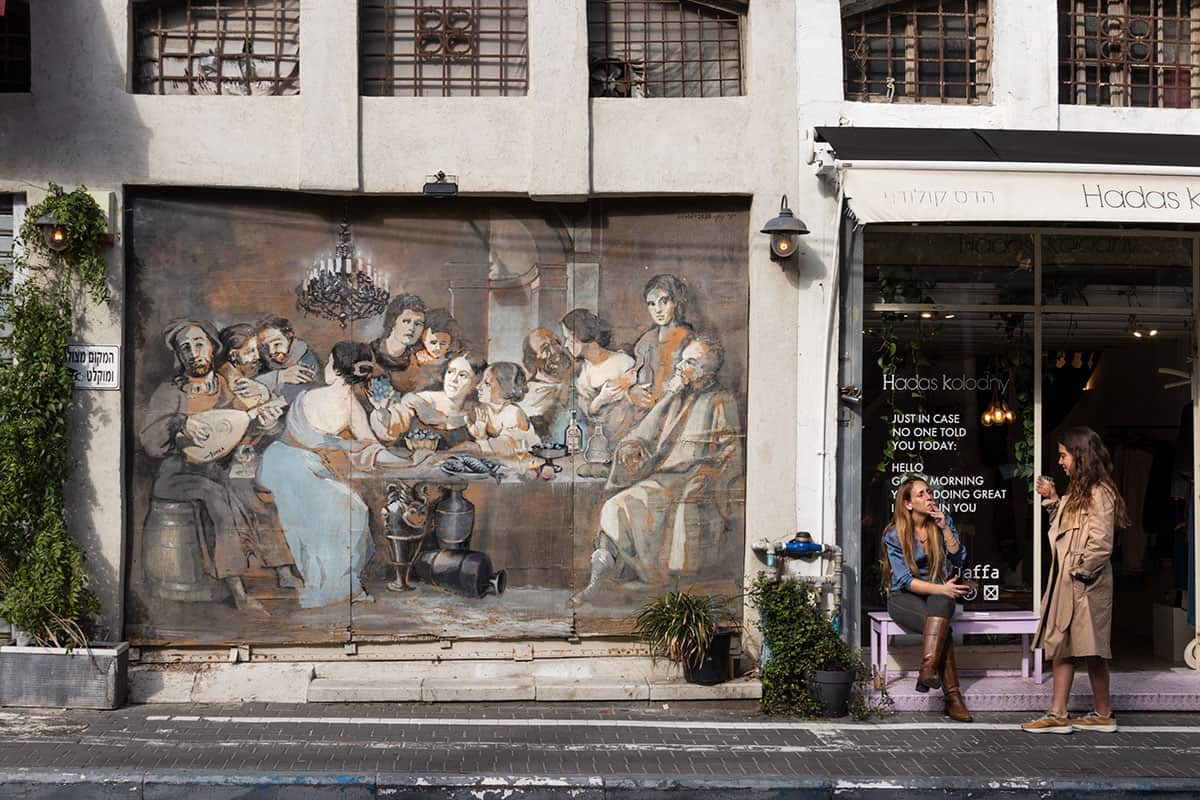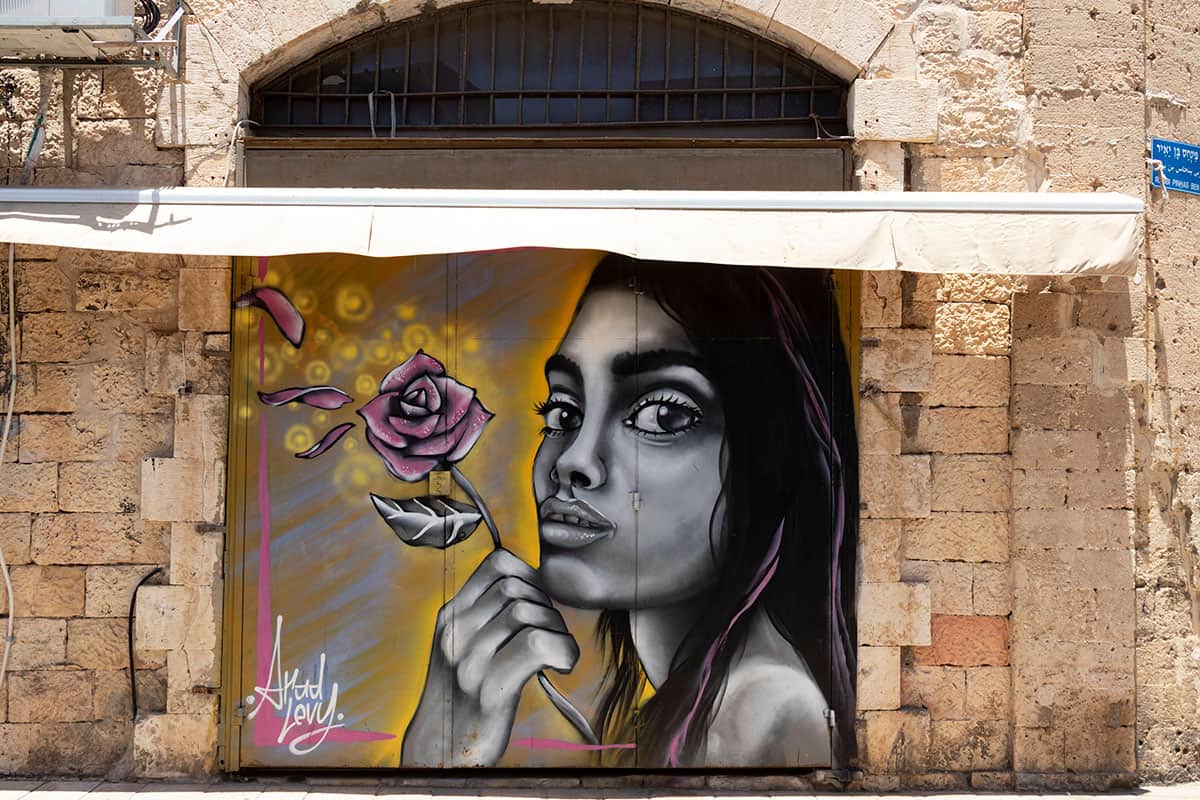 DIY Tel Aviv Street Art Tour in Jaffa & Jaffa Port
Jaffa or Yafo in Hebrew is one of the most charming places in Tel Aviv. Located in the southernmost part of Tel Aviv, this ancient area has many hidden gems and stunning views of Tel Aviv. Its history dates back thousands of years ago. It's believed that Jonah left Jaffa port in the biblical story of Jonah and the Whale, and so Jaffa's port might be one of the most ancient ports in the world!
In the 19th century, Jews began to return to Israel from the Diaspora, and many of them settled in the area of Jaffa. After it became overcrowded, newer neighborhoods were built north of Jaffa in the area of Tel Aviv. By the middle of the 20th century, Tel Aviv has become much bigger than Jaffa until eventually, Jaffa was annexed to the Tel Aviv-Yafo municipality. Like many of Tel Aviv's southern neighborhoods, Jaffa suffered from urban decay from the middle of the 20th century. Finally, restoration processes began at the end of the 20th century. when a strategic effort was made to restore and preserve the historical landmarks of Jaffa.
The neighborhood went through a gentrification process during which many areas of Jaffa were restored and beautified. Nowadays, the charming winding alleys are dotted with cool coffee shops, art galleries, fashion boutiques, and a gorgeous selection of street art and murals. Some parts of Jaffa, especially the southern parts, still need some TLC, but the northern part of Jaffa, the port, and the promenades and alleys around the market have become a magnet for tourists and locals alike, and it's one of the best areas to spend a night out in Tel Aviv.
Top Streets to Find Tel Aviv's Street Art in Jaffa
You will find hidden street art all around Jaffa, but there are two main spots in Jaffa you should focus on, Jaffa port and the market area.
Jaffa port has some fantastic street art. In the fall of 2019 there was a street art festival during which international artists were invited to create some magnificent murals around the port. Some of the warehouses are currently going through renovation processes, so some pieces are no longer on display. Nevertheless, if you start walking from the parking lot along the seashore, you'll find some eclectic pieces.
Another area in Jaffa that is dotted with colorful murals and gorgeous street art is the market area. The little streets around the market are full of hidden gems, from designer boutiques to local bakeries and cute coffee shops. There's also a flea market (in the morning and noon hours Sunday-Friday) and lots of second-hand stores and specialty stores where you'll find great souvenirs. Explore the small pedestrian streets between Rabbi Ada St. and Ami'ad St. and then continue exploring the alleyways till HaMelech Hiram St.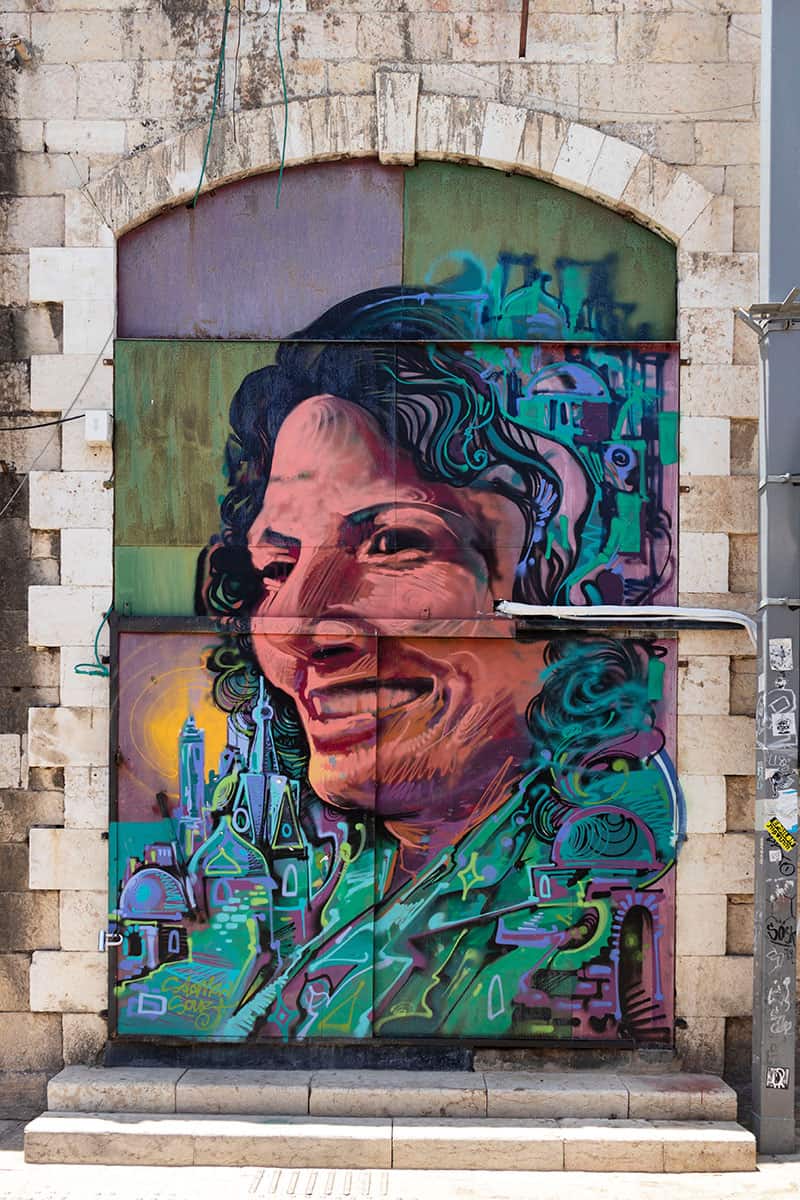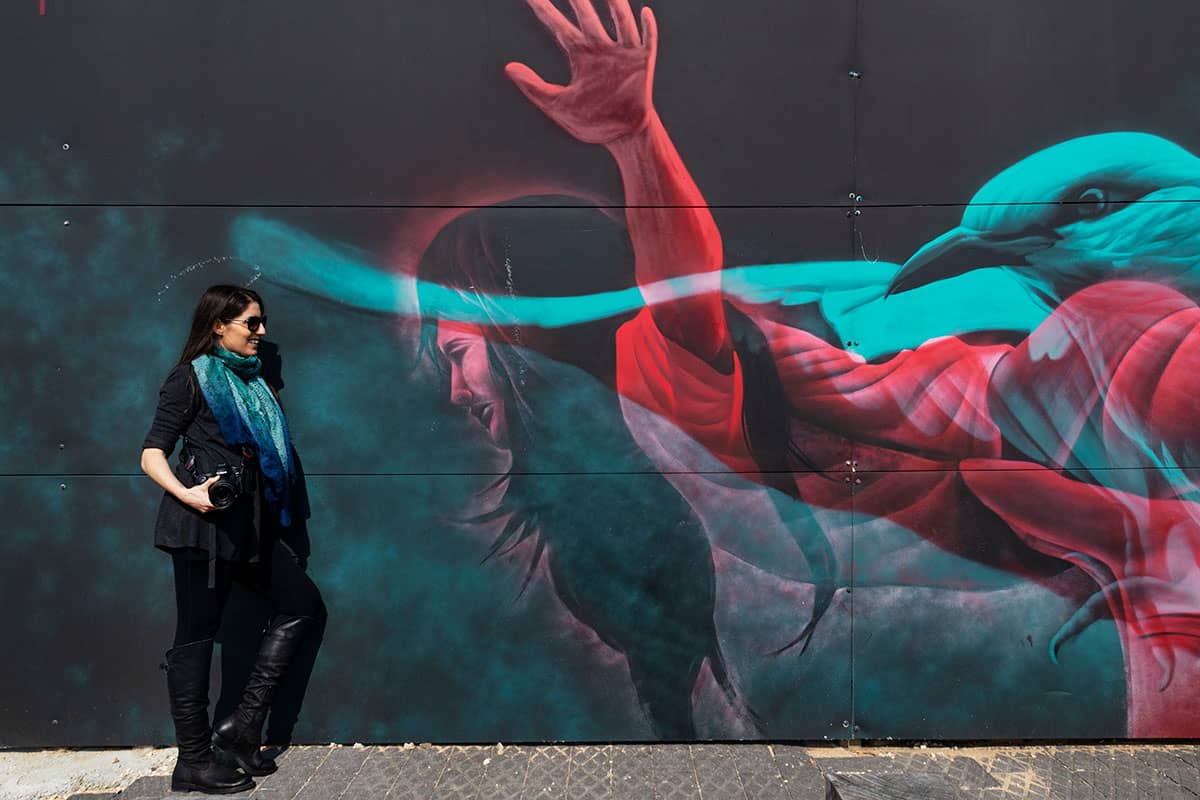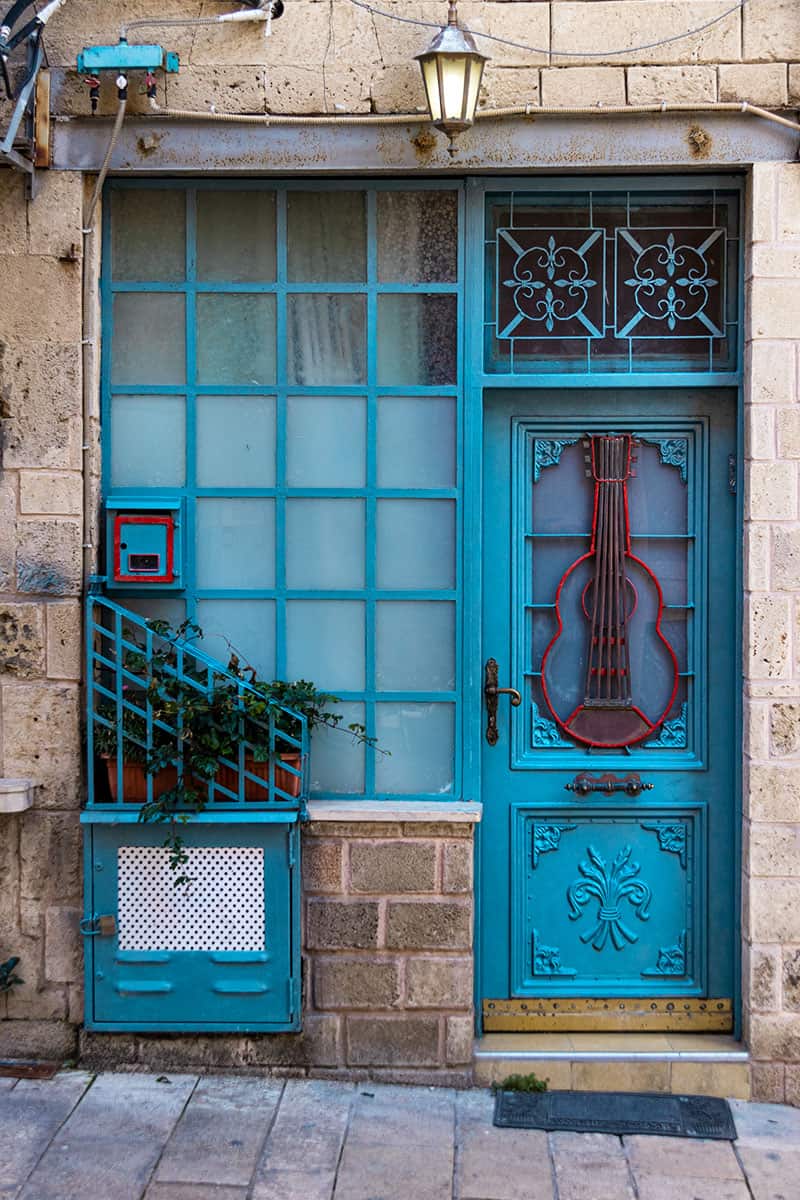 DIY Tel Aviv Street Art Tour in Nahalat Binyamin
Strolling through the pedestrian area of Nahalat Binyamin, you'll notice a nice mixture of simple houses, wild art-deco buildings and Bauhaus architecture, local eateries, and lots of textile shops. This little neighborhood was founded at the beginning of the 20th century, and it used to be a hub of craftsmen and laborers. In 1985 the northern part of Nahalat Binyamin was turned into a pedestrian street. On Tuesdays and Fridays, you'll find here a lively arts and crafts market with dozens of Israel's best artists who come here twice a week to showcase their artifacts. It's a great place to find unique souvenirs!
There are also lots of graffiti and street art to be found along the main street of Nahalat Binyamin as well as inside the inner yards and back alleys, some of which are located at the adjacent Kerem HaTeimanim neighborhood. Although it's a very hectic area of Tel Aviv, located right in the city center, since it's a car-free zone, the atmosphere is still a bit laid back. If you're in the area, you must also visit Tel Aviv's famous market, Shuk Hacarmel, situated just next door. You'll find great food inside the market as well as some hidden graffiti and street art gems in its back alleys.
Top Streets to Find Tel Aviv's Street Art in Nahalat Binyamin
You'll find many beautiful street art pieces along the main street, Nahalat Binyamin and the nearby streets such as Mohiliver Street or Hashomer Street, but our advice is to start walking along Nahalat Binyamin and peek into the adjacent streets. Don't forget to visit the small alleys of Carmel Market where you'll find many beautiful murals as well.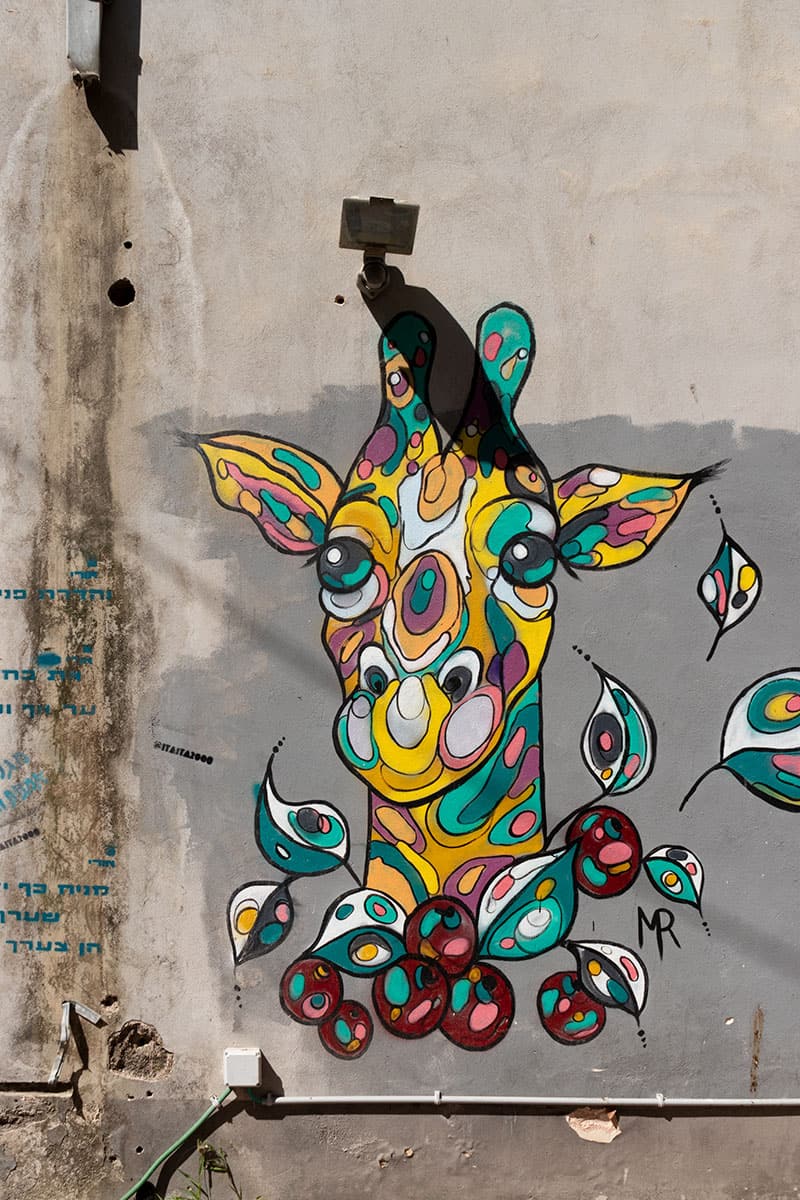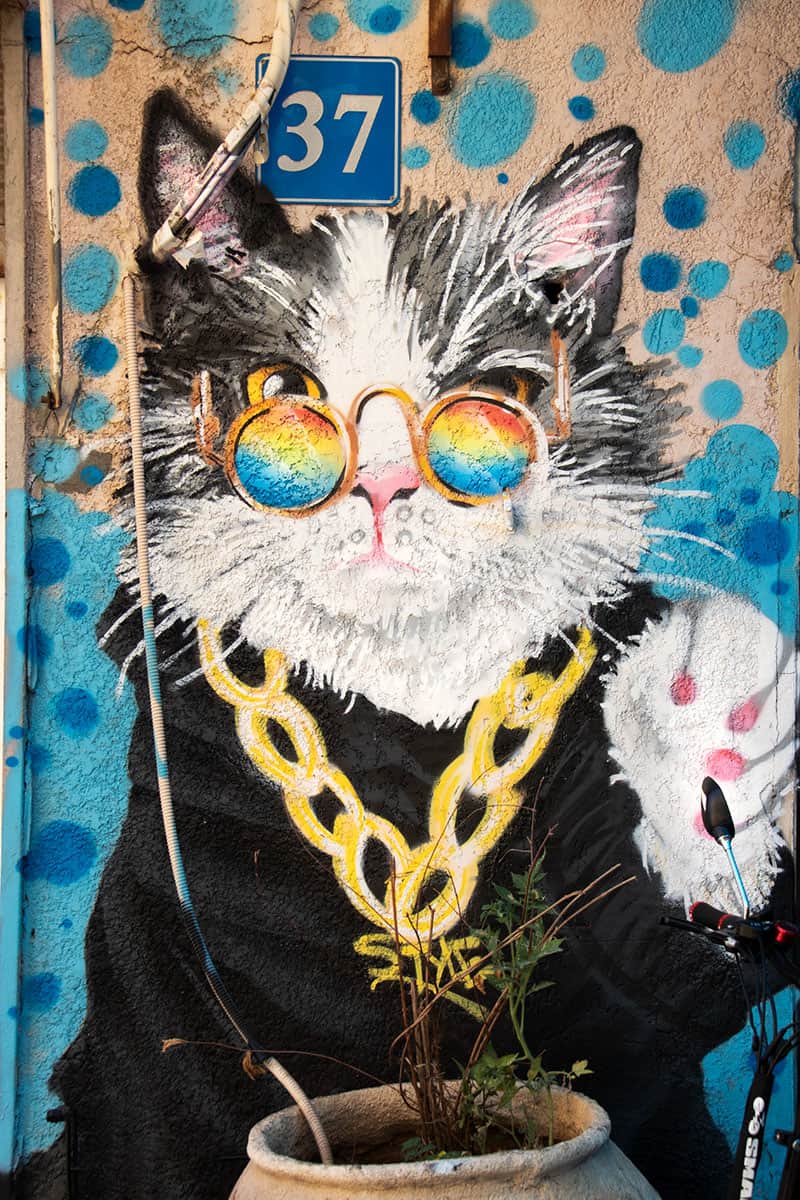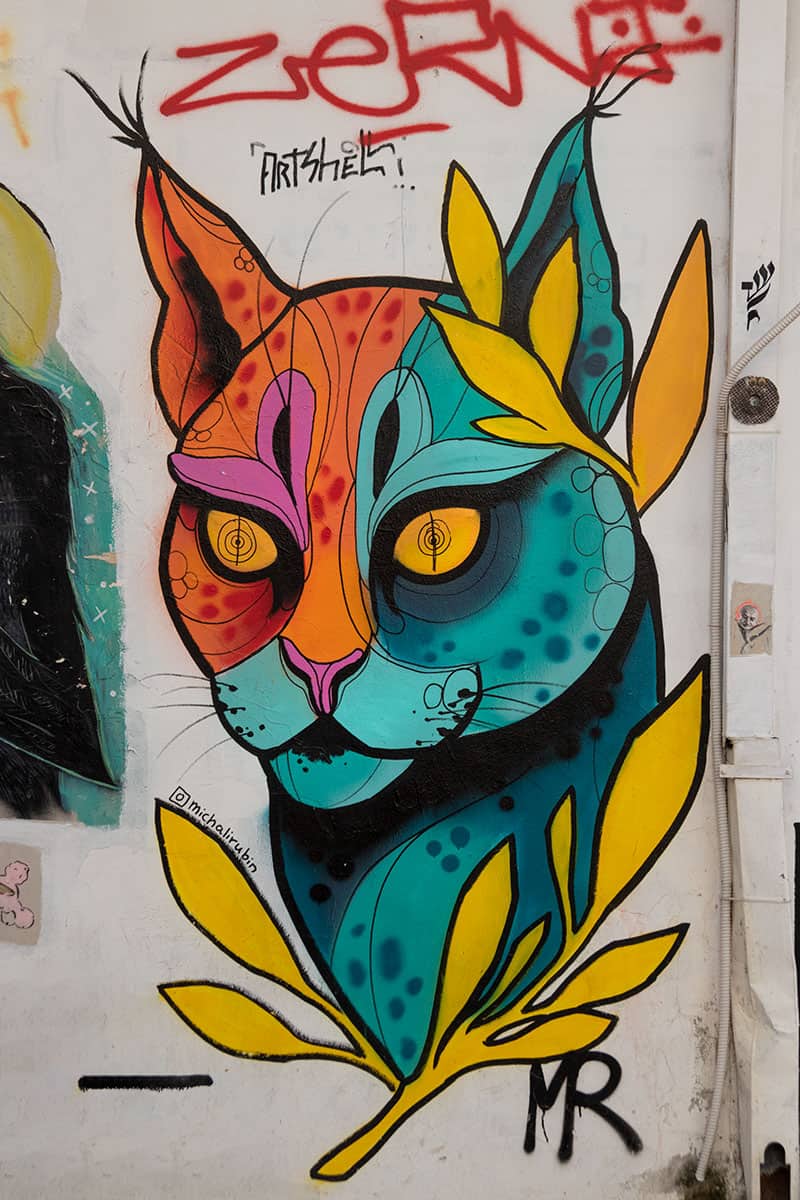 DIY Tel Aviv Graffiti Tour in Neve Tzedek
Neve Tzedek was established at the end of the 20th century (before Tel Aviv) by a group of Jews who were seeking a peaceful home outside of the overcrowded streets of Jaffa. Soon after its inception, Neve Tzedek that was considered an upscale neighborhood, became an oasis for artists and writers. Amongst its past residents, you can find famous names like Shmuel Yosef Agnon, one of the central figures of modern Hebrew fiction, and the renowned Hebrew artist Nahum Gutman. Unfortunately, as years went by, and many of the wealthier residents moved to the north of Tel Aviv, the neighborhood suffered from many years of neglect. Though there were plans to demolish the area and construct high-rise buildings, in the 1980's it was decided to renovate this historic neighborhood. Many of Neve Tzedek's century-old low-rise structures were preserved. Also, the Suzanne Dellal Centre for Dance and Theatre and the Nachum Gutman Museum were founded in the neighborhood's historic buildings. Nowadays, Neve Tzedek is considered a fashionable area, whose streets are lined with cool boutiques, hip restaurants, and artisan studios.
Top Streets to Find Tel Aviv's Street Art in Neve Tzedek
Strolling through the streets of Neve Tzedek you'll find a few graffiti and lots of unique urban art. The best place to start exploring is walking along the main street, Shabazi street but you should definitely sidetrack and explore the smaller nearby streets till you reach the Guttman museum and Rokach House, located at Shim'on Rokah St. There aren't many in-your-face murals nor blocks of streets that are covered by street art like in Florentin. Still, there are some interesting pieces, beautifully preserved houses, art galleries, and cool art shops. The best tip we can give you is to look up and search for the unique statues and urban art you might find in out-of-the-ordinary locations. Also, don't forget to check out some of the cool coffee shops and restaurants in Neve Tzedek. We will write a neighborhood guide for Neve Tzedek, so stay tuned for up and coming articles on our blog (or subscribe to our newsletter).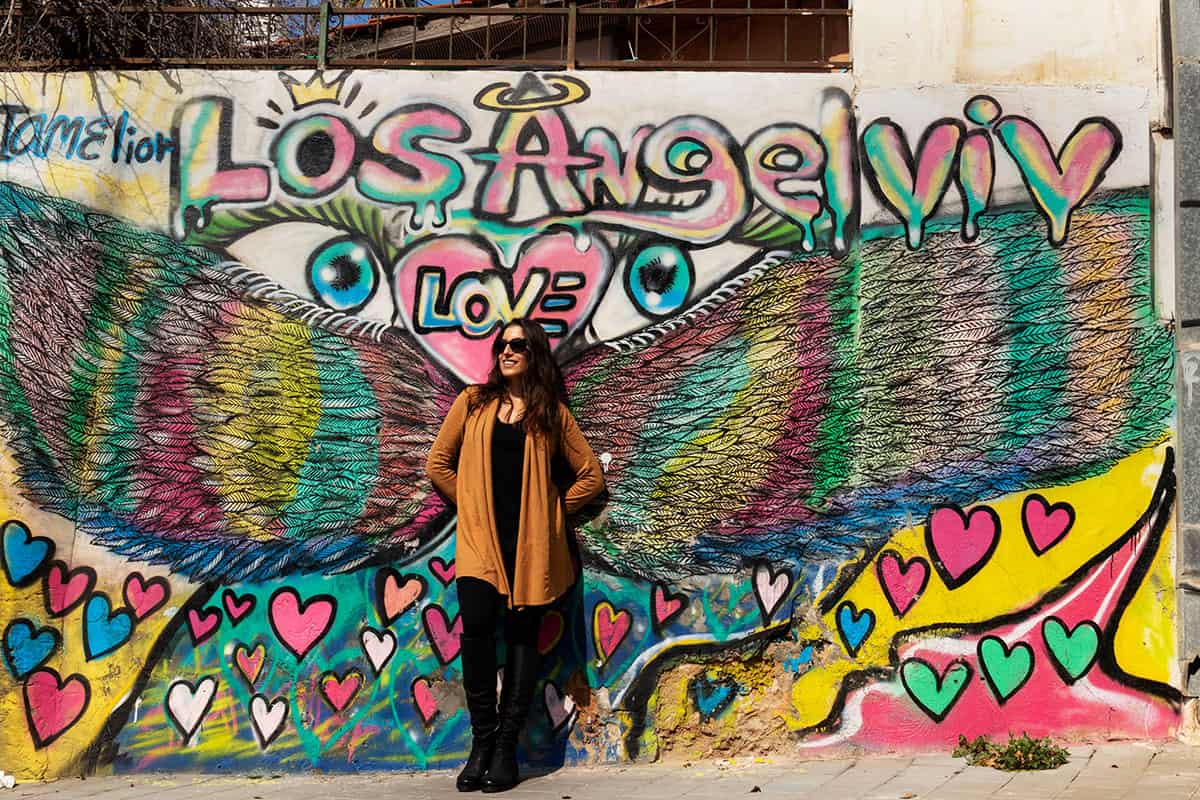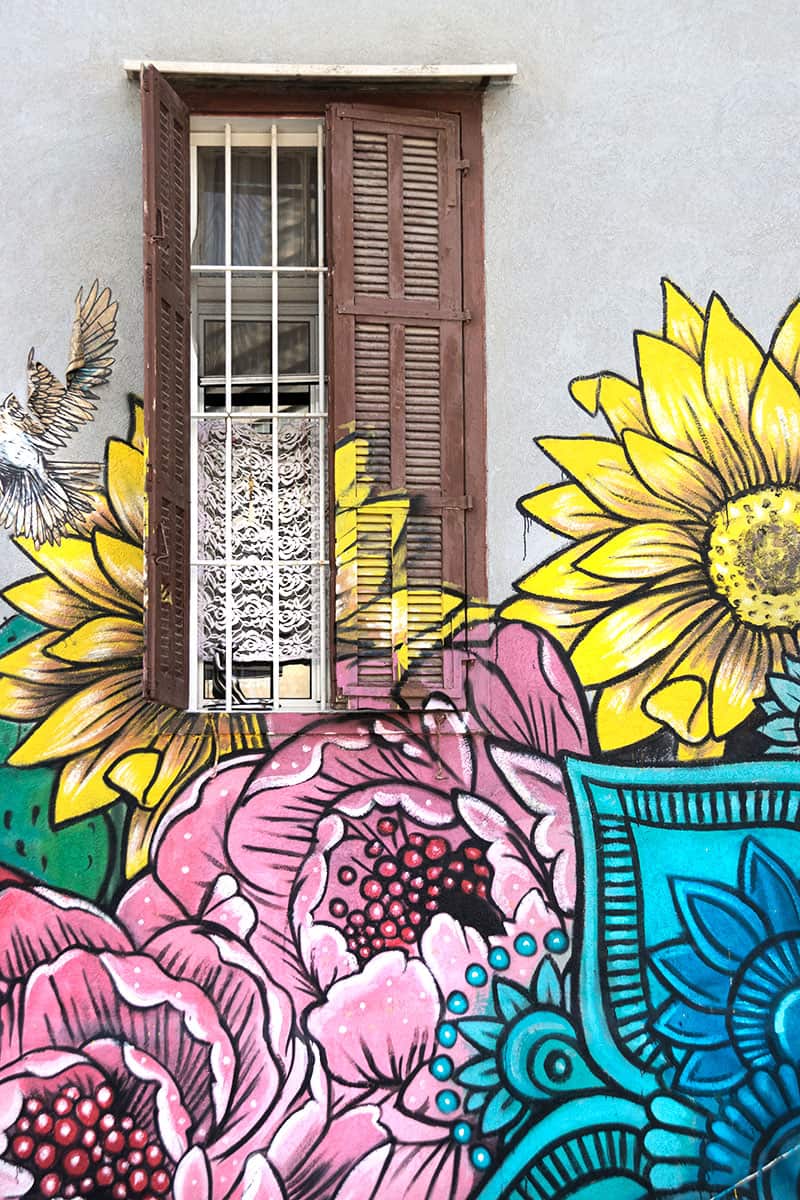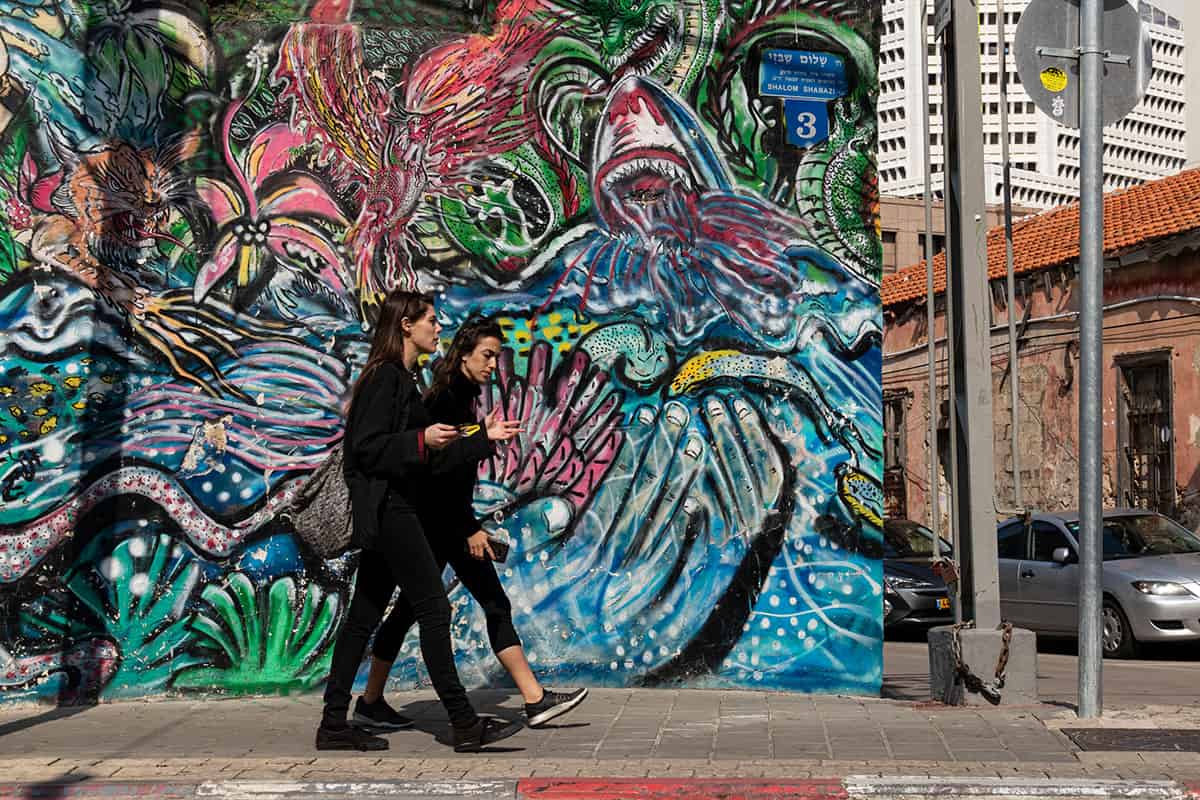 Additional Places for your Tel Aviv Graffiti Tour
You will find stunning street art all over Tel Aviv, but two other places you can go to in search of unique graffiti and street art are the central bus station and the old bus station. They are both located in the south of Tel Aviv, very close to Florentin. The 7th floor of the new central station is dedicated to street art. The old central station (located at Neve Sha'anan neighborhood) also has some great pieces inside and in the nearby streets, and it's an exciting place for street photographers. In the nearby streets, you will find a thriving community of African asylum seekers and migrant workers from Southeast Asia. Inside the old station, there's a Filipino food market, which is also interesting to visit. There are plans to demolish the old central bus station, but so far, it's not clear when exactly this will be executed.
A note about street photography in this area – some of these immigrant and asylum seekers are illegal and might be sensitive about being photographed by strangers. Follow their cues and if someone is not interested in getting his picture taken, respect their wishes. In addition, we recommend coming here only during the day.
Finally, another raw area that street art fans are starting to talk about is Kiryat Hamelacha. We've strolled through the streets of this compound and there are beautiful pieces there but in our opinion, it lacks the charm of Florentin and the other Tel Aviv neighborhoods we've mentioned. If you choose to come here, we suggest taking a graffiti tour.
Each neighborhood in the map is marked by a different color. You can save this map to your Google Maps by marking the star to the right of the map's title. View the table of contents of this Tel Aviv Street Art Map by clicking the rectangular and error on the upper left corner. To open the map in Google Maps in a new tab, click the rectangular on the upper right corner of the map
Check Out Some of These Tel Aviv Graffiti Tours
Best Time for Your Tel Aviv Graffiti Tour
Many of the businesses around Levinsky Market or Jaffa Market have beautiful murals painted all over the shutters of the stores, so it's better to come outside of business hours. Also, when a row of cars blocks the view for some amazing mural or a graffiti-covered wall, it's also kind of annoying. Therefore, come during the afternoon or even better, Friday afternoon or Saturday.
However, another thing to consider is that some of these places lose some of their charm and lively atmosphere if you visit them during Saturday. If it's only about a graffiti and street art tour, come on Saturday or Friday afternoon. However, for places like Jaffa and Levinsky Market, we suggest visiting them when you are still able to experience the lively and unique atmosphere. For Florentine neighborhood we suggest coming in the late afternoon for a street art tour so you'll have enough light and then explore some of the bars and cafes in the evening. Florentin is a fun place to discover in the evening!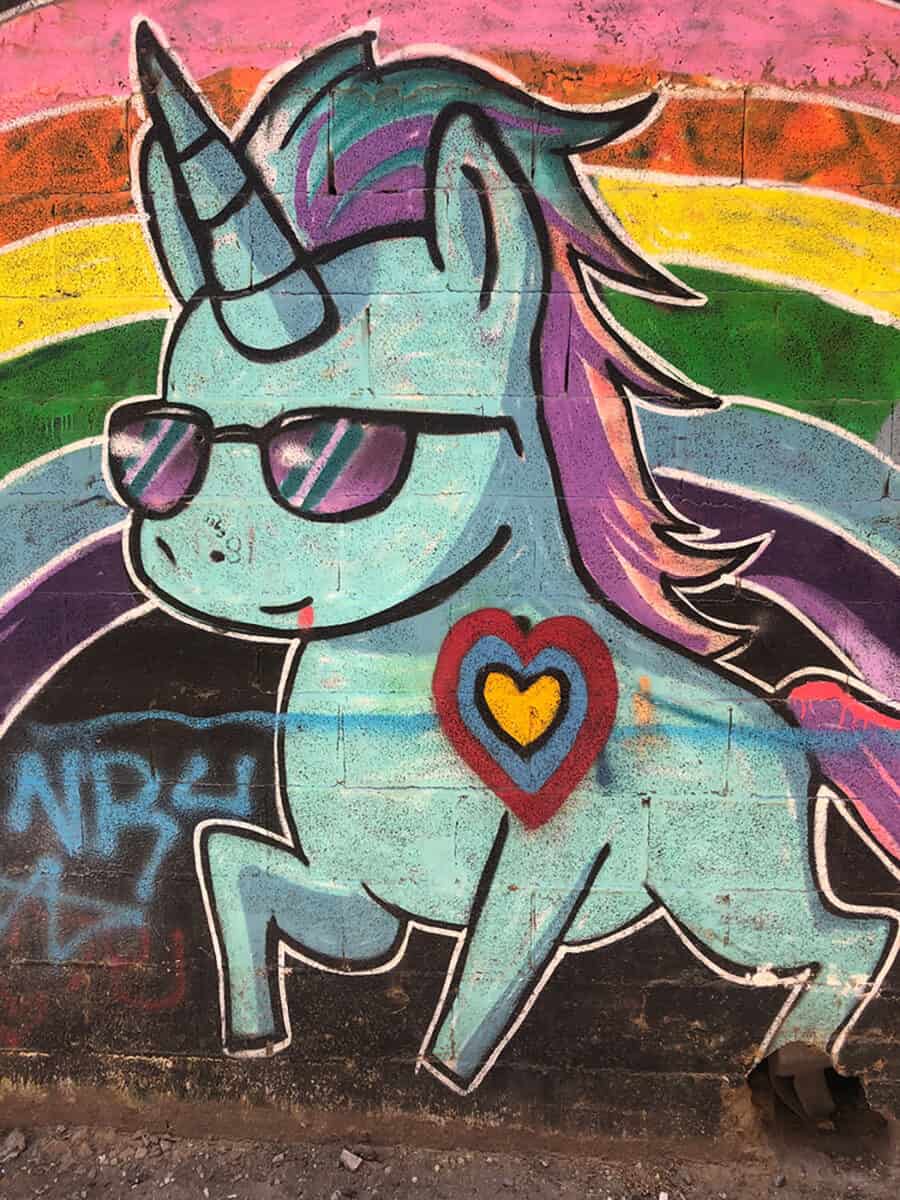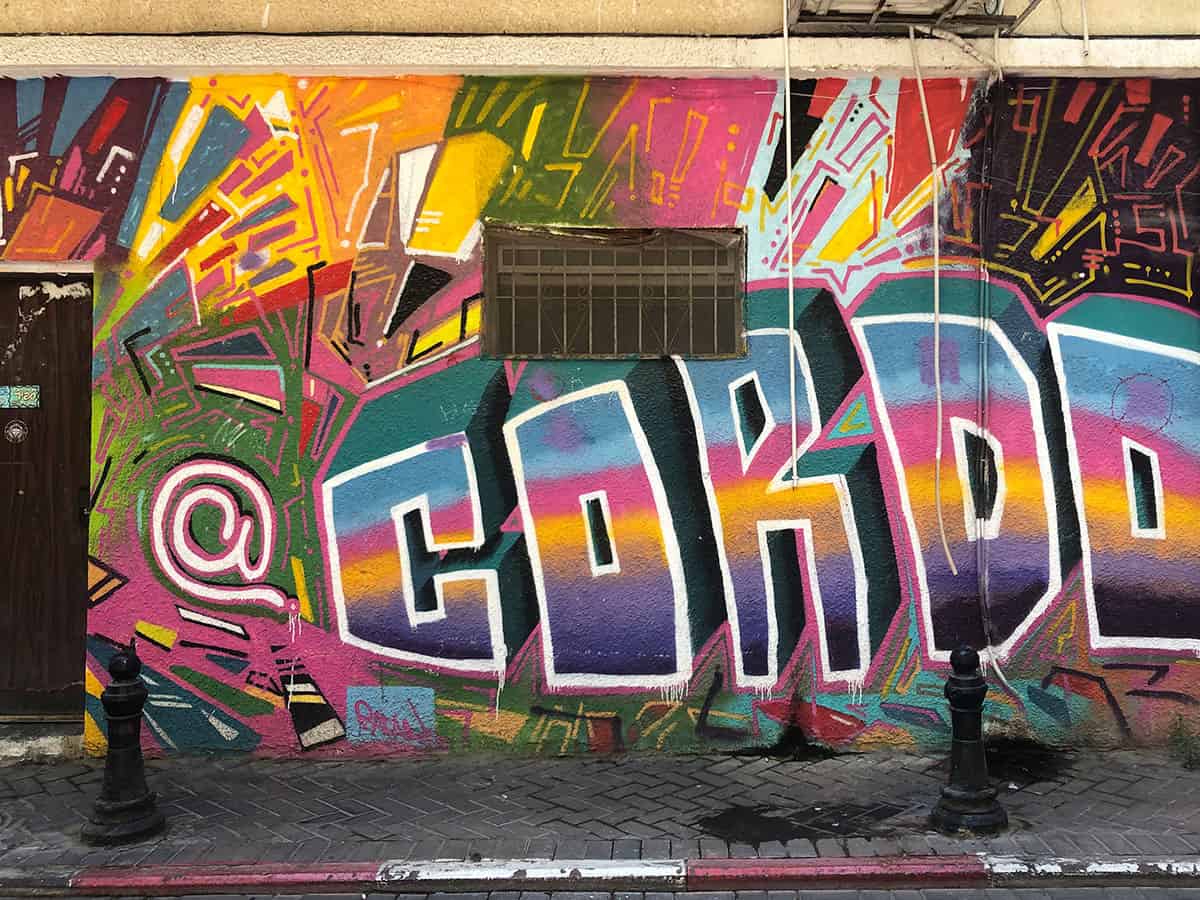 How to Plan Your Tel Aviv Graffiti Tour
As mentioned before, we do recommend taking a street art tour in one of Tel Aviv's graffiti areas. Once you finish your tour, you can start exploring the other areas we've mentioned above. In terms of distance, some of the areas are quite close to one another; however, in July or August, you might prefer taking a cab or hop on Tel Aviv's green bicycles, the Tel-O-Fun, for which you can get a daily or weekly subscription.
Nahalat Binyamin is located in the center of Tel Aviv while the other areas are located in the south. Below you can find the walking distances from one place to another.
Nahalat Binyamin to Neve Tzedek – walking distance of about 20 minutes
Neve Tzedek to Levinsky Market and Florentine – walking distance of about 10-15 minutes
If you wish to stop by the new or old central stations – Walking from Florentin will take you about 15-20 minutes
Florentin to Jaffa Market – walking distance of about 20 minutes.
The street art in Tel Aviv is always changing, but you will always find beautiful murals and graffiti in the areas we've covered in our Tel Aviv Street Art Guide. Enjoy your stay and let us know what was your favorite neighborhood to go graffiti treasure hunting in Tel Aviv!
Don't forget to pin our guide for later!
Check out some of our other street art city guides!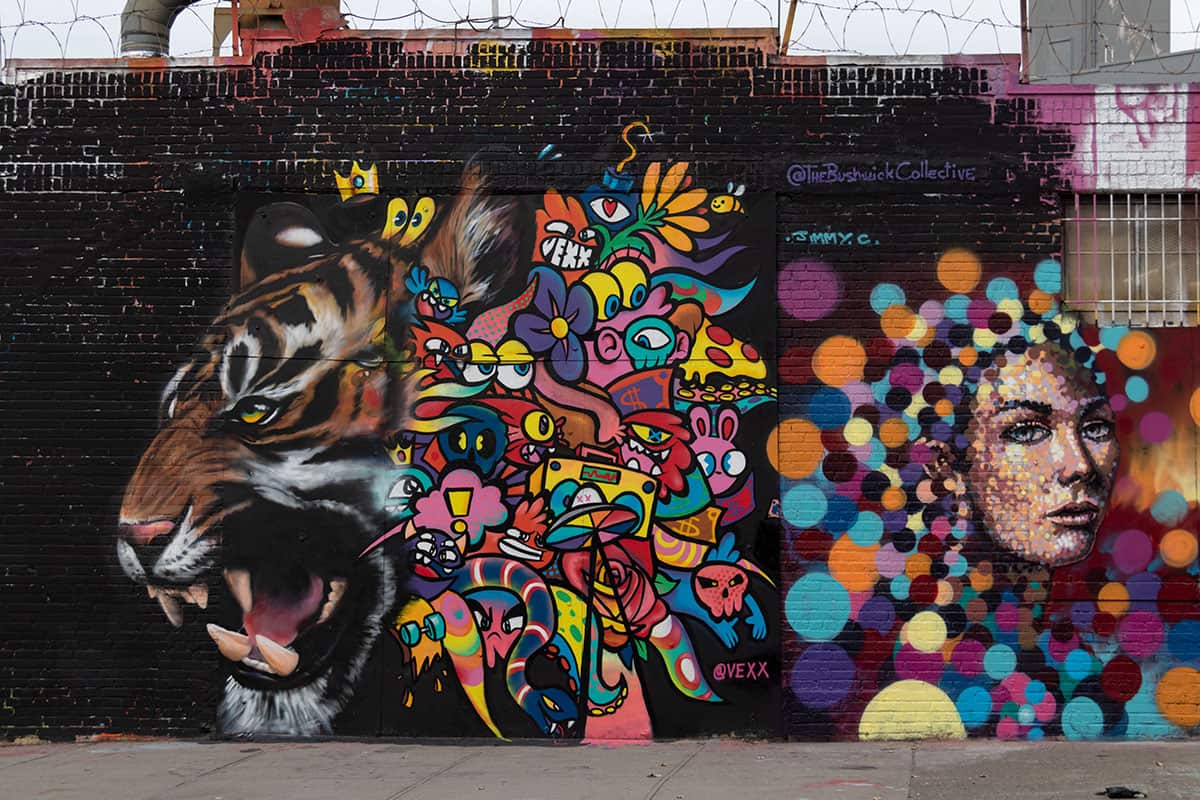 Beautiful murals, colorful street art, beer and cider tasting, trendy restaurants, vintage shopping... sounds good? Great! Now go and check our ultimate guide to fall in love with Bushwick, NY.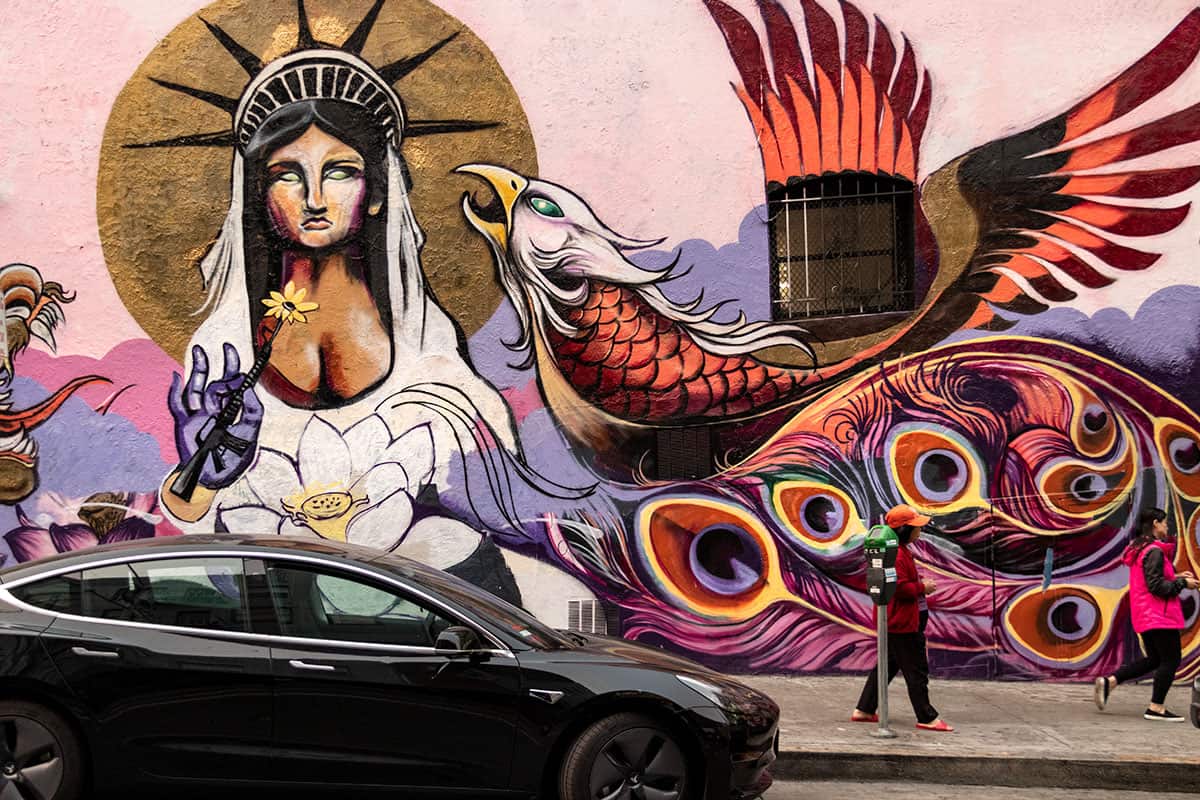 Our guide to San Francisco is all about having the best time in 2 days. We highlighted some beautiful spots that are off the beaten track and would be perfect for photography lovers!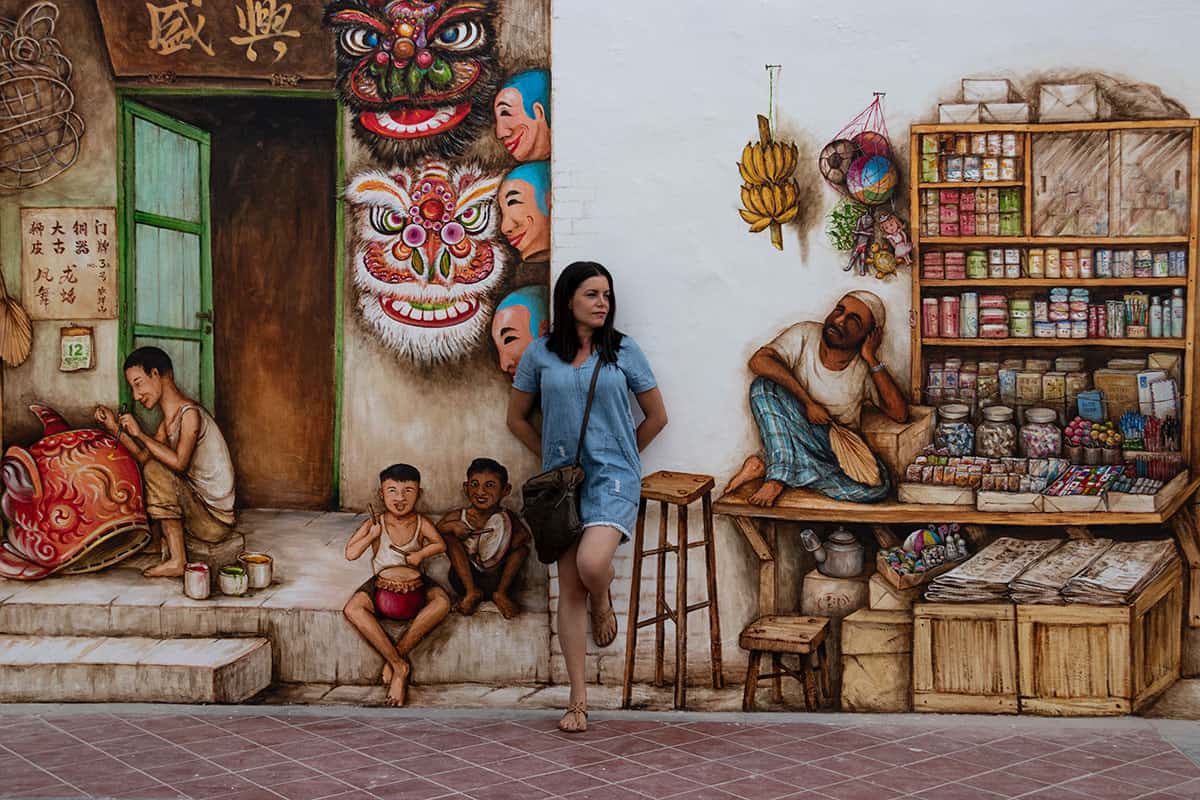 Check out our favorite neighborhoods in Singapore - the best things to do, where to eat, and where to stay! From trendy spots to cool museums and colorful murals, we've got you covered!