Top Dawei Beaches in Southern Myanmar
Beach Hopping around the Dawei Peninsula
This Dewai Beach Guide is all about finding the most perfect beaches in Dewai Peninsula in the south of Myanmar. From the popular Maungmagan Beach to the idyllic Grandfather Beach, what to do, where to go and how to get to the best Dawei beaches.
Have you heard about Dawei Myanmar? Probably not. Not many people have visited this hidden gem in Southern Myanmar, but if you are looking for some peace and quiet, and you love off the beaten path destinations, add the Dewai peninsula to your Myanmar bucket list.
This post may contain affiliate links, which means we earn a small commission if you purchase from them (no extra costs to you!). For details check our disclaimer.
This Dawei beach guide was written with the help of Amit Kedem and Yuval Even whose pictures appear in this post.
Dawei (or Tavoy, its former British name) is located in the south-west of Myanmar, and it is the capital of the Tanintharyi Region. This region has only recently opened to tourists, and therefore, it is an off the beaten path destination. There are no big resorts here and no proper infrastructure. However, if you would like some peace and quiet, accompanied by pristine beaches, with a dose of authenticity, the Dawei peninsula in the south of Myanmar is the perfect place for you.
Dawei has an interesting history spiced by various cultural influences, all of which have contributed to its charm and cultural diversity. Dawei started as a humble fishing village where you could find local tribes of fishermen, such as the Mon, Kayin, Dawei and Thai mariners. Over the years, it evolved into a bustling seaport, which was the coveted prize in the war between Thailand and Burma. These two neighboring countries have fought over this region (formerly known as the Tenasserim Division) for years Throw into the mix some British influence, and you get a fascinating mélange of architecture, traditions, and food.
Dawei has an extreme tropical monsoon climate. In fact, it is one of the wettest lowland tropical regions in the world. The best time to visit the area is from November to February during the dry season. In March and May, you'll encounter higher temperatures and maybe a bit of rain. From May, the rainy days are much more frequent. The wet season is from June to October and you'd want to avoid visiting the Dawei peninsula during these months. For more information about the weather and rainy days in the Dawei peninsula.
How to Get to Dawei Peninsula
Dawei is situated on the northern bank of the Dawei River, in the Tanintharyi Region. It is a long and narrow land, between the Andaman Sea to the west and the Tenasserim Hills to the north. It shares a border with Thailand. You can get to Dewai by car/bus or by flight.
By flight: You can catch a direct flight from Yangon, Myeik or Kawthaung in Myanmar.
By bus: You can catch a direct bus from Yangon and a couple of cities in the Tanintharyi Region. Note that the roads are not in the best conditions. It will take you about 13 hours with a direct bus from Yangon.
By train: As always in Myanmar, the train journey is longer and less convenient than hopping on a bus.
From Thailand: There are two border crossings from Thailand. Ban Phu Nam Ron Border Crossing which is closer to Dawei, but it is tiny and currently, you can't enter with an e-visa from there. You could also cross from Ranong (Thailand) to Kawthaung (the most southern town in Myanmar). For more details about crossing from Thailand.
Where to Stay in Dawei, Myanmar
The nicest beaches around the Dewai Peninsula are located a bit further away from Dawei town. You can stay at Dawei town where you'll have more accommodation and food choices, but then you'll have to go on day trips to discover the pristine beaches around the Dawei Peninsula. Another option is to stay right at the beach. Unfortunately, there are only a few accommodation choices at the beaches around Dawei, and the most beautiful Dawei beaches have no accommodation at all, which is part of their charm. To get to them, you'd also have to rent a motorbike or find other means of transportation.
Accommodation choices in Dawei: Check the hotels and hostel in Dawei here.
Accommodation choices in Maungmagan Beach: You'll find a couple of simple accommodation choices in Maungmagan Beach. You can check their prices here.
Accommodation choices in Paradise Beach: For now the only option is to stay at Paradise Beach Bungalows.
Accommodation choices in Sin Htauk Beach: You can stay at Sin Htauk Beach Bungalows or at the Sea View Beach Bungalows. Getting there from Dawei takes about 2.5-3 hours. See the instructions on the hotel's site or ask for private transport.
Dawei Beaches Tips:

Getting to Paradise Beach and Sin Htauk Beach takes a very long time. It is much more convenient with a private taxi/transfer but in any case, you won't be able to get with the car straight to the hotel. You will have to walk through mangroves or other vegetation (sometimes with your luggage.
Note that for the accommodation at the faraway Dawei beaches, you need to book ahead. The high season is pretty short, and since there's a shortage of accommodation at the beaches, they get booked pretty quickly.
Bring cash with you (in local currency). For now, the only ATM is located in Dawei. If you choose to stay at one of the beachside hotels, check their payment methods. Currently, they only accept cash, but things might change.
Beach Hopping Around the Dawei Peninsula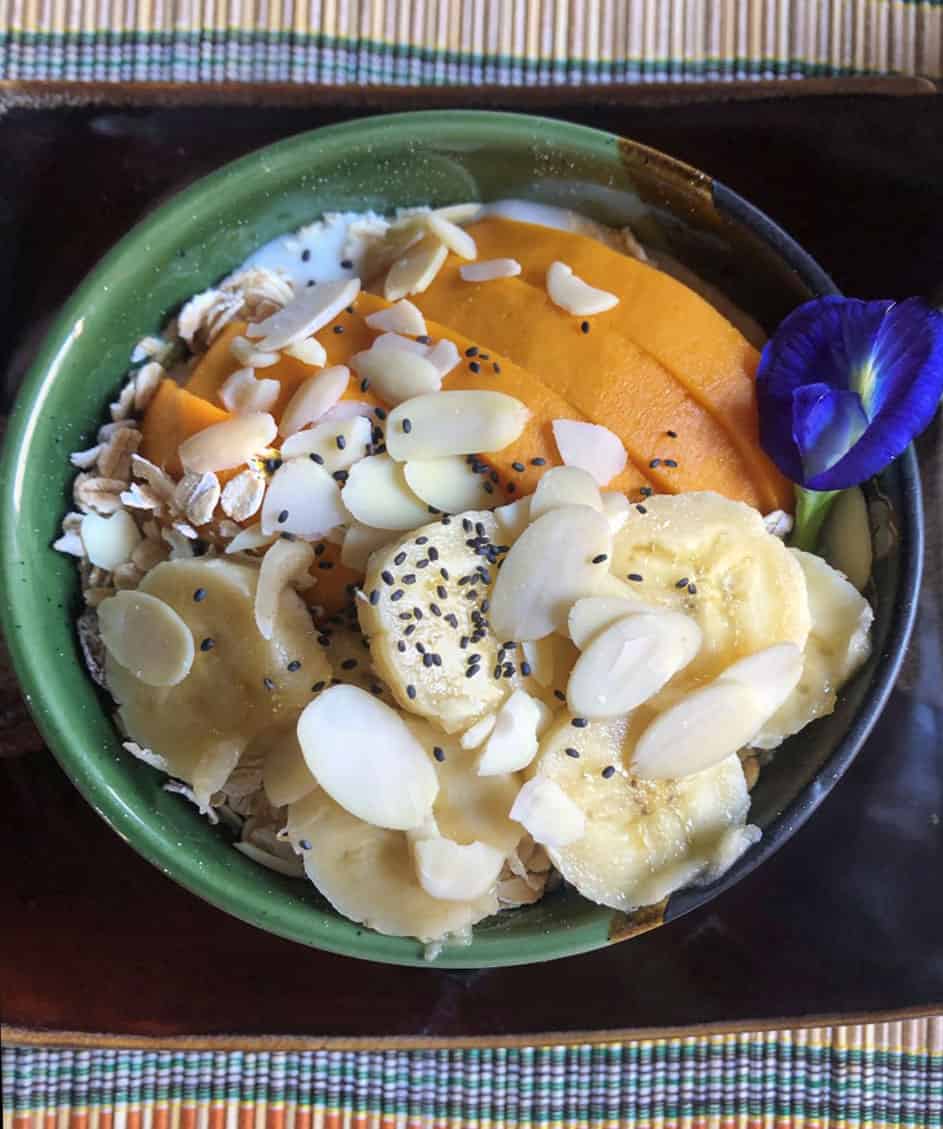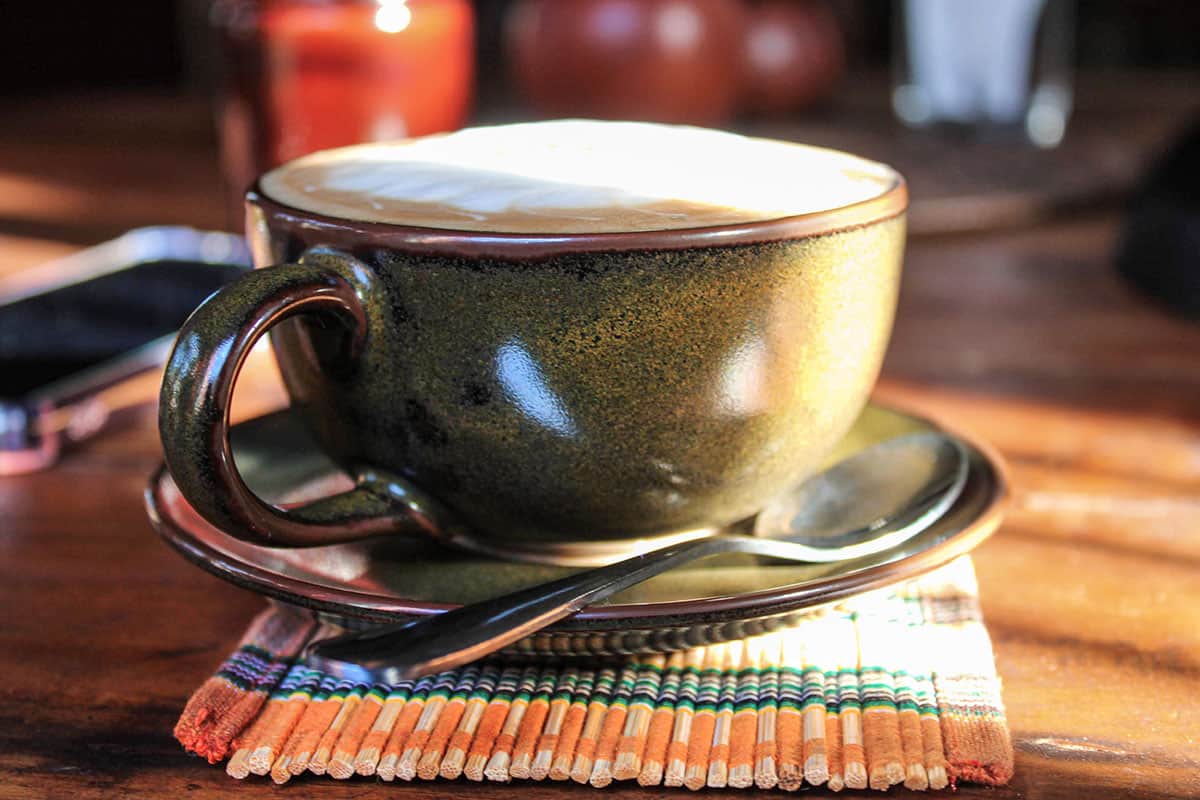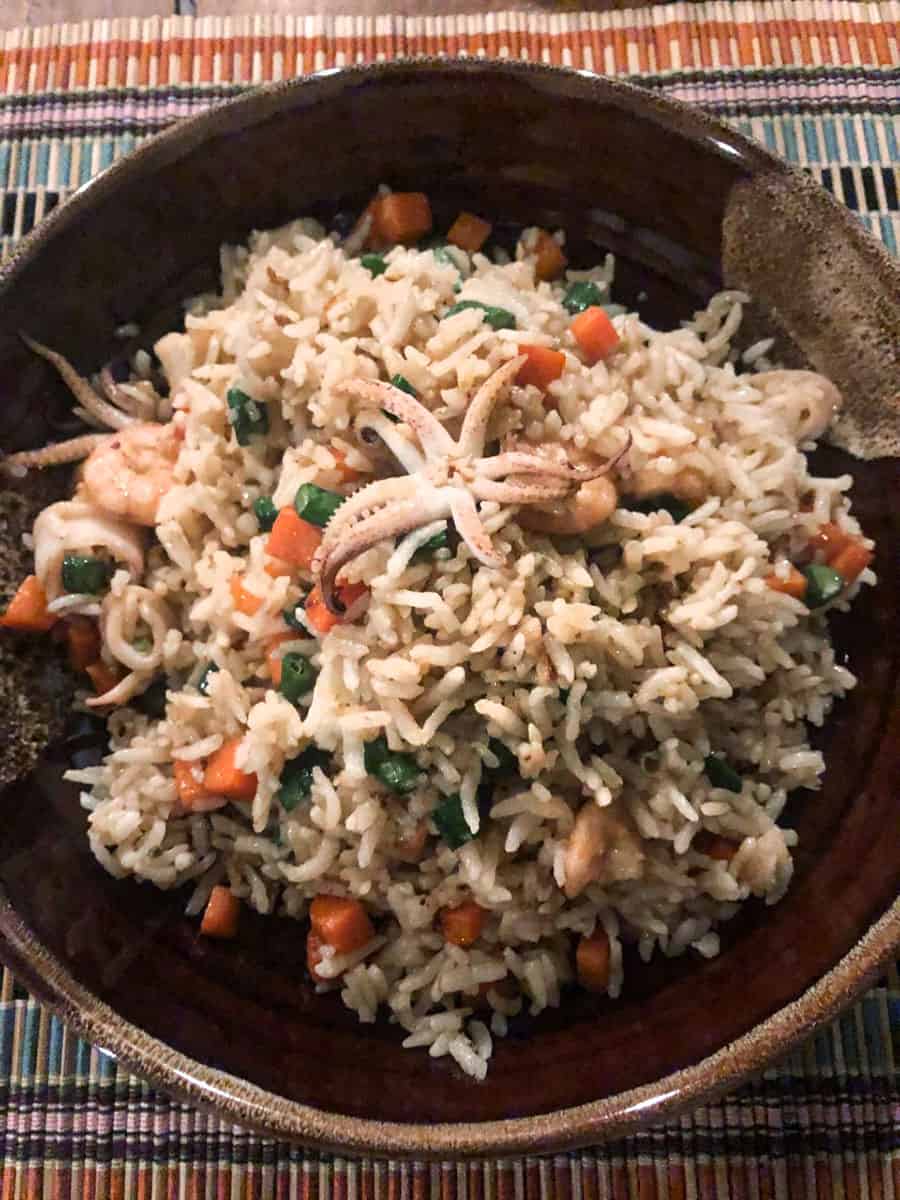 How to Get to Dawei Beaches
Don't count on public transportation since the options are limited and SLOW. The roads around the Dawei peninsula are basically dirt roads, and to get to some of the beaches, you'll have to go through sandy trails.
By motorbike – You can rent a motorbike and start exploring the Dawei beaches and the Dawei peninsula by yourself. Unless you are an experienced driver, this is not your best option. Some of the roads are more of stony roads and sandy trails, which are challenging even for experienced drivers. Don't forget to bring a valid driving license and your passport
By Taxi/private transfer – You can take a taxi and explore some of the Dawei beaches in relative comfort. Many of the agencies can arrange for transportation.
By motorbike taxi – Less convenient but cheaper than a car.
In terms of transportation to the beaches, some days we took a private transport and others we went with a motorbike taxi. We found Hello Dawei to be really trustworthy and helpful. They also arranged for us direct transportation from Dawei to our next destination, Hpa An.
Top Dawei Beaches around the Dawei Peninsula
From North to South
You'll find many beaches all around the Dawei peninsula. The most popular ones are the northern beaches since they are closer to Dawei, but the most beautiful Dawei beaches are the southern beaches. You'll need a couple of hours to get to them from Dawei. Access to these beaches can be tricky; some of them can only be reached by motorbike. Once you get a glimpse of the turquoise water and sandy beach, you'll forget all about the 2-hour drive. Some of the beaches are completely deserted, but in others, you'll probably meet some of the local fishermen or kids from a nearby village. The one thing you won't see are high-end resorts and flocks of tourists.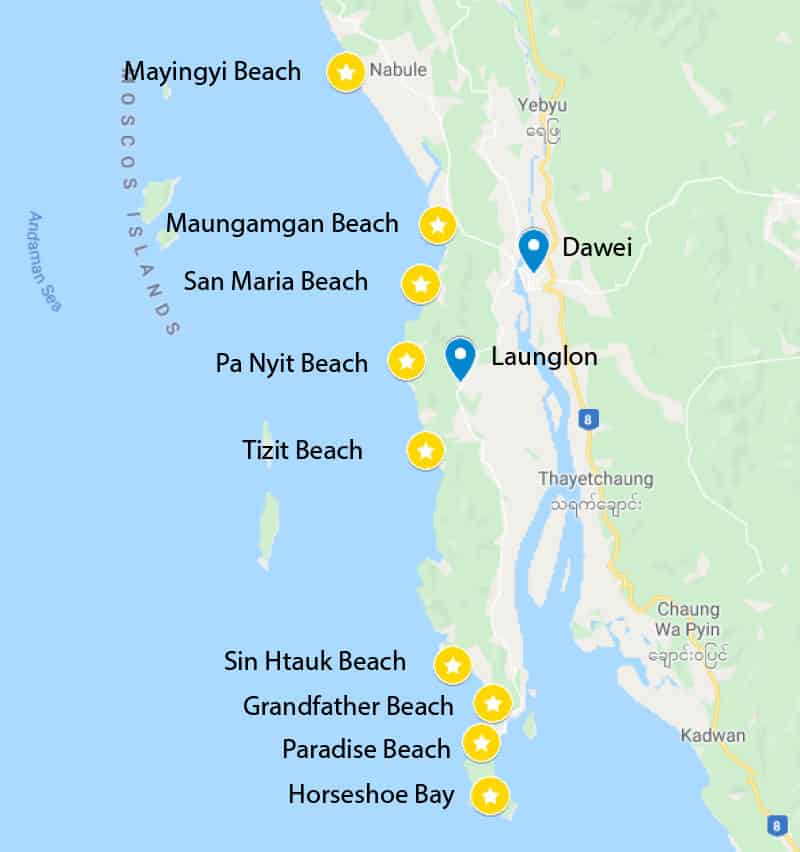 Maungamgan Beach (also spelled Maung Ma Gan or Maung Ma Kan) is probably the most popular beach in the area. It is located about 12 kilometers west of Dawei, and it's a very popular beach amongst the locals. Maungamgan Beach is one of Myanmar's most culturally significant beaches since the Emperor Alung Si Thu of the first Myanmar dynasty and his entourage visited this beach during one of his attempts to invade Thailand. The emperor is also responsible for how the beach got its name since Maungamgan translates into "where the emperor's concubines bathe".
On the weekends and public holidays, the beach can get pretty crowded with locals, so consider this when you plan your visit. Along the shoreline, there are a dozen of local seafood restaurants and small huts to drink beer and enjoy the scenery. The beach itself is quite long and walking along the shoreline, you will have many opportunities to photograph the daily lives of the villagers. Maungamgan Beach might be close to Dawei, but it is definitely not the most pristine Dawei beach you'll visit. The beach can get dirty at times, and the water is not as crystal-clear as in other places around the Dawei peninsula. There is plenty of shade thanks to the pine trees and local restaurants. Maungamgan Beach is also a great place to watch the sunset since there are so many little huts and restaurants around. If you are looking for a secluded or pristine beach, skip Maungamgan Beach and start exploring the other Dawei beaches on our list.
Getting to Maungamgan Beach: you can get to Maungamgan Beach by car/motorbike/tuk-tuk from Dawei.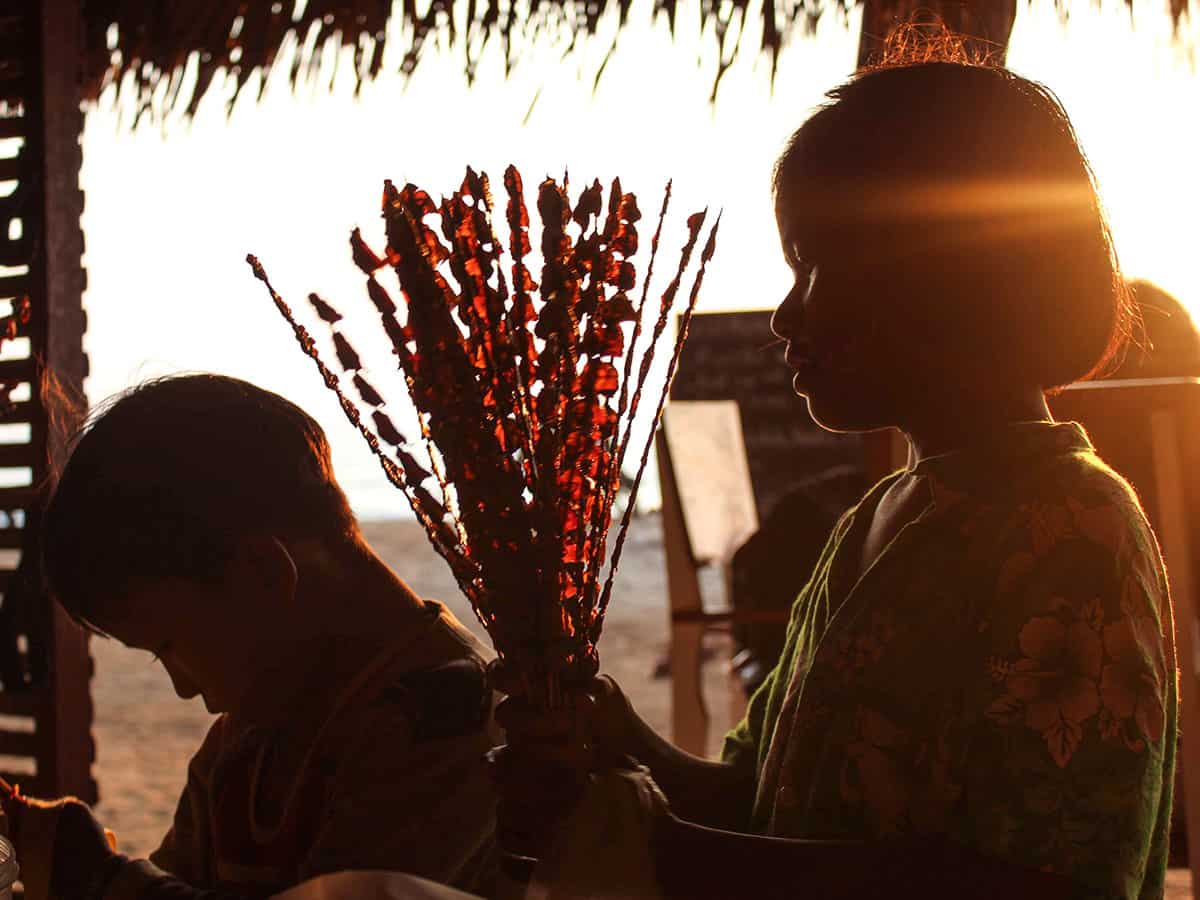 Nabule Beach / Mayingyi Beach
Nabule Beach or Mayingyi Beach is located about 24 kilometers north of Maungamgan Beach. However, the road conditions are really poor, so it takes about 1.5 to 2 hours to get there from Maungamgan. On the way, you'll be able to see one of the most ambitious projects in Myanmar, the Dawei deep-sea port and special economic zone project which aims to transform the Dawei area into the largest industrial zone in Southeast Asia. This project has raised many concerns and objections over the years, but it has been stuck for a while now. The beach consists of three bays with golden sand and dotted by large granite boulders. You'll find a golden stupa on the largest one. If you are looking for a secluded beach, Nabule Beach might suit you, but there are more beautiful beaches in the south of the Dawei peninsula.
Getting to Nabule Beach: You can get to Nabule Beach by motorbike from Maungamgan Beach, but the road conditions are very poo
San Maria Beach is located about 13 km south of Maungamgan Beach. The road conditions used to be very poor but have recently improved, though the last section is still basically a sandy trail. It will take you about 30-40 minutes to get to San Maria Beach from Maungamgan Beach. This 3km long white sand beach is a hidden gem, at the end of which you'll find the Myawyik Pagoda that is located on a small island offshore connected to the mainland with a bridge. Near the Myawyik Pagoda, you'll find the San Maria Bay – Restaurant & Beach Club, and further south, there's another simple local restaurant. There are some huts for beer and food. If you don't have enough time to explore the southern beaches of the Dawei peninsula, San Maria Beach is a beautiful secluded beach.
Getting to San Maria Beach: You can get to San Maria Beach by motorbike/car from Maungamgan Beach. The last part of the road that leads to the beach itself is in very poor conditions.
Pa Nyit Beach / Shaw Maw Beach
Pa Nyit Beach, which is also known as Shaw Maw Beach, is located a few kilometres south of San Maria Beach. It is another beautiful long sandy beach at the end of which there's a small monastery. On the way to the beach, you'll go through rural villages and rice paddies. Follow the signs to get to either Pa Nyit Beach (right) or Shaw Maw Beach (left). Just like Nabule Beach, in Pa Nyit Beach, you'll also find smooth boulders with a golden stupa on one of them. There are no shops around, so bring plenty of water and snacks. The local pine trees provide much-needed shade.
Getting to Pa Nyit Beach: Pa Nyit Beach is a short ride from Launglon (about 20 minutes of dirt roads). Launglon is located about 20 km south of Dawei (30 minutes by car).
Dawei Beaches Tip: If you are interested in learning more about the local culture, visit San Lan village (further down south) in the morning. You'll be able to watch the local fishermen and villagers dry fish and make the fish paste, which this area is known for.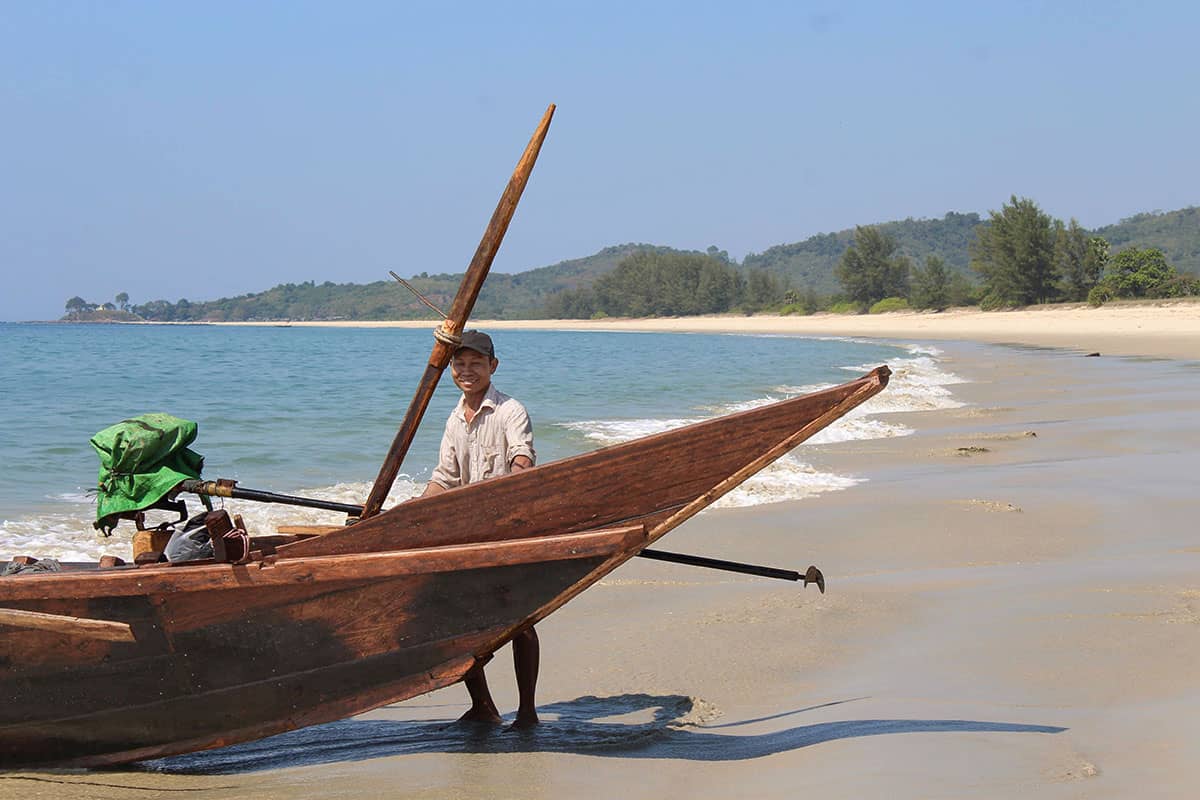 Tizit Beach is located a few kilometers south of Pa Nyit Beach. It's another dreamy beach with white sand and clear water. There's a small fishing village nearby and a simple local restaurant for some refreshments and food. Walking along the long beach you'll find some shade thanks to the nearby trees. This area is also known for birdwatching. There are two islands just in front of the beach, and you might be able to convince one of the local fishermen to take you for a ride. The scenery is beautiful and the further south you walk, away from the fishing boats, it gets more quiet and beautiful. Tizit was one of our favorite beaches in the Dawei peninsula.
Getting to Tizit Beach: Get to Launglon and about 8 km south of the village, you'll need to take a right to a sandy trail that will lead you to the small fishing village. From their continue to the beach itself.
Sin Htauk Beach / Tha Yaun Beach
Sin Htauk Beach and Tha Yaun Beach are two of the most beautiful beaches of the Dawei peninsula. However, getting to these dreamy Dawei beaches can be very tricky. Sin Htauk Beach has golden sand and a beautiful bay, surrounded by lush vegetation. You can spend the night here at the beach bungalows if you wish (check our accommodation section). Tha Yaun is located just south of Sin Htauk. It's a larger bay, which is divided by a small estuary. On the other side of this estuary, you'll find the famous Grandfather Beach (Po Po Kyauk beach), which is located in the lower half of the bay. Sin Htauk Beach and Tha Yaun Beach are very secluded and hard to get to but you will probably encounter some tourists who are staying at the Sin Htauk Bungalows. You can enjoy lunch and drinks at the adjacent restaurant.
Getting to Sin Htauk Beach/Tha Yaun Beach: To get to Sin Htauk Beach, you'll need to drive to Ya Beh village and follow the signs from there. It is a red sandy trail that can get rougher at times (especially the last stretch). The trail will end at a small village where you'll have to continue by foot through the mangroves, Check out the directions on Sin Htauk Bungalows's site. To get to Tha Yaun Beach, take the trail behind the restaurant. It's a short leisurely walk.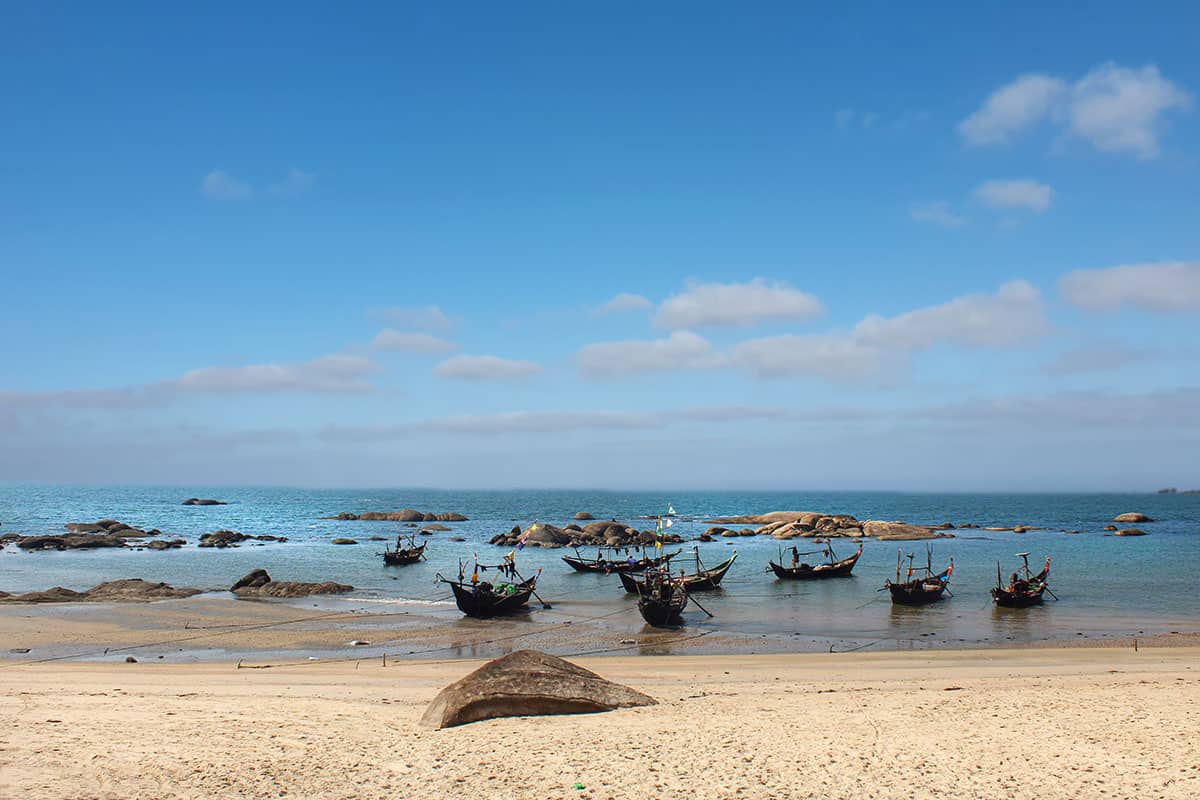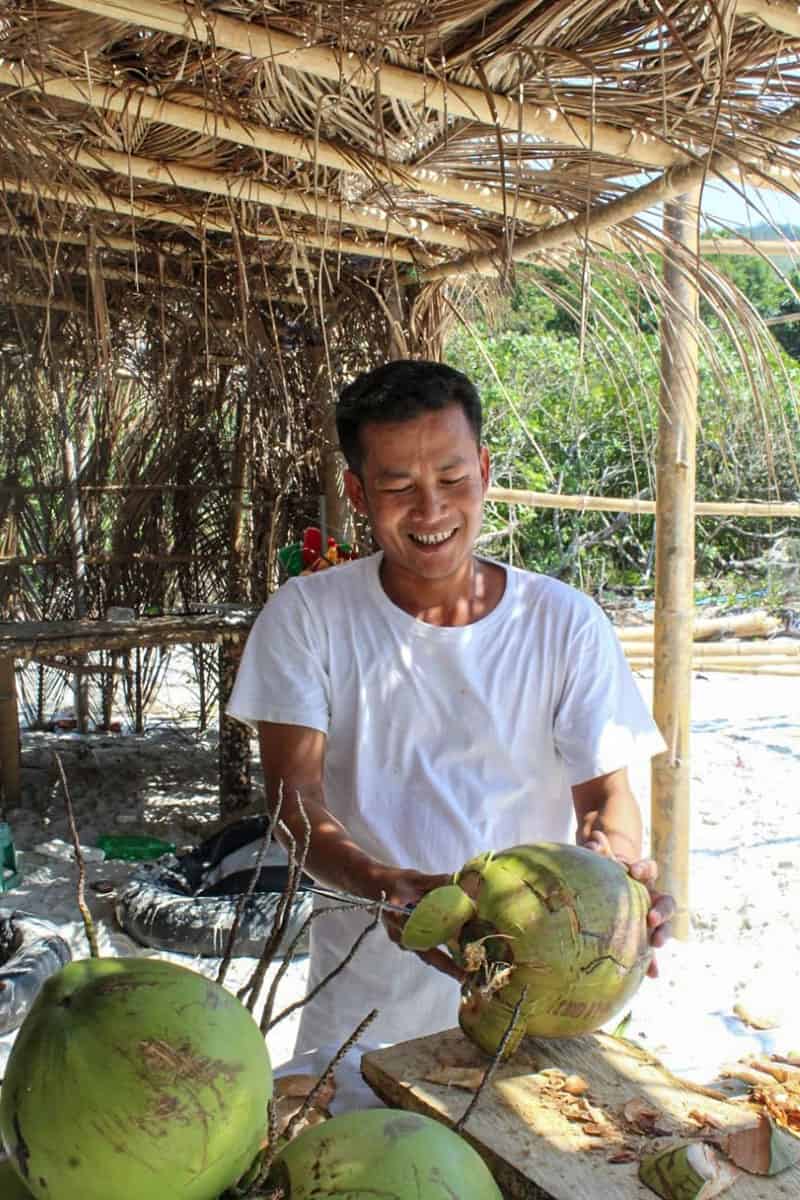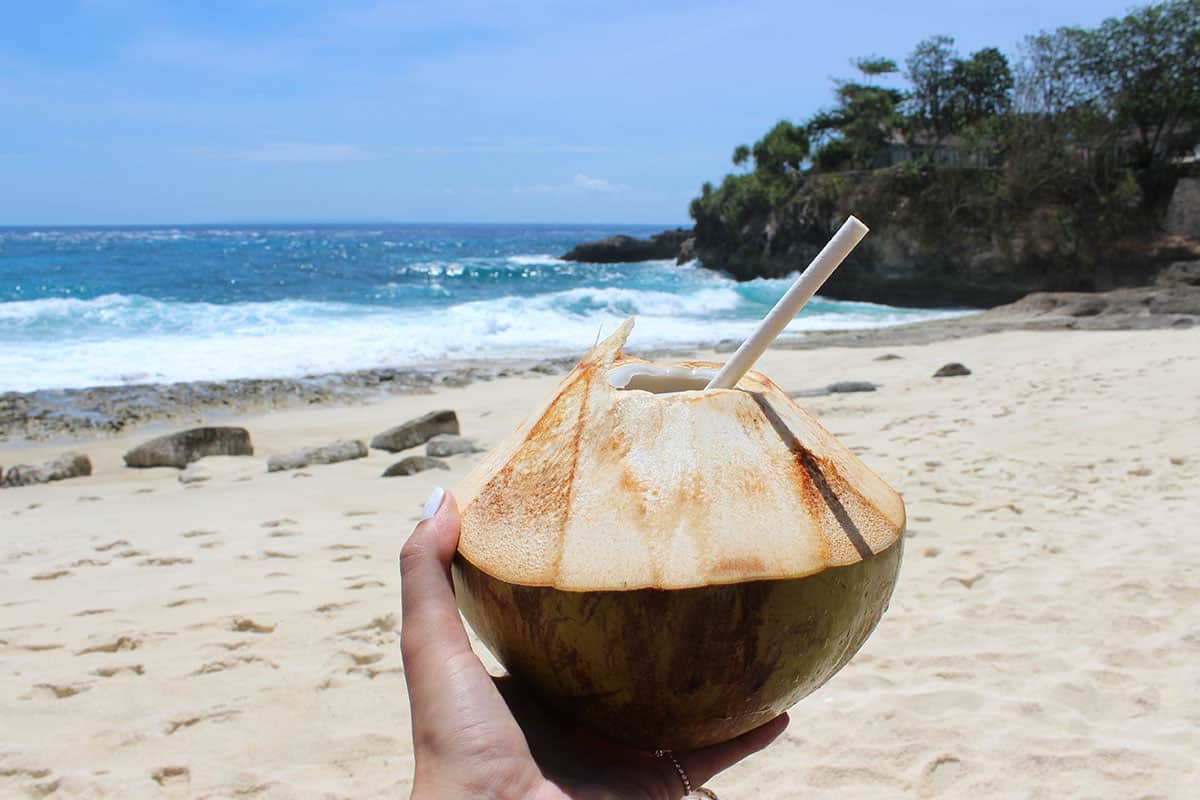 Grandfather Beach / Po Po Kyauk Beach
Grandfather Beach is probably one of the most beautiful beaches of the Dawei peninsula; some say it's the most beautiful Dawei beach. As mentioned above, it's, in fact, the lower half of a beautiful bay, and though the waves here can get rough sometimes, at the top end of the beach (northern end), there's a gorgeous lagoon that can be used as an amazing natural swimming pool. Theoretically, you can cross the small estuary by walking through the water during low tide or by swimming, but note that there are strong currents, so you'd have to be a very strong swimmer. However, there isn't a real reason to cross over to the neighboring beach when you have 5 kilometers of white sandy beach and crystal-clear water all to yourself. For food and drinks, there are a few stalls when you enter the beach.
Getting to Grandfather Beach: Grandfather Beach is about 2.5 hours drive from Dawei. Get to Aut Kyauk Wap village. From there, there's a sandy trail that will lead you to Nyau Pyin village. Ask around how to get to the entrance of the beach. You might need to walk for about 10 minutes to get to the beach itself.
Dawei Beaches Tips:

Nyau Pyin beach, just next to the local fishing village, is an excellent spot to photograph the local women who look for clams along the shoreline or dry shrimp on the beach.
If you have the time and energy, there's a stunning viewpoint nearby. You can ask for directions at Yway restaurant (which also serves excellent food). About 200-300 meters from the restaurant, there's a narrow (and steep) trail that will take you to a gorgeous viewpoint overlooking Tha Yaw Beach and Grandfather Beach. Up there, you'll also find Dawei's own Golden Rock, a small imitation of the famous Kyaiktiyo pagoda.
Paradise Beach / San Sa Aw Beach
Paradise Beach is located about 70 kilometers from Dawei. It will take you about 2-2.5 hours to get there, depending on your transportation. If you're looking to stay for a few nights at one of Dawei beaches, the Paradise Beach Bungalows are a great option. The last stretch to get to the beach can be tricky, but once you get there, you understand where the name comes from. Soft sand, palm trees, the turquoise hues of the Andaman Sea, a nice restaurant (which belongs to Paradise Beach Bungalows), what else can you ask for? The sea here can get wavy, but if you continue north around the curve of the bay, you'll find calmer water.
Getting to Paradise Beach: You'll need to get to Aut Kyauk Wap village (pronounced 'Autcha What') and take the turn to Myanmar Paradise Beach Bungalows (just after the turn to Grandfather Beach). Follow the trail over the hill till you'll get to a small junction where there's another sign to Paradise Beach (right). This trail is even narrower than before. You can either go with your motorbike or if it's too scary, just walk. Check the hotel on Booking for detailed instructions on how to get there (left column).
Dawei Beaches Tips: At nighttime, there's an excellent chance to view the glow of bioluminescent plankton. Some say it's plankton, while others think it's shrimps. We haven't slept at any of Dawei beaches, so let us know in the comments if you do see them!
Myin Kwa Aw Beach / Horseshoe Bay
Myin Kwa Aw Beach or Horseshoe Bay is the most southern beach on the Dawei peninsula. It's a wide beach with white (and from what we've heard semi-dirty) sand. The scenery is still beautiful with the jungle and turquoise water of the Andaman Sea. Also, no need to go trekking through the jungle to get to the beach unlike some of the previous beaches we've mentioned. We wouldn't go the extra mile to get to Myin Kwa Aw Beach since there are so many dreamy beaches around the Dawei peninsula.
Getting to Myin Kwa Aw Beach: Just follow the road to the south. At the tip of the peninsula, the road goes along the beach, so find a place to park and make your way to the beach.
Dawei Beaches Tips: If you arrive at the south tip of the Dawei peninsula, you might want to check the Myat Shin Maw Pagoda. This Buddhist temple was built on a cliff, and it's constructed from various small temples that are located at different levels. Wander around, admire the view, and interact with the local pilgrimages.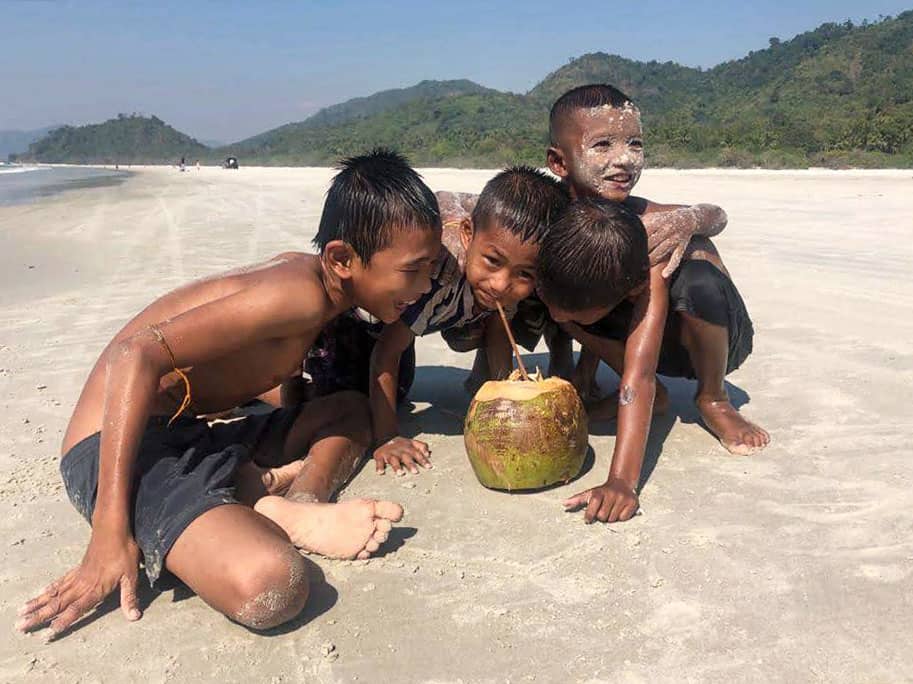 Why Should Dawei Be on Your off The Beaten Track Itinerary?
If you love pristine beaches and authentic villages, you definitely need to visit this off the beaten path Myanmar town. There were almost no other tourists when we were there, and it felt like a truly Burmese hidden gem. Some of our highlights included local villagers who asked to pose with us for a picture, kids who were happy to play with us and wanted to know our names, agricultural land and rice paddies, charming vignettes of the daily lives of the fishermen, an opportunity to learn about the local industry of rubber plantations, fish paste and more. There's a raw beauty everywhere you look and authenticity that is missing from more popular and touristy destinations. Enjoy all of this beauty while drinking icy sugar cane juice or some fresh coconut water.
Why Should Dawei NOT Be on Your Myanmar Itinerary?
Well, if you are looking for resorts and luxury hotels or you can't handle bumpy roads, if you're idea of an idyllic beach is sitting in a well-designed café and enjoying various watersports, skip Dawei since you won't enjoy your time at the beaches of the Dawei peninsula.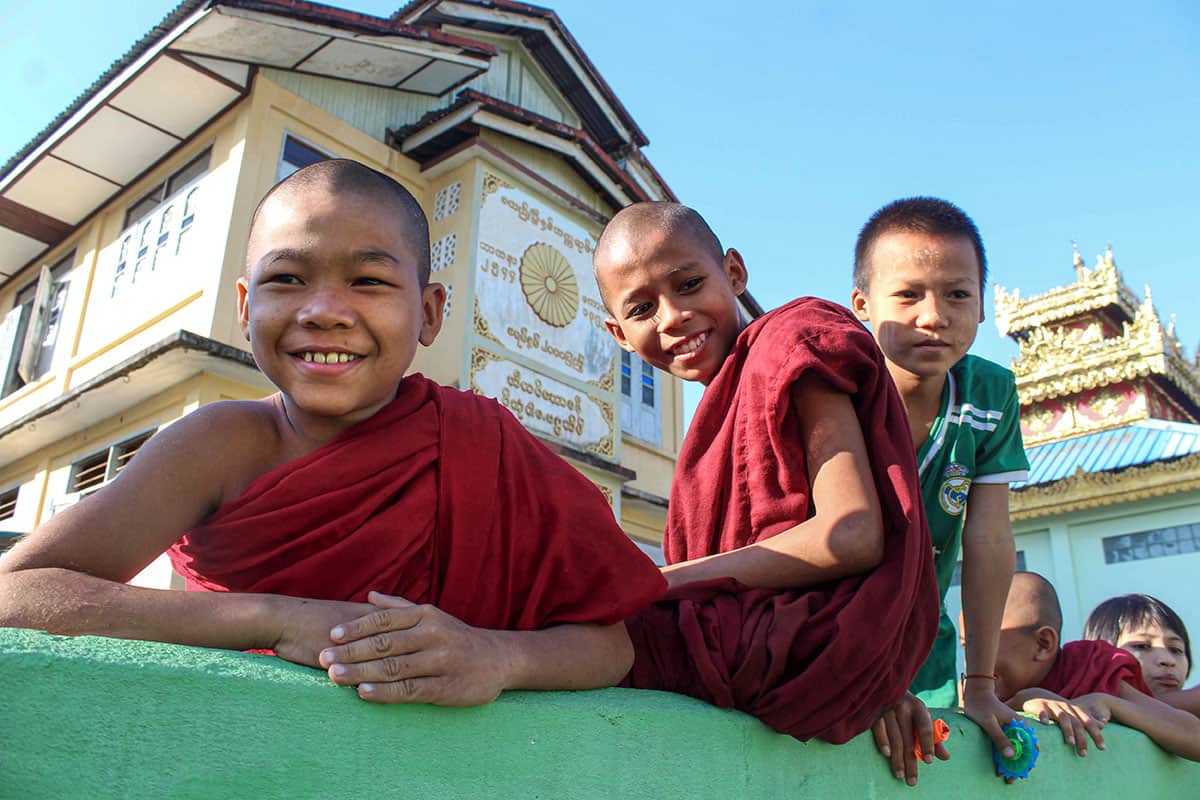 Tips for Planning your Dawei Itinerary
The best way to plan your Dawei itinerary is to decide how many days you have, where you'd like to sleep, and which Dawei beaches you'd like to visit.
If you choose to stay at Dawei and go on day trips, plan ahead to see as many beaches as you can. If you have all the time in the world, you can go on your first day to Maungamgan Beach and the nearby beaches. But if you are short on time, skip Maungamgan Beach, and go straight to the Dawei beaches that are located south to Dawei.

Another day trip could be to the beaches that are close to Launglon, such as Pa Nyit Beach and Tizit Beach or Sin Htauk Beach and Tha Yaun Beach or Grandfather/Paradise beach.

Plan ahead in terms of transportation. You don't want to be stuck at night time at any of these dirt roads. If you're not an experienced driver or you're not sure about navigating, take a motorbike-taxi.

Download the offline map of the Dawei peninsula from Maps.me. It's better than Google Maps, and since you won't have wifi, it's better to have a map with you.
Ask around the local agencies about possible means of transportation to get to the Dawei beaches you want to go to. Also. When you plan to leave Dawei, they might have a better option than the local buses. From Dawei we went to Hpa An, and Hello Dawei arranged for us a direct (shared) van.

Myanmar is still a conservative country, especially places like the Dawei Peninsula, which don't get a lot of tourists. Therefore, unless you are at the beach, don't walk around in your bathing suit since it's not appropriate The locals are too polite to say it to you, but it's frowned upon. Even at the beaches, you'll see many of the locals bathing in their clothes instead of bathing suits, so respect the local culture.

Don't forget to bring sun protection as well as a mosquito repellent. We haven't been to the beaches at night, but we've heard some also have sand flies.

If you like diving or snorkeling, there aren't any (impressive) reefs accessible from Dawei beaches. You'd better book a tour to the Moscos Islands. If you have the time and the money, spend a night in Myeik and visit the Mergui Archipelago (Myeik Archipelago).
More Resources for your Myanmar Itinerary
We hope you've found our Dawei Beach Guide helpful in planning your itinerary to the Dawei peninsula. It's a truly unspoiled hidden gem with friendly locals and raw beauty that is waiting to be discovered. Let us know if you have any more tips for our Dawei travel guide!
Don't forget to pin our guide for later!
Check out some of our other guides for Asia!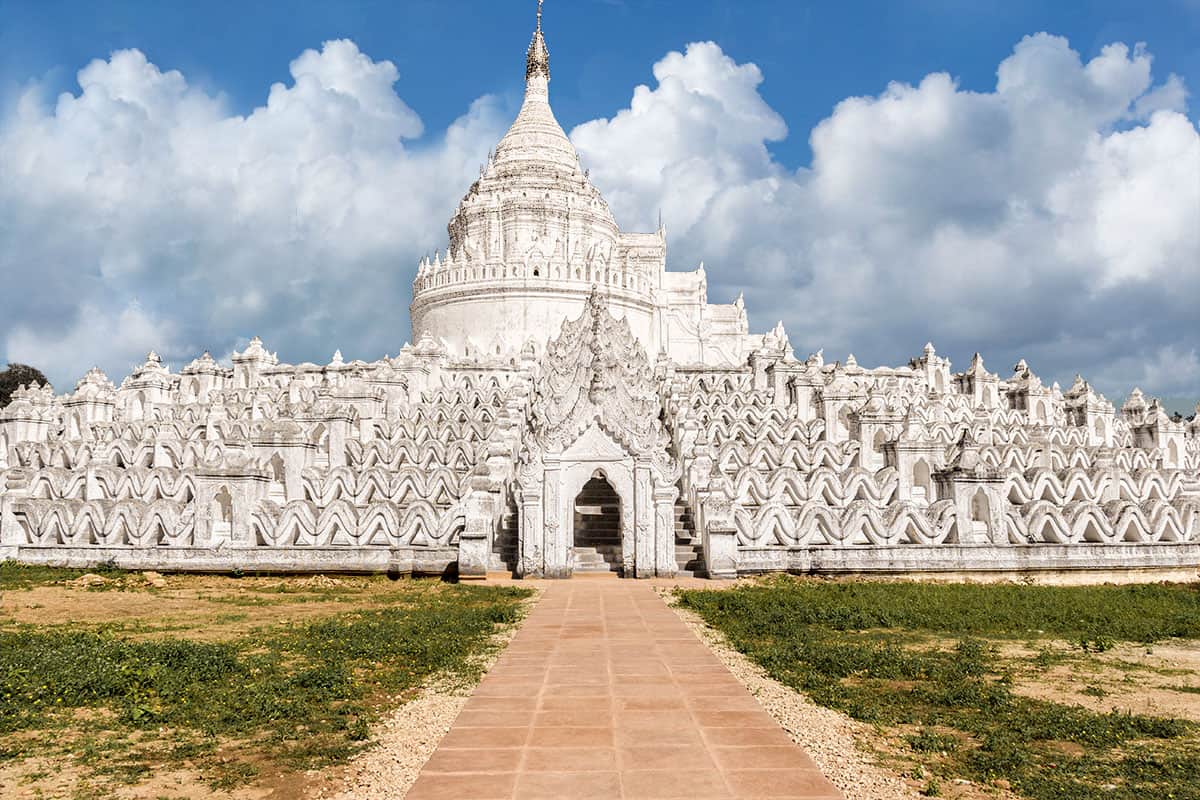 Discover the most beautiful temple in Myanmar, Hsinbyume Pagoda in Mingun. Learn how to visit this stunning attraction on a day trip from Mandalay.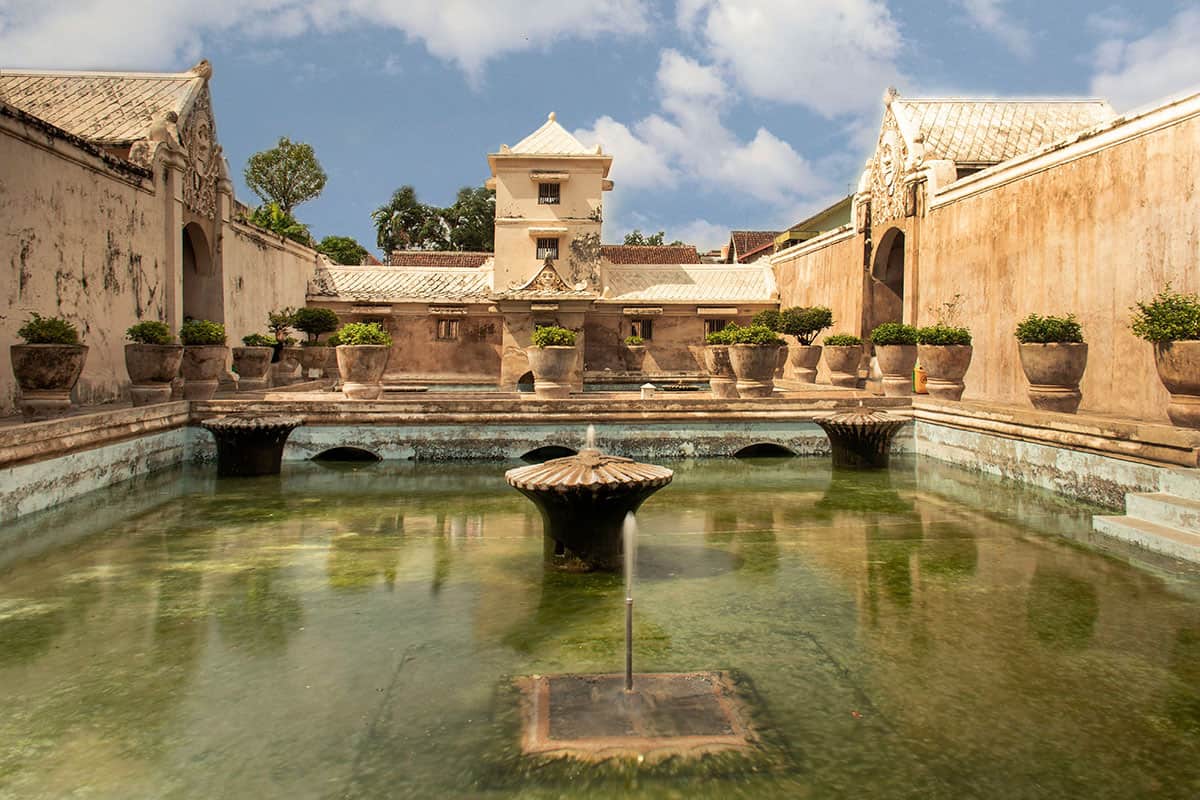 Fall in love with Yogyakarta - the cultural center of Java, Indonesia. Check out our Yogyakarta Guide to learn about the top attractions for culture and nature lovers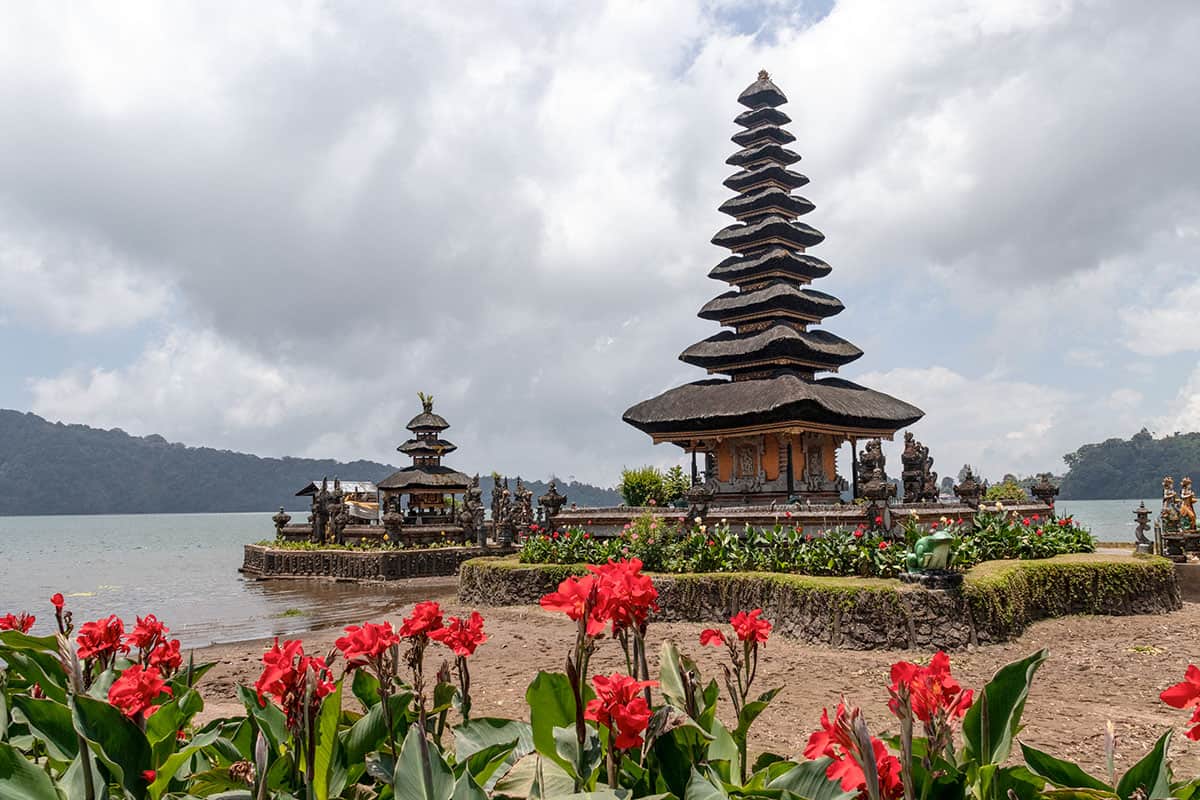 Our Bali bucket list is filled with the must-see attractions for nature, culture. history, food and beach lovers. Don't miss a thing in Bali, the island of the Gods!