Hsinbyume Pagoda – The Stunning White Temple in Mingun Mandalay
This post may contain affiliate links, which means we earn a small commission if you purchase from them (no extra costs to you!). For details check our disclaimer.
Our visit to Hsinbyume Pagoda in Mingun, Mandalay, took us completely by surprise. You see, Mandalay was our last destination on our Myanmar itinerary and by then we'd seen so many beautiful pagodas and stupas and visited some of the most beautiful places in Myanmar, we did not think another pagoda could excite us. We thought nothing could compare to the great beauty of Yangon's Shwedagon Pagoda or the stunning sight of Indein in Inle Lake. Well, we were wrong… once we had our first glimpse of the Hsinbyume Pagoda in Mingun, we fell in love with the unique structure of this gorgeous white temple. So here is all the information you need to visit the stunning white temple which is located so close to Mandalay.
Hsinbyume Pagoda (Mya Thein Tan Pagoda)
The Hsinbyume Pagoda (also known as Mya Thein Tan Pagoda) was built in 1816 by prince Bagyidaw, the son of King Bodawpaya (who built the famous Mingun Pahtodawgyi aka Mingun Pagoda). The prince built this impressive white pagoda to commemorate Princess Hsinbyume his late wife (whose name means the White Elephant Queen) who had passed away during childbirth. One hundred thousand emeralds were used to fund the construction of the white pagoda which can explain its other name Mye Thein Tan (Mye= emerald, Thein Tan = 100,000). Unfortunately, this unique white pagoda was heavily damaged during an earthquake in 1938, but King Mindon restored it in 1874.
Architecture and Cultural References
One of the reasons we fell in love with Hsinbyume Pagoda is its unique structure. It is unlike any other Burmese pagoda we've visited in Burma. Many believe that Hsinbyume Pagoda represents Mount Meru, which according to Hindu and Buddhist mythology is the center of the universe. The architecture of the pagoda includes seven concentric terraces that resemble waves. These are supposed to represent the seven rings of mountains that surround Mount Meru. Walking through these terraces, you can find small statues of mythological creatures hidden in small niches. At the top, you'll find a pagoda inspired by Chulamanee pagoda, the pagoda which is located on top of Mount Meru. The whole compound of the white temple is surrounded by a wall with a large gate through which visitors can enter and climb Hsinbyume Pagoda. When you visit this stunning white temple, make sure to stroll around the wavy terraces and climb to the top to see the gorgeous views of Mingun and the Irrawaddy River from above.
Hsinbyume Pagoda – Highlights
As mentioned above, we've had our fair share of stupas and pagodas all over Myanmar and we've already been to the fabulous Bagan, but Hsinbyume Pagoda is so unique that we were thrilled we were able to visit it as a day trip from Mandalay. Another bonus was that at the time of our visit it wasn't as crowded as other temples we've been to in Myanmar (though the local Buddhist believers still come here to light incense and make an offering). We were almost alone in the whole compound except for the couple of monks who were happy to pose for us for a small donation. Even at busier times, we can imagine there is plenty of room to strike a pose and stroll around the different levels of the pagodas without feeling crowded. Besides, the view from the top of the pagoda is magnificent.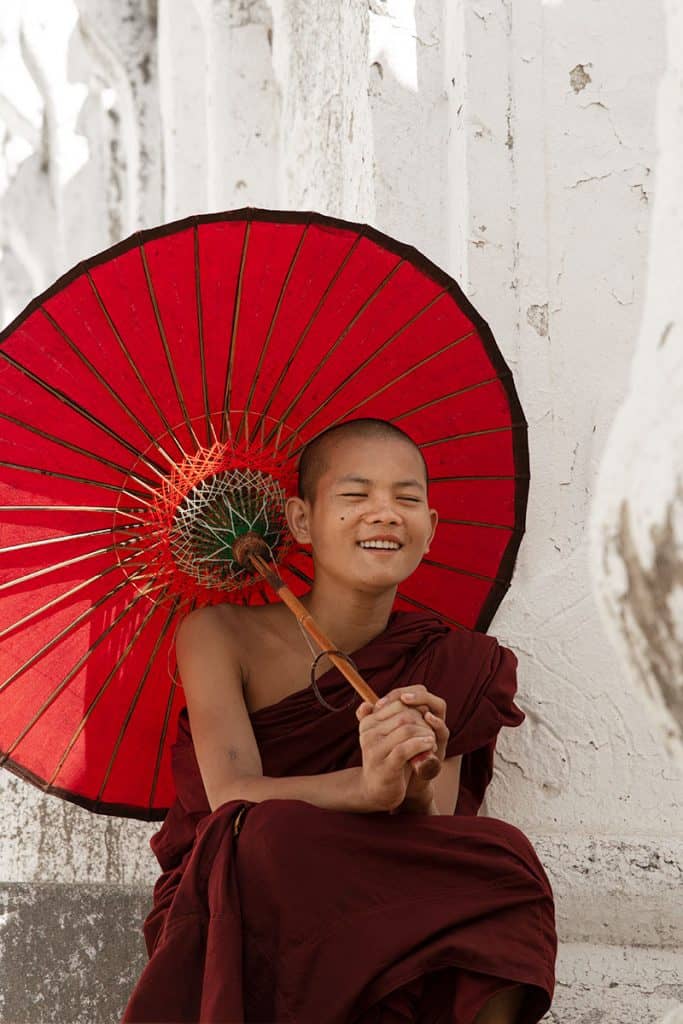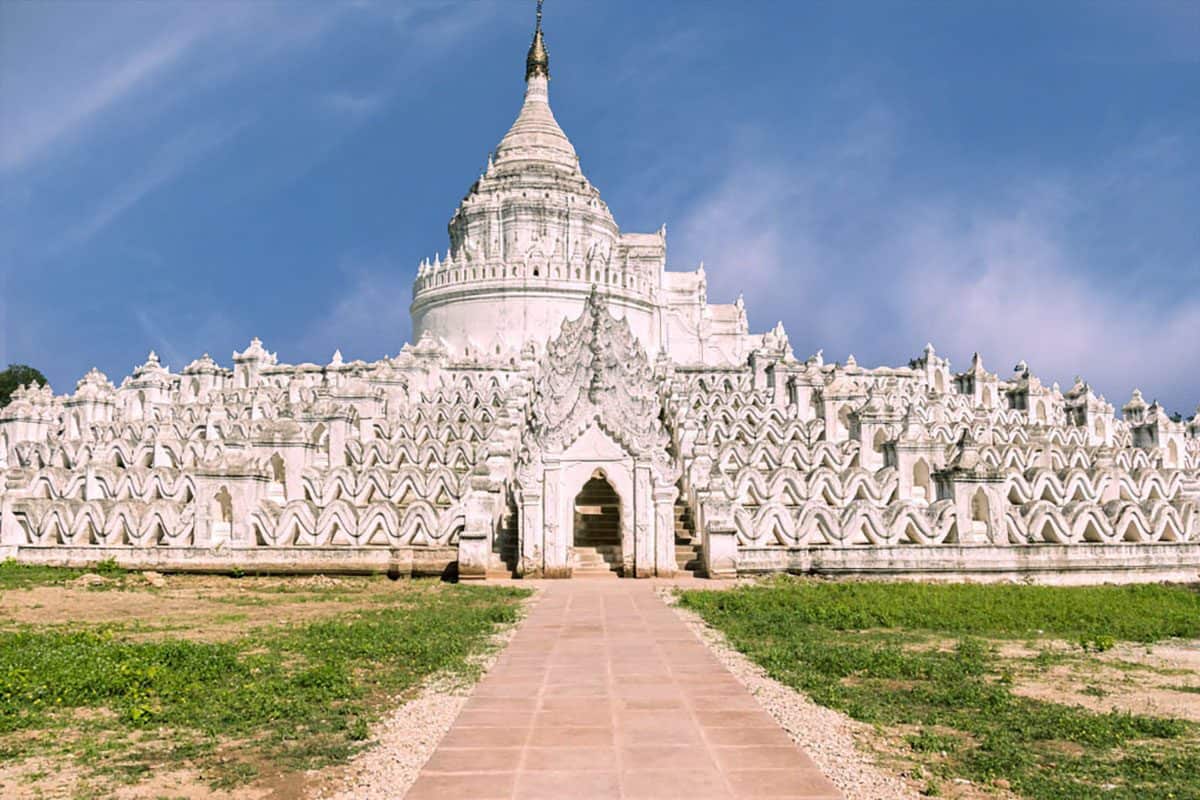 Essential Information for Visiting Hsinbyume Pagoda
Opening Hours and Entrance Fees
The Hsinbyume Pagoda is open every day during daylight hours. You do not need to buy any special ticket to enter it, but you are required to buy a ticket for the Mingun archaeological zone which is about US 5.00 dollars. This ticket also provides entrance to other sites in Mingun.
How to Get to Hsinbyume Pagoda from Mandalay
Mingun village is located on the western bank of the Irrawaddy River, and you will find Hsinbyume Pagoda in the northern part of the small village (within walking distance from the ferry). From Mandalay to Mingun you can either take a taxi (or a private driver) or a boat. By car, it will take you about an hour and a half and by boat about an hour. Since taking a taxi is more expensive and the road doesn't offer any unique sights, we recommend taking the ferry from Mandalay (a ticket should cost about US 5 dollars). Taking the ferry is an easy and fun way to make the journey from Mandalay to Mingun. The ferry to Mingun leaves the Gaw Wein Jetty (referred to as the Mingun Jetty as well) in Mandalay at around 9 am and returns from Mingun at noon. There's another ferry from Mandalay to Mingun at 1 pm. While boarding the ferry we felt a little bit like pirates when we had to "walk the plank". We had to carefully walk a narrow plank as two women were holding a bamboo pole as a makeshift railing. The ride down the river is fun since you get to see the daily lives of the locals on the river.
Other Attractions near Hsinbyume Pagoda
Strolling around Mingun can be an enjoyable experience so don't just visit the Hsinbyume Pagoda but also check out the other attractions in Mingun:
Mingun Pahtodawgyi (or Mingun Pagoda) – An incomplete stupa that was built by King Bodawpaya in 1790. This grand temple was left unfinished after the king had passed away. According to popular belief, an ominous prophecy predicted that once this temple is finished, the country would cease to exist; therefore, this project wasn't completed on purpose. Check out the Lions of Stones, two gigantic statues of lions that were built in 1799. These statues were intended to be the guardians of the Mingun Pahtodawgyi.
Mingun Bell – One of the world's largest ringing bell, this 90-ton bell was supposed to be part of the Mingun Pagoda. Although the construction of the pagoda was never finished, the bell was completed in 1810.
Sat Taw Yar Pagoda – You can find this beautiful white pagoda just near Mingun Pahtodawgyi. Although it is not as unique and famous as the Hsinbyume Pagoda, it's still a sight worth seeing if you love visiting Burmese temples. Also, it is quieter than the other attractions in Mingun and offers a beautiful view of the Irrawaddy River.
Mingun village – Walk around the small town, check out the souvenirs stands, and enjoy the relaxed atmosphere. There are also many restaurants around.
Should You Visit Hsinbyume Pagoda in Mingun
Definitely yes! This all-white pagoda is one of the most beautiful places in Myanmar, and if you are visiting Mandalay, it's one of the best half day trips you can do. It is so easy and cheap to get from Mandalay to Mingun and even if you've already seen many other temples and pagodas in Myanmar, you haven't seen anything like the spectacular Hsinbyume Pagoda. When you arrive at Mingun, try and visit the Hsinbyume Pagoda first to avoid the crowds (when we were there, we were almost the only ones, but this specific white temple has gained a lot of attention on Instagram lately). For other attractions, recommended hotels and day trips from Mandalay, check out our Mandalay Guide.
Don't forget to spread the love and pin it
Check out our favorite guides!
Check out our guide to the best rice fields in Bali. From well-known terraces to hidden gems. Everything you need to know!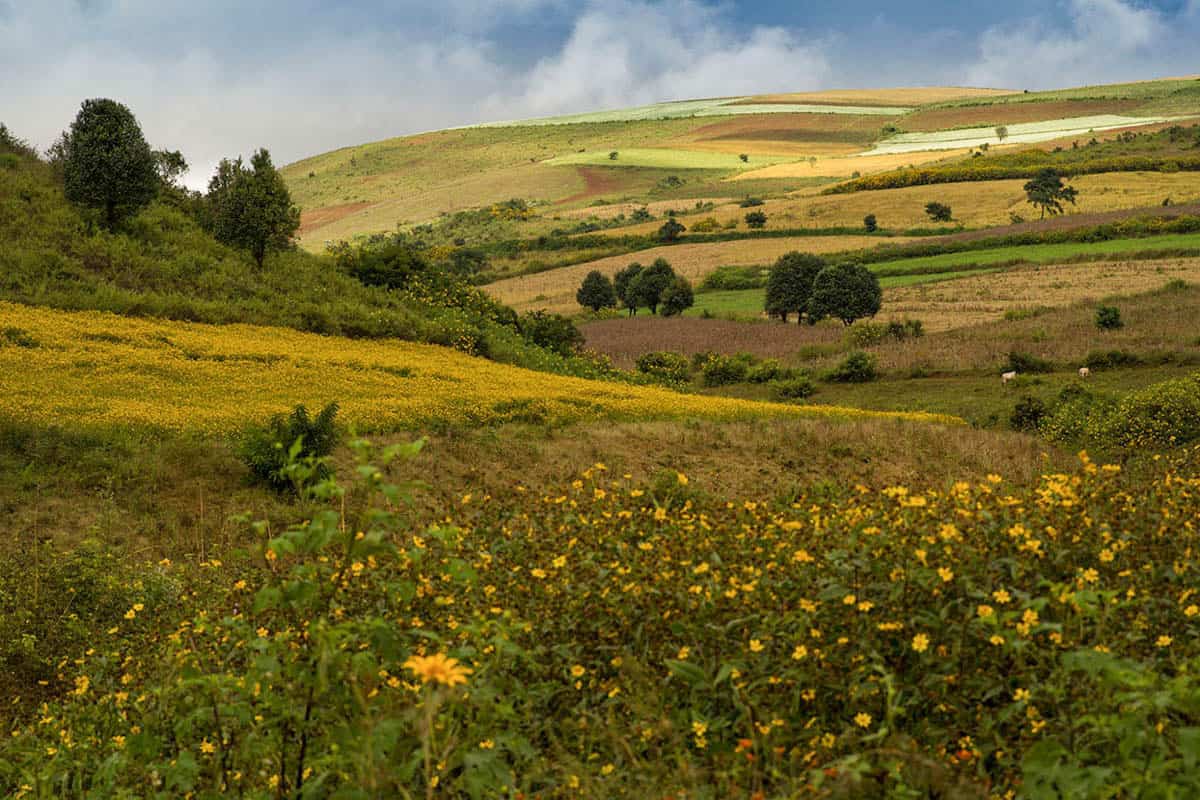 From gorgeous agricultural landscapes to local artists and the famous Pindaya Cave, check out our guide!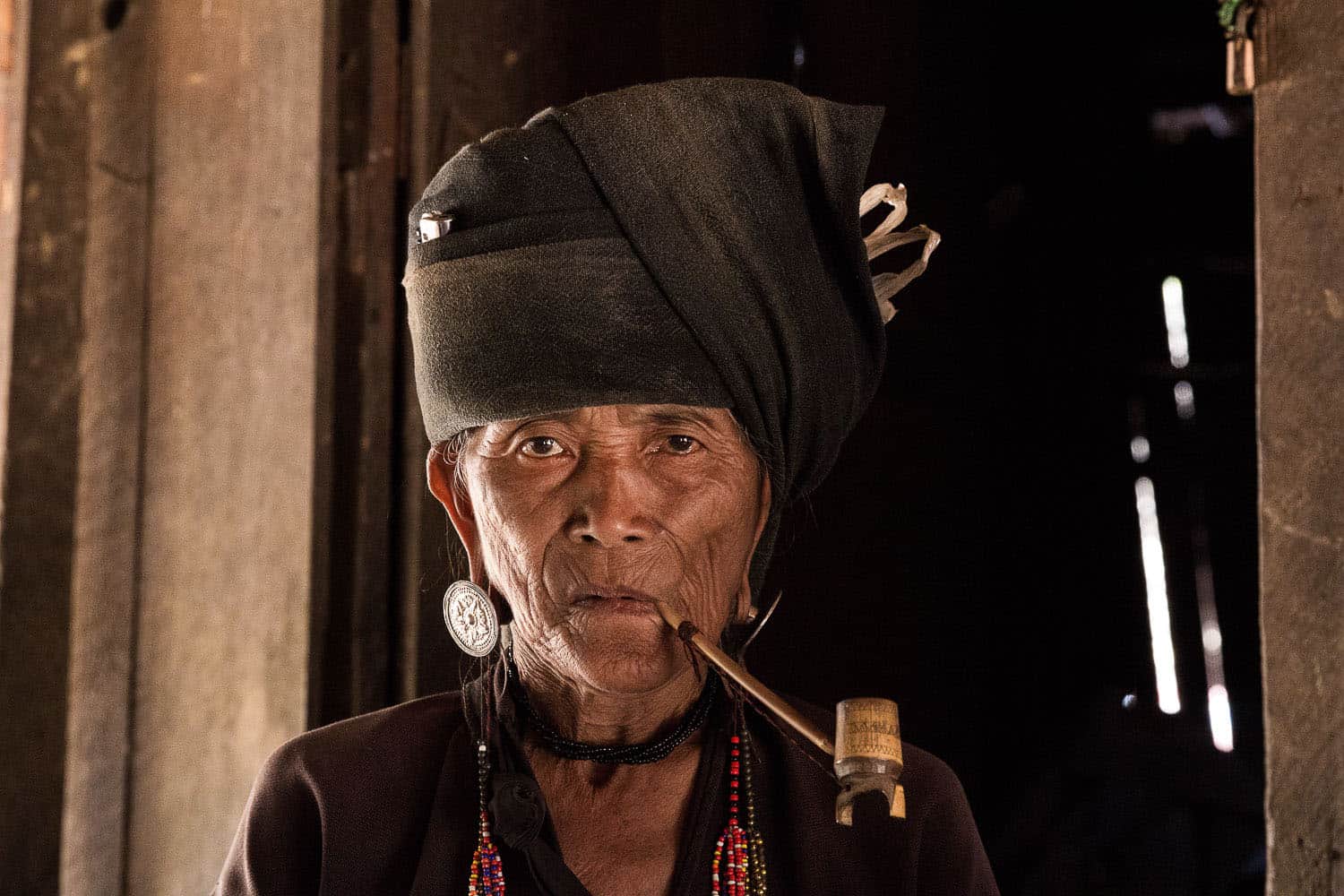 From small artisan workshops to the local hill tribes, if you love culture and photography you'll love our post!