Top Things to Do In Yangon, Myanmar
Our Yangon guide lists some of the top things to do in Yangon, Myanmar. From colorful markets and golden pagodas to a few hidden gems, including where to eat and where to sleep in Yangon.
Top Things to Do in Yangon, Myanmar
Yangon (AKA Rangoon) is the largest city in Myanmar with a population of approximately 6 million people. One of the two international airports in Myanmar is located in Yangon so you will probably start or end your trip here. Myanmar has so much wonderful attractions to see and do and though Yangon's attractions aren't at the top of Myanmar bucket list for most travelers, it's a good idea to spend here at one or two night. Yangon was the first stop on our Myanmar itinerary. We were quite overwhelmed with the humidity and hectic traffic but once we started to discover some of Yangon's attractions, we were pleasantly surprised.
This post may contain affiliate links, which means we earn a small commission if you purchase from them (no extra costs to you!). For details check our disclaimer.
During your time in Yangon you will most likely experience high temperatures and humidity. With an average temperature of 28°C (80°F), you are going to sweat, a lot… The best time to visit Yangon is during the dry season, from November to February, when temperatures are around 30°C during the day and 15°C during the night. From March to May the temperatures are extremely high (40°C), but during this time you'll be able to attend the Shwedagon Pagoda Festival and Thingyan Water Festival. The rainy season starts June (though there might be some showers in May) and lasts till October. The wettest months are July and August. Check out Yangon's temperatures and rainfall by month.
Get monthly updatesincluding exclusive access to our google maps which feature all of our favorite attractions in numerous cities all over the world.
I want to subscribe to your NEWSLETTER!
Most people either start or end their trip in Yangon so Yangon is well connected.
By Plane – Yangon has an international airport and there are also many domestic flights which connect Yangon to major destinations all around Myanmar. To get from Yangon airport to the center of town you can take a bus from the airport that will you drop off at Yangon Central Railway Station, in the center of town. You cab also taxi or use the Grab App.
By Bus – Yangon is connected to many other destinations in Myanmar by bus, there are local buses and VIP buses for tourists. Note that Yangon's main bus terminals are situated a long way from the center of town (it can take an hour and a half to get there during rush hour). However, some of the VIP buses will pick you up and drop you off closer to town.
Top Things to Do in Yangon, Myanmar
One of our favorite places to visit in every destination must be the local market. Yangon has great markets to stroll around and snap pictures of the daily lives of the local population. We visited the Theingyi Market early in the morning (9 am). We were surprised to find out that we were the only tourists there. It is such a lovely market where some of the vendors sit on the ground and offer you their fresh products,. Walking around the market among the piles of fresh herbs, leafy greens and colorful fruits was the perfect first day to start our Myanmar trip. The vendors were very friendly and offered us to taste some of the fruits and veggies we were not familiar with. The market was full of locals who were purchasing the fresh produce for the day and giggled or offered some tips while we were snapping pictures around. Towering over this market are huge concrete buildings which serve as an interesting backdrop to the lively atmosphere of this colorful market.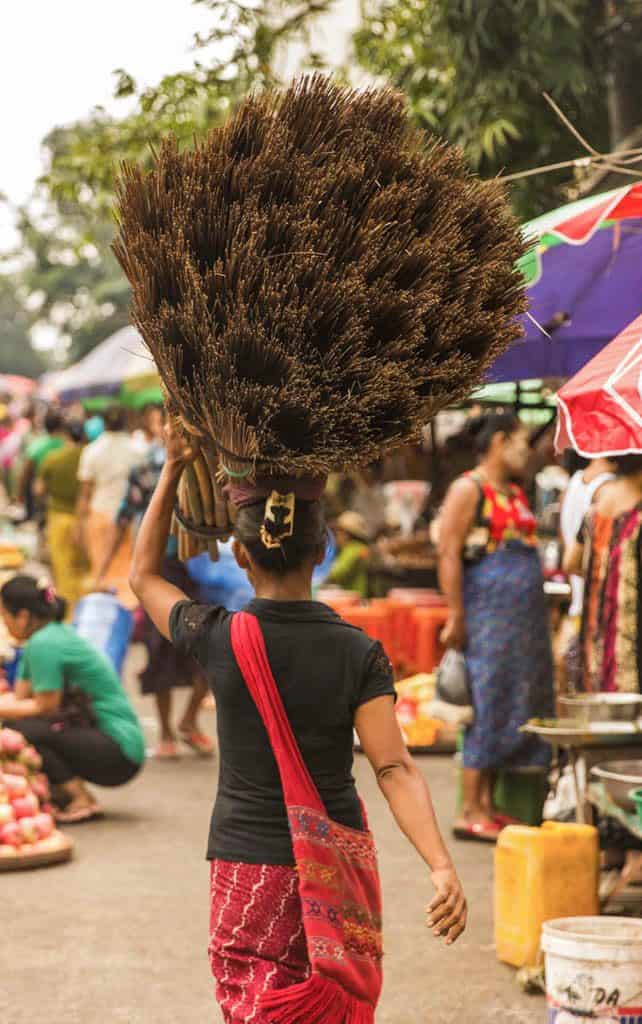 Check Out the Girls' Nunnery
Another unique experience was our visit to the girls' nunnery where the nuns dedicate themselves to studying the scribes. They live together and share their rooms (4-6 nuns in each room), and close to midday the women gather to eat their lunch. One of the top attractions in Myanmar is visiting a nunnery or a monastery during the morning or evening pray when there are many tourists around, however, we visited the nunnery at approximately 11:30 am and again we were the only tourists there. It was such a lovely sight watching the women dressed in their traditional pink and orange robes walking in a line to enter the dining room. You can also stroll around the compound and see their living-quarters. At the end of the visit you can donate some money to the nunnery to help them run the place.
There are many pagodas you can visit in Yangon but Shwedagon pagoda should definitely be at the top of the list. The Shwedagon Pagoda is the most sacred Buddhist pagoda in Myanmar. Though most historians believe the pagoda was built between the 6th and 10th centuries, according to the local legend, the Shwedagon Pagoda was built more than 2,600 years ago, which means it is the oldest Buddhist stupa in the world.
It was quite impressive strolling around the compound, among the lit candles and praying visitors, a mixture of spirituality with invasions of the modern world (in the form of mobiles and selfies). The Shwedagon Pagoda compound is huge and you can take a leisurely walk among the many stupas, and statues that reflect its history of almost 2,500 years. The Shwedagon Pagoda itself is covered with hundreds of gold plates and the top of the stupa is encrusted with 4531 diamonds; the largest of which is a 72 carat diamond. It was the first time somebody asked us to take a selfie with them and soon enough we understood selfies with tourists are a hit among the locals.
If you still have time and you want to see another important temples, visit Sule Pagoda. This octagonal-shaped pagoda is 48 meter high and it is believed to be over 2.000 years old. It was interesting to note that in the surrounding area of the Buddhist pagoda there are also a Muslim mosque, a Hindu temple and a large Catholic church.
More Ideas for your Yangon Itinerary
We had a very short visit in Yangon but if you have more time, there other fun things to do in Yangon:
Enjoy some peace and quiet at Kandawgyi Park, it is also a great spot for sunrise or sunset. We didn't visit the park but our hotel was located just near it so we had the perfect viewpoint of the dragon boat.
We were supposed to enjoy some cocktails or afternoon tea at the iconic Strand Hotel. Unfortunately, during our visit it was closed for renovation.

If you have extra time, you can hop on the circular train. There's a circular loop route which goes through Yangon suburbs and takes about 3 hours to complete. We didn't have the time, but if you like'd to discover the suburbs of Yangon and observe the daily life, hop on the train.

Visit Yangon's Chinatown and Little India. You can do it by yourself or with a guided food tour.
Go on a day trip and discover the famous Golden Rock where Kyaiktiyo Pagoda is located.
If you're looking for something to do at night, you can visit the night markets of Yangon.

We are obsessed with local arts and crafts and we always try to visit

local artisans when we're travelling. Backstreet Academy has a unique tour to visit a local pottery village and experience the river life of Yangon.
The dragon boat at Kandawgyi Park
Looking for a nice place for dinner? check out the restaurant-bar Gekko. Located at the Sofaer & Co. building in downtown Yangon, this charming bar offers Asian fusion dishes in a lovely setting. Another option is the recommended Rangoon Tea House.
We loved our hotel's location with the view of Kandawgyi Lake since it provided some much needed escape from the hectic vibes of Yangon. Another option is to stay at one of the hotels around Inya Lake, but they are a bit further away. Anyway, the traffic in Yangon is a nightmare (thanks to the ban on motorbikes), so going from place to place will take you a while…
More Resources for your Myanmar Itinerary
For an off-the-beaten-path experience you can either go to Pindaya where you can find the famous Pindaya Cave, stunning landscapes and small family-owned workshops. Another great option is to visit Hpa An (just 6 hours away from Yangon) where you can find a variety of different caves located in beautiful nature scenery including the Kawgun Cave (a UNESCO World Heritage Site). Check out some of our other Myanmar guides:
Check out our Top Things to Do Guides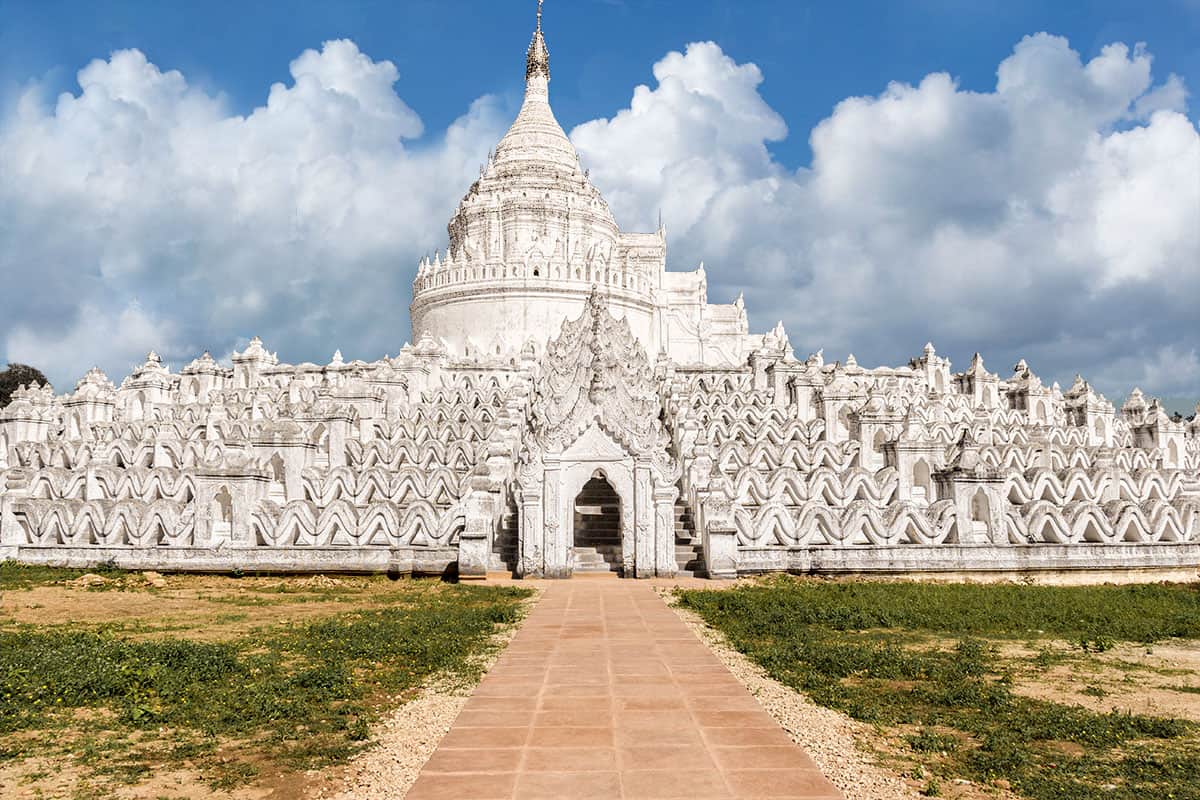 Mandalay is one of the underrated cities in Myanmar. There so many things to do in and around Mandalay you are going to love
If you are looking for a place to stay or just things to do in Singapore's neighborhoods, Check our guide!
Fall in love with the local artisans, colorful murals, stunning temples and breathtaking views of Yogyakarta.