Indonesian Souvenirs & Arts and Crafts
The Best Yogyakarta Workshops & Local Artisans
If you love culture and arts and crafts or if you are looking for the best Indonesian souvenirs, continue reading to find out all about the local workshop and family-owned small plants in Yogyakarta, Indonesia, where you'll find many souvenirs to buy. If you are you looking to explore Yogyakarta off the beaten path or maybe you are interested in photography and would love to see some hidden gems, our Indonesia arts and crafts guide is exactly what you need.
Our first day in Indonesia (technically our second day since we arrived on the day before), started with watching the sunrise from Borobudur temple. You could say that watching the sun lights up the sky over the dozens of bell-shaped stupas pretty much set the tone for the rest of our trip… We had high expectations, to say the least. As we were making our way through the stupas, back to the car, I was wondering whether it was a mistake to start our Indonesian adventure with one of the top bucket list item, you could only go downhill from there, right? Well, I realized pretty quickly that for arts and culture lovers, like us, the best was still to come.
Indonesian Arts and Crafts - Introduction
Indonesia is one of the best destinations for arts and crafts lovers and culture enthusiasts. In a country with more than 600 recognized ethnic groups and such a rich history, wherever you go, you'll stumble upon ancient traditions, thousand-year-old cultural practices, and an abundance of local artisans. Throughout the years, various other foreign cultures have influenced Indonesian culture. Thanks to its central location along ancient trading routes between the Far East, South Asia, and the Middle East, many religions, including Islam, Hinduism, and Buddhism, to name a few, have helped shape the culture of Indonesia.
Each of the hundreds of Indonesia's ethnic groups has its own unique art and handicrafts, which are intertwined with their history and culture. From the weaved textiles and musical instruments to the wood carvings and ceremonial masks, there's a story behind every single cultural practice. For culture and handicraft lovers or if you are looking for authentic Indonesian souvenirs, Yogyakarta is one of the best places to start exploring the Indonesian arts and crafts scene.
Indonesian Souvenirs and Arts and Crafts in Yogyakarta
The city of Yogyakarta (also known as Jogjakarta or Jogja) is considered to be the cultural hub of Java, and is filled with local historical monuments, colorful markets, and local artisans. Yogyakarta and the surrounding area hold the status of a special province in Java, Indonesia. An area which is still ruled by the Sultan till this day. The Sultan's family has always supported the making of various arts and crafts in Jogja. Therefore, you can visit so many artist workshops and learn about their craft, which is usually passed on from generation to generation. If you are looking to buy some authentic Indonesian souvenirs in Java, there's no better place than Yogyakarta. From batik and silver to the famous leather puppets, the traditional art forms are kept and prosper to this day. During our three days in Yogyakarta, we've visited as many local workshops and small plants as we could and learned about the arts and crafts that are unique to Java.
Artisans and Local Workshops in and around Yogyakarta Indonesia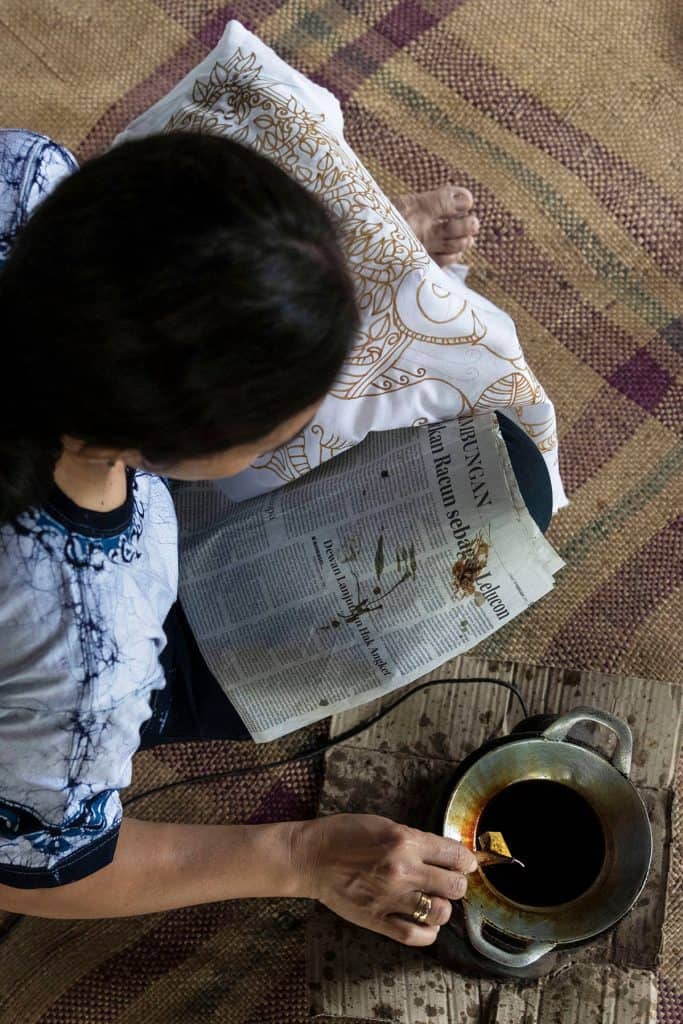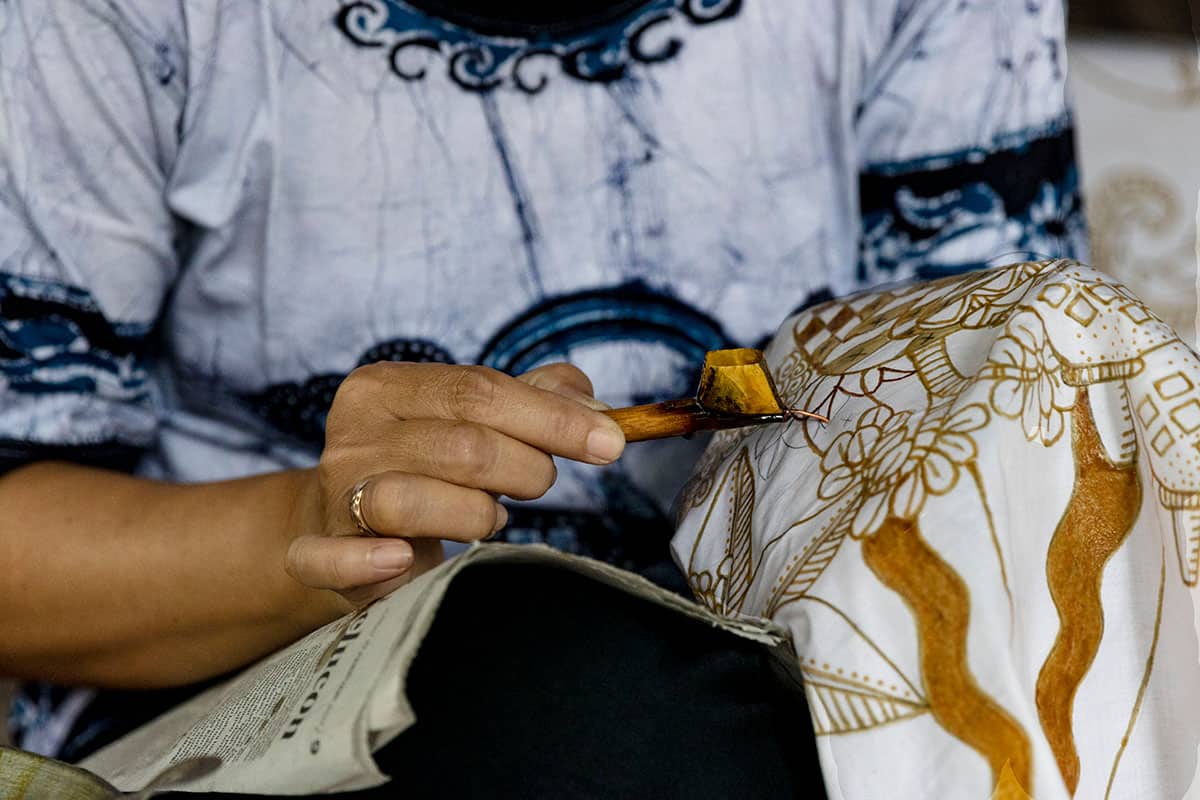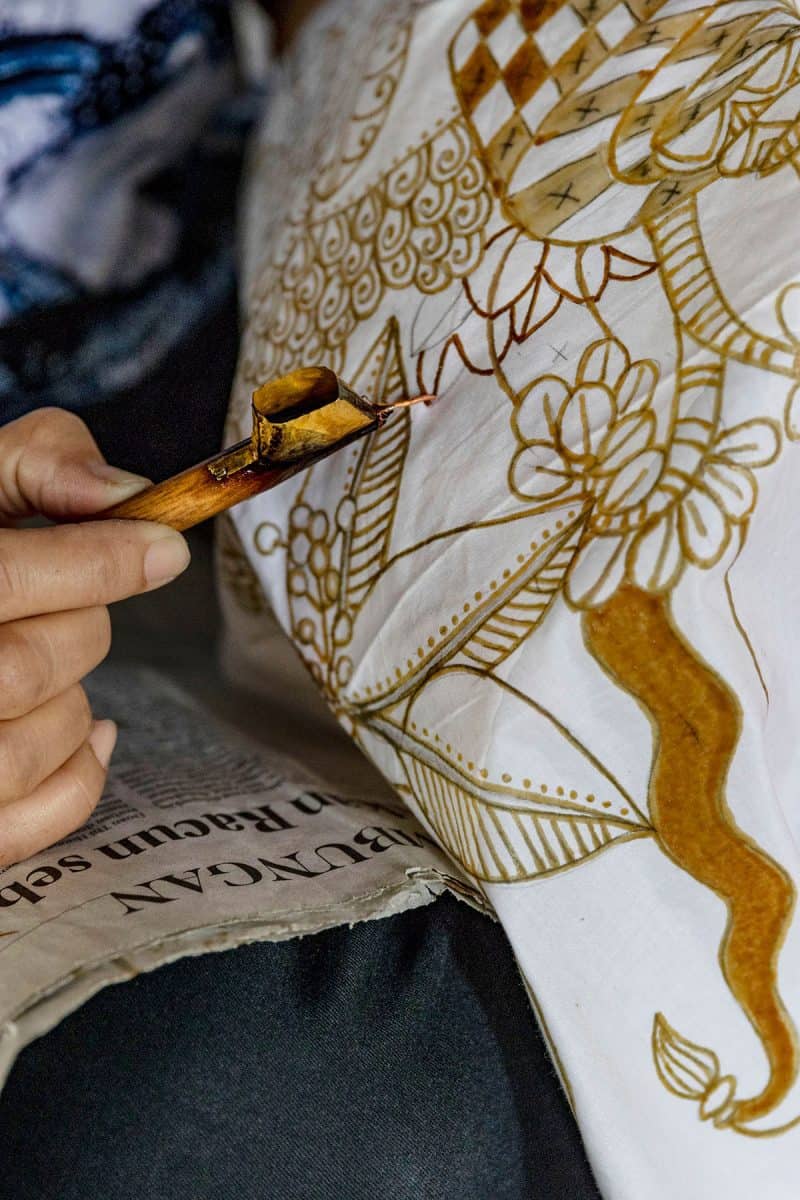 Visiting a Traditional Batik Workshop in Yogyakarta
History of Batik in Indonesia
The word batik originates from the Javanese words amba (to write) and titik (dot), and it seems that batik has been prospering in Indonesia for thousands of years. From ancient times the batik patterns were used to reflect social status. Different rulers prohibited commoners from wearing specific designs that were worn only by royalty. By examining the changes in the characteristics of Indonesian batik, you can learn a lot about the history and cultural influences in Indonesia. Hindus, Muslims, Chinese, and Europeans have all influenced the traditional batik art in one way or another. Since Islam forbids the depiction of humans or animals, batik makers started to incorporate a stylized design, which included natural motifs like flowers or leaves and geometric patterns, which is now called Ceplok. Another batik pattern is Batik Cina that is characterized by Chinese motifs like dragons, snakes, and chinaware designs. Batik Indonesia incorporates new designs and colors to celebrate freedom from Dutch colonial rule. There are many more batik patterns and styles which you can read about here.
Traditionally, the batik was dyed with colors that came from natural sources, and the primary colors were indigo blue and brown. The "recipes" for the colors and the batik-making secrets were passed on from generation to generation. Nowadays, you can see more modern designs and an array of colors that appeal to tourists and international markets. If you're looking for a beautiful and lightweight Indonesian souvenirs to bring back home with you, start with batik.
The Javanese batik is made by painting/imprinting a pattern on a piece of fabric with hot wax, dyeing the exposed parts of the fabric, and then dissolving the wax so the pattern can be shown. You can either draw the pattern by hand with a special tool, a tjanting (pronounced "chanting"), or use a copper stamp with special design, which is called a tjap (pronounced "chop"). With a tjanting, the artisan fills it with hot wax and starts painting with quick and precise movements while the wax slowly flows from the tjanting's tiny spouts. It is a very tiresome process, and you have to be very skilled in order to produce a garment without any flaws. Every minute or so, you have to reheat the wax or fill it up again. When working with a tjap, the process is much faster. The artist dips the copper stamp in hot wax and presses it against the stretched fabric, to create the pattern. At the end of the process, he might make some adjustments by hand. Nowadays, most batik is done with a tajp since it's easier, and it saves time. The dyeing process itself also takes time, and the fabric must be cleaned before it is dyed.
Where to See & Buy Batik Souvenirs in Yogyakarta
If you only want to buy batik products as souvenirs, you can browse the shops along Malioboro street. If you want to participate in a batik workshop, you can ask your driver/guide/hotel to organize it for you or book a recommended batik workshop online. We love using Backstreet Academy whenever we can since they offer unique classes and try to make a difference. They have a special program for struggling/underprivileged artists/home-based entrepreneurs to help them earn additional income, and it's usually more genuine and less touristy. Check out this unique arts and crafts workshop where you can make your own batik souvenirs.
Javanese Ceramic & Pottery Handicrafts
History of Ceramic & Pottery Handicrafts in Java
Another traditional Javanese art that has been passed from generation to generation is pottery making. There are many pottery villages all around Java. The roots of earthenware, pottery, and ceramics can be traced to ancient times. In those times, clay was shaped and worked by hand without any other tools, and it was used mainly for practical purposes such as cooking, carrying things, and such everyday practices. Throughout the centuries, some earthenware was also used for ritual purposes, and you could see more decorative motifs in both ritual and everyday clay objects.
Similarly to the batik industry, throughout the years, historical and cultural changes have left their mark on Indonesian pottery, and new techniques and decorations were introduced. The influx of tourists and the growing demand for souvenirs increased the demand for specially-made commercialized artifacts and souvenirs. Additionally, you can find many tourist workshops in Yogyakarta and the nearby villages. You can also visit many pottery villages in Yogyakarta's vicinity.
Where to See and Buy Pottery Souvenirs in Yogyakarta
There are a few villages that specialize in pottery and ceramics. These villagers have been making clay artifacts for hundreds of years. Two villages you can visit are Kasongan and Nglipoh. Indonesian souvenirs made from clay are less ideal to carry with you back home but you can buy some smaller decorative pieces.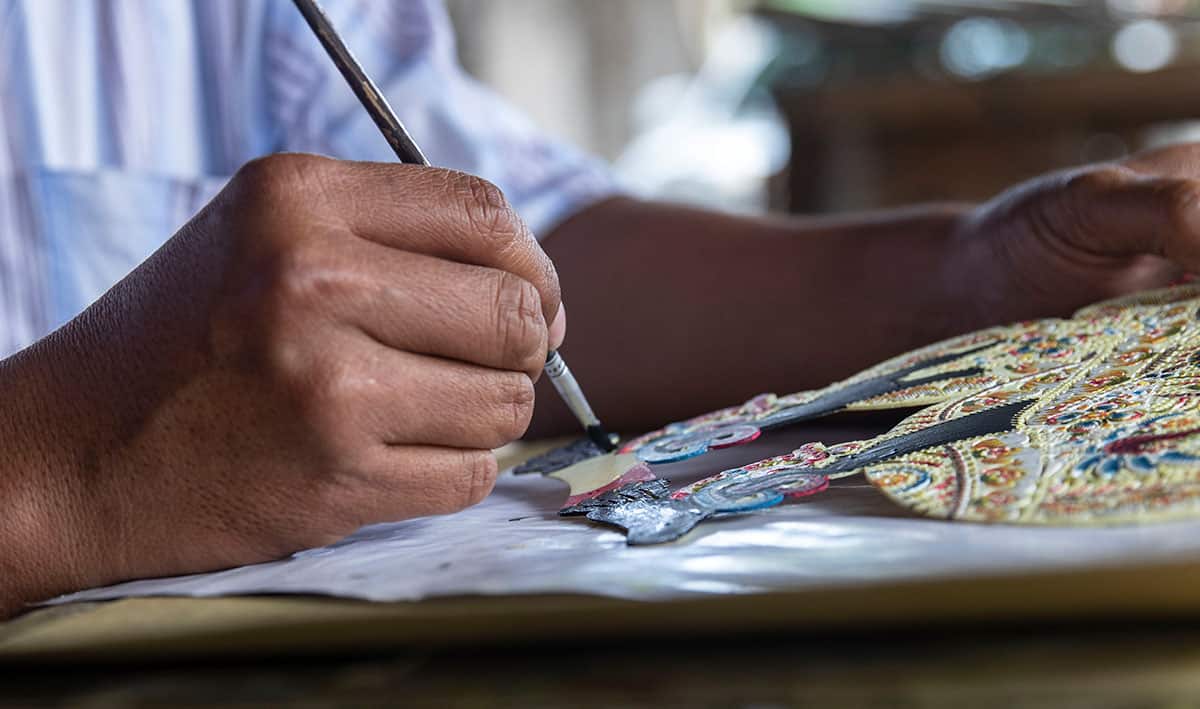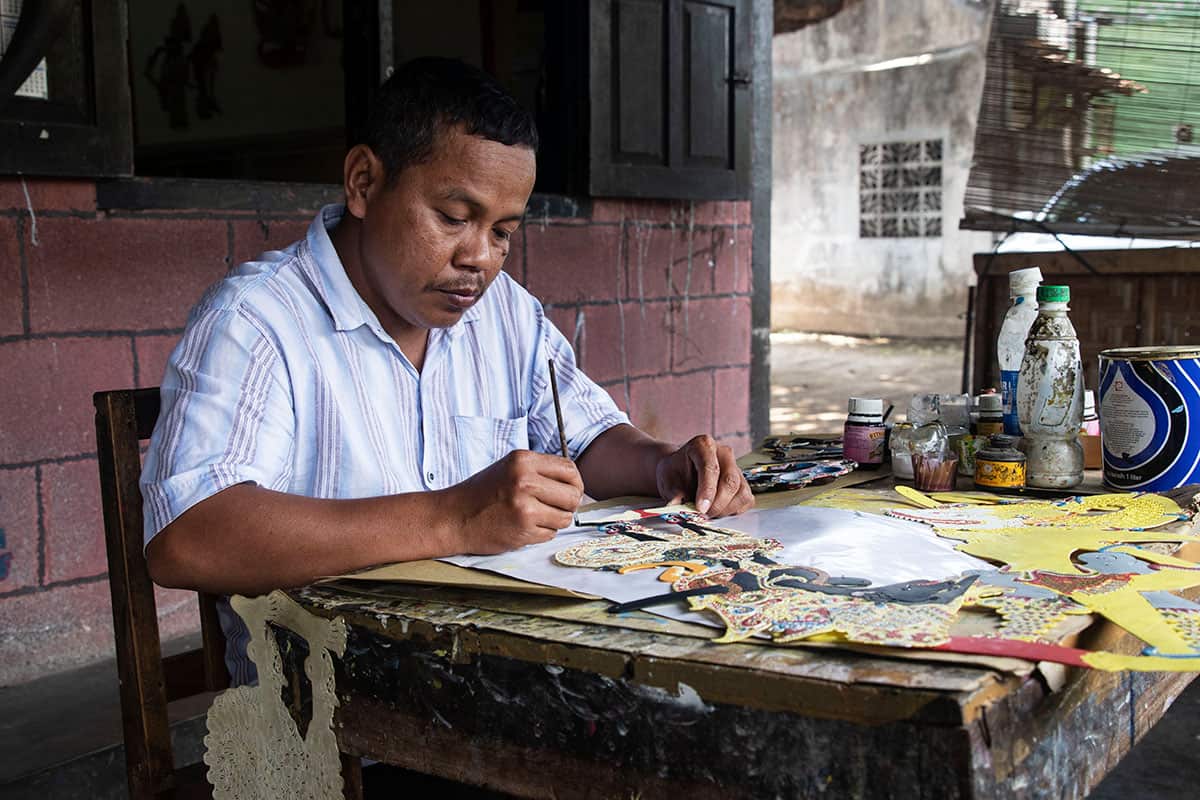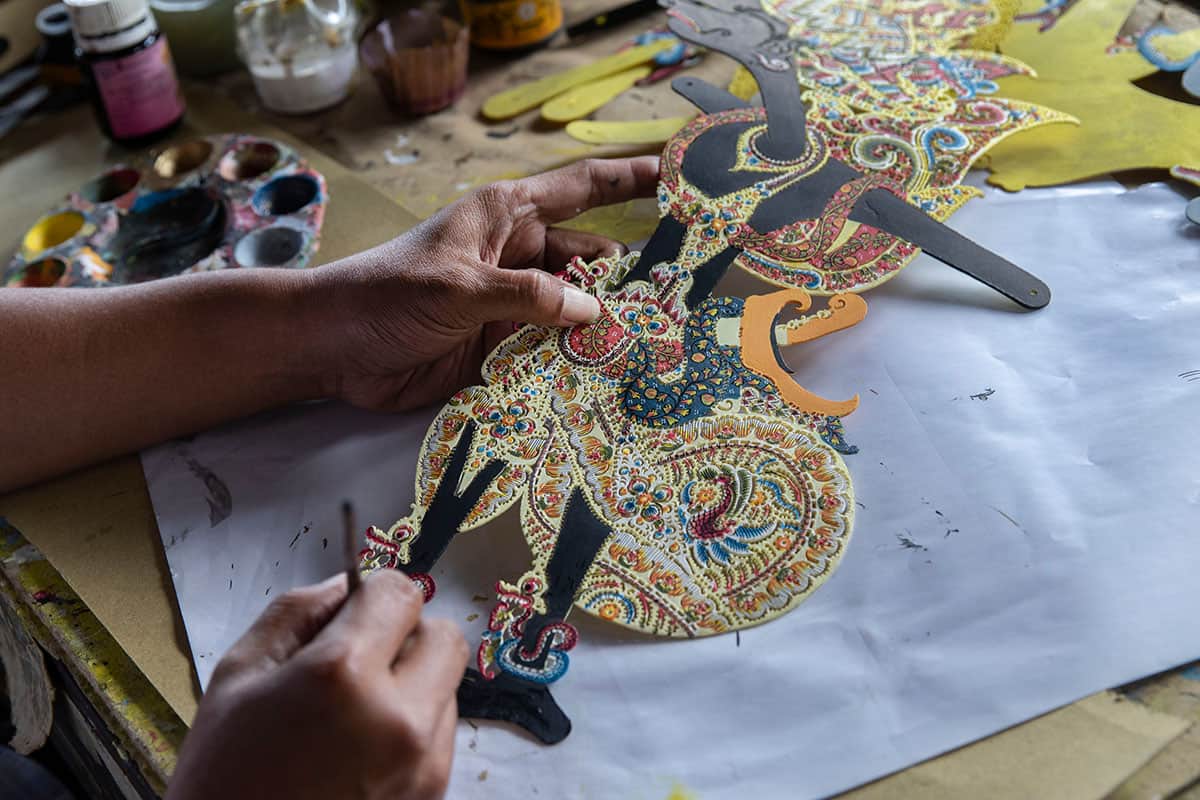 Indonesia Souvenirs - Puppets and Masks
History of Wayang Kulit Puppet Shadow Theatre in Indonesia
There are many forms of puppet theaters all around Indonesia and Southeast Asia, but the origins of the Wayang Kulit shadow puppet theatre can be traced back to Java, Indonesia.
'Wayang' means 'shadow or 'imagination' in Javanese, and 'kulit' means 'skin' or 'leather'. During a Wayang puppet show a dramatic story is told through shadows thrown by puppets, sometimes combined with human characters, and accompanied by musical instruments. In addition to the Wayang Kulit, there are other forms of dramatic puppet theatres, such as the Wayang Wong in which human characters imitate the movements of a puppet show or Wayang Golek, which uses wooden puppets. Some other theatre performances uses various masks as well. The wayang puppet theatre is inscribed on UNESCO's Representative List of the Intangible Cultural Heritage of Humanity
In Wayang Kulit, a single storyteller/puppeteer operates the puppet behind a screen that is lit from behind, so the puppets appear as shadows. In addition to changing his voice and intonation according to each puppet's characteristics, the puppeteer is assisted by female singers and musicians. They play traditional Javanese musical instruments. The stories are usually taken from several groups of old stories. The most popular and the most ancient is Wayang Purwa, whose characters and stories were derived from the Indian Hindu epics of Ramayana and Mahabharata.
How to Make a Traditional Leather Puppet
While we stayed in Yogyakarta, we visited the workshop of Putro Wayang and got to learn a bit more about the process. The creation process of each wayang figure is quite tiresome. The figures can reach up to 75 centimeters, and it can take up to a month to make one wayang puppet, depending on its size and design. Traditionally, the wayang is made from the hide of a water buffalo or a goat. After the hide is soaked and dried, a design is drawn on it, and then the leather is cut accordingly. The intricate process of creating the face and body of the puppet (which is called the 'Tatah' stage) is done by hand and involves punching holes and creating lines with special tools and a wooden hammer. Then the leather figurine is colored by a layered coloring technique and put on a stick.
Creating one wayang requires a lot of skill, delicate and strong hand, and good eyesight. In fact, you can only work about 4-5 hours a day during the Tatah stage since you need to rest your eyes for one hour after an hour's work. After watching the skillful hands of the artists, we had time to admire some of the other works of art in the workshop. Putro learned the art of making wayang from his ancestors. He is the third generation of wayang makers in his family. While his grandfather only made the traditional leather wayang, his father also made wooden figures and masks, but Putro's specialty is coloring the figures and running his workshop/shop. Putro has other traditional figurines and masks in his shop. The wood masks we've seen, which are used in different cultural shows in Indonesia, also require a lot of skill and patience. It takes between 1 – 2 weeks to make each one. After we had learned about the process of making the traditional wayang, Putro gave us a short demonstration of the Wayang Kulit in his workshop.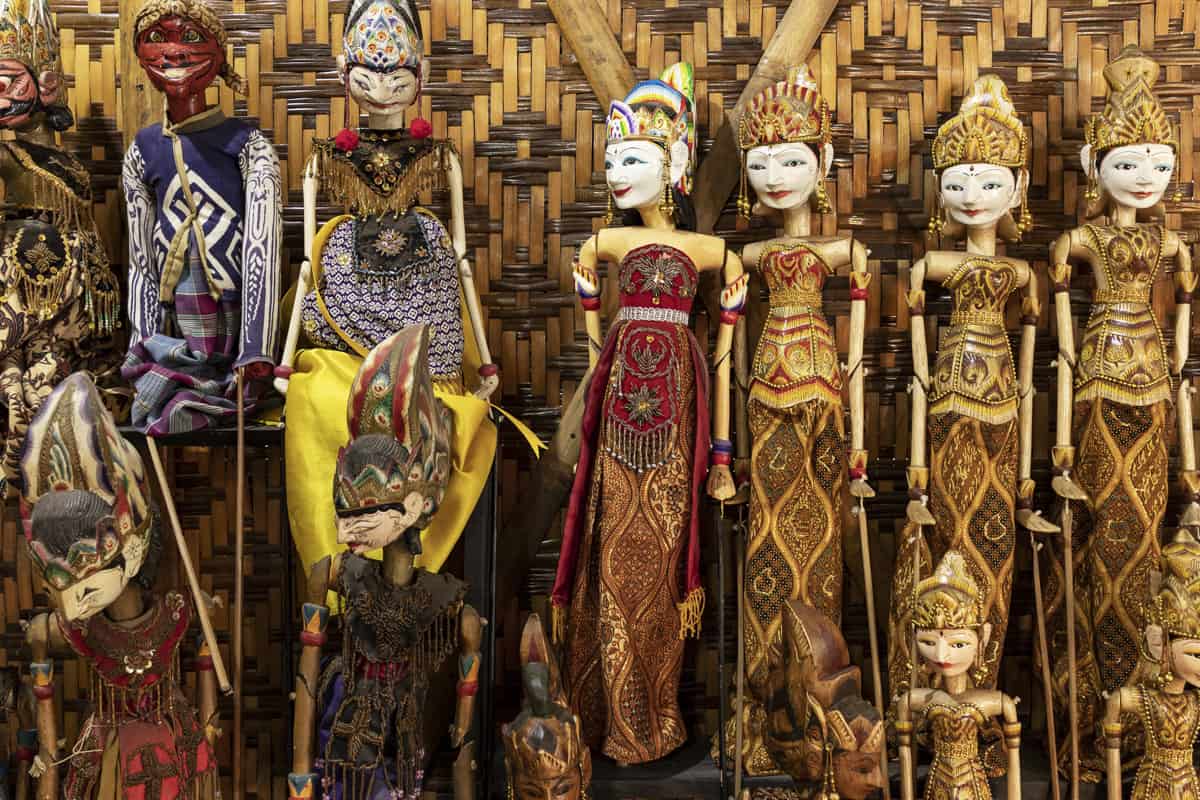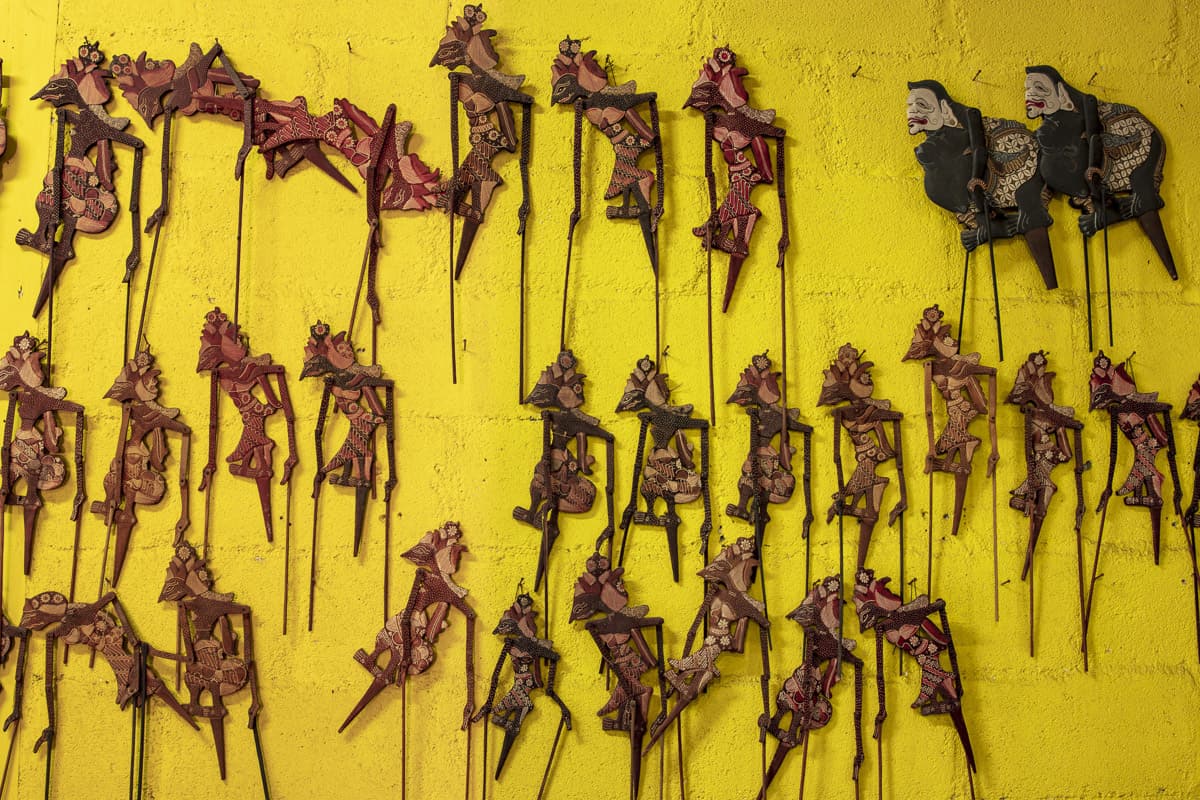 Where to See Wayang Kulit in Yogyakarta
You can catch the weekly performance at the Kraton (included for free with the entrance ticket, currently on Saturday from 9:00 am to 1:00 pm), or catch a show at the Sonobudoyo Museum (note that this is a 2-hour performance).
Where to Buy Puppets and Masks Souvenirs
There are many places around Yogyakarta you could buy puppets and masks as souvenirs. You will find a few shops in the shopping and tourists areas in the city. If you want to learn more about how to create a traditional wayang puppet, we suggest visiting Putro Wayang at Jl. Patehan Lor No.04 (view on google maps). You can contact him through his Facebook page or via his email putro_wayang@yahoo.co.id
Traditional Javanese Keris
History of Keris Making in Java
Keris (or Kris since it is a silent 'e') is a unique asymmetrical dagger with distinctive blade patterns that is a symbol of power and ethnic pride in most of the Malay communities. Although keris can be found all over Indonesia and other parts of the Malay archipelago, most scholars believe that the roots of keris can be traced to Java. Keris is not your typical kind of weapon since it is also a spiritual object, and people often believe keris have their own essence. Some blades might possess fortune and good luck and bless their owner with bravery or even help them avoid a plague. The keris has always had an important role in Indonesian culture, and besides its practical usage, it also has social and mystical roles. Therefore, it was inscribed on UNESCO's Representative List of the Intangible Cultural Heritage of Humanity.
What distinguishes the keris from other types of edged weapons is the asymmetrical part at the base of the blade (which is called ganja). The ganja is usually a separate piece of metal that is welded together with the blade. A true keris must be made from two to three kinds of metals. The bladesmith (called empu) makes the blade from many layers to make it stronger. There are different styles of blade designs and various styles for the pattern decorations for the blade. Empus are highly respected craftsmen with additional knowledge in literature, history, and occult sciences. The making of a true keris (and not just for souvenir purposes) is always accompanied by certain prayers and mantras and ceremonial gestures.
In the past, Keris were worn by both men and women daily as well as during special ceremonies. They were handed down from generation to generation as heirlooms, and some were even made with silver, gold, and gemstones. Although still respected nowadays, this is one of those traditional art forms that has lost its value in the last decades, and though there are still many empus to be found in Indonesia, their number has decreased dramatically.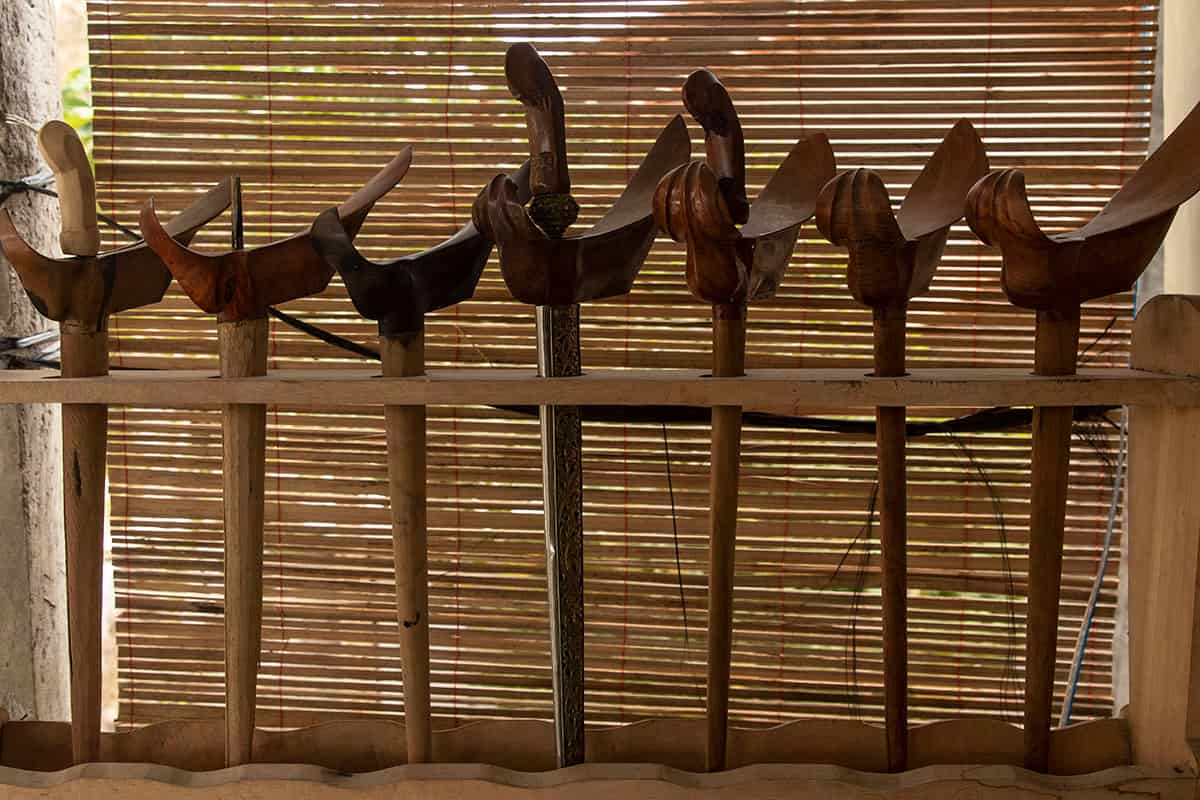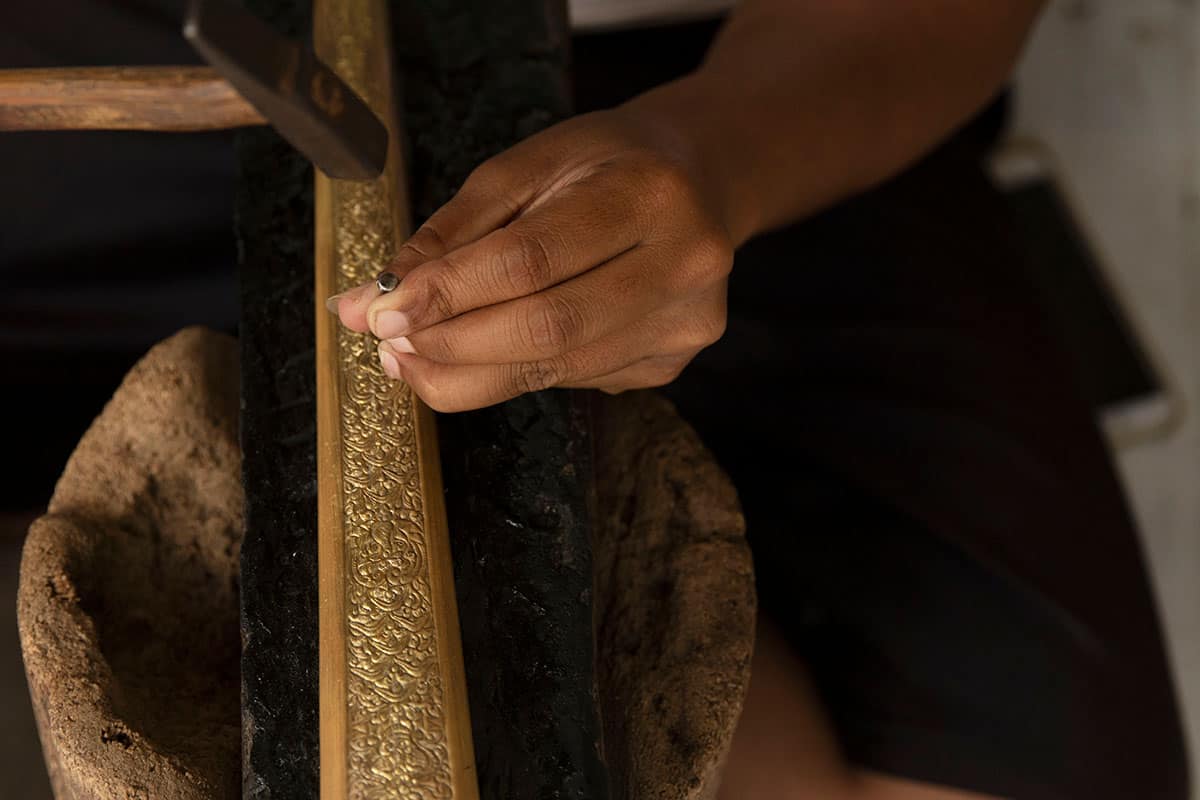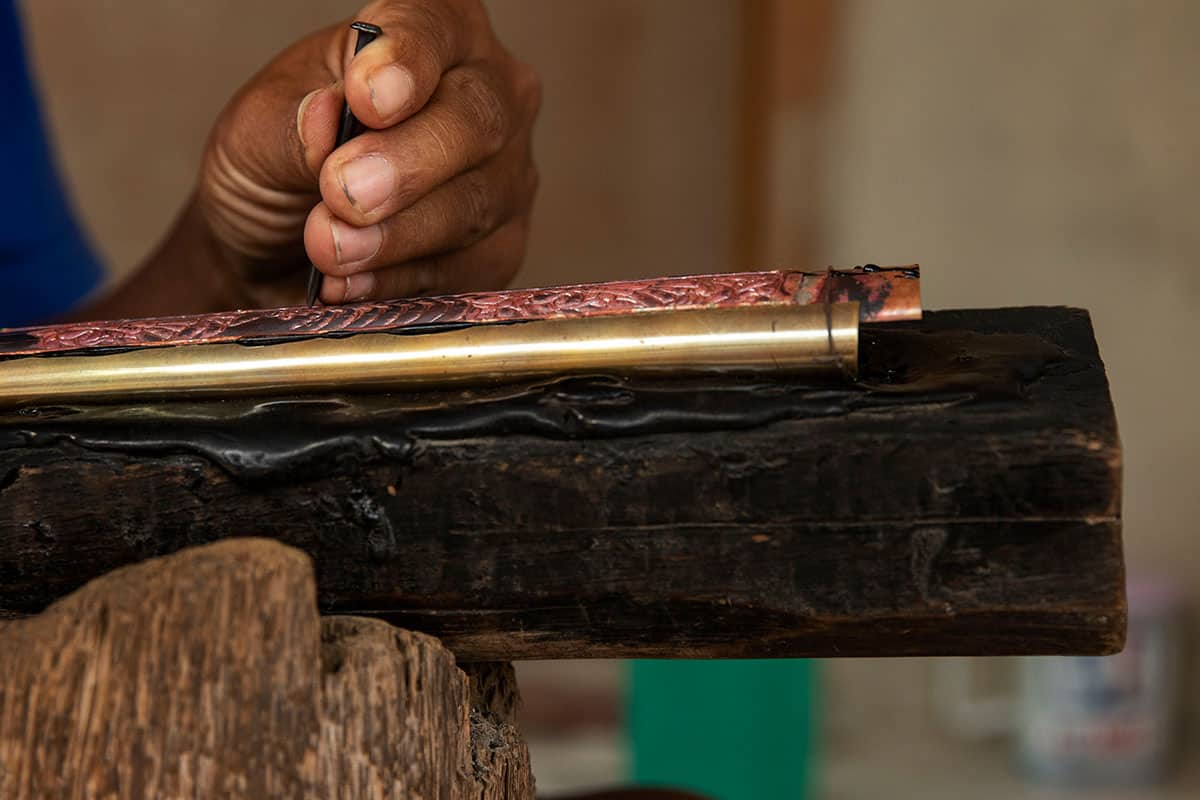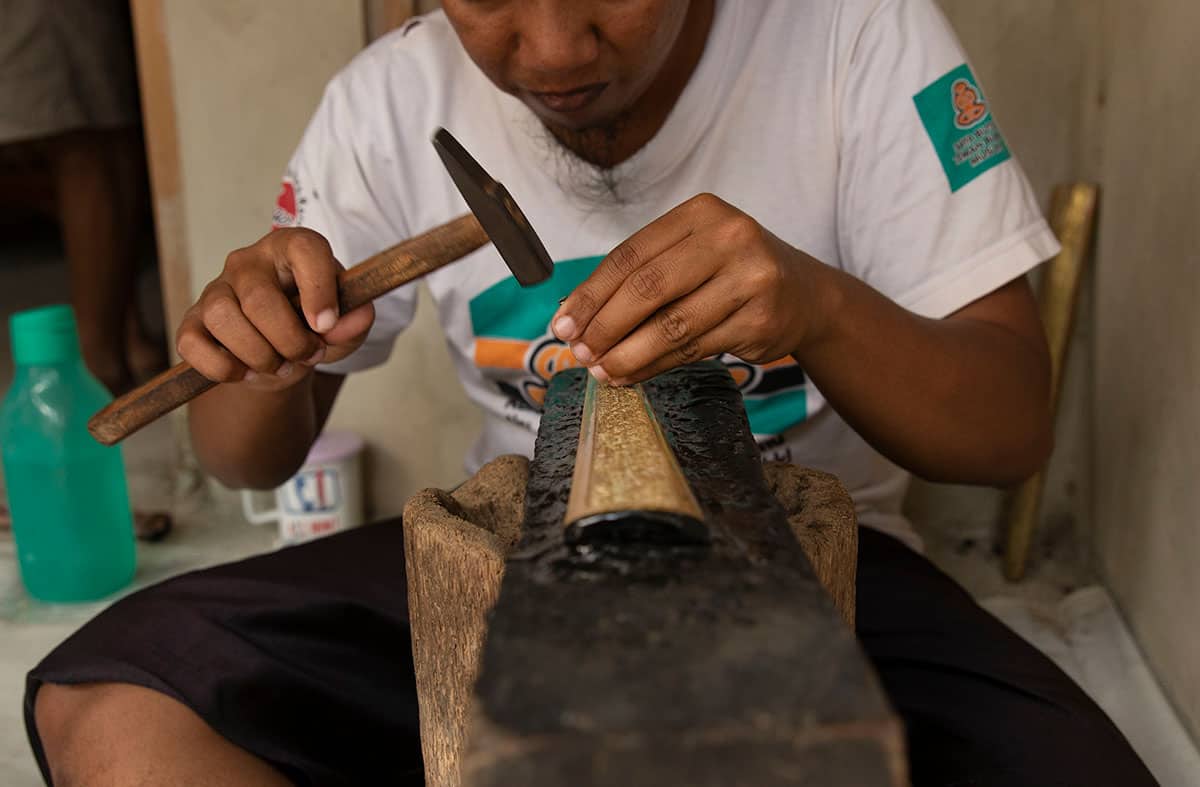 Where to See and Photograph Keris Makers in Yogyakarta
When we started planning our trip to Indonesia, we have stumbled upon an article about this traditional Javanese weapon and asked our driver to include it in our itinerary. As always in these kinds of trips, you can't anticipate everything. When we got to the village of the keris makers, most of the workshops were closed due to a holiday. After a while, we finally found an open workshop. In this house, they were making sheaths for the keris. We were talking to the men while they were working and learned that even making the sheaths takes a long time and requires a lot of skill. They learned their craft from the older generations. In this village, most of the families are involved in the keris making. Some are making the blades, others are making the base of the blade, and some are making the sheaths. You can visit the village of Banyusumurup in Bantul to learn more about keris making in Java.
Indonesian Gong & Gamelan
Gamelan is a traditional music ensemble which can be heard in many islands of Indonesia. Gamelan is made up of various musical instruments, especially percussive instruments such as metallophones, drums and gongs or xylophones, and some melodic instruments like flutes. There are different styles of gamelan throughout the Indonesian archipelago, but the Javanese and Balinese gamelan are the best preserved and most popular.
History of Gamelan in Java
Originally, the gamelan was mainly used in religious ceremonies to help the attendees to enter a state of trance. Nowadays, gamelan music is also performed as part of theatrical performances, traditional dances and similar occasions.
According to Javanese mythology, the gamelan was created by Sang Hyang Guru, who made a type of gong to signal the gods and later added more instruments to send more complex messages to the gods. The word 'gamelan' originates from the Javanese word 'gamel', which means a type of hammer, and it refers to the method of playing the instruments – by striking them.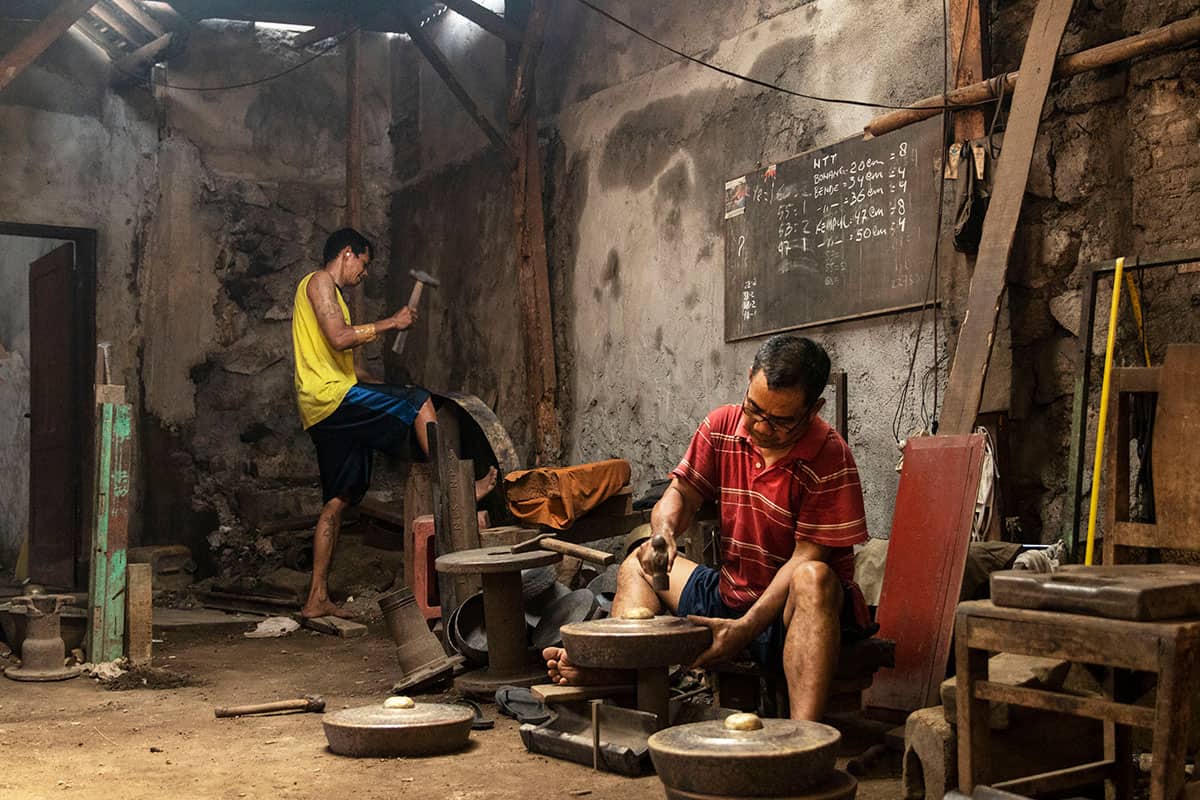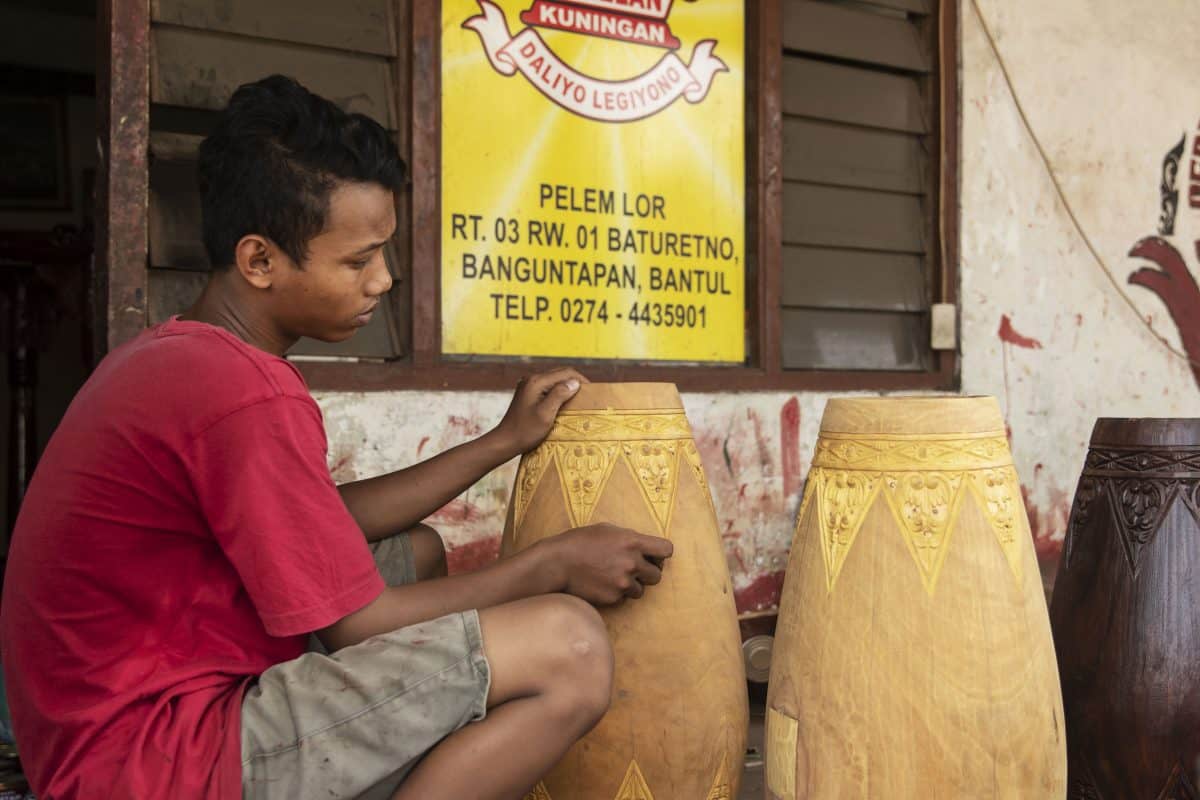 How Are Gamelan/Gongs Are Made
Gamelan is made from several instruments, but the gong plays a major part in every gamelan ensemble. We visited a local factory on the outskirts of Yogyakarta. We'd heard the thumping sound before we entered the place. We followed our host through piles of gongs and rows of drums into a dimly-lit room where two men were smiling to us and offered us little balls of cotton wool to stick in our ears. At first, we'd declined politely, but after 20 seconds, we were happy to stick these improvised earplugs in our ears. Each of the men was shaping different-size gongs with a heavy hammer. The gongs have to be cast from iron or bronze and beaten into shape manually. They are made to order. We haven't witnessed the casting process since it usually takes a whole day, but it was enough watching the two men hammering the gongs and resting every few minutes to understand how much skill and brute strength they must have.
Where to See and Buy Gamelan in Yogyakarta
In many of the tourist attractions around Yogyakarta, you'll encounter a traditional gamelan ensemble. Even during your visit to the Kraton, the daily performances are accompanied by a gamelan ensemble. However, we wouldn't recommend visiting a gamelan factory for the average tourist. It can get messy and very noisy and unless you have a special interest in photography or this musical tradition, skip it. However, if you would like to learn more about this musical ensemble, you can participate in a Gamelan Appreciation Class where you'll get to play some of the instruments yourself. Carrying a gong back home might be tricky, but how about buying a flute or one of the smaller musical instruments that make up a gamelan ensemble. You can also buy a disc with some gamelan music as an Indonesian souvenir.
Indonesia Souvenirs - Jewelry in Kotagede, Yogyakarta
History of Jewelry and Silver Artifacts in Kotagede
One of the oldest neighborhoods in Yogyakarta is Kotagede, which is well-known for its silver artifacts and jewelry. Once upon a time, in the 16th century, Kotagede was the capital of Mataram Sultanate, the last major independent Javanese kingdom on Java before the Dutch colonized the island. The history of silver arts and crafts dates back to these times when the king asked the local craftsmen to start making silver and gold jewelry to fulfill the needs of the household and as ceremonial artifacts for the royal family. Back then, the majority of the artifacts were made by repoussé (embossing) techniques. The silver industry continued to prosper during the colonial period. In the middle of the 20th-century, artisans from Sulawesi introduced the filigree technique, which uses threads and coils to create jewelry and artifacts. and Kotagede has become known for these kinds of jewelry. Jewlery are always a great souvenir and the ones in Kotagede are especially beautiful. Buy a few items or make your own in one of the workshops in Yogyakarta, as authentic Indonesian souvenirs.
How to Make Indonesian Silver Jewelry and Artifacts
The jewelry and handicrafts are made from 97% silver (mixed with other metals, usually copper, otherwise the material is too soft). The process begins when the silver is melted and cast into molds in the form of flat silver bars or rod-like shape. The flat silver bars are usually used to make silverware while the rod-like molds are hammered while they are still hot and pulled until they become thin silver wires, which are used to make jewelry. Silver wires of different sizes are layered within a frame that forms the jewelry. Additional silver wires are then used to decorate the jewelry. Kotegede is known for producing high-quality silver souvenirs and handmade silver jewelry. Kotagede's handicrafts are usually decorated with motifs of the natural world, such as leaves and lotus flowers.
Where to See Silversmiths and Buy Silver Souvenirs in Yogyakarta
Nowadays, you can spot many local silver shops all around Kotagede, especially along the main street. Kotagede is the best place in Jogja to go shopping for silverware and jewelry (made from silver, copper or gold) and to witness the process of making silver handicrafts. You can either observe the process and buy a few items or participate in a silver workshop where you will get to experience traditional silversmithing methods from beginning to end and create your own personalized jewelry.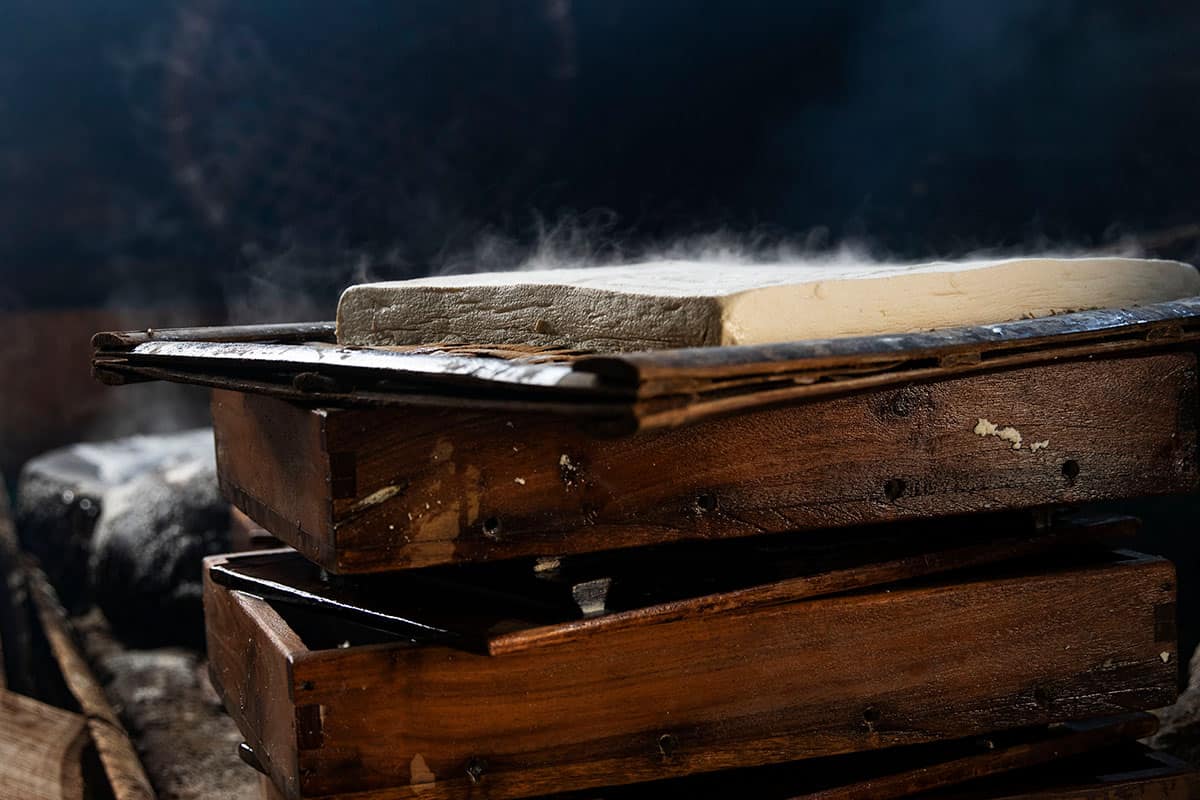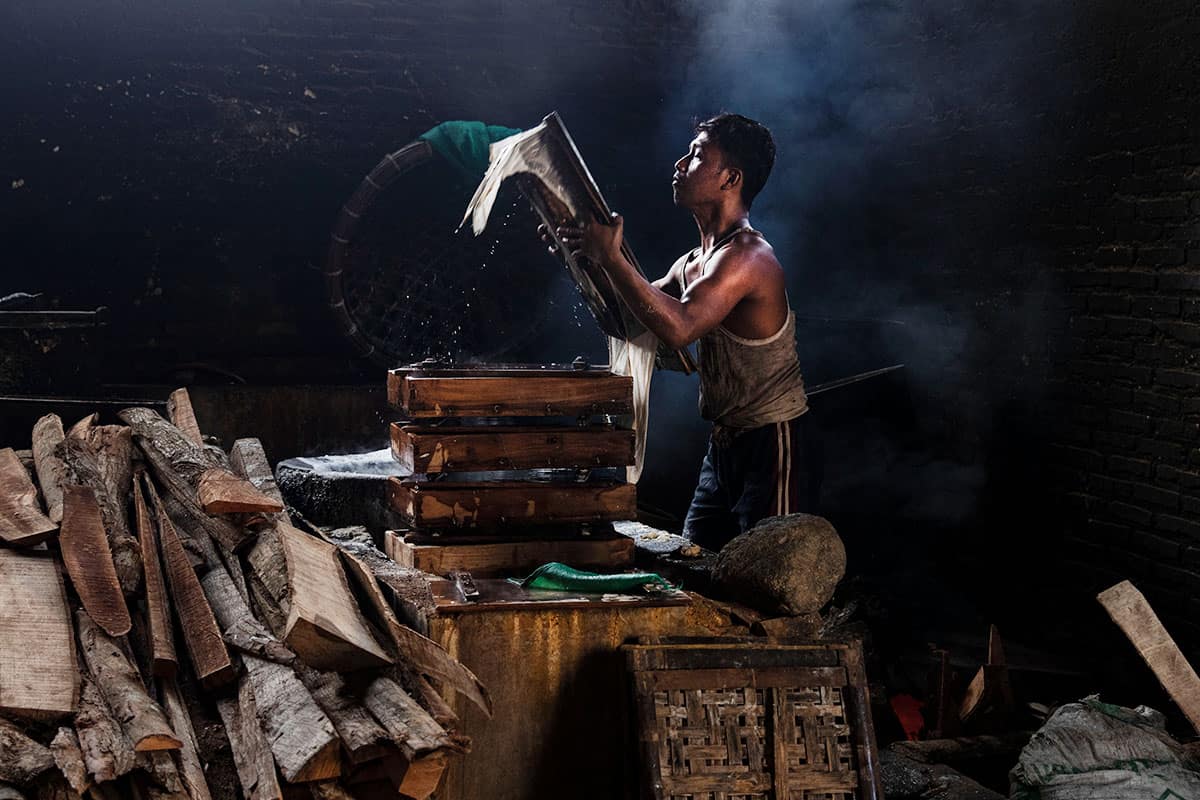 Tofu Making in Yogyakarta
Tofu isn't really included in the Indonesian arts and crafts category and not many people would buy it as a souvenir either, but for people who are interested in the food industry, or are looking for an off-the-beaten-path experience, and especially for photographers, this is a truly unique experience.
The History of Tofu and Tempeh in Indonesia
Tofu (called 'tahu' in Bahasa Indonesian) and tempeh have been staples of Indonesian cuisine for many centuries. The tofu-making industry was introduced to Java by Chinese immigrants, but most historians believe that tempeh-production started in Java, perhaps by accident, as a by-product of the tofu industry in Java. The techniques for making tofu and temphe have stayed mostly the same. There are many tofu villages all over Java. Nowadays, some villages in Java even turn the waste from their production floors into cheap, clean-burning biogas to power their homes.
When we started building our Jogja itinerary with the help of our driver/guide, we asked him to include as many visits to local artisan workshops as possible so we could learn about Indonesia's arts and crafts. When he asked us if making tofu was something we might be interested in, the answer was a strong yes. After we visited the stunning Borobudur Temple, we stopped at a humble tofu factory, or more accurately, a small wooden house where a local family has been making tofu and tempeh for many generations.
The production of tofu reminded us of the making of cheese. The soybeans are soaked for 4 hours and then pressed into a paste (while adding some water till reaching the right consistency). The mixture is then boiled with more water and strained through a cheesecloth. After adding some acidity to the liquid, the milk is coagulated, and the soy curds are separated from the whey. The soy pulp remains in the cheesecloth while the fluid that is drained is actually fresh soy milk. The mixture is then placed in a large wooden rectangular mold lined with cheesecloth. After the watery whey drips through the cloth, leaving the curd behind, the curd is pressed firmly with the cover, and then the mold is flipped a few times to drain any access water. The result is a rectangular block of steamy tofu, which is left to cool down. We haven't seen the process of making tempeh, but it is made from soybeans that are separated from their skin, mixed with a tempeh starter ( a type of fungus), and fermented for a couple of days.
This little home-factory was so interesting to visit. We've never seen how tofu is made before. The light conditions were excellent with magical spots of light and fumy air. Of course, you can't feel how hot it was inside or hear the noise made from the machine that presses the soybeans. The fresh tofu tasted like… well, tofu. Meaning it didn't really have any specific taste, but the texture was silky and smooth, unlike any other tofu we've tasted before.
You can visit the village of Tanjungsari, which is located very close to Borobudur to visit some of the local tofu factories. If you love food activities and want to learn more about Javanese cuisine, check out this Javanese Cooking Class or participate in an evening street food tour.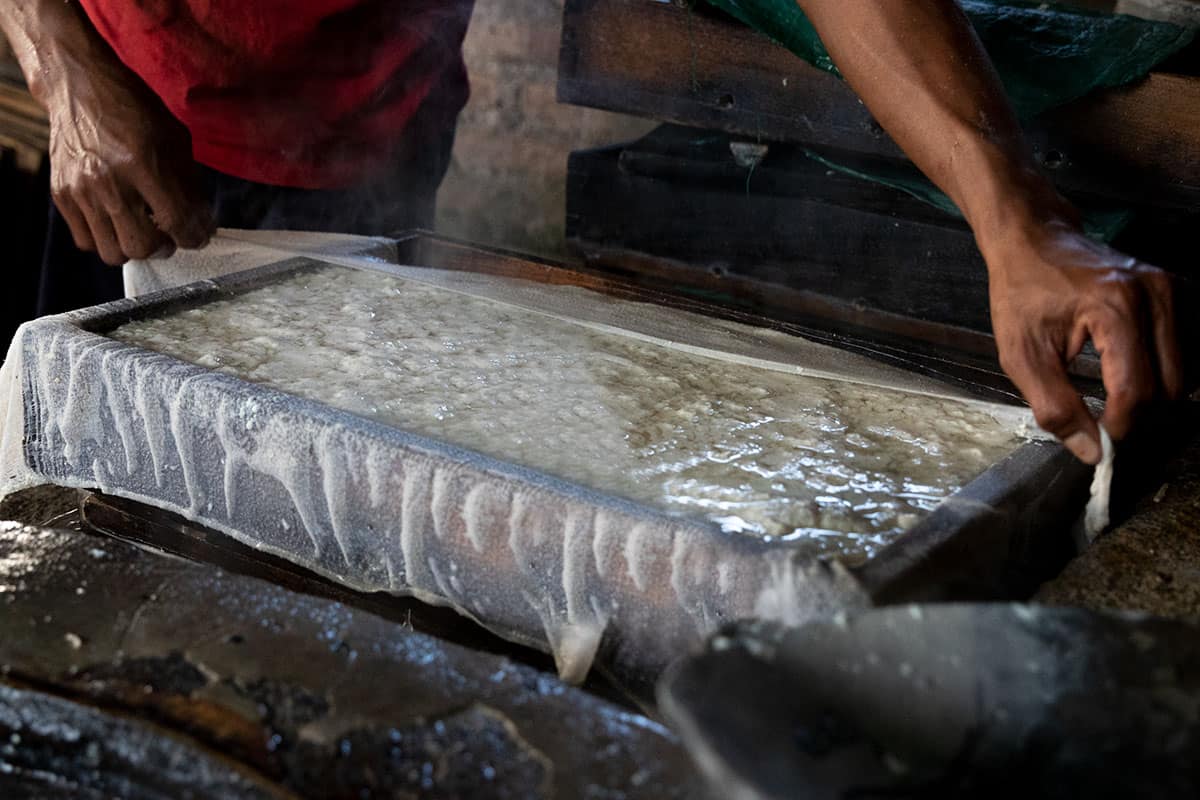 Additional Recommended Workshops in Yogyakarta
There are many more Indonesian arts and crafts we can talk about, but these were all the artisans and local workshops we had time to visit in Yogyakarta, Indonesia. If you have more time in Yogyakarta, you can check out this recommended leather workshop since leather products are also great Indonesian souvenirs to bring back home with you.
For More Information and Tips about Indonesia
Don't forget to pin it for later!
Check out some of our other city guides!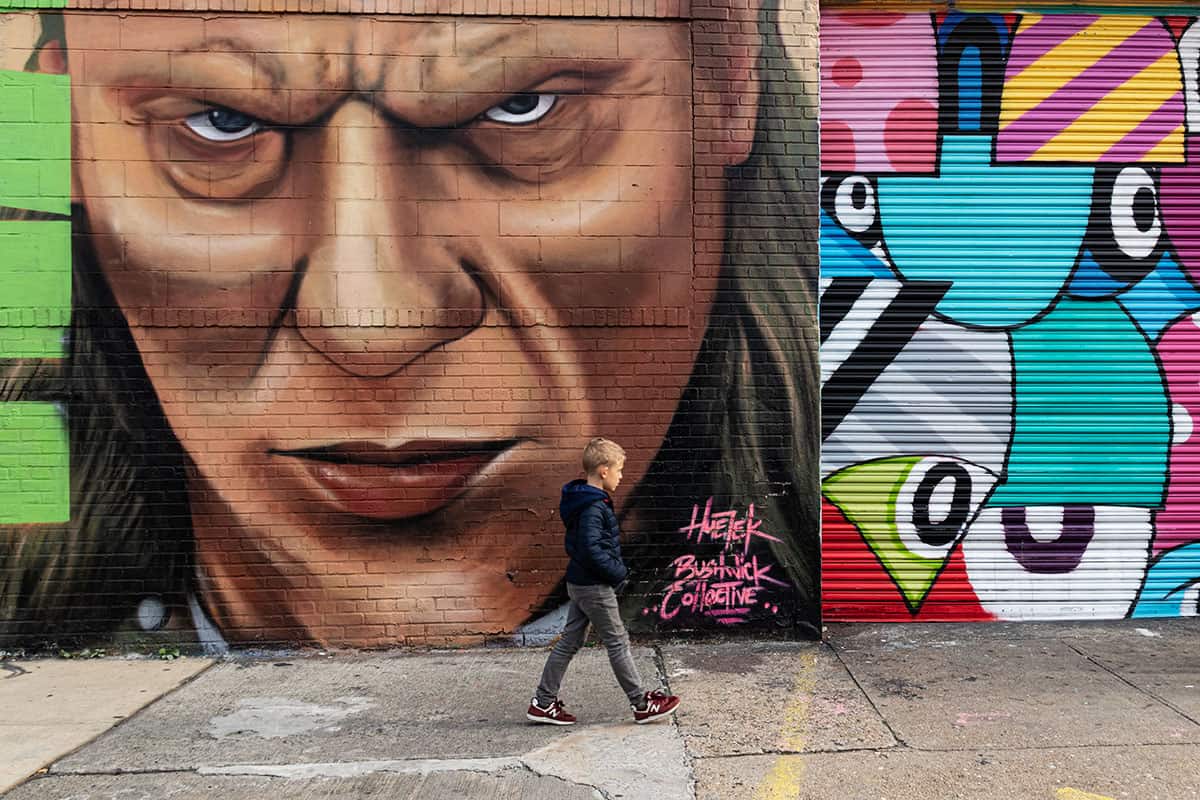 Lovers of art must visit the most amazing street art collection in the world, the Bushwick Collective. For top tips and food recommendation, check out our guide!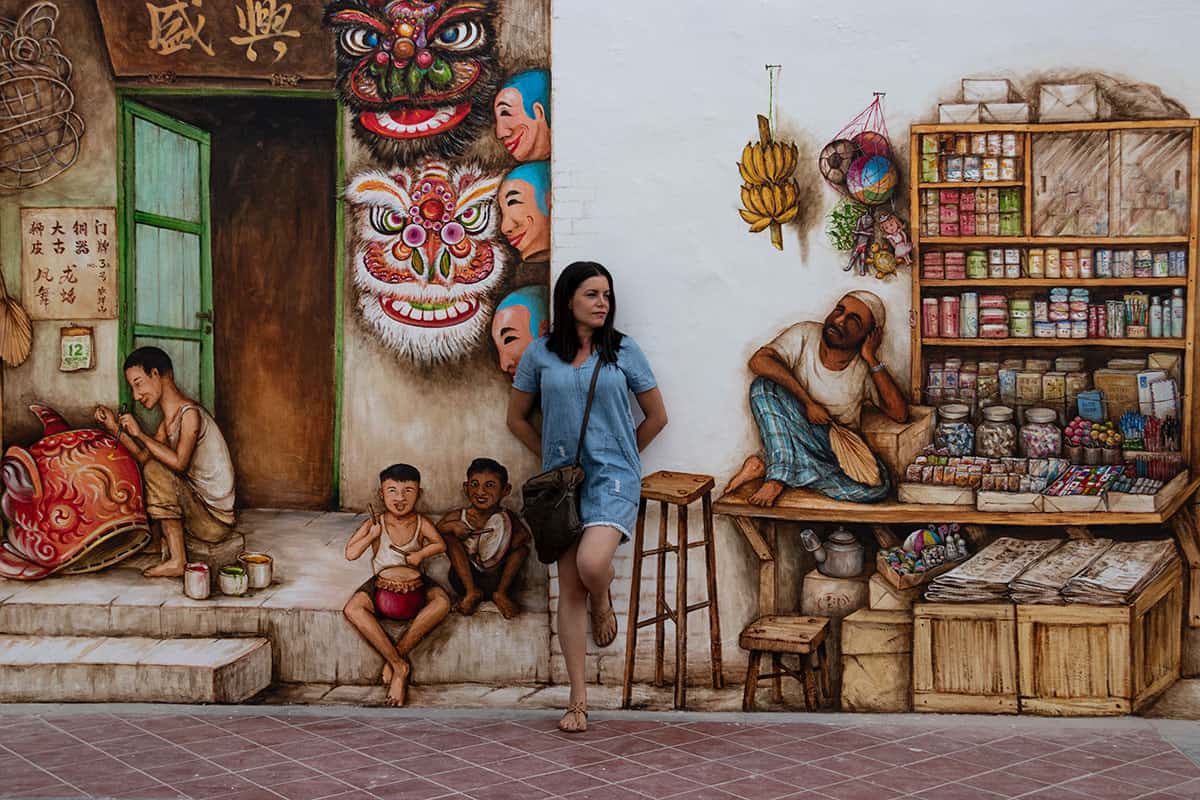 Our Singapore itinerary is full of helpful tips and must-know information if you're planning a trip to Singapore. Including where to find the best street art!
Why you are going to love Croatia's capital city? History and culture, art and food - these are just some of the hidden gems that are waiting for you in Zagreb.