Sidemen Bali - Things to Do and Secrest Spots in East Bali
From the hotel's receptionist and local guide and driver to the waiter at the local restaurant, everyone who asked us what was next on our Bali bucket list was so thrilled to hear we were going to visit Sidemen Valley in East Bali. So you see, we had very high expectations for Sidemen but don't worry, we weren't disappointed. Have you ever arrived at a new destination and just fell head over heels and instantly knew this place was going to have a special place in your heart? Sidemen in East Bali is exactly this place!
Sidemen (pronounced See-de-men) was not on our original Bali itinerary. Initially, we were planning on staying at one of the beach towns but after reading a post about Sidemen Valley, we felt this was an opportunity to see the more authentic side of Bali and discover one of East Bali's secret spots. From the minute we drove through the small and sleepy villages around Sidemen Valley, we realized we discovered one of Bali's hidden gems.
This post may contain affiliate links, which means we earn a small commission if you purchase from them (no extra costs to you!). For details check our disclaimer.
About Sidemen Valley in East Bali
Sidemen Valley is located at Karangasem regency in East Bali. You can find many tourist attractions in this area such as Mount Agung, the highest mountain in Bali, Telaga Waja river where you can go water rafting in East Bali, the charming beach town of Candidasa, the ancient village of Tenganan – one of the most unique villages in Bali, the famous Tirta Gangga Water Palace and many more. Sidemen Valley is one of Bali's secret spots where you'll find many hidden gems but not so many tourists. Other than gorgeous rice fields and agricultural crops, you'll also find here colourful markets, traditional weaving techniques and a sense of community and family that we haven't found elsewhere.
Just imagine to yourself green fields as far as the eyes can see, dotted by the occasional colourful flower field, strolling around this rural area you'll see farmers working in the fields, women will greet you on their way to the local temple with the daily offerings, children wearing their school uniform will wave and laugh as they pass you by on their motorbikes and the majestic Mount Agung can be seen from afar covered by the morning mists. There's a relaxed atmosphere in the air and friendliness that is hard to find in our modern world.
Sidemen is a charming little area where you'll get to experience the authentic Bali, as it used to be before the trendy coffee shops, swarms of tourists and traffic jams. You won't need a policeman to help you cross the street here, that's for sure! If there is one place we'd like to go back to during our next Balinese adventure, it's Sidemen Valley. After visiting Ubud and Jatiluwih's rice paddies and spending two nights at the gorgeous Munduk, we thought we've seen the best rice terraces and markets in Bali but we were wrong because the best has yet to come.
Get monthly updatesincluding exclusive access to our google maps which feature all of our favorite attractions in numerous cities all over the world.
I want to subscribe to your NEWSLETTER!
Things to Do in Sidemen Bali
Hiking in Sidemen Valley's Rice Fields
Finding the most gorgeous and greenest rice paddies is at the top of the list of things to do in Bali for most tourists. Well in Sidemen you don't have to hike very far to see the local rice paddies and agricultural crops because they are all around you. While strolling around the village to discover its secret spots you'll have plenty of opportunities to take gorgeous pictures and you'll probably have to pinch yourself to make sure it's not a dream because this kind of scenery you usually only get to see in a national geographical magazine (do you remember the part about discovering one of Bali's hidden gems?). However, if you want to explore some more and deepen your knowledge about the local crops and farming methods, you can hire a local guide who'll be happy to take you out for an adventure.
Visit One of Weaving Plants in Sidemen Bali
One of Bali's unique sights is the colorful outfits of the men and women. Everyone wears the traditional sarong in everyday life and especially to religious ceremonies. Sidemen is one of Bali's weaving centers and if you are interested in learning more about the traditional Endek or Songket weaving techniques, make sure to visit one of the local weaving plants. It is a long and tiring process to make the traditional Endek and Songket garments but these traditional Balinese textiles have an important significance in the Balinese culture. You can read more about these unique Balinese textiles and the Ikat weaving technique here.
There are three major weaving plants in Sidemen, Pelangi, Arta Nadi and Swastika, located on the main road.
We followed the thumping sounds that filled the air and entered a large room where a few local women were working vigorously operating the wooden looms. They didn't seem to notice us, apart from an occasional smile, and for an outside observer, they seemed to be in an almost meditative state. After watching their dancing hands for a while and listening to the constant thumping of the wooden machines, we had a better understanding of their transfixed gaze and a newly acquired appreciation for the workmanship necessary to weave the Balinese sarongs. It is a very unique experience that should be on your things to do in Sidemen list, especially for culture lovers and textile enthusiasts.
Wander around Sidemen Village
The main highlight for us in Sidemen was exploring the local village and find its secret spots. There are no boutiques or trendy restaurants here. You won't find bloggers standing in line to take a picture in front of a temple or posing in colorful dresses in the rice fields. Strolling around the side streets of Sidemen you'll see men working in the fields, women carrying their daily offerings to the local temple, children wearing their school uniform on their way to/from school, everyone is friendly and the atmosphere here is very easy going. It was such a pleasure walking down the winding roads and discover the small shops, local warungs, farmers who waved at us from afar and so many more hidden gems and unique sights of rural Bali.
Wake Up Early to Visit the Traditional Market of Sidemen
Market addicts, like us, can't skip a visit to the local traditional market of Sidemen. As always, you'll need to wake up early because by 9 o'clock everything is almost gone. The local market of Sidemen is located on the main road. There are many vendors both inside the closed compound as well as in the outside yard and along the main road. Vegetables, fruits, meat, condiments, local delicacies for breakfast and more, it's a goldmine for photography lovers who are eager to capture some unique shots.
Relax at Your Hotel in Sidemen Bali
One of the best things to do in Sidemen, is to enjoy the stunning views and relaxing atmosphere. Choose to stay at a place you can enjoy the stunning scenery, preferably with a pool and maybe even with a spa. We stayed at the charming Alamdhari Resort and Spa and loved our stay there. First of all, the gorgeous views from the room and the pool area are to die for. Green rice fields and agricultural landscapes surrounded by mountains and hills, that can get a bit misty in the early morning or afternoon. The rooms are very large, each with a private balcony and a gorgeous view. There aren't many luxury hotels in Sidemen because in Sidemen most of the hotels are a bit more rustic and homelier. From the boys who carried our luggage to the receptionist who checked us in and offered us a ride to the weaving plant, everyone was so welcoming and eager to help, it was such a unique experience, we were a little bit bummed when we had to leave. For more options, check our "where to stay" section.
Day Trips from Sidemen - Discover East Bali
Sidemen is also a stepping stone to explore East Bali and there are many different day trips and things to do in the area of Sidemen Valley and beyond. A lot of people choose to climb Mount Agung or go water rafting in Telaga Waja river, both of these can be easily arranged by your hotel or the many small family agencies in the village. However, these were our favourite day trips from Sidemen.
Visit Tenganan Ancient Village
One of the most sought-after tourist attractions in Bali is visiting traditional Balinese villages. We've been to a couple of these villages and felt they were much too touristy for our taste. However, the visit to Tenganan felt a little bit more authentic. It is still a bit touristy in nature but less so than other places we've been to and it is one of the most unique (and oldest) villages in Bali. The people of this village are called Bali Aga, meaning the original Balinese. They have very strict rules regarding who is allowed to be part of the community (only people who were born in the village). Our guide met us at the parking lot and took us around the village. We met some of the village's weavers and learned more about the unique traditions of this village, including the rituals of the Mekare-Kare which takes place every June. The Mekare-Kare or Perang Pandan ritual is held in honor of the god of war and it is an ancient tradition that is still practiced every year. The architecture of the village is beautiful and we'd recommend hiring a local guide to learn more about their traditions.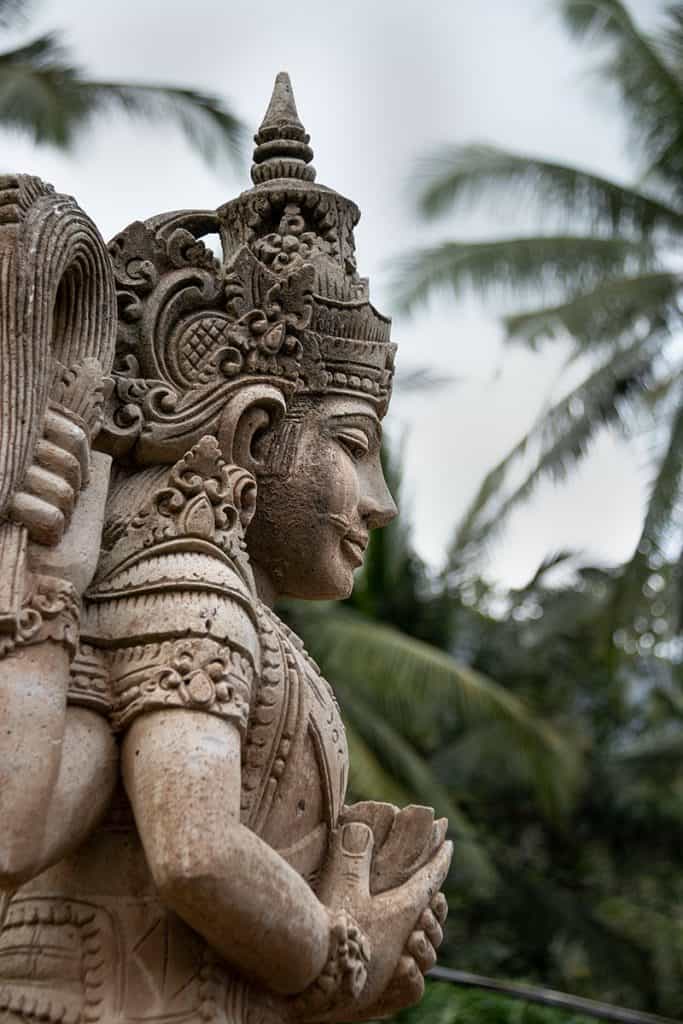 Hike from Tenganan to Kastala to See the Best Rice Fields in Bali
The visit to Tenganan was interesting but the real fun began afterward when we hiked through the "tropical garden" to Kastala. What do you think about when you hear the words "tropical garden"? A nice little garden with some mango trees and pineapples, right? That's what we thought, after hearing our guide mentioning a few times the Tenganan tropical garden. What we saw, however, was a gorgeous tropical forest, filled with all kinds of tropical trees, sounds of animals, and interesting vegetation. As long as we're talking about secret spots, if you visit Tenganan, make sure to come here. I have been to a tropical forest before, but for my sister, it was the first time of experiencing such a sight. She couldn't stop admiring the luscious vegetation, huge trees and general feeling of playing Tarzan for a few hours. The hike from Tenganan to Kastala will take you approximately 2-3 hours. It is not an easy hike, some parts are quite steep and challenging but if you are fit, you'll have no problem and you'll discover really beautiful secret spots. You'll pass some local houses in the middle of this jungle, peek into the backyards of the local villagers where you'll see the kids bath and play, say hello to some local farm animals and basically count your blessings for finding the authentic Bali you were looking for. And then after the steep hike, you'll see one of the most gorgeous sights you've ever seen, welcome to Tenganan rice fields. Initially, I was afraid that by now we'd be sick of rice paddies but these ones took our breath away and made us forget all the previous rice fields we'd seen. There is a little warung with a few items to buy and some simple drinks and with the most gorgeous views you've ever seen, it's a great place to stop and admire the views.
After spending some time in this piece of heaven, we continued our hike all the way to Kastala passing the local villages and getting a glimpse of the rural Bali we were looking for. A guide is a must when doing this hike, otherwise, you are bound to get lost or be bitten by snakes (our guide kept doing these hissing sounds which turned out to be a method to detect and scare snakes). Moreover, we learned so much about the local fauna and flora of Bali.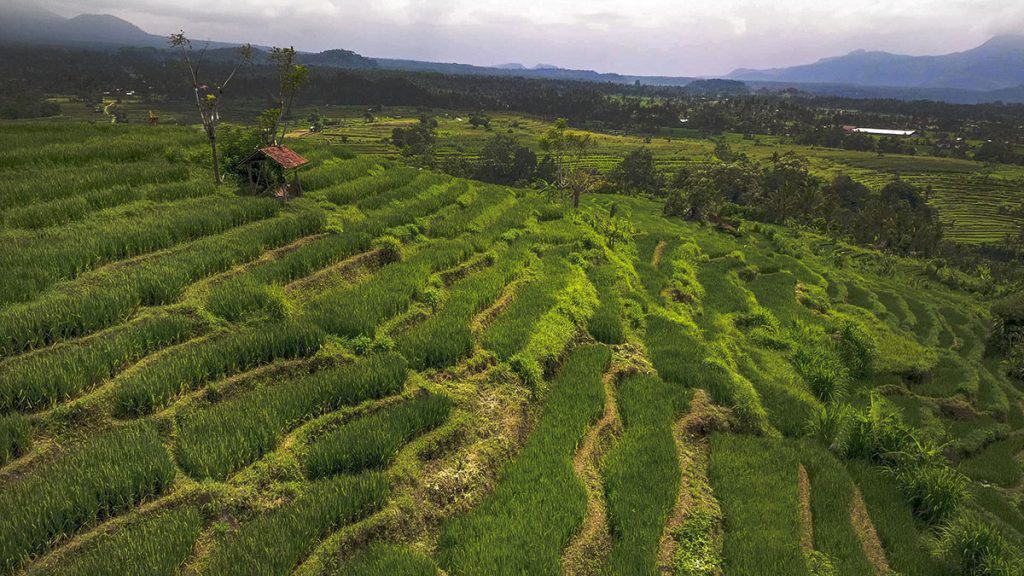 Visit Tirta Gangga and Lempuyang Temple
One of the must-see tourist attractions in Bali is Tirat Gangga (which means water from the Ganges). Just search it on Instagram and you'll recognize the place. The compound is beautiful, a maze of pools, fountains and statues surrounded by groomed gardens. No wonder it is the latest Instagram fad, however, that comes with hoards of tourists who are waiting in line to get their picture taken in the middle of the pools. So take this into consideration when planning your itinerary. Since we'd spent our morning hiking to Kastala, we arrived at Tirta Gangga around lunch time and the place was packed with tourists. If visiting Tirta Gangga is high up on your bucket list, try and do it in the early morning.
From Tirta Gangga, it will take you another half an hour by car to get to Lempuyang Temple. Lempuyang Temple is one of the oldest temples in Bali, it is actually a compound with seven temples and in order to get to the highest temple you'll need to climb 1,700 steps. Don't worry, the most famous spot where you can take a picture of the "gateway to heaven" is located at one of the first temples, the Dragon Temple. Hiking to the top temple and back will take you about 3-4 hours in total but the views are spectacular. Visiting Lempuyang Temple can be done later in the day because not many people hike all the way to the furthest temple. Except for the temple where you'll find the "gateway to heaven", this one can get crowded.
This was a miss for us. We were planning on stopping here in the early morning but since we were in a hurry, our driver advised us to go straight to Tenganan and start the hike. Therefore, we arrived at Amalpura market around noon when most of the vendors had already closed their stalls. From what we did manage to see, it is a great market to visit if you love traditional markets as we do. So if you do have the time to fit it in your schedule, add it to your list of things to do in Sidemen and arrive in the early morning.
How to Get to Sidemen Bali
As always, the easiest way is by car. If you are arriving straight from Bali's airport, Ngurah Rai airport, it will take you approximately 1.5-2 hours, depending on traffic. Your hotel can help you arrange transportation. From Ubud to Sidemen it takes about an hour and a half by car. You can also hire a motorbike, however, keep in mind the road conditions in Bali aren't always that good.
Where to Stay in Sidemen Bali
Where to Eat in Sidemen Bali
There are a lot of little local restaurants in Sidemen the majority of which are warungs that offer local dishes. We've only spent a short time in Sidemen, and during some of the days we were exploring other areas of East Bali, however, we did manage to find two great local eateries. The lovely Warung Deva which serves great Balinese food in a pleasant environment and the cute little Amrita which serves the best coffee in Sidemen. It is actually a B&B place, but we stopped there for some coffee and granola bowls. They have a great selection of tea and some snacks as well and best of all, you can enjoy your coffee while admiring the best view in the world.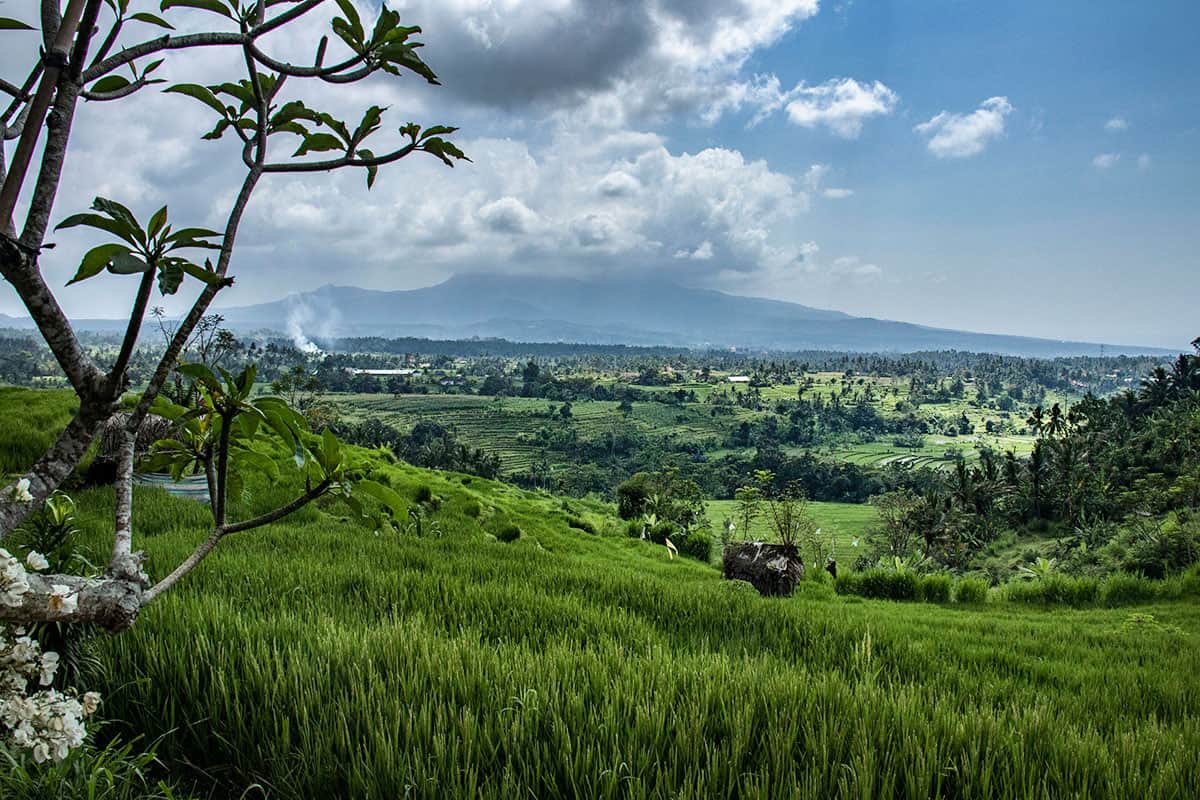 Why Sidemen Should Definitely Be on Your Bali Bucket List?
If you are looking for the authentic side of Bali, include Sidemen in your Bali itinerary. Sidemen will win you over with its breathtaking scenery, easygoing atmosphere and local charm. It is truly one of Bali's secret spots and definitely one of our favorite places in Bali.
More Resources for Your Bali Itinerary
Don't forget to read our favorite Asia Guides!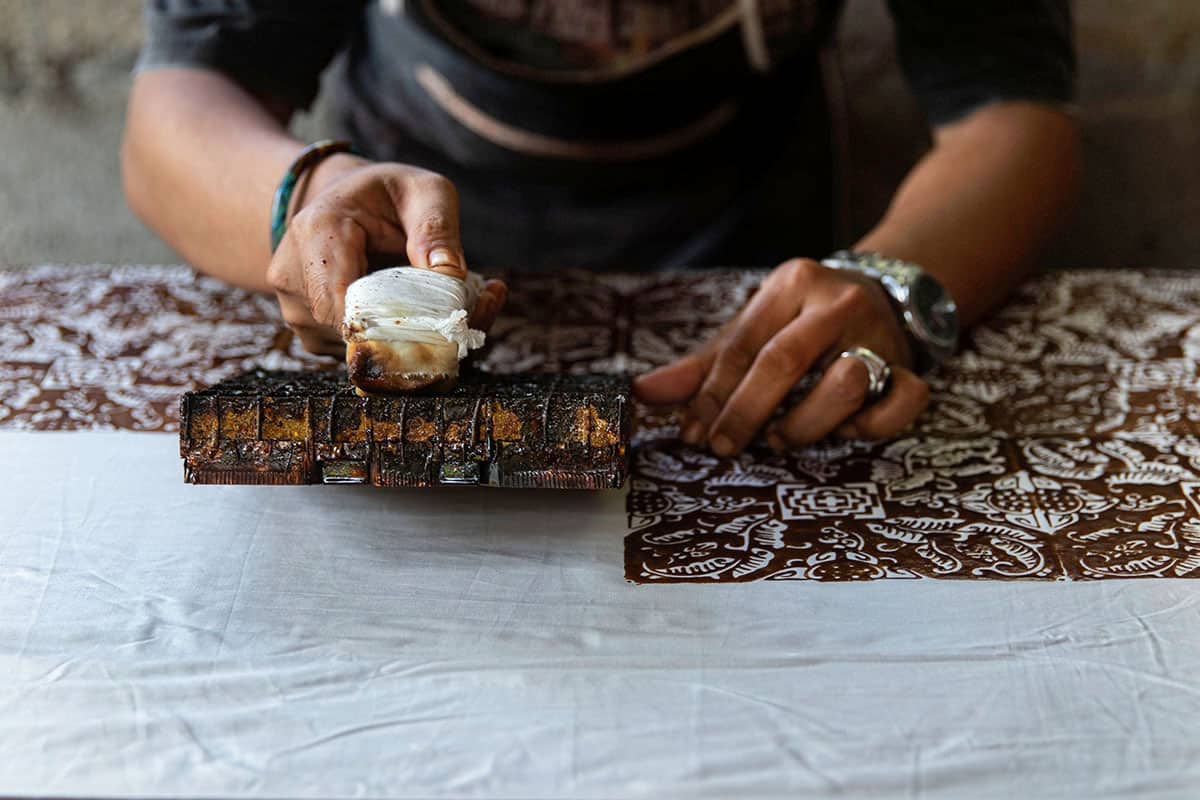 Discover the talneted artists of Jogja and learn what and where to buy the best Indonesian souvenirs!
Discover the beautiful Jogja with its colorful martkets, local srtists, street art, historical temples and more!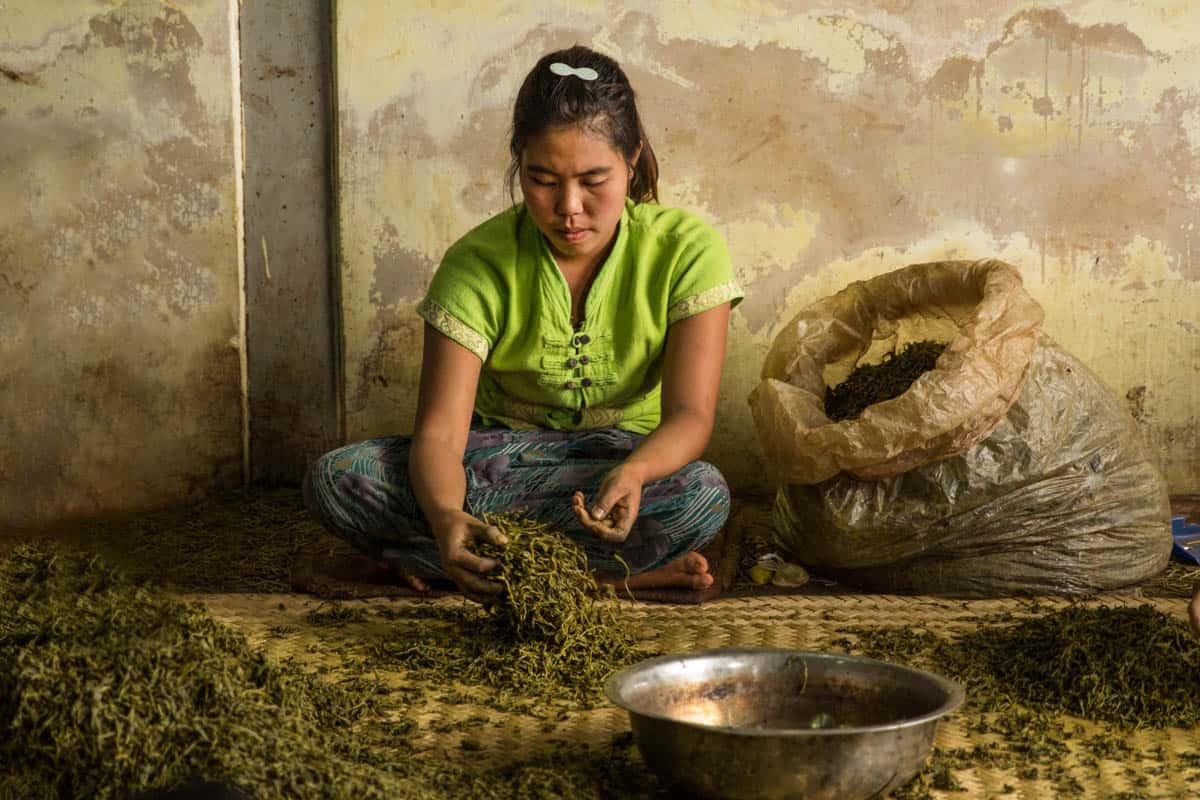 From small artisan workshops to the beautiful Pindaya Cave and the agricultural land in the area!