Best Street Art in Bushwick
Murals, Graffiti and Hipster Vibes in Brooklyn's Hip Neighborhood
Our Bushwick street art guide covers everything you need to know about Bushwick's murals and graffiti art scene, with a focus on the Bushwick Collective, a unique street art gallery that has put Bushwick on the map. From where to find the best graffiti in Bushwick to some history about the Bushwick Collective and the various artists. We've also included a map with the best streets to see our favorite Bushwick murals, so you'd have everything you need to plan your self-guided street art tour in Bushwick, Brooklyn's hippest neighborhood.
This post may contain affiliate links, which means we earn a small commission if you purchase from them (no extra costs to you!). For details check our disclaimer.
Wherever we are in the world, street art, local artists, and food are some of our favorite ways to learn more about our destination. When we started planning our NYC itinerary, we knew we had to spend some time in Brooklyn. We planned the perfect Brooklyn itinerary, which included a day in Dumbo and Williamsburg. Still, we had to come back to Brooklyn to explore one of the biggest open-air art galleries in the world, the Bushwick Collective, which hosts some of the best street art murals in the world.
From the minute we started wandering around Bushwick's colorful streets, we couldn't have enough of the magnificent street art and graffiti that adorned almost every wall and every street corner. Bushwick is a gold mine for art lovers, so make sure to add it to your New York bucket list.
Get our detailed maps for FREE with all the attractions & restaurants – Subscribe to our monthly Newsletter
How to Get to Bushwick Street Art Scene?
You'll find the Bushwick Collective in Brooklyn, a short subway ride from New York. The easiest way to get to Bushwick is to take the L line (that runs along 14th street in Manhattan) to the nearest subway station, the Jefferson Street Station. Once you get out of the station, you'll see Bushwick Collective's murals all around you. It should take you about 20-40 minutes to get to Bushwick from New York City, depending on your location in NYC.
Bushwick Murals @subwaydoodle
About Bushwick Neighborhood
In the 17th century, the town of Bushwick was a Dutch settlement (that also included the areas of present-day Williamsburg and Greenpoint) whose settlers were farmers and tobacco producers. In the middle of the 19th century, the area became more industrialized as many plants and factories were flourishing along Brooklyn's waterfront. Many new immigrants from Germany and Austria settled in the area and opened breweries and beer halls.
As better transportation systems connected Bushwick to downtown Brooklyn and Manhattan via the Brooklyn Bridge, more immigrants joined the mix, especially English, Irish, Italians, Russians, Polish and Jews. Between the first and second world war, Bushwick was one of the best residential areas in Brooklyn. However, after World War II, the neighborhood's demographics started to change as African Americans and Caribbean American families began to move in, followed by low-income Latin American families. Race riots began to rip the neighborhood apart, and many of the white residents moved away. The neighborhood went from being 90% white to less than 40% in a decade.
Bushwick took another blow during the 1977 Blackout. Hundreds of shops were looted or totally destroyed, and fires burned all over the neighborhood. As a result, everyone who could afford to leave did so. So at the end of the 20th century, Bushwick was full of poverty, crime, and drugs.
In the 2000s, things started to change. The City and State of New York founded the "Bushwick Initiative" that focused on improving the housing conditions and lowering the crime rates. Bushwick began to attract young professionals and artists who couldn't afford Manhattan's high rents. Nowadays, Bushwick is considered one of the coolest neighborhoods in Brooklyn and attracts many visitors every year.
Which Kind of Street Art You Will See in Bushwick
Everyone comes to Bushwick to visit the Bushwick Art Collective. The Bushwick Collective is a unique project where you'll find dozens of murals and street art in a span of a few blocks. However, there are other street art forms in Bushwick, outside of the compound of the Bushwick Street Art Collective. Local artists do most of these street art creations. Some as a form of creative expression and others as a form of rebellion against the popularized Bushwick Collective. These unsanctioned street art creations are found all over Bushwick; on the doorways, on trash cans, on sidewalks, and so on, so make sure to keep your eyes open during your visit.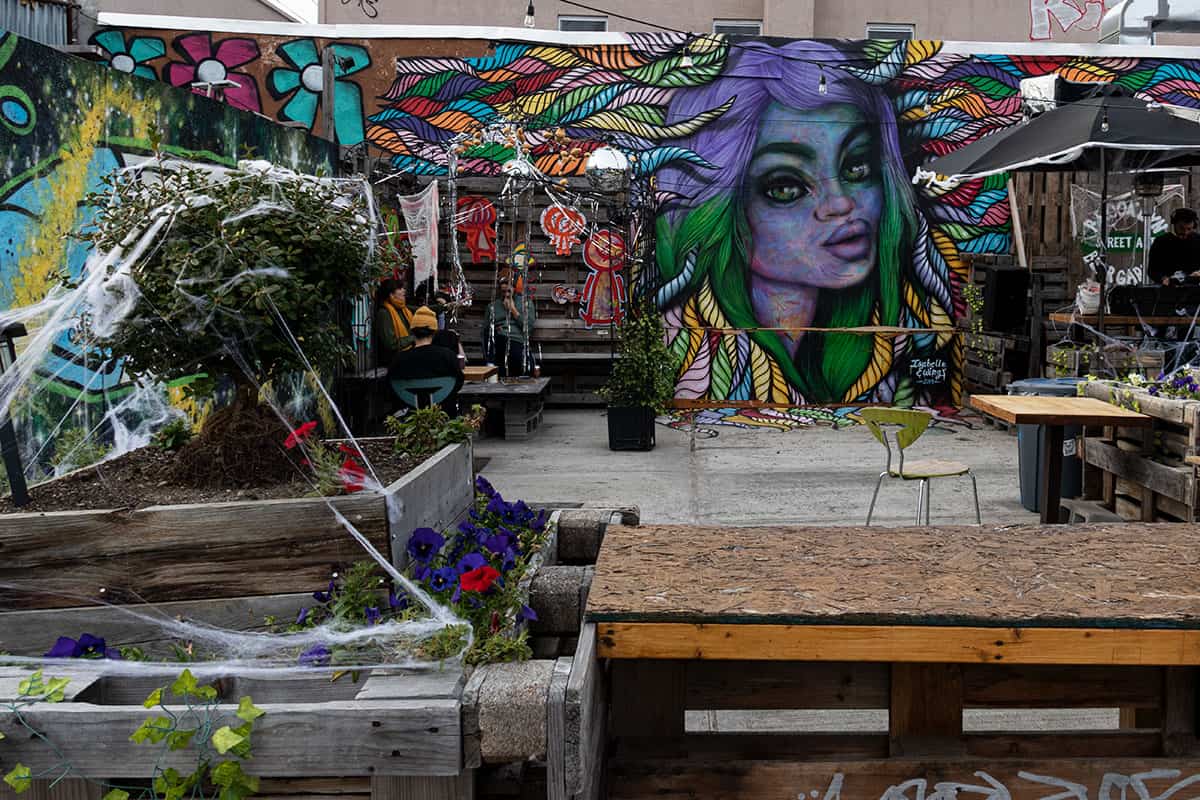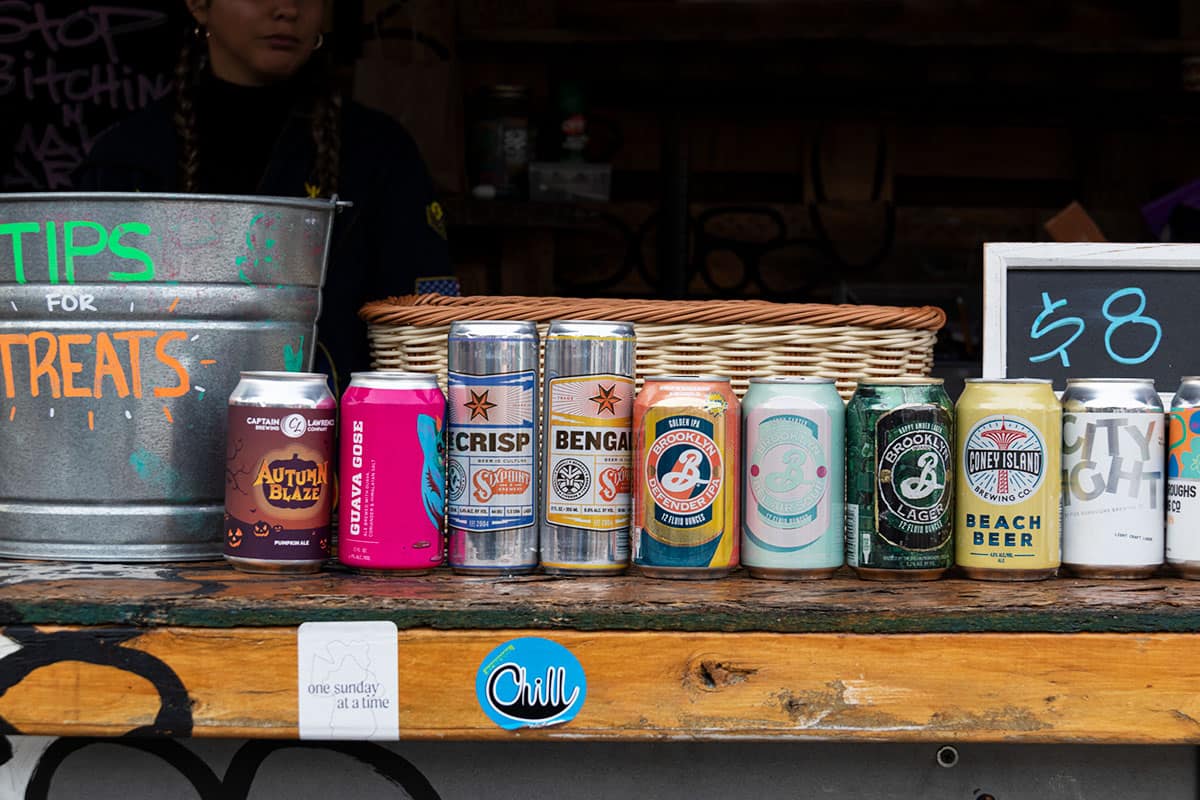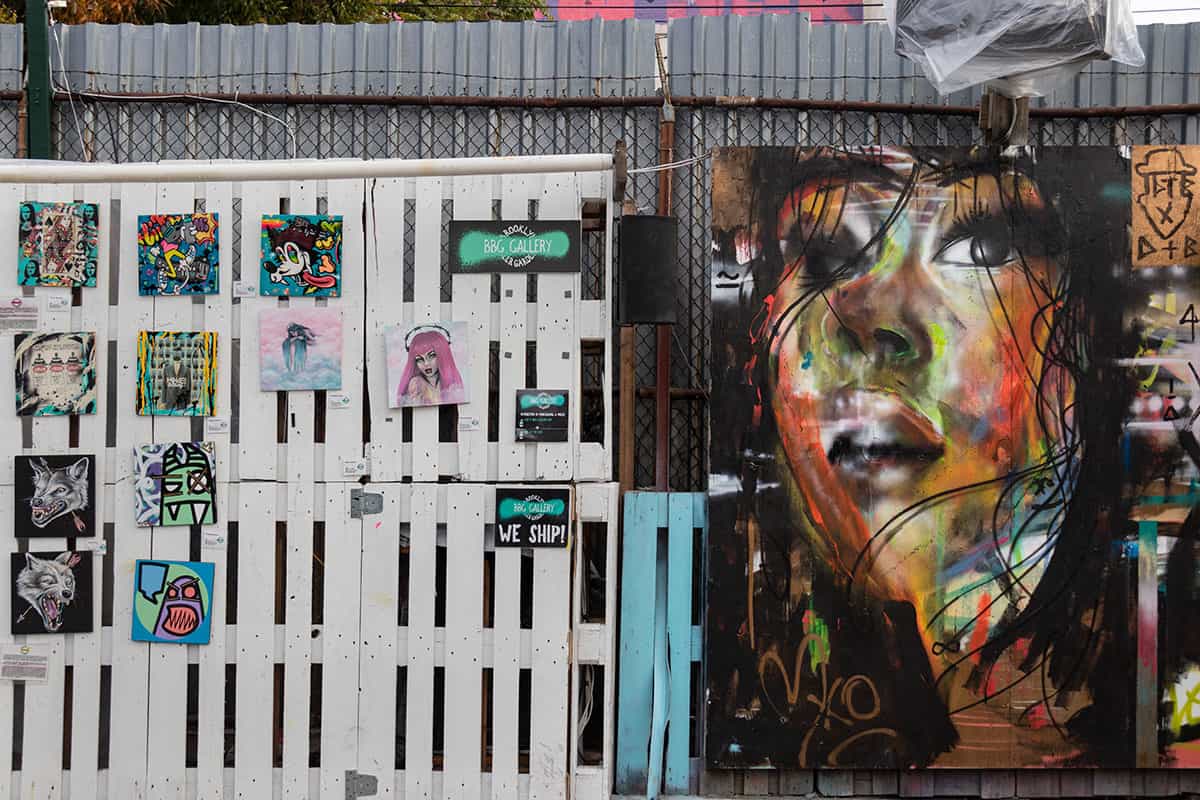 About the Bushwick Collective
The story behind the Bushwick Collective started with a single person who took it upon himself to change his childhood neighborhood and turn its seedy streets into an outdoor art gallery. Joe Ficalora grew up in Bushwick in the 1980s when the neighborhood was infested by drugs, violence and poverty. Instead of street art and graffiti, dozens of abandoned buildings and piles of trash adorned the neighborhood's streets. As a child, Joe Ficalora wasn't allowed to play outside, and he was exposed to hookers and gangs on a daily basis. When he was 12 years old, his father was murdered on his way home from work. After he'd lost his mother to cancer in 2011, he decided the key to his own self-healing would be to revive and heal his childhood neighborhood and turn the industrial and neglected streets into an art gallery.
In the beginning, he googled "street art" and invited some street artists to beautify his neighbors' walls. Once the neighboring plants and businesses saw the finished works of arts, they were more than glad to supply naked walls for Ficalora's street artists. This was the beginning of the famous Bushwick murals. Fast forward a few years later, and now Joe Ficalora is the curator of one of the largest street art projects in the world.
When is the Best Time to Visit the Bushwick Street Art Collective
The best time to visit the Bushwick Collective is in June during the Bushwick Collective block party. Every June (usually on the first Saturday of June), the Bushwick Collective throws a huge block party with street artists, food trucks, and live music. During this time, many local and international artists are invited to create some of the best Bushwick murals. The murals and street art stay on the walls for about a year, and then they are replaced by other works of art. Although the main activity takes place in June, new murals are pained year-round.
If you are not fans of crowds and would like to admire the Bushwick murals and street art collection at ease, come during the week (preferably in the morning), since during the weekend, the area is much more crowded.
Who Are the Artists Behind Bushwick Street Art and Murals
There are many international as well as local artists that participate in this street art venture. It is impossible to list them all, but here are a few that caught our eyes: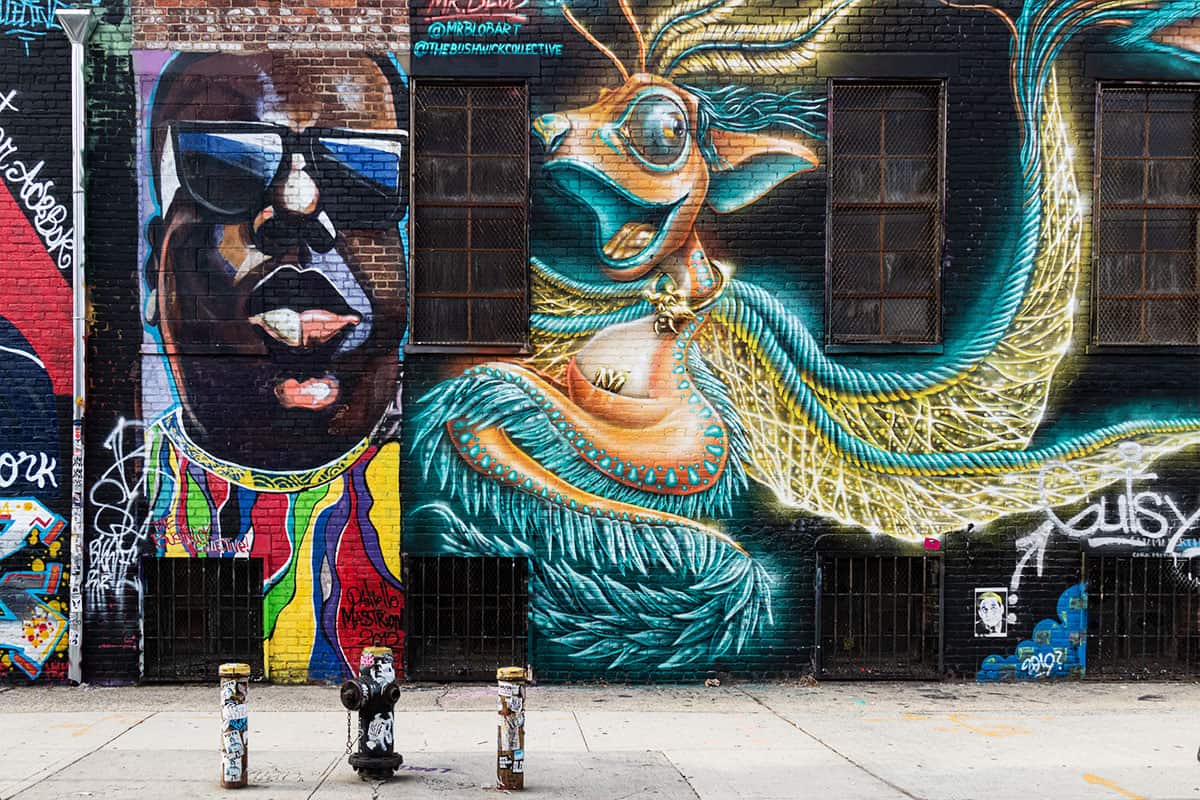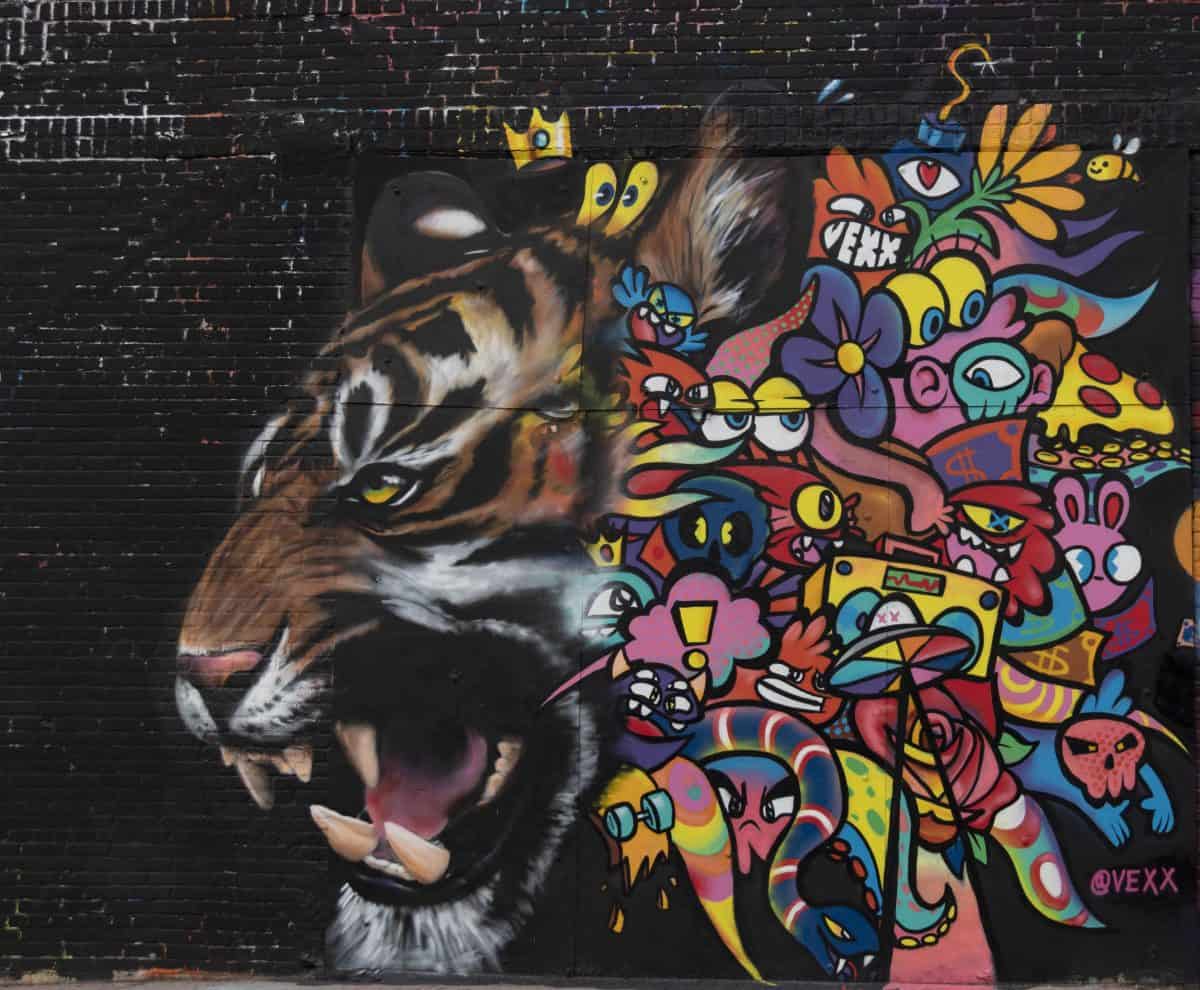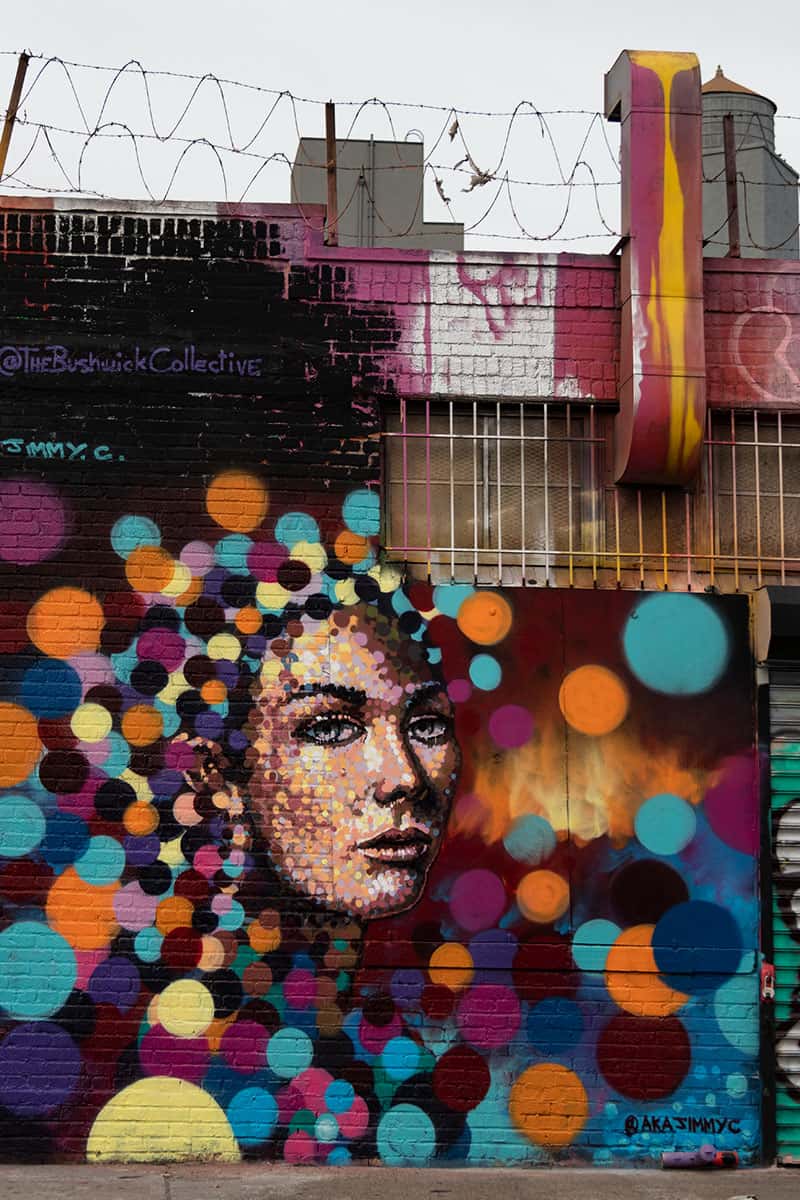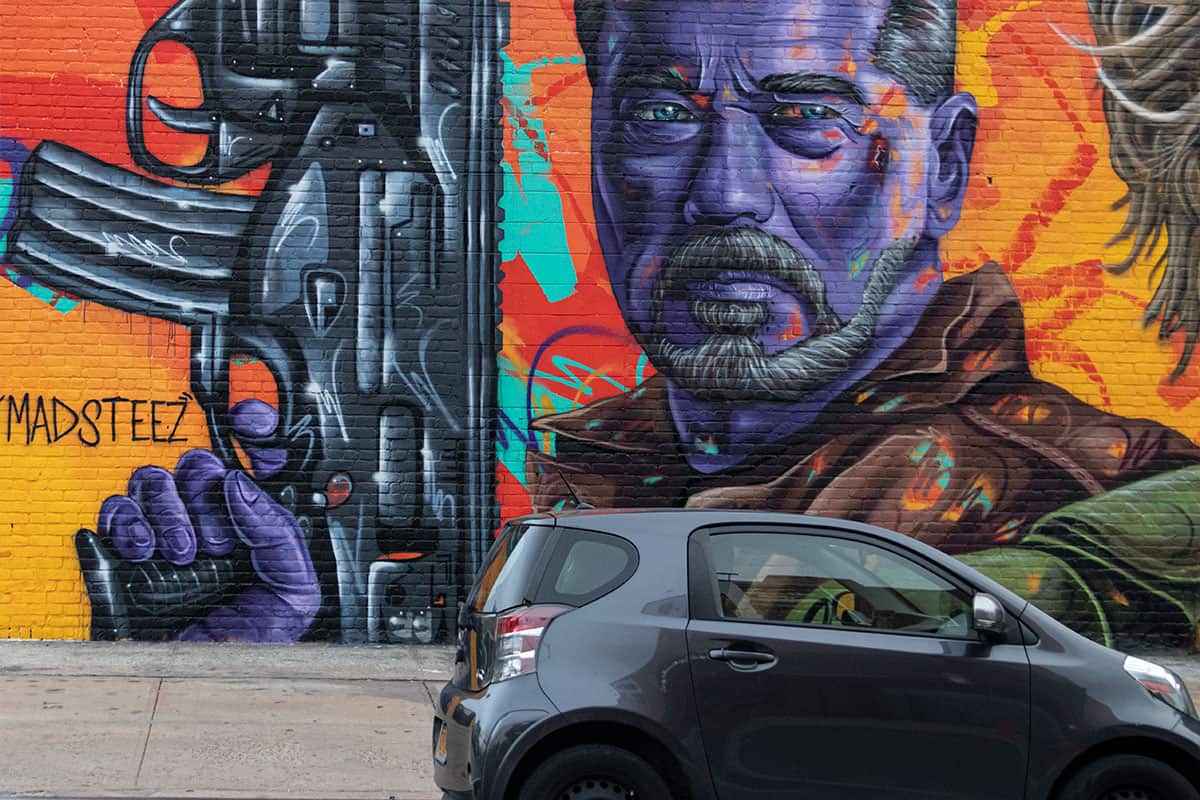 Graffiti, Murals, Street Art and the In-Between
Most people use the terms graffiti, street art and murals interchangeably. We all use these terms to describe forms of art or creative expressions that are found on walls, objects, and other parts of a city. However, these terms are not always interchangeable. We've tried to summarize some of the key differences in a nutshell.
Graffiti – Graffiti is based on words, and many times, it is illegal, and therefore, is done at nighttime. Though ancient graffiti drawings have existed for thousands of years, modern graffiti started in the United States. This art form evolved from low-income neighborhoods as a type of self-expression for frustrated youth. In the beginning, it started with scribbled nicknames or words, which are called "tags". Later, graffiti drawings have become larger and more elaborate with stylized letters and fonts. What started as an underground subculture has gained more and more popularity over the years and turned into a mainstream phenomenon. Graffiti artists are usually self-taught, and since it's illegal, many of them remain anonymous. They typically use aerosol spraying techniques to create their art or even simple markers for small and simple tags.
Street art – Street art is any work of art that is seen on public property. Its roots might be illegal since it was developed from graffiti. However, these days, it has become accepted as a contemporary form of urban art. If the artist has permission to perform its art, it's legal. Nowadays, many cities use street art to uplift certain areas and draw tourists to what once was a neglected area of town. It can be in the form of murals that cover a wall of a building, or in the form of smaller drawings or statues from conventional or unconventional materials. When street art is legal, the artist signs his/her name or nickname. Street artists are free to use whatever techniques and tools they want, such as paint, spray paint, bronze, yarn (yes, yarn-bombing is a thing) or whatever suits their art.
Graffiti Art – Graffiti art is a mash between graffiti and street art. It is elaborate graffiti that is more figurative and combined with images.
Murals – Murals have existed for thousands of years in the form of cave paintings. The word 'mural' originates from the word 'murus' in Latin, which means 'wall'. Murals can be defined as art that is created directly on a flat wall or ceiling, and they usually cover the whole surface. Therefore, murals are a type of street art. Murals are usually painted with long-lasting paints that are resistant to the weather.
Tagging/bombing – As mentioned in our graffiti section, tags are the simplest form of graffiti, a signing of your name or nickname. Nowadays, tagging is used by graffiti artists who feel the more popular street artists and mural painters invaded their territory. You'll see some occurrences of tagging or bombing around Bushwick murals. It's a battle for wall space and recognition. Sometimes the street artists paint smiley faces over graffiti tags in an effort to minimize the damage.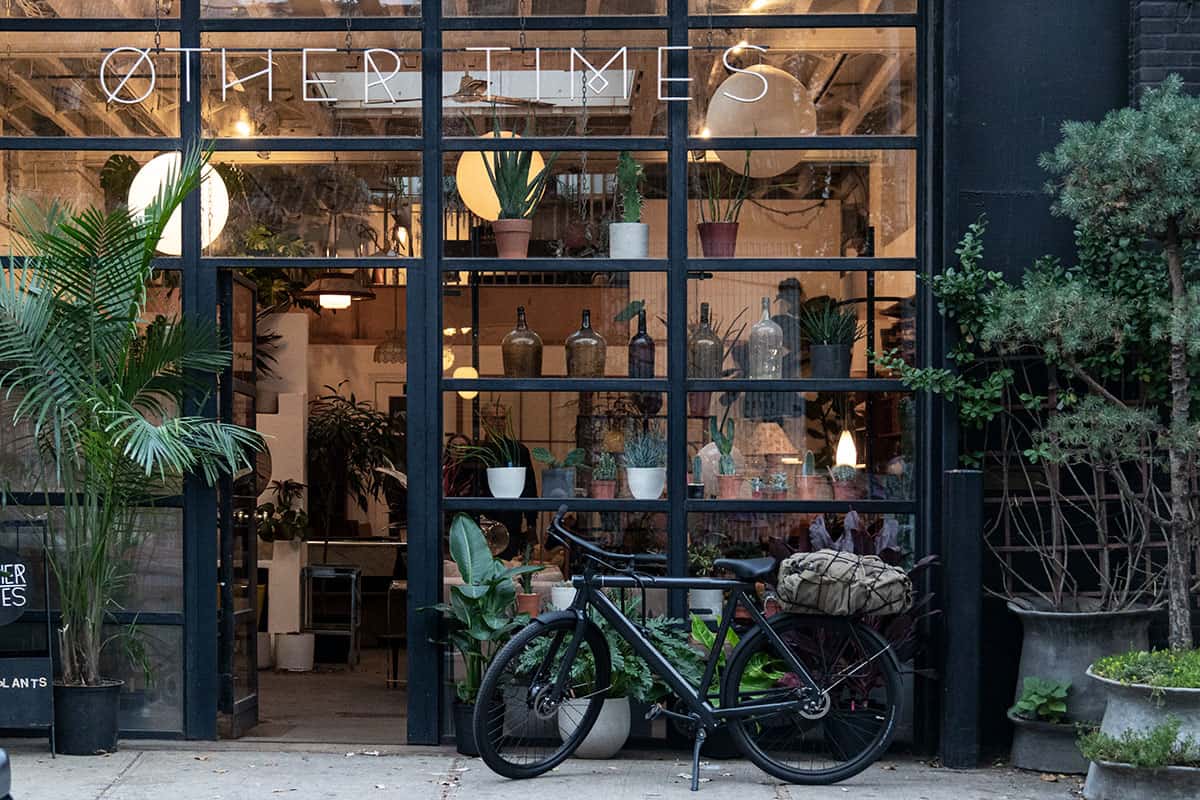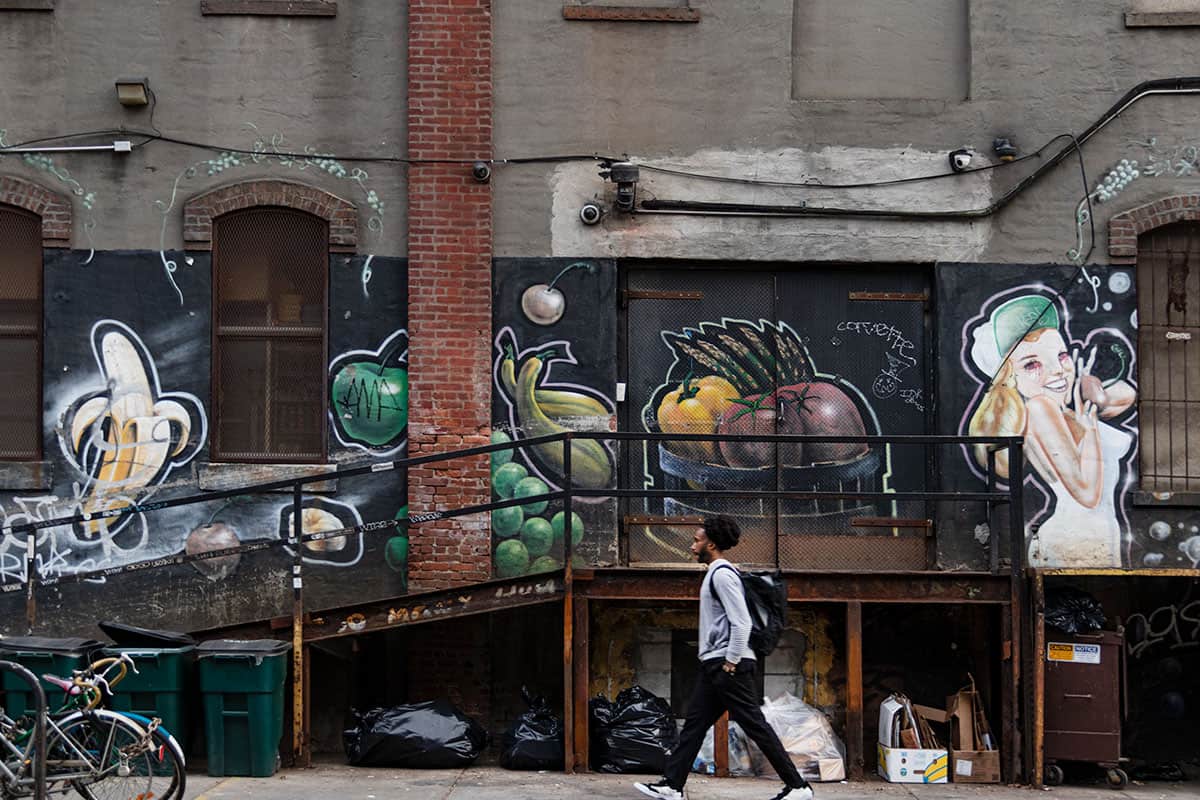 The Bushwick Collective Debate – When Art and Money Collide
Many types of art forms cover the streets and buildings of Bushwick, and though in general, it has had a positive effect, some locals and artists try to highlight its negative impact on the neighborhood.
The battle between graffiti and street art is an ongoing war all over the world. Although street art has become very popular and many cities around the world use it to beautify neglected areas and attract more tourists to their city, graffiti has been rejected as a legitimate art form. It is also true to Brooklyn and New York City, which leaves many of the graffiti artists frustrated, to say the least. Many feel that street art is much more relatable. Graffiti is much more subversive and hard to "be tamed", and it's more about marking an area as your own than creating public art. This is one of the reasons, so many tags are found on Bushwick Collective's murals and other street art all around Bushwick. Moreover, many local street artists complain that nowadays, the Bushwick Collective highlights well-known and many times, international artists, instead of giving a voice to newcomers and locals. In other words, you have to be connected to join the party.
In addition, it seems that these days, such popular art projects go hand in hand with gentrification. Many of these public art ventures benefit the local community, but they also attract a whole new residential demographic. Once they are successful, the fabric of the neighborhood changes, followed by higher rents. Many times, some of the original residents find themselves pushed out of their childhood neighborhoods.
Besides, popular street art projects, such as the Bushwick Art Collective are intertwined with commercial and corporate interests. Once Bushwick became popular and attracted more tourists, billboards, and commercial adds seemed to follow. Billboard companies are used to leverage artwork for exposure. Advertisers are well aware of the fact that placing a billboard or a huge advertisement wherever murals are found ensures massive exposure on social media. Many of the building owners in Bushwick were offered huge sums of money to allow to place billboards and commercial adds on their walls. Some refused to participate in Joe Ficalora's original project, but now they are cashing in on its popularity in the same way those billboard companies do.
So is the Bushwick Collective good or bad? It depends on who you ask. There's no doubt Joe Ficalora's intentions are good and that the project has helped uplift Bushwick, but there are some problematic issues as well. You can read more about the war of the walls in Bushwick here or watch the No Free Walls YouTube documentary about how art and gentrification collide in Bushwick.
Lexi Bella – My Body My Choice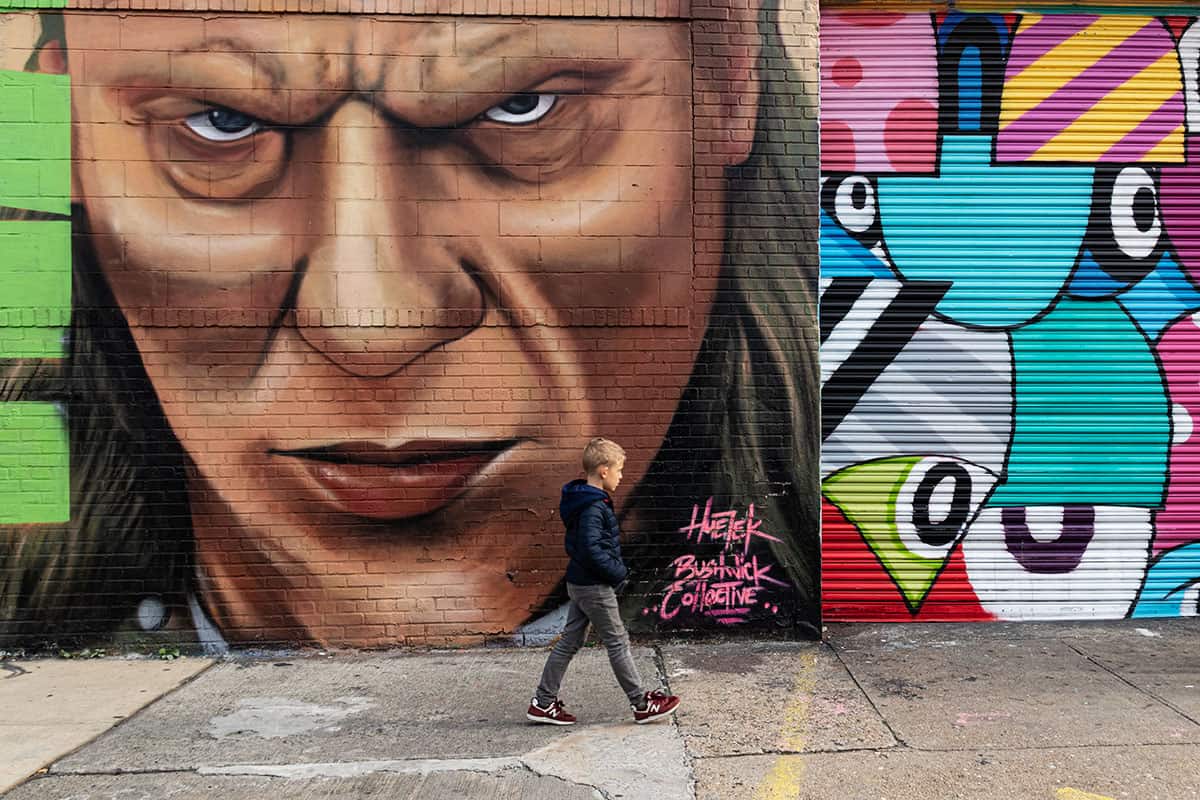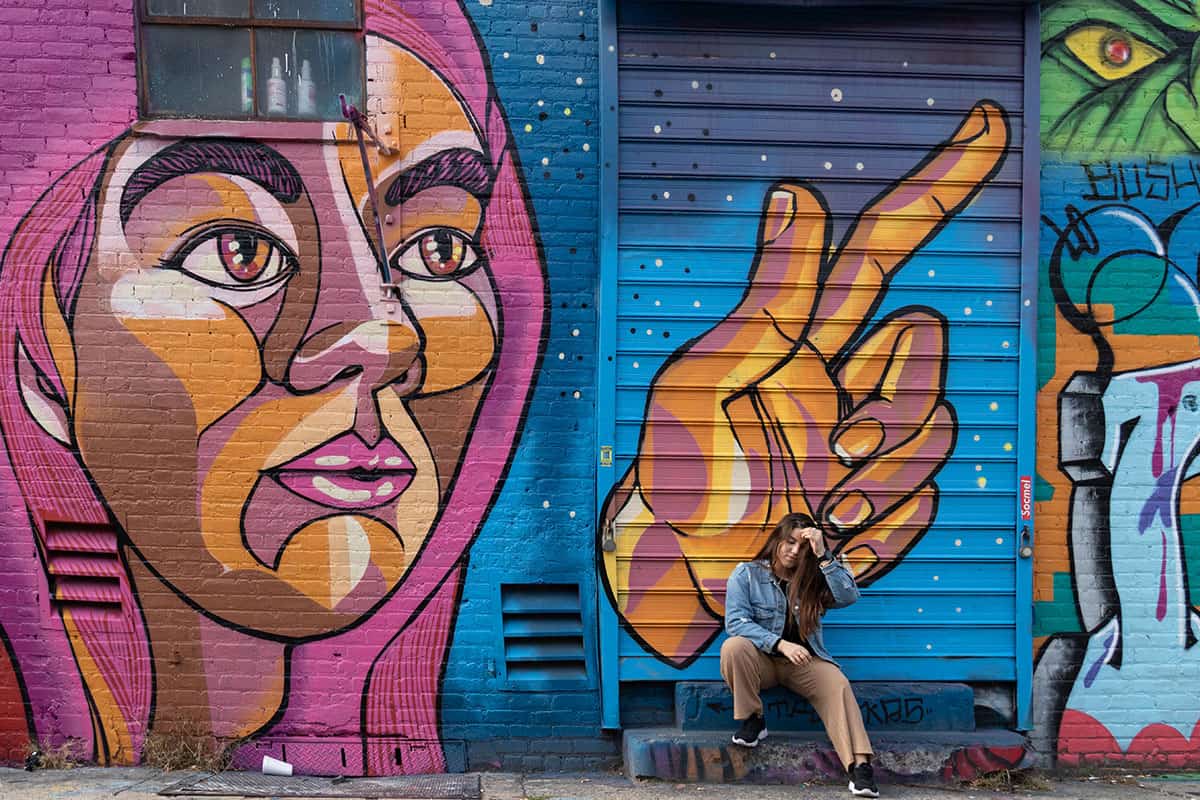 Best Streets to See Street Art in Bushwick
As mentioned above, you'll see street art, graffiti and murals all around Bushwick, but use this map as a guideline for the best streets to see the murals and street art in Bushwick.
The main area is around the Bushwick Collective (especially along Starr Street, Troutman Street and Jefferson Street between Irving Avenue and Cypress Avenue).

You'll find a cluster of street art around the block of Moore St., Siegel St., White St. and Bogart St.

There are several murals and graffiti along Grattan Street and Thames street, especially between Bogart St. and Knickerbocker Avenue.

If you walk along Willson Avenue, have a look at most of the intersections between Knickerbocker Avenue and Flushing Avenue.
If you love street art and want to learn more about the artists and hear anecdotes about the murals of the Bushwick Collective, you can also take one of these recommended street art tours or try creating some street art yourself!
What Else To Do in Bushwick Neighborhood in Brooklyn
There are more things to do in Bushwick other than admiring the murals of the Bushwick Collective. You can spend 10 hours just hunting for Bushwick murals and street art, but Bushwick also has a lively foodie and bar scene and lots of opportunities to go vintage shopping. Here are some ideas on how to spend your day in Bushwick.
Check Out Some of the Art Galleries
Art lovers must also stop at 56 Bogart. This former warehouse was converted into an art lover's wonderland. Walking through this artist center, you'll visit galleries of sculptures, painters, photographers, jewelers and various other artists including the Momenta Art – a non-profit organization that showcases the works of emerging and underrepresented artists.
Address: 56 Bogart Street
Another recommended gallery is the Microscope Gallery. This contemporary art gallery displays the works of emerging artists whose art pieces include moving images, digital art, and sound. It is located not far from the Bushwick Collective.
Address: 1329 Willoughby Avenue | Opening Hours: Thursday-Monday 1:00 pm – 6:00 pm
Other recommended galleries in Bushwick include Interstate Projects and Luhring Augustine Bushwick
In recent years, Bushwick has become a hub for secondhand shopping. If you love vintage and thrift shops, check out some of the recommended stores in Bushwick. For clothes and accessories, visit Friends NYC, Urban Jungle and Beacon Closet. If you're looking to expand your vinyl collection, pop into Vinyl Fantasy. For furniture and home decor, visit Other Times Vintage. Another fun place to visit is Better Than Jam, where you'll find handmade items of local makers and artisans along with the Better Than Jam line. They also offer textile-based workshops.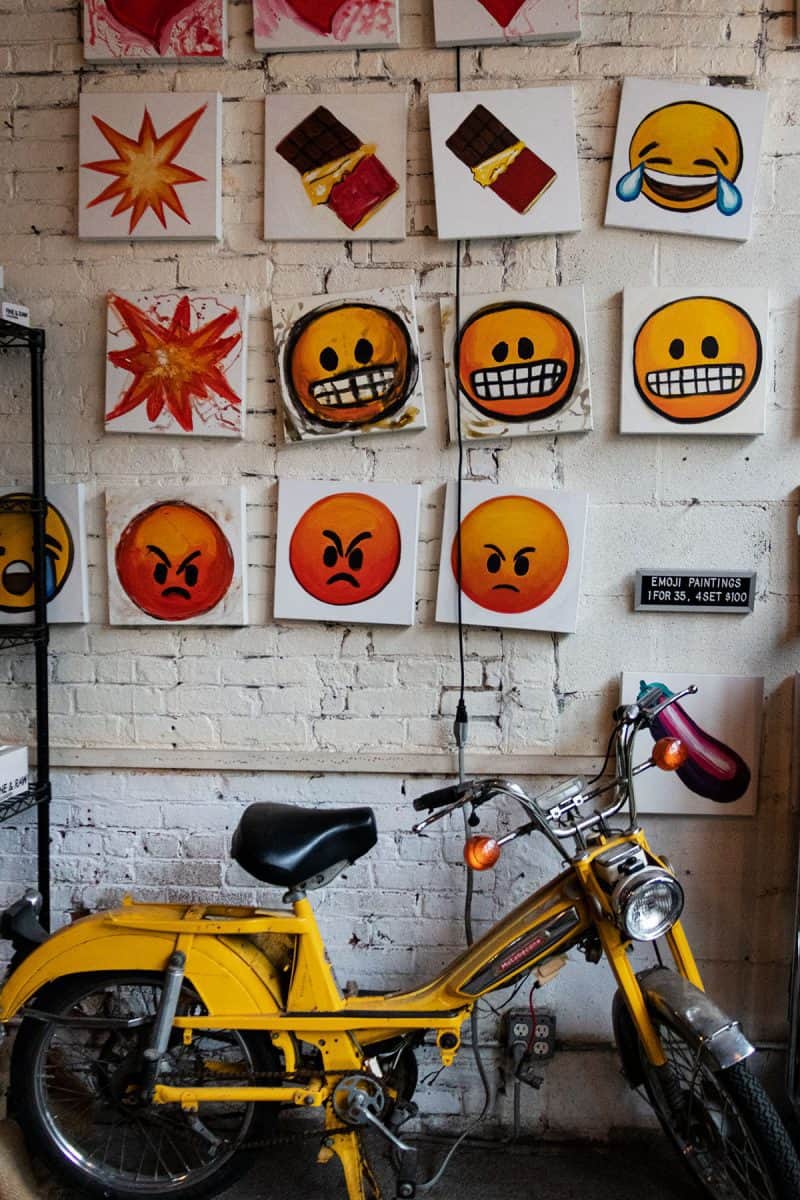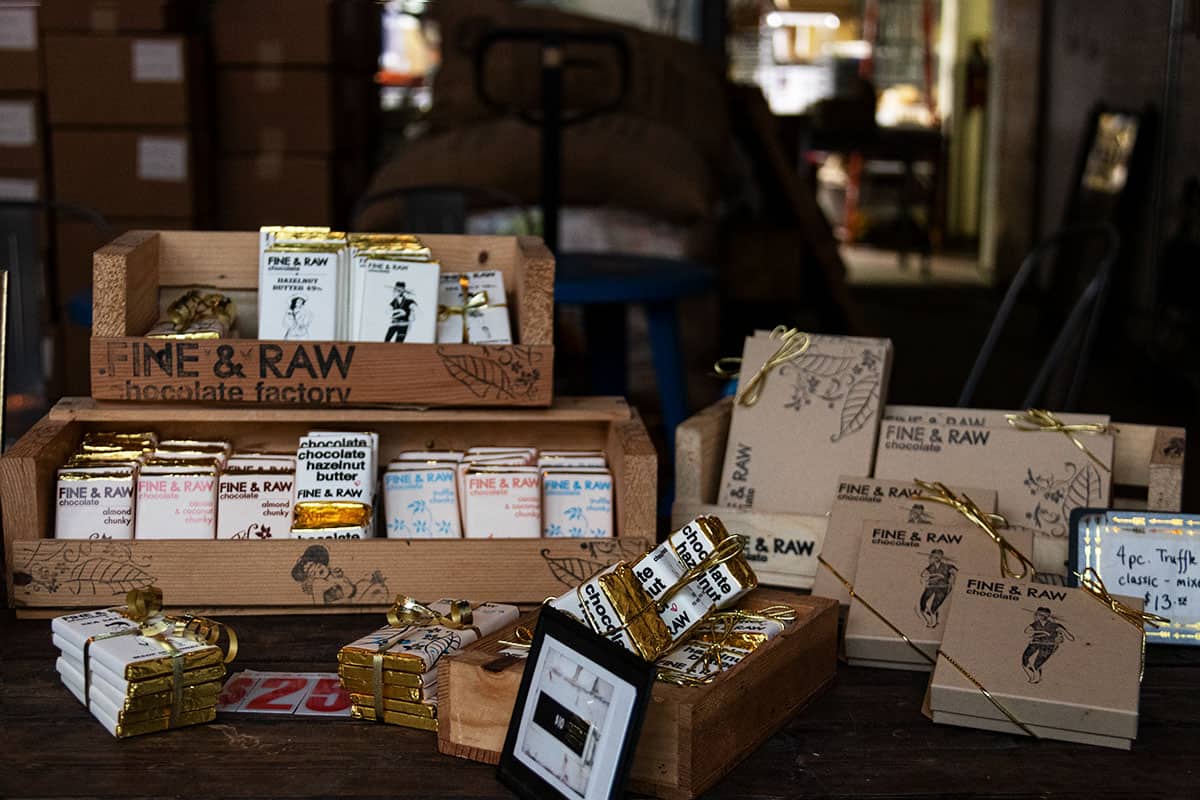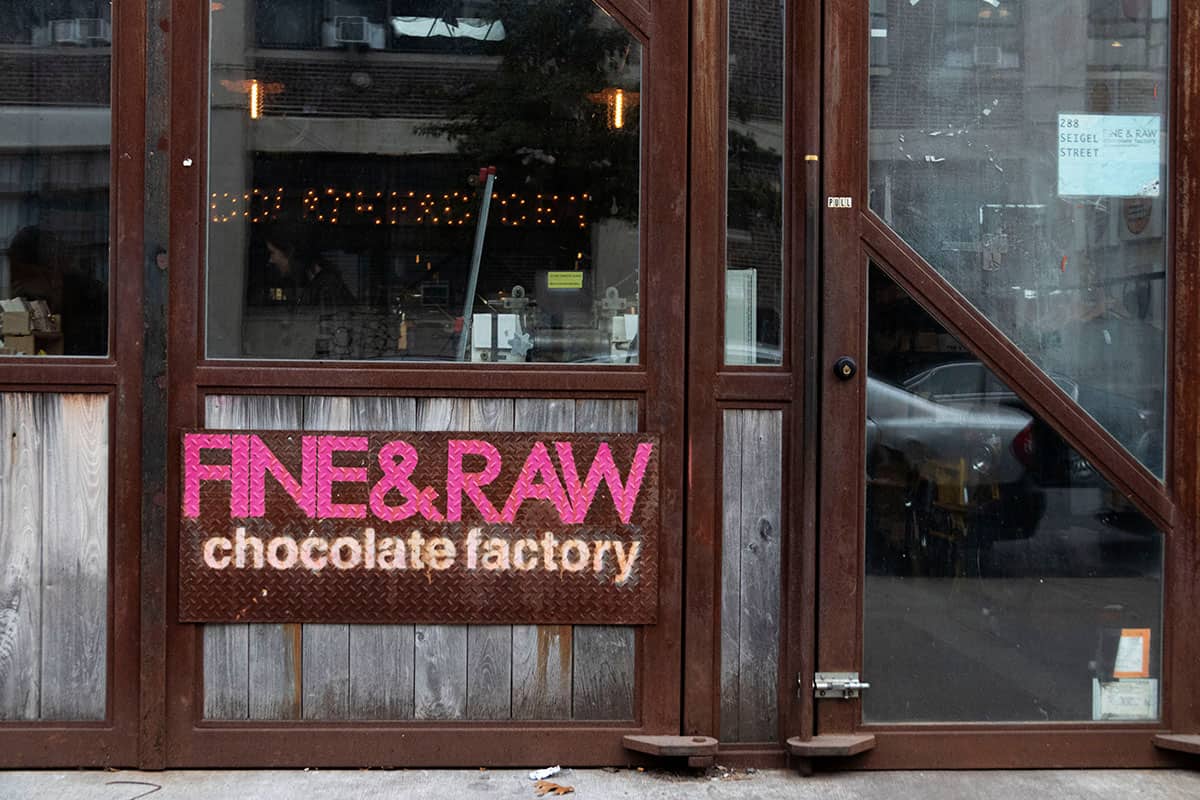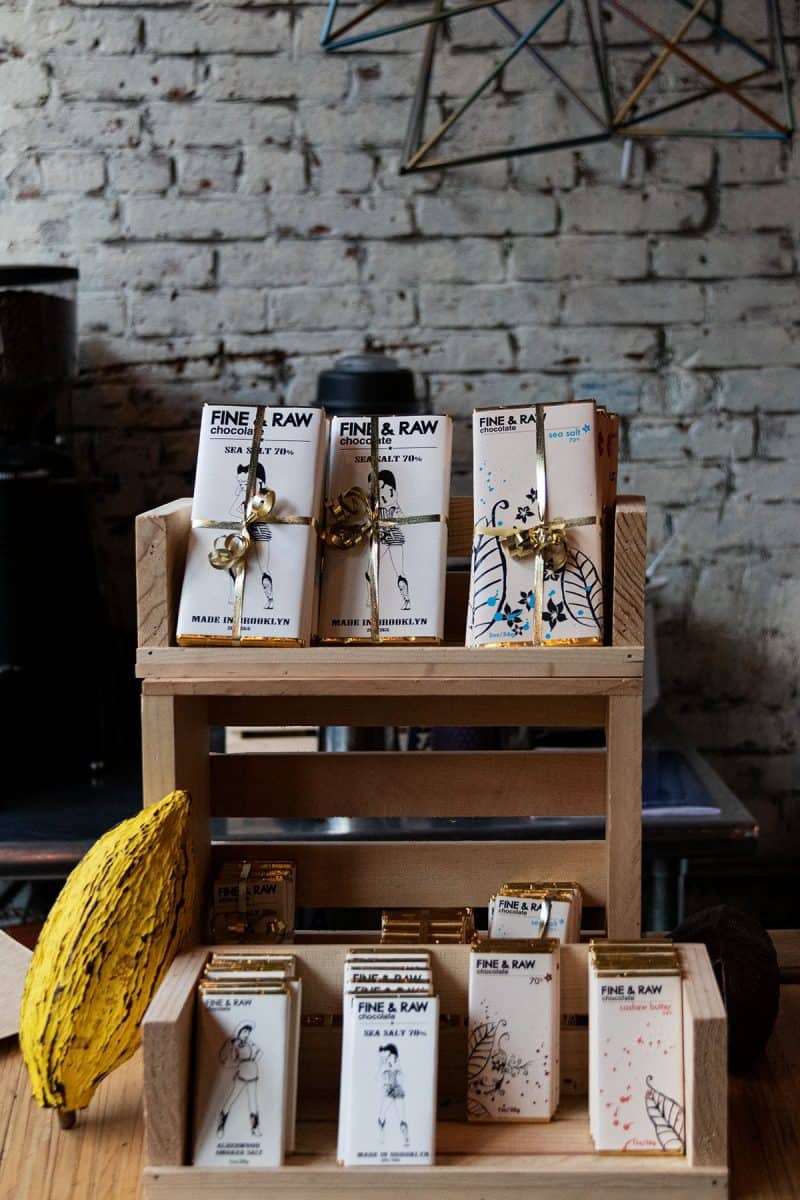 Buy Organic Chocolate at Fine & Raw
Fine & Raw are famous for their addictive raw organic chocolate bars. It all started in a small loft in Williamsburg where the artist Daniel Sklaar started making small chocolate batches and sharing them with friends, and later with local specialty shops. Unlike most of the chocolate you buy at the store, Fine & Raw's chocolate is actually good for you. Fine & Raw's addictive chocolate bars and truffles are made from organic coffee beans (bought directly from small organic farmers in Ghana and Ecuador), They are sweetened with coconut sugar, and some are not sweetened at all. The stylish wrappers are an added bonus.
Address: 288 Seigel St Opening Hours: Mon-Fri 11:00 am- 6:00 pm, Sat/Sun 12:00 pm – 7:00/6:00 pm
Beer and Art at Brooklyn Beer Garden
If you are lucky, you will be able to visit the trendy Brooklyn Beer Garden, a popup beer garden that combines beer with art. Brooklyn Beer Garden is only open in the summer with some special events during the year.
Artists and friends, Gabriele and Tyagi, build and curate popup beer gardens to celebrate Brooklyn's beer and street art cultures. They invite new and well-known artists to showcase their work in the compound. They also host workshops and teach school children different techniques of street art. We were lucky enough to visit Brooklyn Beer Garden during its Halloween party when they hosted a live DJ event.
If Brooklyn Beer Garden is closed, or if you'd rather visit a real brewery and taproom, check out the cool local brewery, Kings County Brewers Collective (KCBC). This is the first brewery to open in the neighborhood after the last of the old-time breweries closed in 1976. The three founders come from different backgrounds, but they are all graduates of the American Brewers Guild in Vermont. They met at brewing clubs in Brooklyn and decided to open a brewery together. This is a fun place to spend an afternoon or evening. There is no food but you can bring your own.
KCBC: Address: 381 Troutman St | Opening Hours: Mon-Thu/Fri 5:00 pm – 11:00 pm/12:00 am, Sat/Sun 12:00 pm – 12:00 am/9:00 pm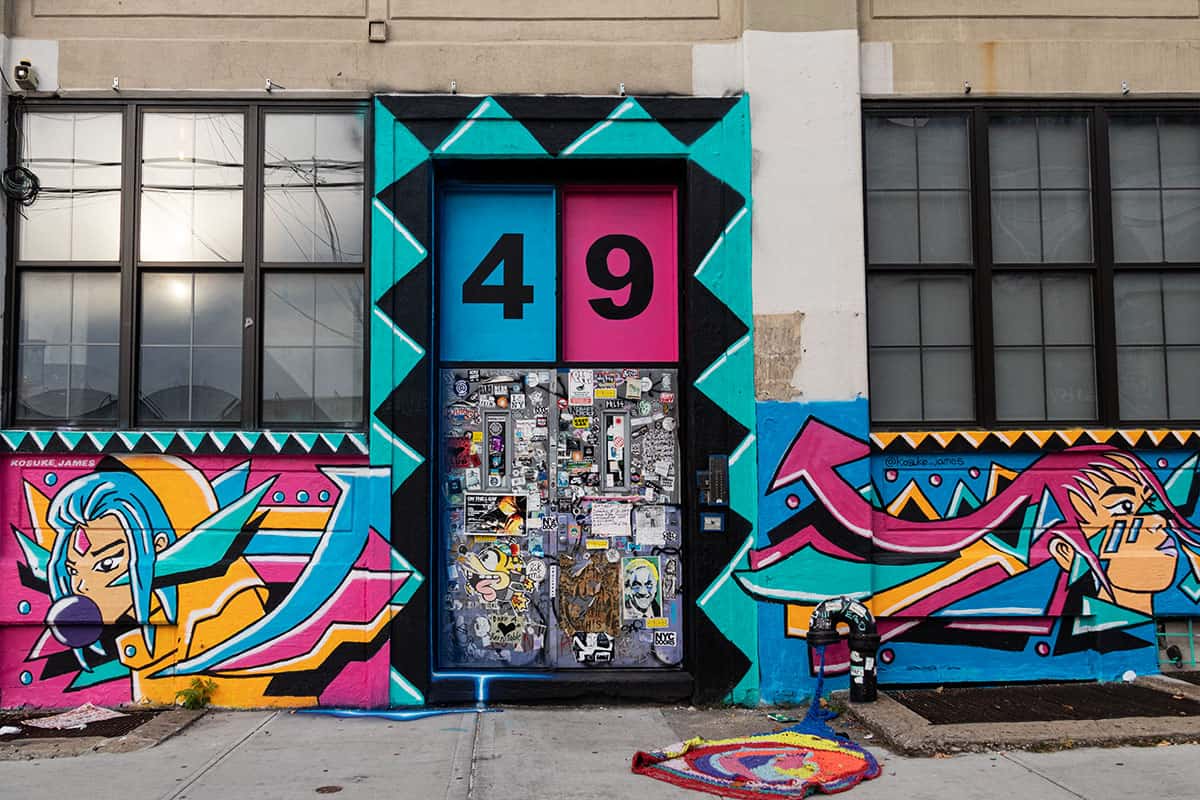 Let's talk about some food options while you're strolling around Bushwick. Even the restaurants and bars in Bushwick oozes cool hipster vibes. For Italian go to Roberta's or Faro. For seafood, check out Sea Wolf. Dock Asian Eatery has delicious Thai, Vietnamese and Japanese dishes, and for a quick slice of pizza, you'll find a branch of Artichoke Basille's Pizza right at the Bushwick Collective. If you want to try something a bit different, check out the Ethiopian fare at Bunna Café. Finally, for a late-night drink, stop by The Rookery.
For more food recommendations in Bushwick, don't forget to check out our Brooklyn Foodie Guide.
This is how we spent a day in Bushwick, Brooklyn's rising star. Admiring the street art and learning about the Buswick Collective, photographing some of the top Bushwick murals, browsing some shops, and checking the foodie scene. If you have any other suggestions, don't forget to let us know in the comments so we could check them on our next visit to New York.
Additional Resources for Brooklyn and New York
Don't forget to pin it for later!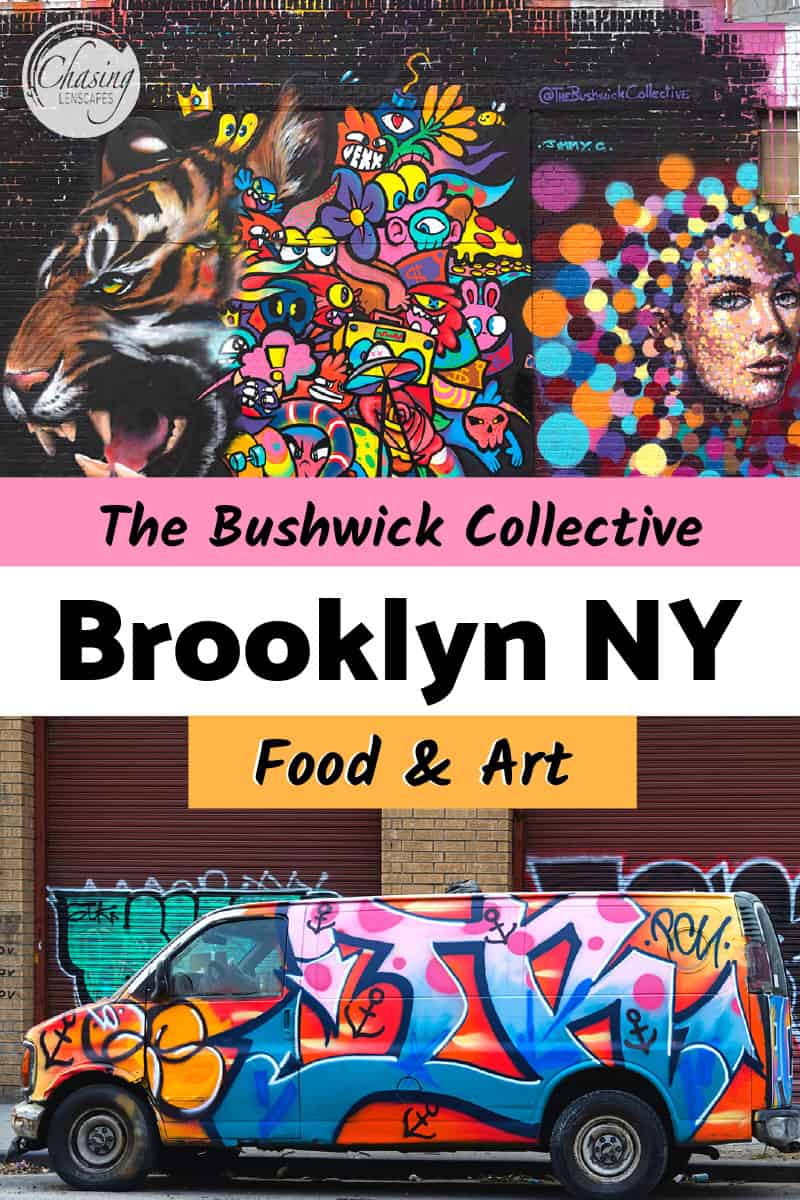 .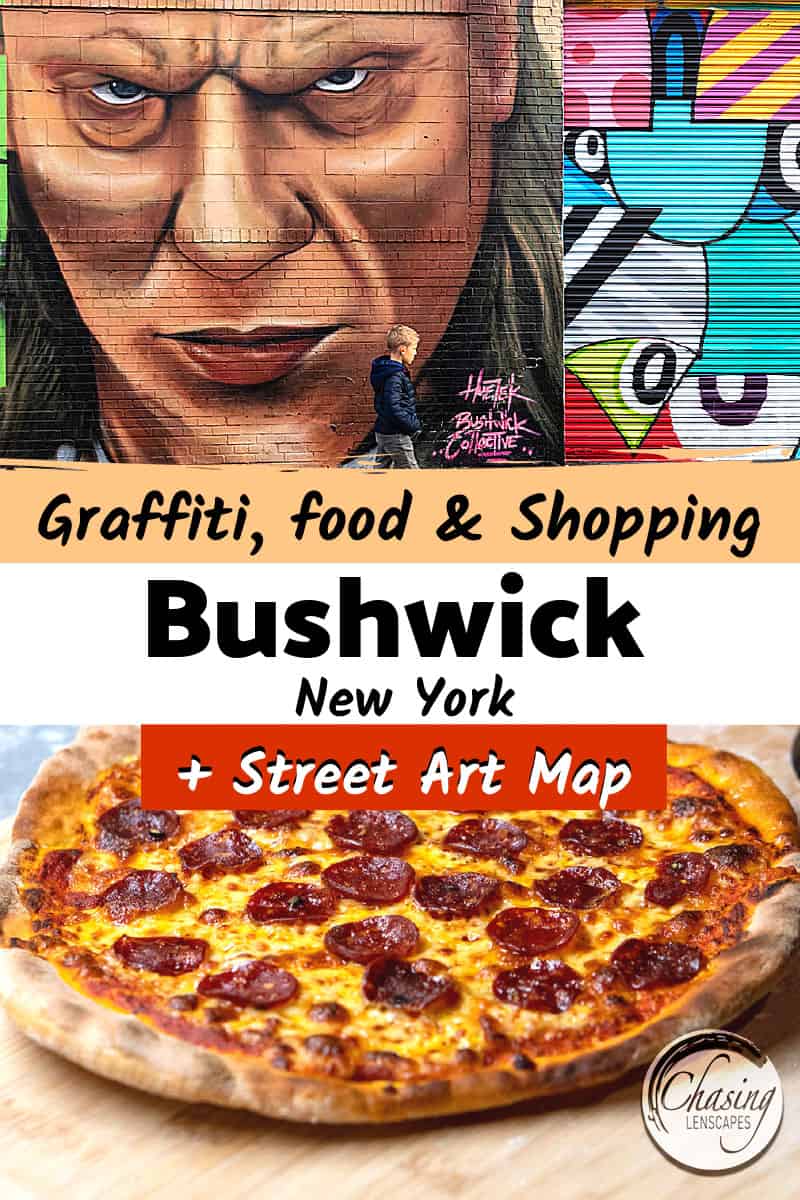 .
Check out some of our other city guides!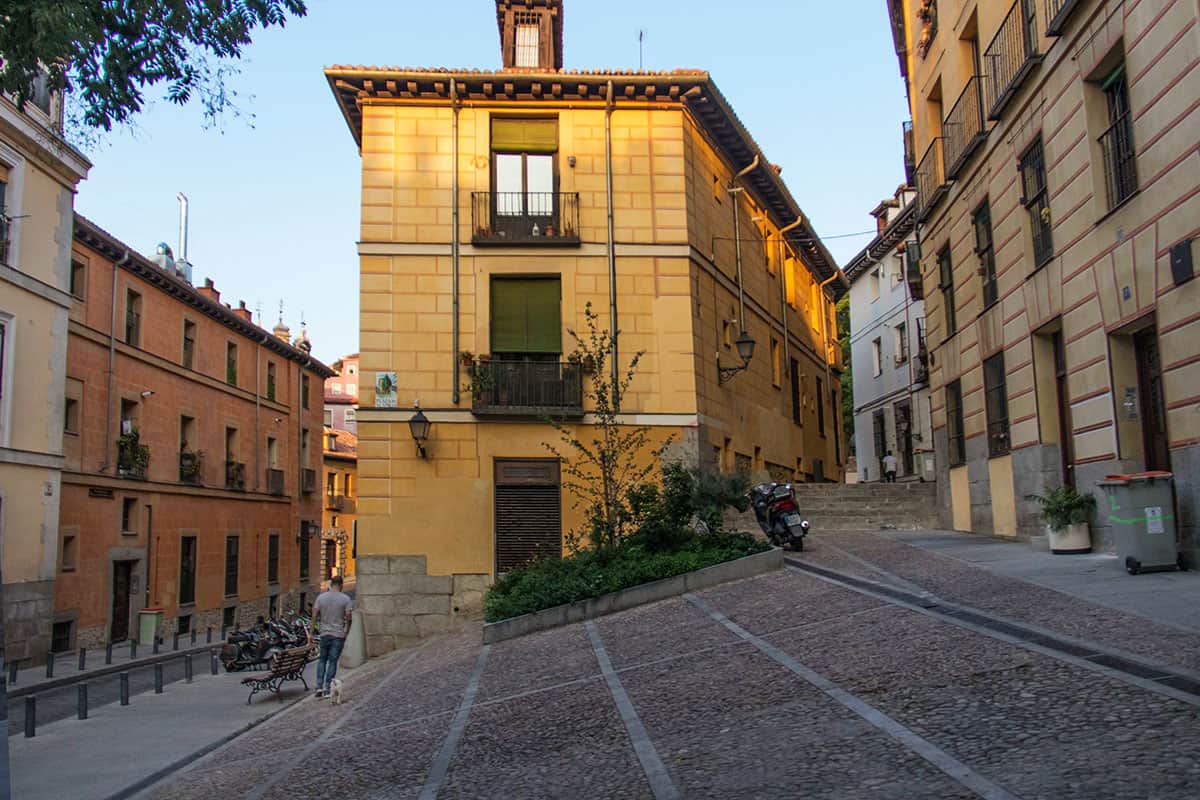 From trendy cafes, cool tapas bars, local attractions and street art, discover our favorite Madrid neighborhoods!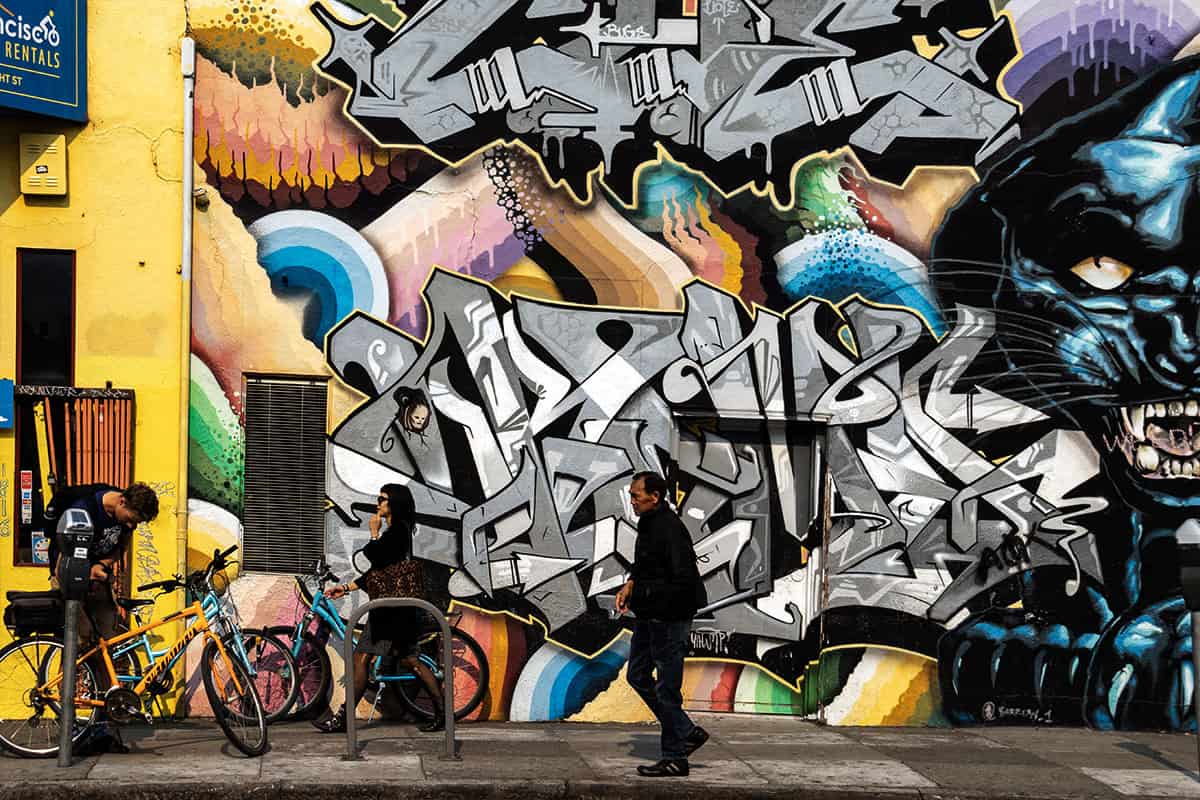 Discover popular attractions, photography spots and hidden gems of San Francisco. Art, views and food in San-Fran.
Singapore has so many attractions for history, culture and food lovers. Discover the top things to do in each neighborhood.